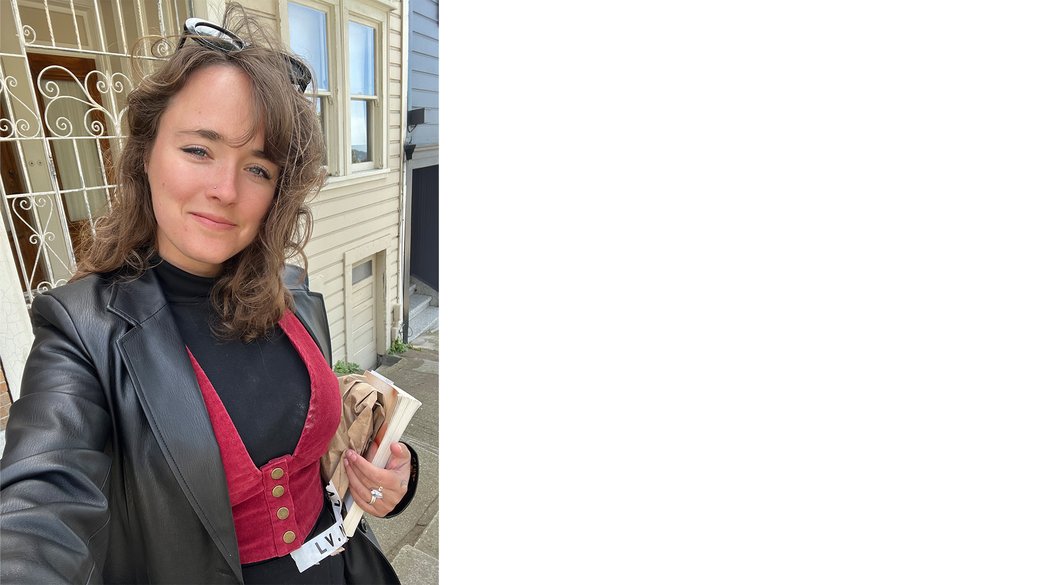 "I encourage you to truly reflect on where you were at when you first started at CCA, and where you are now. We have come a long way through quite a historic time in history. Be proud of what you've accomplished! Celebrate the work you've made, the friends you've met, the lessons you've learned. I am confident that the resilience, compassion, and unique perspective our class is walking away with will not only serve us well in the future as creatives, but also as humans."
— Kyra Pease (BFA Graphic Design 2023) Undergraduate Student Speaker
Grand Marshal Introduction
Noel Perry
Member, Board of Trustees
Academic Processional
President
Board of Trustees
Faculty
Candidates for the Bachelor of Architecture Degree
Candidates for the Bachelor of Fine Arts Degree
Candidates for the Bachelor of Arts Degree
President's Address
Stephen Beal
President
Land Acknowledgment
CCA current and historical campuses are located in Huichin and Yelamu, also known as Oakland and San Francisco, on the unceded territories of Chochenyo and Ramaytush Ohlone peoples.
Professor Emeritus Announcement
Stephen Beal
Conferring of Honorary Degree
Jacqueline Francis
Visual and Critical Studies Program Chair
Commencement Address
Mildred Howard
Mixed Media Artist
Student Remarks
Kyra Pease
BFA Graphic Design 2023
Alumni Video
With this year's commencement theme of authentic transformation, we have selected and commissioned CCA alum Kim Xuan Pham (BFA Fashion Design 2019) to create a wearable artifact that speaks to her identity, craft, and time at CCA.
Kim Xuan Pham is a Vietnamese apparel designer based in San Francisco who embraces her journey as a first-generation college student in the creative field. In her practice, Kim seeks a deeper connection to the Vietnamese diaspora by weaving memories, dreams of familial heritage, and personal vulnerabilities into her craft and design practice.
In celebration of students embracing unconventional ceremony attire that expresses their identity and creativity, Kim mentored a select group of students from this year's commencement class to create wearable artifacts that exemplify CCA's creative process and values.
During her time at CCA, Kim participated in the Copenhagen Global Fashion Agenda Sustainability program and has designed for Athleta and Banana Republic.
Conferring of Degrees
Keith Krumwiede
Dean of Architecture
Bachelor of Architecture
Bachelor of Fine Arts
Bachelor of Arts
Presentation of the Class of 2023
Stephen Beal
Recessional
Members of the audience will please stand and remain in their places until the academic procession has left the hall. Music provided by The Ben Brussell Ensemble.
BArch Architecture
Brandon Cole Adan
Ahmad Saad Alajmi
Adam John Bissell
Ruobing Cheng
Suvin Choi
Iván Rodrigo Domínguez Murillo
Jaimee Elliott
Gerardo Garcia Juarez
Alden Gendreau
Wing Kiu Ho
Aditya Aryaguna Kosman
Hongjie Kuang
Julianna Leilani La Mantia
Claire Christine Leffler
Hsuan Fu Liu
Rizwana Syarifa Nabila Lubis
Manpreet Kaur Malhi
Jaissen Mendoza
Colin Murdock
BFA Interior Design
Latifa Alghanim
Jiamin Ao
Mez Deboo
Congrui Gao
Yinan Geng
Min Hyun Kim
Zhiyu Li
Shuting Luo
Ziang Zhang
BFA Fashion Design
Marah Aldrees
Yiming He
Zachary E Hyun
Jing Jin
Hangzhu Li
Maya Pineiro-Coleman
Siyu (Yaya) Shao
Chang Sun
Xi Wan
Yawen Wu
Yipin Zeng
Kexin Zhang
Siying Zheng
BFA Furniture
Hanwen Jiang
Benjamin Jones
Ina Trayanouskaya
Nicole Wong
BFA Graphic Design
Kaja C Berry
Meredith Bond
Logan Ehringer
Nathan Filbrandt
Patricia Granados
Jinyu Huang
Hyunsoo Kang
Jennifer Kim
Walker Lambert
Brendon Lee
Casey Chung Yen Leung
Kexin Li
Qizhen Li
Zhaoyan Li
Eileen Loera
Ayana Kemora Miyoshi
Krishnaa Nair
Owen Elijah Newman
Soyeon Park
Kyra Marie Pease
Ni Luh Tiya Pertiwi
Lisa Marie Prudente Vazquez
Rohan Shrivastava
Cha Young Son
Dylan Spangler
Makayla M Ware
Morgan Wash
Lewis Elliot White
Xingsheng Wu
Joshua Eugene Yule
Keqin Zhong
Ziang Zhou
BFA Illustration
Aastrid Etienne Rafaella Bacchus
Jordan Camerato
Jiwon Chun
Seunghyun Chung
Christopher Angel Cruz
Yiyang Deng
Jae Raine Dunning
Huiwei Feng
Klifford Ganancial
Yiru Han
Jade Merie Howe
Jillian Hokeolani Ikehara
Shiva Jafarzadeh
Chloe Y Kim
Brian Kwon
Yuchen Liu
Cami Morgan
Felix Alejandro Orozco-Mendoza
Cody Owens
Robin Elizabeth Ann Parks
Kat Perez Sauceda
Aileen Ra
Catherine Genevieve Rebeiz
Louis Riddick
Kimiko Y Shiro
Han Sun
Malia Rose Velasco
How Wang
Marianne Justine Wilson
I-Hsien Zoei Rainbow Wu
Zhen Xiong
Angela Wu Yang
BFA Industrial Design
Ariel Aguirre
Pedro Alvarez
Rohan Bell
Andrew Chang
Peipei Duan
Andrew Stuart Eastman
Haiyun Gao
Oliver Theron Grant
Xiao Han
Mengqi Ju
MinChul (Ayden) Kim
James Alexander Leng
Jiajia Li
Run Li
Yuqing Lin
Samantha Linden
Cohain Liu
Zonghao (MG) Mo
Brian Nolet
Lillian Zuza Petrushka
Qian Qiu
Nicolas M Reno
Giovanna Elisabeth Spilman
Harish Venkatachalam
Kellie Wu
Monan Wu
Yuhan Xie
Shiyin Xing
Jing Xu
Wei Xu
Shiyu Zhang
Shuyang Zheng
Yingci Rebecca Zhong
BFA Interaction Design
Noah Ahrens
Amruta (Ruth) Bhavsar
Guanyi Chen
Shuyun Chen
Yun-Sheng Chen
Seungjun Cho
Madhumita Elan
Amaris Gil
Tingyu Hsiao
Tian Jiang
Taewuk Kim
DeeDee Kwon
Young Rok Lee
Junjie Li
Rebecca Lin
Qi Luo
Kumari Amani Pacheco
Gina Park
Yongming Peng
Jonahtan Rabago
Yiming Sun
Shoshana Tai
Evan Marshall Tang
Hoang Anh Truong
Emily Tseng
Sung Yuan Wang
Brian Zhao
Becca Zheng
Zijie Zhou
BFA Animation
Mateo Sof Allier Lechuga
Andrea Mary Appleton
Jacqueline Berezin Pchevuzinske
Emma Brand
Mary Elizabeth Burns
Steven Jerome Cancelmo
Eli Chang
Angie Chaparro
Megan Y Chen
Yuet Chi Letty Cheung
Elinor E Coffee
Sophia Rose White Cruz
Yuanyuan Du
Kenna Jean Elliott
Azaria Shavonne Farrington
Sam C. Fisher
Jillian Fleischman
Lia Mullins French
Adonnis Galeano
Lance Hernandez
Xinmiao Huang
Damaris Huffaker
Khalil Aman Johnson
Irene Kao
Jamilya Precious Kincy
Kamau Shange Kokayi-Taylor
Chelsea Landaverry
Lue Li
Xuhui Li
Zhengyu Li
Qianling Liu
Tian Qin
Eduardo Ramos
Jaya Elizabeth Reddy
Leigh-Anna Reents
Edgardo Perez Salas
Talia Salman
Reese Schiffman
Charlotte Van Den Brande
Wanchunlin Wang
Zhi Heng Wei
Ethan Kiyoto Yamada
Yupeng Yang
Blythe Yoshikane-Simpliciano
Ryan Zhao
BFA Ceramics
Annie Artell
You Jin Han
Kiran Joseph Schwaebe
BFA Film
Alexander Gregory Audet
Mira Darensburg
Jackson M Elder
Tennessee Hildebrand
Helen Hoefler
Renji Jiang
Ethan W Mathenge
Emanuel Ordoñez Alvarez
Winslow Perry
Yecheng Qu
Jackson Snyder
Ying Wang
Yuanyuan Zheng
BFA Glass
Cheyenne Starr Giovannucci
BFA Individualized Studies
Senay Osagyefo Alkebu-Lan
Skylar Rose Lederman Battles
Erin Chan
Quinn J Dideon
Robert Fredenburg
Asya Mary Garcia
Camille Niaga Gomez
Jamiani Shante Gray
Nic Elisa Hampton
Marcello Jaramillo
Emma Kazamaki
Arina Kole
Anke Larsen-Yskamp
Jennyfer I Medina
pi pi
BFA Jewelry and Metal Arts
Jeremias Geordie Arevalo
Benjamin Chung
Phaedra Freeman
Yee Li
Jiahui Luo
Sizhe Luo
Kuo-Wei Tseng
Leran Wang
BFA Painting and Drawing
Hae Jeong Cho
Wally Corona
Grey Dey
Enya Fontanills
James Forkum
Yaxkin Fuentes Barrientos
Rose I Honaker
Hannah Kim
Mengqi Li
Sophia Seoyeon Oh
Isaiah Samuel Sheppard
Trisha Trotter
Reese D Wallace
Vincent Reid Womack II
BFA Photography
Alexander Burke
Cat Conrad
Jaden Fuhrer
Jy Jimmie Flora Gabiola
Hongmin Jin
Androgony King
Linna Ma
Anna MacKenzie
Ashley Malloy
Maria Florencia Montefalcone
(double major)
Griffin Shannonhouse-Wilde
Weijian Shi
Zihao Zhao
BFA Printmedia (Printmaking)
Benjamin Calder Crocker
(Printmaking)
BFA Sculpture
Madison Rose Brooks
Dareal Calderon
BFA Textiles
Jordan Elise Held
Maria Florencia Montefalcone
(double major)
BA Writing and Literature
Layia Nyasha Bolden
Katy Britton
Salem Condello
CCA's 116th Commencement celebrates students who completed their degree requirements in fall 2022, as well as students anticipated to complete their degrees in spring and summer 2023. Degrees will officially be conferred upon successful completion of all degree requirements.