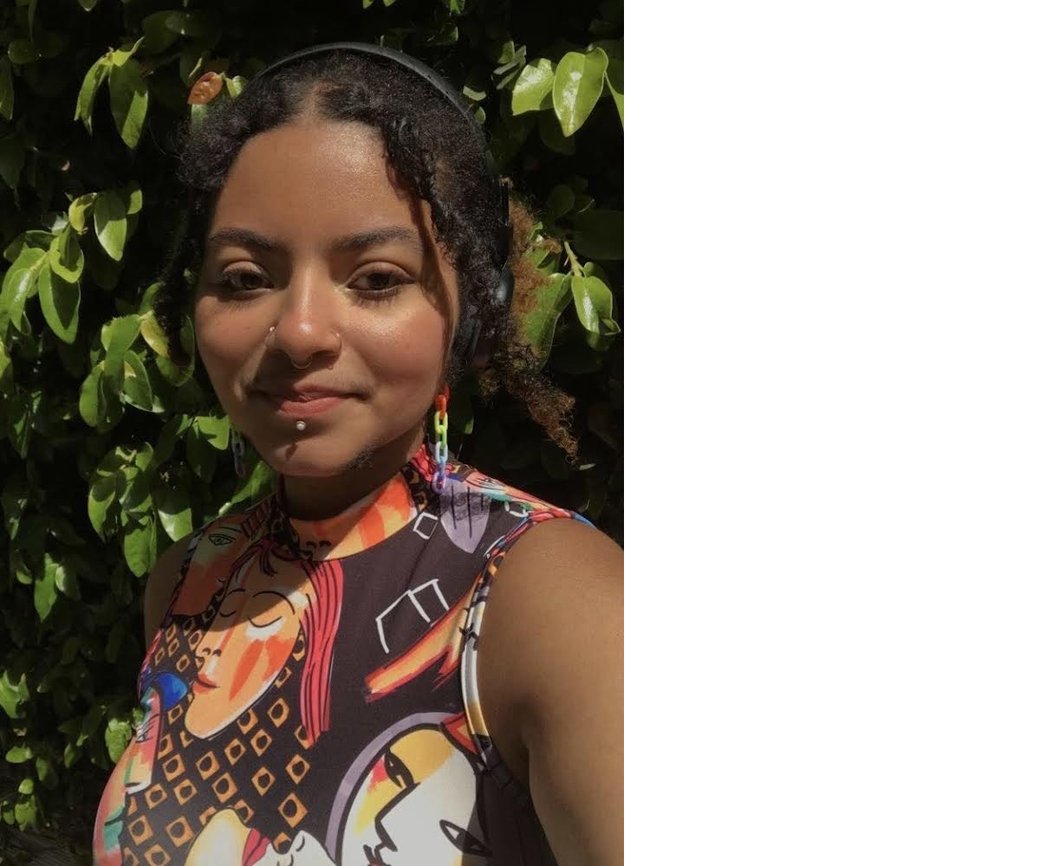 "My peers, co-conspirators, muses, and collaborators: I invite you all to the sounds of jazz. To the vulnerability of this world that you've all remained attuned to. In the halls of CCA, where we've allowed ourselves to be ridiculous and lovely, we've cultivated each other's stories with such wondrous grace. As we acknowledge each other in the present, I can only imagine the worlds we will create in the future. We each have something so important to contribute, and I am honestly excited to see where our journeys take us."
— Wenmimareba Klobah (MA Visual and Critical Studies and MFA Writing 2023), Graduate Student Speaker
Grand Marshal Introduction
Diane Christensen
Member, Board of Trustees
Academic Processional
President
Board of Trustees
Faculty
Candidates for the Master of Architecture Degree
Candidates for the Master of Advanced Architectural Design Degree
Candidates for the Master of Business Administration Degree
Candidates for the Master of Design in Interaction Design Degree
Candidates for the Master of Arts Degree
Candidates for the Master of Fine Arts Degree
President's Address
Stephen Beal
President
Land Acknowledgment
CCA current and historical campuses are located in Huichin and Yelamu, also known as Oakland and San Francisco, on the unceded territories of Chochenyo and Ramaytush Ohlone peoples.
Professor Emeritus Announcement
Stephen Beal
Presentation of Distinguished Alumni
Keith Krumwiede
Dean of Architecture
Distinguished Alumni Address
Nastaran Mousavi RA
Co-founder of Studio BANAA, Design Director
Dane Bunton RA
Co-founder of Studio BANAA, Managing Principal
Student Remarks
Wenmimareba Klobah
MA Visual and Critical Studies and MFA Writing 2023
Alumni Video
With this year's commencement theme of authentic transformation, we have selected and commissioned CCA alum Kim Xuan Pham (BFA Fashion Design 2019) to create a wearable artifact that speaks to her identity, craft, and time at CCA.
Kim Xuan Pham is a Vietnamese apparel designer based in San Francisco who embraces her journey as a first-generation college student in the creative field. In her practice, Kim seeks a deeper connection to the Vietnamese diaspora by weaving memories, dreams of familial heritage, and personal vulnerabilities into her craft and design practice.
In celebration of students embracing unconventional ceremony attire that expresses their identity and creativity, Kim mentored a select group of students from this year's commencement class to create wearable artifacts that exemplify CCA's creative process and values.
During her time at CCA, Kim participated in the Copenhagen Global Fashion Agenda Sustainability program and has designed for Athleta and Banana Republic.
Conferring of Degrees
Helen Maria Nugent
Dean of Design
Master of Architecture
Master of Advanced Architectural Design
Master of Business Administration
Master of Design in Interaction Design
Master of Arts
Master of Fine Arts
Presentation of the Class of 2023
Stephen Beal
Recessional
Members of the audience will please stand and remain in their places until the academic procession has left the hall. Music provided by The Ben Brussell Ensemble.
MArch Architecture
Ayse Elif Aydinli
adolfo cendejas
Lucas Cornejo Saravia
Huihui Dai
Creagh Downing
Saina Gorgani
Martin Hitch
Peter Tze Jew
Kushal Ketan Jhaveri
Anbin Liu
Ki Schmidt
Shreya Shankar
Dazaun Soleyn
Vishakh Hiren Surti
Rebecca Velasquez
Yichen Wang
Elizabeth Wilson
Weisheng Zhong
MAAD Advanced Architectural Design
Kimia Bam farahnak
Ali Farajmandi
Gauri Mirashi
Parham Nourikoupaei
Simran Omer
MFA Design
Atharva
Ziyan Cai
Maria Cardenas
Qingyi Chang
Diya Chen
Jordan Fitzgerald
Ruisen He
Hua Hsiang
Shane Huang
Zahra Jajarmikhayat
Jinyao Jian
Jin Kwon
(awarded posthumously)
Tracy J. Leeds
Jiayue Li
Taoyu Li
Zhilin Li
Shijia Luo
Saleem Mboge
Wenwen Nong
Olutoni Olutomiwa
Jiaxuan Peng
Devan Ponce
Brenden Pragasam
Merhan Qutub
Andrew Roque
Athene Sofia Ruiz
Anjni Shah
Qian Sheng
Rose Simonse
Viola Zuobijia Sun
Anjana Vas
Titan Vicencio
(dual degree)
Yuxi Wu
Xinyi Zeng
Shuhan Zhao
Yizhou Zhuang
MBA Design Strategy
Erica Ales
Spencer Bowen
Ana Cecilia Castillo Morfin
Sabrina Cismas
Juan Alberto Hernandez Ardila
Konstanty Hordynski
Jinney Hee Kho
Luke Rolka
Lisa Helen Sanford
Titan Vicencio
(dual degree)
Lexi Yan
MDes Interaction Design
Gunjan Alagh
Yagmur Alptekin
Angela Becerra
Gokul Beeda
Anish Dasgupta
Kshitija Suresh Dhumal
Sumaiya Elahi
Sharvil Prashant Ghanekar
Kamayani Gupta
James Hua
Nikhila Isukapally
Apeksha Jain
Tanvi Ajay Jain
Chandana Kashyap
Rewa Ketkar
Yuha Kim
Rushabh Kulkarni
Arushi Kumar
Lakshmi Ajayan Kuruvath
Christie Lee
Artem Lepilin
Ding Li
Fangxin Li
Elaine Lu
Honey Mehta
Vedanshi Mishra
Wai Ho Justin Ng
Rishikesh Vijay Nighot
Nabhya Parmar
Lucia Corazon Lopez Pineda
Sakshi Raste
Preet Ruparelia
Rishi Sankhyayan
Shreya Saraf
Jiao Shi
Xinyi Sun
Ashok Suresh Thirunilathil
Ashwin Suresh Thirunilathil
Juanita Thota
Emily Tsai
Sonali Tungare Mehta
Charmin Vemula
Yuri Yasukawa
Ocean Ersi Zhang
Zhenzhe Zhu
MFA Film
Michael Anthony
Bahar Gözmener
Cheng Ji
Angela Liu
Jingjing Tang
Weiming Wang
Qi Yang
Colin Zhang
Yumo Zhang
MFA Fine Arts
Manasa Thimmiya Appaneravanda
Mary Campbell
Carolina Cuevas
Jianyuan Ding
Dance Doyle
Annie Duncan
Liz Godbey
(dual degree)
Zijing Han
Ingrid Henderson
Gwendolyn Kim
Charles H. Lee III
Blanche Li
Ching Fang (Merryta) Liu
Haoyuan Lu
Siyu Lyu
Gabrielle Medina
Diana Tiffany Mejia
Eileen Parent
Namita Paul
Alejandro Perea
Rossie
Hao Tan
Aster Topolski
Marissa Tyler
Jianfei Wang
Lin Wang
Qinru Xie
Yike Zhang
MA Curatorial Practice
Julianna Heller
Zoe Latzer
Meghan Smith
MA Visual and Critical Studies
Liz Godbey
(dual degree)
Alexander Hwang
Wenmimareba Klobah
(dual degree)
MFA Comics
Erin Andrews
Max Barnewitz
J.D. Botana
Julie E Cardenas
Hugh D'Andrade
Jessica Eth
Elana Finkelstein
Isaac Li
Xiangrong Li
Sara McGrath
Emilie Tamura Miller
Sam Moore
Almudena Phillips
Jessica Pinkerton
Jamie Straw
Zephyr W
Haozhou Wang
Xinrui Wang
MFA Writing
Eman Al-Alami
Julia Bibeth Campos
Kristin Eade
Ann-Marie Giglio
Wenmimareba Klobah
(dual degree)
Maura Krause
Rolando Andre Lopez
Jessica O'Brien
Taryn Shelby
Faith Rowan Waters
CCA's 116th Commencement celebrates students who completed their degree requirements in fall 2022, as well as students anticipated to complete their degrees in spring and summer 2023. Degrees will officially be conferred upon successful completion of all degree requirements.