While Guibert took many photographs of people, he also photographed their absence: his images of objects and domestic spaces are full of memories and emotions about his relationships with people, even if they are out of view, and while faces are absent, these photographs are acts of portraiture.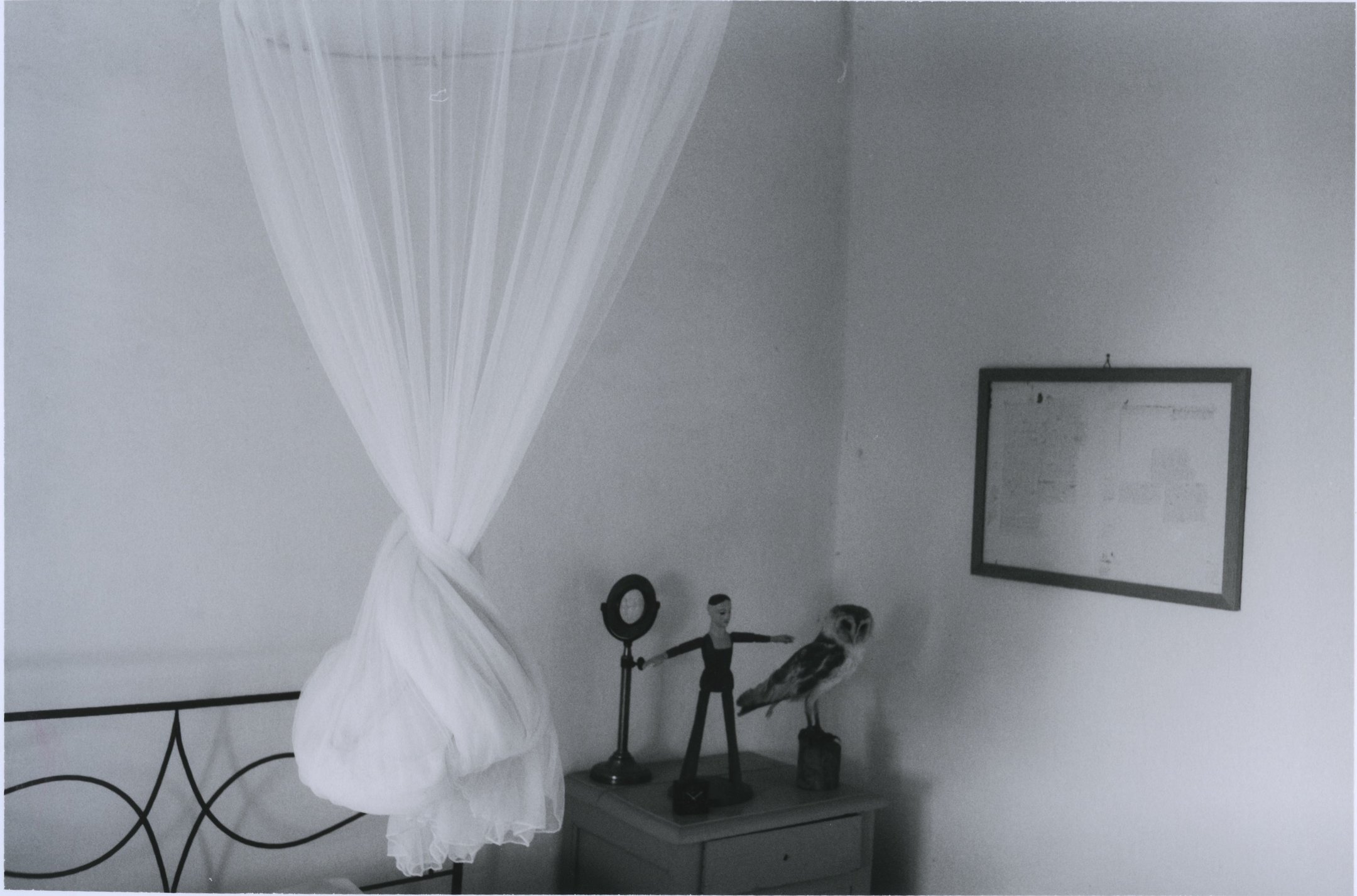 San Francisco, CA—May 24, 2022—CCA Wattis Institute for Contemporary Arts announces Hervé Guibert: This and More, a solo exhibition featuring a selection of photographs by the late French artist, writer, and activist Hervé Guibert. Curated by Anthony Huberman, the exhibition explores what lies beyond the grasp of photography.
Many photographs seek to document an experience, a person, an object, or a place. They succeed when they "capture" it, holding onto a fleeting moment and preserving it for posterity. However, a photograph also succeeds when it contains more than what it depicts: countless memories, anecdotes, and richly layered emotional registers remain invisible in the image itself and impossible to capture. A good photograph, in the words of the Hervé Guibert, is not necessarily one that makes a person or a place visible, but one that is "faithful to the memory of my emotion."
Better known for his portraits, Guibert also photographed interiors, inanimate objects, and empty rooms – an important body of work that remains relatively unknown. More laconic and reserved, these photographs offer an approach to portraiture where what counts is what is missing from the image: charged with love as well as with trauma, these interior spaces invite imaginative readings of the people who belong or once belonged there. His photographs expose the artist's most intimate spaces while also maintaining the secrecy of private moments, with the protagonists kept safely (or tragically) out of the frame or at a distance.
Instead of providing a sense of objectivity or "truth," this exhibition points to all that is invisible in a photograph: memories, anecdotes, absences, and richly layered subjectivities. Guibert's photographs of objects and domestic spaces are full of the ghostly absence of those who had inhabited them and left them behind. In that sense, this exhibition considers those "truths" that lie dormant within a photograph, invisible to the eye, and yet central to the image. It proposes images about what is absent from images.
The Bay Area, where photographs are digital and omnipresent, provides a context for seeking a perspective and an evaluative distance from the many habits and assumptions that inform our everyday relationship with images today. Placed within this rich historical and cultural context, this exhibition pauses to reflect on what remains beyond the reach of photography: the emotional lives hidden behind its objects and the stories forgotten by its subjects.
The exhibition will travel to the Museum of Contemporary Art, Rome (March–May, 2023) and from there to the KW Institute for Contemporary Art, Berlin (June–August, 2023)
Hervé Guibert: This and More is curated by Anthony Huberman and organized by Diego Villalobos.
About Hervé Guibert
Hervé Guibert (1955 - 1991, Paris, France) was a novelist, photographer, and photography critic. He published his first book, Propaganda Death, when he was 22 years old, in 1977. That same year, he began writing a column about photography for Le Monde, and worked as the newspaper's chief photo critic until 1985, writing about artists, writers, and philosophers such as Patrice Chéreau, Roland Barthes, Isabelle Adjani, Michel Foucault, Miquel Barceló, and Sophie Calle. Between 1977 and his premature death in 1991, he wrote more than twenty-five novels and short narratives, always in the first person, including Suzanne and Louise (1980), Ghost Image (1982), Blindsight (1985), Crazy for Vincent (1989), several of which have recently been translated into English and published by Semiotext(e). His 1990 novel To the Friend Who Did Not Save My Life brought him media acclaim and public notoriety as it was a thinly veiled portrait of his friend Michel Foucault and played a significant role in changing public attitudes in France toward AIDS. In 1992, French television posthumously screened La Pudeur ou l'impudeur, a film Guibert made of himself as he lost his battle against AIDS.
Guibert's photographs were the subject of a retrospective at the Maison Européenne de la Photographie in Paris in 2011 and at the Loewe Foundation in Madrid in 2019. Other recent solo exhibitions have been presented at Callicoon Fine Arts in New York (2014 and 2019), Galerie Les Douches in Paris (2018, 2020, 2021), Kristina Kite Gallery in Los Angeles (2018), and Galerie Felix Gaudlitz in Vienna (2020).
Hervé Guibert: This and More is curated by Anthony Huberman and organized by Diego Villalobos. Special thanks to Christine Guibert and to Françoise Morin at Galerie Les Douches, as well as Photi Giovanis at Callicoon Fine Arts. We are grateful to Emily Markert for her research and work towards this exhibition during her time as a Wattis Curatorial Fellow in 2019.
About CCA Wattis Institute for Contemporary Arts
Founded in 1998 at California College of the Arts in San Francisco and located a few blocks from its campus, CCA Wattis Institute for Contemporary Arts is a nonprofit exhibition venue and research institute dedicated to contemporary art and ideas. Its exhibition program commissions and shows new work by emerging and established artists from around the world. Recent solo exhibitions include Josh Faught: Look Across the Water Into the Darkness, Look for the Fog; Maia Cruz Palileo: Long Kwento; Jeffrey Gibson: Nothing is Eternal; Lydia Ourahmane: صرخة شمسية Solar Cry; Cinthia Marcelle: A morta; Vincent Fecteau; Abbas Akhavan: cast for a folly; Akosua Adoma Owusu: Welcome to the Jungle (which traveled to the Contemporary Arts Center of New Orleans); Diamond Stingily: Doing the Best I Can; Rosha Yaghmai: Miraclegrow; Adam Linder: Full Service (which traveled to Mudam Luxembourg). A group exhibition, Mechanisms, traveled to Secession in Vienna in an expanded form entitled Other Mechanisms.
Its research program dedicates an entire year to reflecting on the work of a single artist, which informs a regular series of public programs and publications involving the field's most prominent artists and thinkers. The 2021–2022 season is dedicated to the artist Lorraine O'Grady; past seasons featured Joan Jonas, Andrea Fraser, David Hammons, Seth Price, Dodie Bellamy, and Trinh T. Minh-ha, and Cecilia Vicuña.
The Wattis also hosts an annual Capp Street Artist-in-Residence, one of the earliest and longest-running artist-in-residence programs in the country, founded in 1983 by Ann Hatch as Capp Street Project, and incorporated into the Wattis Institute in 1998. Each year, an artist comes to live and work in San Francisco for a semester, teaches a graduate seminar at CCA, and presents an exhibition. Recent participants include Helen Mirra (2021-2022), Raven Chacon (2020-2021), Hồng-Ân Trương (2019–2020), Abbas Akhavan (2018–2019), contemptorary (2017–2018), Melanie Gilligan (2016–2017), Carissa Rodriguez (2015–2016), Nairy Baghramian (2014–2015), Claire Fontaine (2013–2014), Ryan Gander (2012–2013), Harrell Fletcher and Kris Martin (2011–2012), Paulina Olowska and Renata Lucas (2010–2011), and Abraham Cruzvillegas (2009–2010). For more information, visit: wattis.org.
About California College of the Arts
Founded in 1907, California College of the Arts (CCA) educates students to shape culture and society through the practice and critical study of art, architecture, design, and writing. Benefitting from its San Francisco Bay Area location, the college prepares students for lifelong creative work by cultivating innovation, community engagement, and social and environmental responsibility.
CCA offers a rich curriculum of 22 undergraduate and 11 graduate programs in art, design, architecture, and writing taught by a faculty of expert practitioners. Attracting promising students from across the nation and around the world, CCA is among the 25 most diverse colleges in the U.S. Last year, U.S. News & World Report ranked CCA as one of the top 10 graduate schools for fine arts in the country.
Graduates are highly sought after by companies such as Pixar/Disney, Apple, Intel, Facebook, Gensler, Google, IDEO, Autodesk, Mattel, and Nike, and many have launched their own successful businesses. Alumni and faculty are often recognized with the highest honors in their fields, including Academy Awards, AIGA Medals, Fulbright Scholarships, Guggenheim Fellowships, MacArthur Fellowships, National Medal of Arts, and the Rome Prize, among others.
CCA is creating a new, expanded college campus at its current site in San Francisco, spearheaded by the architectural firm Studio Gang. The new campus design will be a model of sustainable construction and practice; will unite the college's programs in art, crafts, design, architecture, and writing in one location to create new adjacencies and interactions; and will provide more student housing than ever before.
Media contact