California College of the Arts is proud to announce Hatch Workshop and House9 as the two winning teams of the college's annual $25,000 USD IMPACT Award, presented by the Center for Impact at CCA. This year's theme, Home: Creative Thinking in Affordable and Sustainable Living Environments for Artists & Designers, sought solutions to affordable housing issues faced by creative professionals in the San Francisco Bay Area.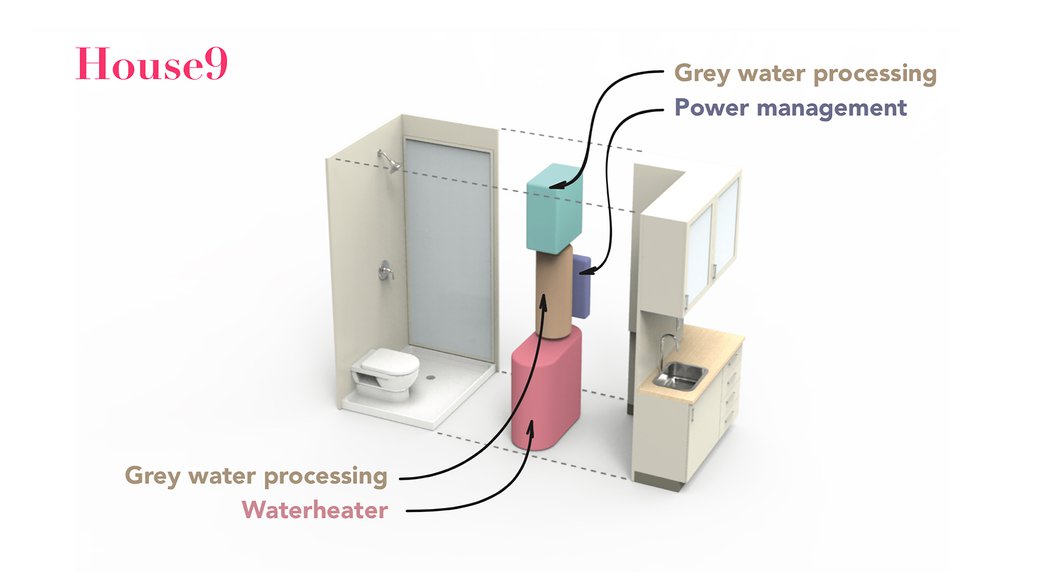 House9
House9 aims to maximize existing potential housing spaces and create new spaces for long-term living. House9's concept revolves around Core9—a centralized unit that physically connects utilities, water, and communications into one module that acts as the house's "nerve center." Core9's major innovation is the water processing system that combines a water heater, grey water processing, and power management; it also can be installed into any existing space to make it habitable for future tenants. House9 also aims to develop an ecological, flat-packed micro-home around the Core9 unit while maintaining affordability and environmental sustainability.
The House9 team consists of a mix of CCA students and alumni, including William Felker (Interaction Design 2016), Weiwei Hsu (Interaction Design 2018), Jennifer Kim (Interaction Design 2018), Kelly Lei (Industrial Design 2018), Isamu Taguchi (Industrial Design 2017), and Weiwei Wang (Architecture 2019). Current partners are the City and County of San Francisco, San Francisco Health Network, Utopia, and Craig Wooster from Stone Edge Farm MicroGrid.
Center for Impact Director JD Beltran observed, "The selection acknowledges the work and ingenuity of these two incredibly talented teams. We hope that this award will not only augment their creative practices in developing solutions that have lasting impact, but will also serve as a platform to connect the work of the CCA creative community in this field to a wider audience."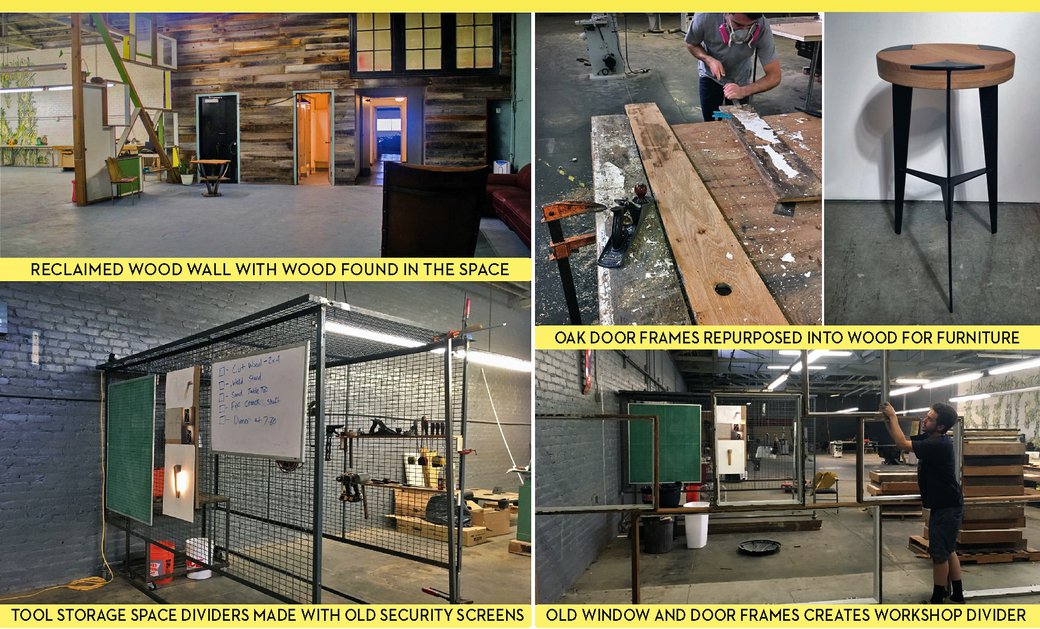 Hatch Workshop
Hatch Workshop, a holistic live/work/thrive space in Stockton, California, will offer training and education in fine crafts and design for students and the Stockton community while providing affordable housing, workspaces, and shop access for emerging artists and makers. The space also will feature a gallery for artists to sell work and an arts education classroom for artists to teach classes. The Hatch team is renovating a three-story, 35,000-square-foot former hotel and two adjacent warehouse spaces in the heart of downtown Stockton that will provide two floors of living spaces, a gallery, a storefront shop, offices, and a ground-level ADA apartment.
The Hatch Workshop team consists of CCA students Rowan DiIoia (Furniture 2019) and Malachi Trent (Furniture 2018), and team members Elazar Abraham, Hannah Craig, Ashley Gaddis, Josh Niemeyer, Nicole Patterson, and Phoenix Trent. For more about this project, visit hatchworkshop.org.
$25,000 for Excellence in Social or Environmental Impact through the Lens of Art & Design
The IMPACT Award is a CCA-wide competition, awarding the top two individuals or teams with $25,000 and a network of resources to complete an innovative project cultivating social and/or environmental responsibility.
The California College of the Arts prepares its graduates to be the next generation of socially responsible cultural leaders. The school functions as an incubator for artists, designers, and scholars, who learn from internationally renowned faculty and a rich landscape of community and technology partners working at the intersection of creativity and social innovation. Given the unique setting in the San Francisco Bay Area—the hub of global innovation—the academic experience is like no other, inspiring students to research, create and innovate with the potential to shape the world around them.
The annual IMPACT Award leverages the passion, creativity, and ingenuity of artists and designers in the field of sustainability and social impact. Each year, the IMPACT Award focuses on a specific concept addressing a pressing social or environmental challenge. The award also provides a network of resources and partnerships to outstanding CCA-based individuals or teams to enable them to complete a project of lasting environmental or social impact over the course of one year.
The 2018 IMPACT Awards were generously supported by Thurlow Washam, Werner & Eveline Schnorf, and the IMPACT Fund.
All students, faculty, alumni, and staff in all media are invited to submit proposals (all teams must include at least one team member who is a current CCA student during the current academic year).
2018 JURORS
Chuck Collins
Charles M. Collins is the President and Chief Executive Officer of the YMCA of San Francisco. The YMCA offers dozens of programs and services for over 183,000 children and adults in San Francisco, San Mateo, and Marin counties. From 2002 to 2004, Mr. Collins served as the President and Chief Executive Officer of the Family Service Agency of San Francisco (FSA/SF). From 1983 to 2002, Mr. Collins was President and Chairman of WDG Ventures, Inc., and its affiliated companies which are engaged in the investment and development of commercial and residential real estate. In February 2012, Mr. Collins was appointed by Mayor Edwin Lee to the San Francisco Arts Commission. He also is Chairman Emeritus of the San Francisco Art Institute and former Senior Vice Chairman of the National Urban League. He is a board member of the San Francisco Museum of Modern Art, where he serves on the Executive Committee and chairs the Governance Committee. Mr. Collins received his Bachelor of Arts with honors from Williams College, his Master of City Planning from the Massachusetts Institute of Technology, and his Juris Doctor from the Harvard Law School.
Lydia So
Lydia So is the founder of SOLYD, a full service architectural, management and design collaborative. SOLYD develops technology platform solutions alongside traditional design services. Powered by its extensive knowledge and network of building design experts, it provides project management and architectural design services for homeowners and commercial clients including office, retail, healthcare, and wellness facilities. Prior to founding SOLYD, Ms. So held a design management position at Apple, and also worked for nine years as an Associate at Skidmore, Owings & Merrill, honing her design skills and trailblazing the technical aspects of architecture practice, which historically has been dominated by men. She practiced architectural design under Bohlin Cywinski Jackson, and her global experience includes designing some of the world's tallest buildings, the most advanced life science buildings, and the world's first all glass spiral staircase.
Maria Jenson
Maria Jenson is the Executive Director of SOMArts Cultural Center. Prior to joining SOMArts, Maria was a key member of the External Relations team managing the reopening of SFMOMA following the museum's $300 million dollar expansion. At SFMOMA, she worked across departments and built innovative community partnerships as the museum's cultural and civic ambassador. Ms. Jenson was the Founding Director of ArtPadSF—an independent art fair that transformed the Phoenix Hotel into an immersive and interactive platform to engage Bay Area artists, gallerists and art lovers. A student of dance, theater and screenwriting for many years, Ms. Jenson has produced and directed live theater in Los Angeles, and launched and directed Salon Oblique in Venice, CA, a boutique art salon and gallery. Salon Oblique, like ArtPadSF, worked with performance, video, installation, and traditional media to create unique and theatrical events. She is active with the Arts for a Better Bay Area (ABBA) coalition and works with her colleagues at other major arts organizations in the region on education, advocacy and inclusion issues as they relate to arts, economic and community-building public endeavors.
Neal J. Schwartz
Schwartz and Architecture, established by Principal Neal J. Z. Schwartz in 1997, has received wide-ranging recognition including features in the New York Times, Dwell, and Wallpaper* Magazine, as well as numerous national and regional awards for design excellence. Mr. Schwartz holds dual master's degrees in Architecture and Public Policy from the Harvard University's Graduate School of Design and the Kennedy School of Government respectively. In 2015, he initiated and chaired a joint AIASF | SF Planning Working Group to advocate for change to residential design review procedures in San Francisco. He is currently the Chair of a newly-established AIASF Public Policy & Advocacy Committee. Mr. Schwartz has been actively involved in teaching for 25 years, most recently as an Associate Professor in Architecture Studies at the California College of the Arts (CCA), where he currently coordinates the master's degree housing studio. He graduated Magna Cum Laude, Phi Beta Kappa from Brandeis University, receiving a Bachelor of Arts in European history, and has studied and researched abroad in Vienna, Munich, and Berlin.
Vallie Brown
Vallie Brown is the San Francisco Supervisor of District Five. She formerly was a Project Manager of the City and County of San Francisco Office of Economic Workforce and Development/Joint Development, specializing in developing affordable housing for residents of the City of San Francisco and served as legislative aide to Mayor and former Supervisor London Breed. Ms. Brown studied Environmental Studies and Art at the University of California, Los Angeles, and Communication and Media Studies at the University of Utah.
THE 2018 IMPACT AWARD CHALLENGE:
HOME: Creative Thinking in Affordable and Sustainable Living Environments for Artists & Designers
The "HOME" concept is very open to interpretation, for example:
innovative architectural templates for group live/workspace for creatives
industrial design projects/fixtures/structures from recycled materials
using hemp, pineapple or lotus fiber textiles
solar or low-energy lighting solutions
housing infrastructure for efficiencies
furnishings that use recycled materials
recycled glass dishwares or lighting
innovative platforms or materials for visual/fine art
ceramic products using recycled ceramic materials
creative murals/photographic walls
eco-friendly interior design
robotic or internet-of-things products that support efficiencies
short film/animation series promoting sustainable living practices
a book, magazine or article series on this subject
systems or resource information networks (e.g., a website) for sustainability
Essentially, anything that fosters or could be part of the affordable, sustainable dwelling of the future.
For inspiration and ideas, see CCA's award-winning Refract House. Co-designed by CCA students, Refract House uses sustainable materials for all exterior and interior elements of a dwelling. The architecture, insulation, landscaping, energy systems, and lighting fixtures are all crafted from recycled materials like ceramic dinnerware, glassware, and more.
Projects must be designed, produced, and implemented in the Bay Area over the one-year grant period, and have lasting environmental or social impact beyond the grant period. Applicants have the opportunity to participate in design thinking and community engagement workshops crafted to assist them in developing and strengthening their project proposals before the submission deadline.
To learn more, please save the date for the information sessions and register for the Design Blitz and Community Engagement Skills Workshop at the links in the timeline above.
The Center also has developed a partnership with the City of San Francisco's Office of Economic and Workforce Development to establish architectural templates and utilize art/design based sustainable products created through the 2018 IMPACT Award competition for potential future Artist Affordable Housing and Workspace sites in the City of San Francisco. Other resource partners include the City of San Francisco Planning Department, Institute for the Future, Soup, the Workshop Residence, and the San Francisco Housing Action Coalition.
CCA faculty, alumni, and staff applicants must include at least one team member who is a current CCA student during the 2017-18 academic year. CCA-based artists, designers, and creative teams from all disciplines and fields (including CCA alumni, faculty, and staff) are invited to apply.
The strongest projects will:
Identify a need or issue related to or addressing the following topic: HOME: Creative Thinking in Affordable and Sustainable Living Environments for Artists & Designers
Pursue an innovative, creative solution that includes a proposed plan of research/collaboration with their users/community on its effectiveness (for some tips, see the community engagement powerpoint, above)
Create a solution that has long-lasting impact beyond the grant period and logical metrics/measures for its success
Proposals in all media encouraged!
Questions? Write [email protected].