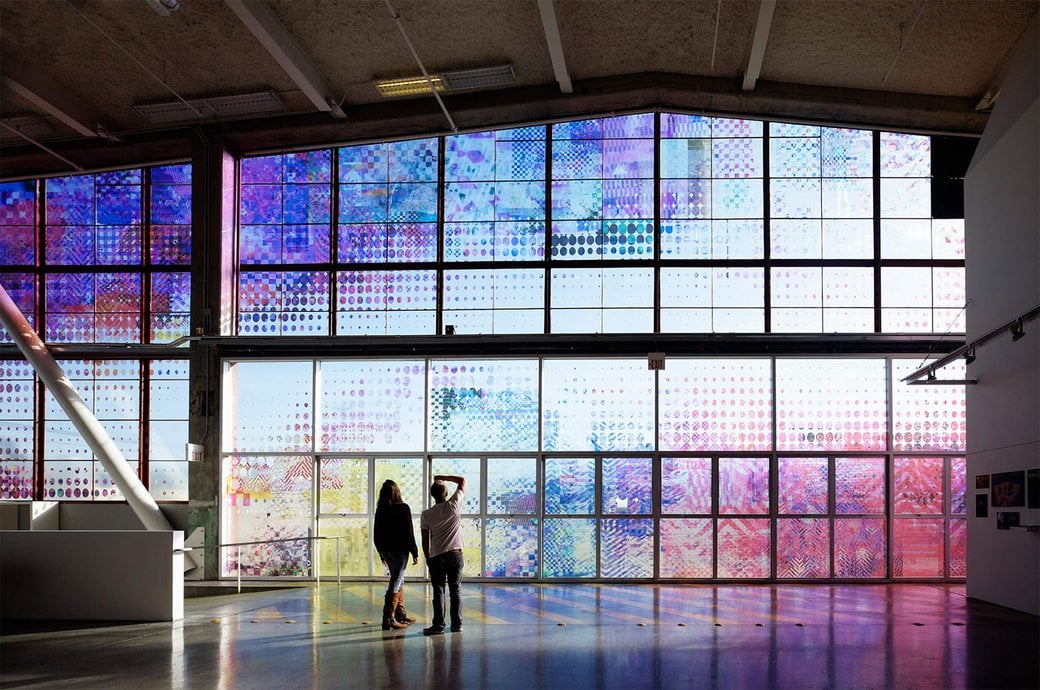 Make art that matters on two dynamic campuses
As a student at CCA, you'll have access to two campuses in the Bay Area where you can learn your craft and hone your skills. As a first-year undergraduate, you'll start on our San Francisco campus, where you'll live in our newest residence, Founders Hall, right next door to the first-year studios. Graduate programs are also based in San Francisco. But all students have access to the studios, workshops, and making facilities on both campuses.
San Francisco campus (1111 Eighth Street) is located in the urban Potrero Hill neighborhood. Here, you'll find the Nave, a sunlit corridor in our main building surrounded by student studios that's the hub of CCA's critique culture. Nearby are our student residence halls, Founders Hall and Blattner Hall, as well as the Wattis Institute for Contemporary Arts and Hubbell Street Galleries.
Oakland campus (5212 Broadway) is located on four beautifully landscaped acres in the Rockridge district at the intersection of Broadway and College Avenue. It's home to student galleries, classrooms, work spaces, and some of our heavy making studios.. CCA's founder, Frederick Meyer, a skilled horticulturist, purchased this site in 1922 and much of his landscaping work is still evident today.
Find the freedom to explore
The confluence of our prime location, our diverse creative community, and our interdisciplinary curriculum focused on socially engaged projects is what makes life at CCA so unique.
In San Francisco, we're connected to the contemporary art scene, as well as industry partners who we work with to build design-led technological solutions. In Oakland, we have spaces dedicated to using art and design to support social activism and rethink ecological resilience.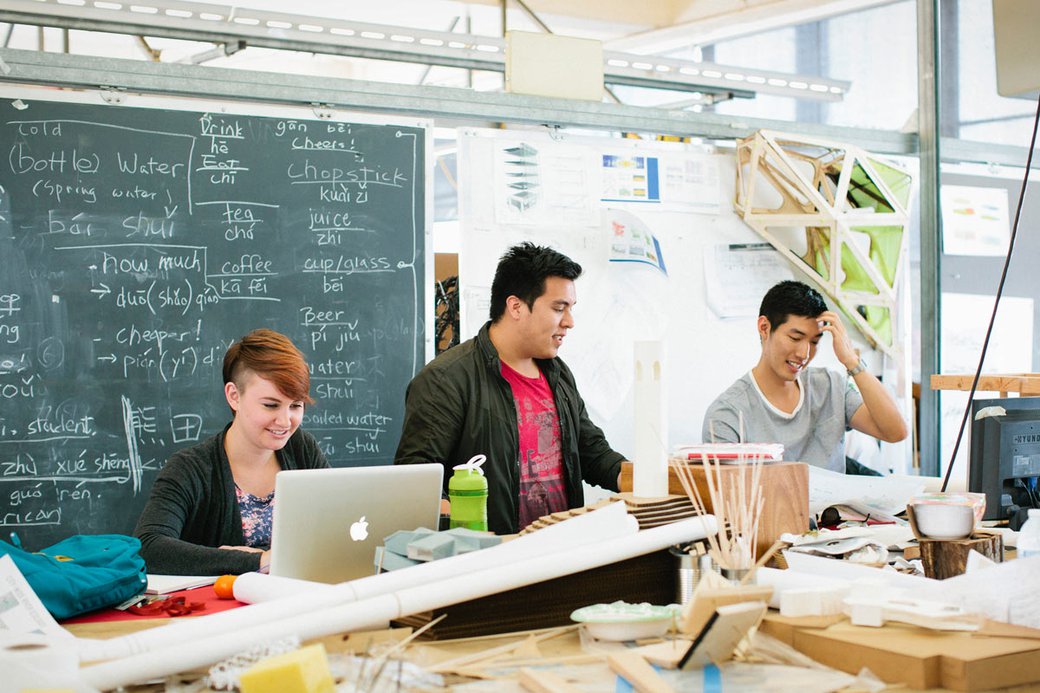 Take a virtual tour with a CCA student as your guide
Our campus is reopening to guests this fall for guided tours by appointment only. All visitors must register in advance and comply with CCA's COVID-19 vaccination policy for the safety of all students, staff, and faculty.. We are unable to accommodate walk-in guests or unaccompanied visitors on campus at this time. Schedule a tour using the link below or contact [email protected] if you have questions.
If you aren't able to visit in person this fall, we also offer weekly guided virtual tours with current CCA students; they will show you around via our virtual tour platform and share their personal experiences of life in the studios. Or you can take a self-guided, 360-degree virtual tour on your own time. Then schedule time to meet with an admissions counselor via Zoom, or phone; we'll be happy to answer any questions you might have. We'll do all we can to help you make an informed decision about your application or admissions decision despite these unique circumstances.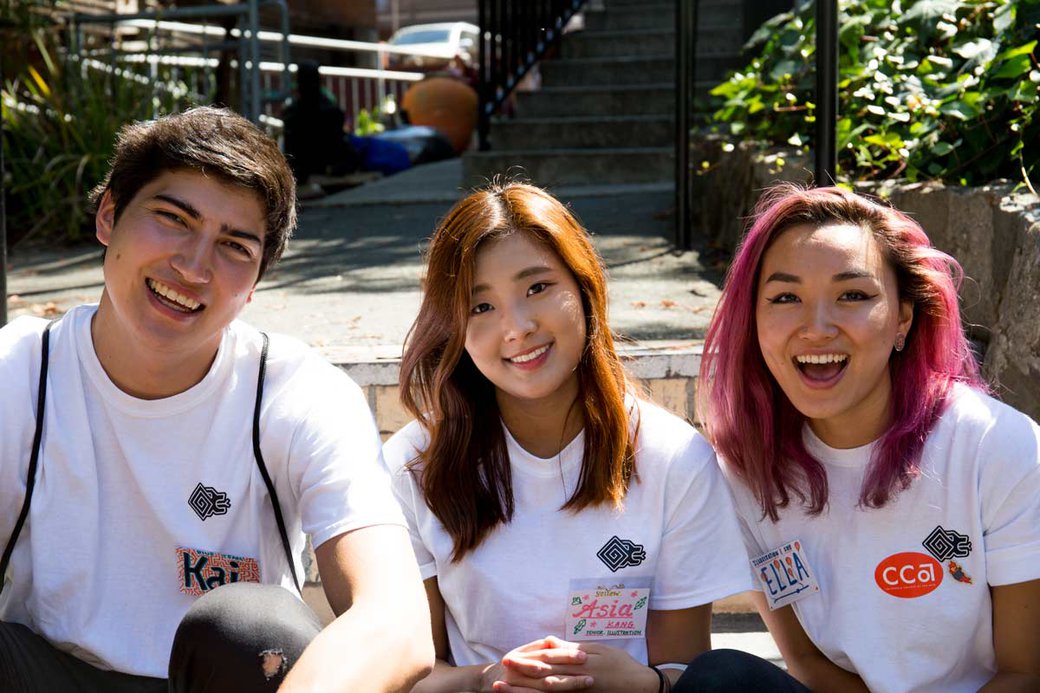 What to expect on a campus tour
We are happy to be welcoming guests again to our San Francisco campus! A CCA admissions counselor or one of our CCA student admissions ambassadors will guide you on your campus visit. Preregistration is required for all campus tours and groups are limited to 20 guests or fewer. We require all visitors to comply with CCA's COVID-19 health and safety protocols, including vaccination verification and wearing a mask covering the nose and mouth in all indoor spaces while on campus.
The tour lasts approximately 50 minutes and takes visitors through our light-filled main building, home to the Nave, painting and illustration classrooms and studios, Hybrid Lab, furniture bench room, wood and metal shops, design and architecture studios, and computer labs; our Backlot, which has been reborn as an outdoor maker space; and our newest student residence, Founders Hall.
All tours include a session with an admissions counselor who will provide information about our programs, financial aid opportunities, portfolio requirements, and application process, and who will answer any other questions you might have.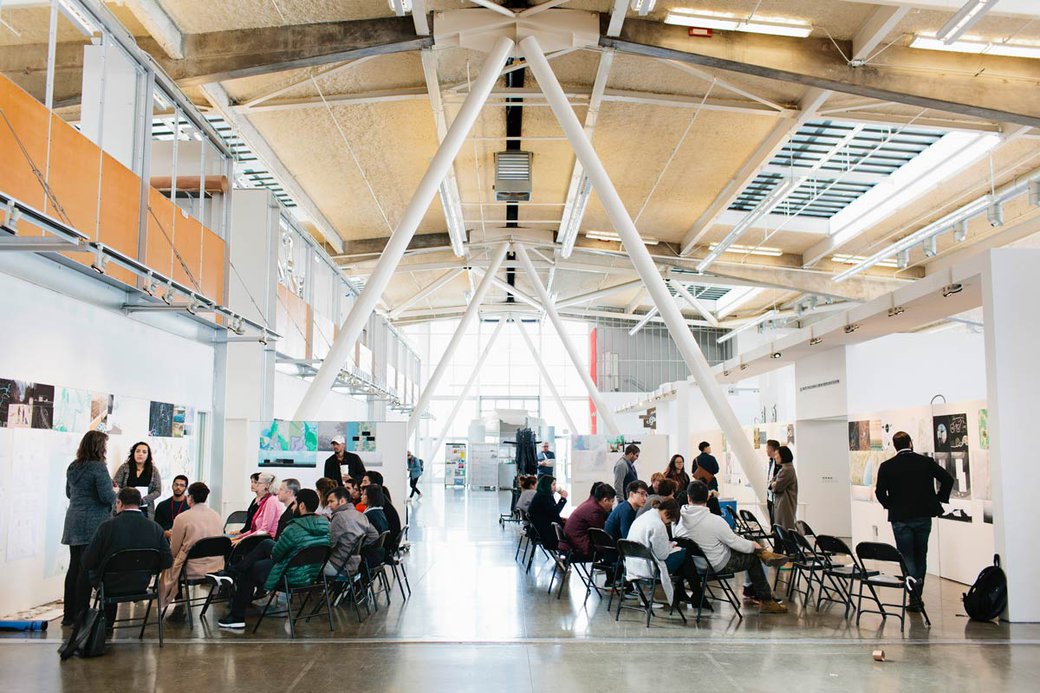 On an undergraduate campus tour, you'll visit our San Francisco campus to see where you'll live, learn, and make in your first year..You'll see the Nave, tour classrooms, visit First Year Experience spaces and studios, and check out our sound stage, production areas, labs, and other spots where hybrid practices take shape. You'll also check out our newest student residence, Founders Hall, where first- and second-year students live, and Makers Cafe, the full-service dining hall where students use their CCA meal plans.
Graduate tours
Rather than stick to one siloed path of study, we tend to work across multiple disciplines, pulling inspiration from the Bay Area. You'll see these hybridity principles and creative adjacencies on full display during your tour of the San Francisco campus.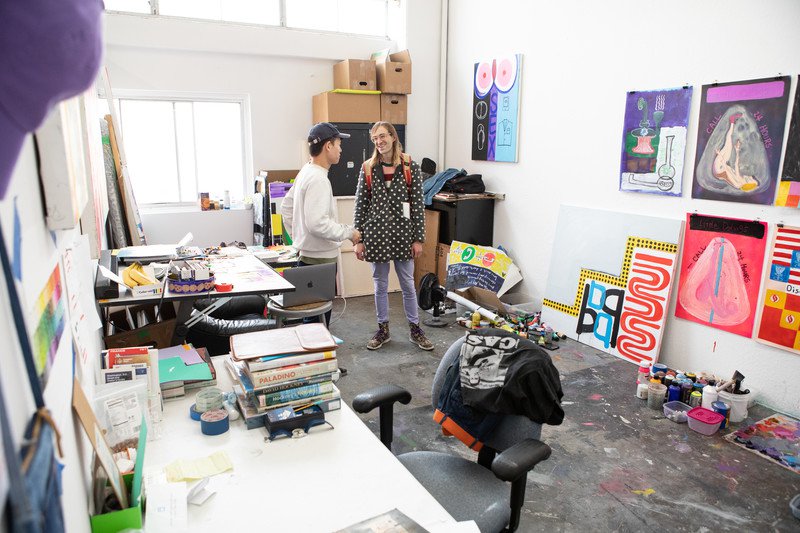 You'll explore the main building, where graduate students often work as teaching assistants; graduate student housing in the new, nearby Founders Hall; individual graduate program studios, including the graduate design studio and the graduate architecture studio; the writers' studio and its Japanese-inspired garden, idyllic for writing; and the Graduate Center, home to the graduate computer lab, VCS program spaces, exhibitions catalogs, library, and more. At the end of your tour, we recommend you visit the prestigious CCA Wattis Institute for Contemporary Arts, where graduate students go to view exhibitions and participate in gallery events.
Explore off-campus graduate studios
Our MFA in Fine Arts program offers individual studio spaces in the American Industrial Center in San Francisco's thriving Dogpatch neighborhood. Request an appointment with admissions staff to learn more about this space.
Group tours
To help maintain lower population density on campus and prioritize the use of spaces for our students and faculty, we are not offering group tours at this time. The following information outlines our standard group tour policies so you know what to expect when we're able to offer them again. Please check back for updates in spring 2021.
Our tours of San Francisco and Oakland campuses (excluding residence hall visits) can also accommodate your group of 10 to 40 students. These tours are for groups of high school sophomores, juniors, and seniors or college transfer students only.
To request a group tour, please submit a request form with information about your group size and interests. We require three weeks advance notice for all group tours. We'll contact you via email upon receipt of your request to further assist in scheduling your group tour.
Admissions events
Visit our campus during an admissions event! During the year, we offer opportunities for prospective or admitted students to visit our campus, such as Undergraduate Open House, San Francisco's National Portfolio Day, and CCA's Admitted Student Day. Please note: these events require advance registration and guests must be in compliance with CCA's COVID-19 vaccination policy.
Tour our home without leaving yours
Featuring in-depth views and descriptions of both campuses, this tour is designed so you can click around and explore at your own pace.
A portfolio should make a big impression
Our admissions counselors can help
When you apply for admission to CCA, whether you're enrolling as an undergraduate student or a graduate candidate, you'll have to submit a portfolio of work that demonstrates your creative achievement and potential.
This portfolio helps us make admissions decisions, as well as decisions regarding scholarship recipients, award amounts, financial aid, course placement, and more. In short, you want your portfolio to rise to the top of the stack. We're happy to help you refine your portfolio so that it shows the best of your abilities, while also providing everything we need to see.
CCA admissions staff offers undergraduate portfolio reviews by Zoom only, and undergraduate and graduate admissions appointments by phone or Zoom. To request an appointment, use the appropriate link below to put something on our calendars, call +1 800-447-1ART, text +1 415-610-7004, or email [email protected].
National Portfolio Day
Meet CCA at an NPD event
Connect with CCA representatives and admissions counselors by attending a virtual undergraduate or graduate National Portfolio Day (NPD). Attend NPD for insights on your application portfolio from CCA's admissions team and learn about CCA's programs and application process.
San Francisco campus
The San Francisco campus is located at 1111 Eighth Street, between Hooper and Irwin.
Parking
Visit the Parking page for information on paid lots, neighborhood street parking, and ADA permits.