A community of creative collaborators
The CCA student housing community empowers creativity. Your next door neighbor could be your next big collaborator. That's why our social, educational, and professional residential programming is committed to helping you settle in and connect with your peers. All students live on campus for their first two years at CCA, where on-site social events, counseling and psychological services, and residential programming—and a meal plan centered in our brand new dining facility—make it easier to get to know your peers, your neighbors, and yourself. Whether you're a first-year, transfer, graduate, international, or continuing student, living in CCA residence halls can enhance every aspect of your college experience.
Our Housing, Dining, and Residential Education team is here to support your success in and out of the classroom. Our team's services are set up to help you make the most of your college experience so you can:
Participate in workshops and activities geared toward wellness and holistic development
Find and connect with a diverse group of friends
Meet and network with future collaborators and colleagues
Live at the center of the Bay Area's art and design communities
Access amenities with peace of mind, thanks to front desk staff, 24-hour guest check-in, and regular safety walk-throughs
Life in the Bay Area
Your location today makes a big difference in where you land tomorrow, and inspiration is always just around the corner in our San Francisco residence halls.
CCA housing is located in neighborhoods that are at the helm of cultural transformation. Live near contemporary galleries, world-renowned museums, cool collectives, and organizations driving design and technological innovation. Student housing—either on or near campus—is strategically set up to help you succeed as you navigate an urban landscape unlike anywhere else in the world.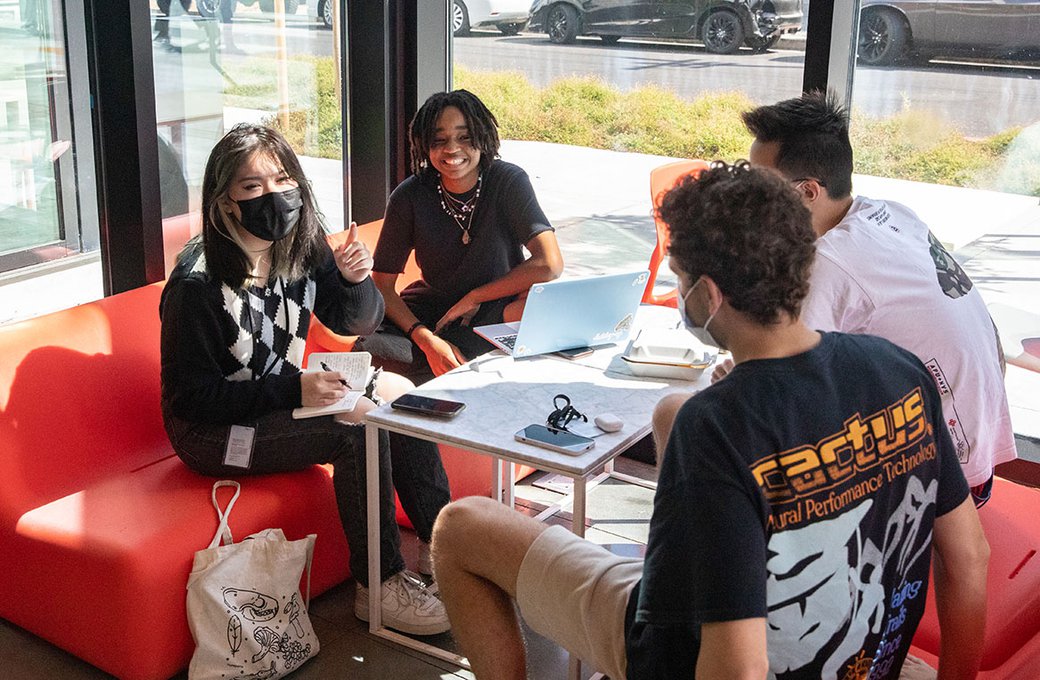 Home is where the art is
Calling a CCA residence hall home is the surest way to feel connected to campus, your community, and the entire city, with a range of amenities designed to enhance your living-learning experience. With your classes and studios just minutes away and easy access to transportation, the city is your classroom. Enjoy easy access to Bay Area Rapid Transit (BART), walkable and bikeable routes, and secure bike storage.
Join a community of thinkers and creators
We've seen how the support system of your campus community can help fuel creativity. That's why, over the past few years, we've built custom residences to house more than 700 students in the heart of San Francisco's dynamic DoReMi art and design district. It's part of our ambitious, multi-year plan to unify and expand our San Francisco campus to benefit students in every discipline and at all academic levels. View our Campus Expansion plans.
Founders Hall
Our newest residence hall in the center of CCA's campus, Founders Hall is home to most of CCA's first- and second-year resident students.
The residence features sculptural glass and red gridwork that frame a ground-level gallery, community gathering space, and a cafe where students can use their meal plan. Above, four floors are connected by an open-air indoor courtyard, common spaces, and corridors with student rooms on either side. The compact and efficient rooms come with storage, beds, and desks, as well as a separate sink, toilet, and shower stall to minimize morning traffic while students get ready for class. The top floor has single rooms for upperclassmen and graduate students, as well as a terrace overlooking San Francisco's iconic skyline.
CCA's newest community at Founders Hall offers welcoming rooms and dining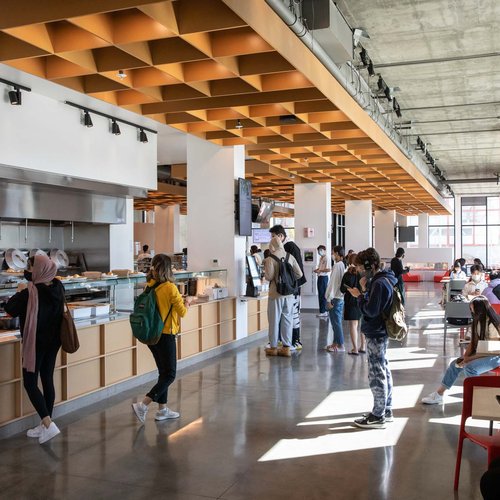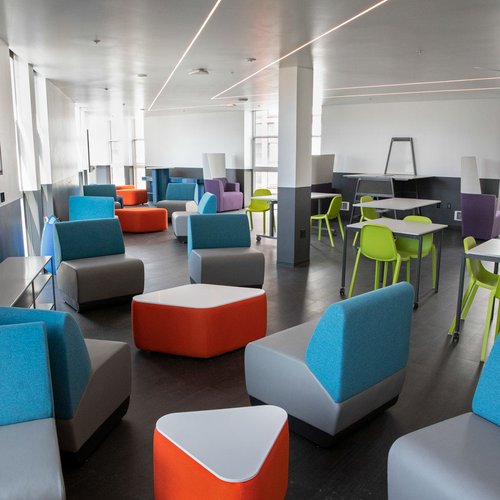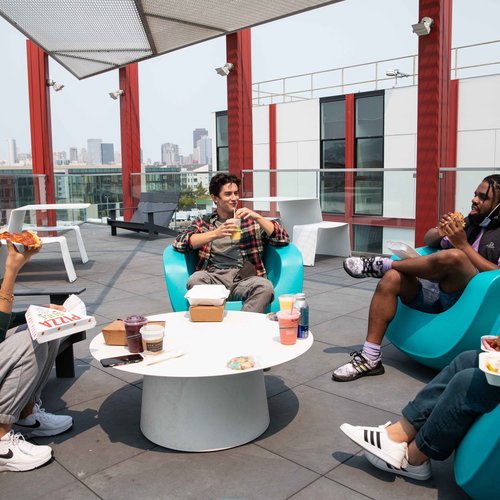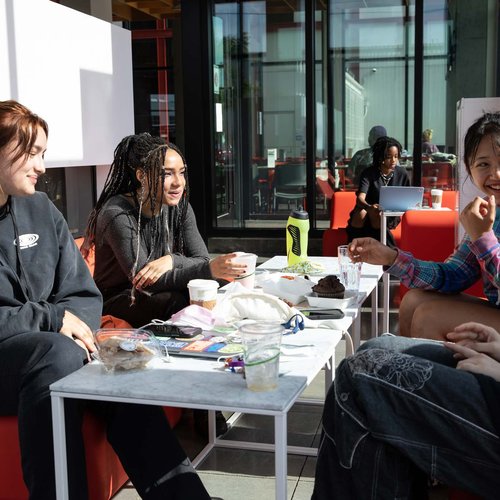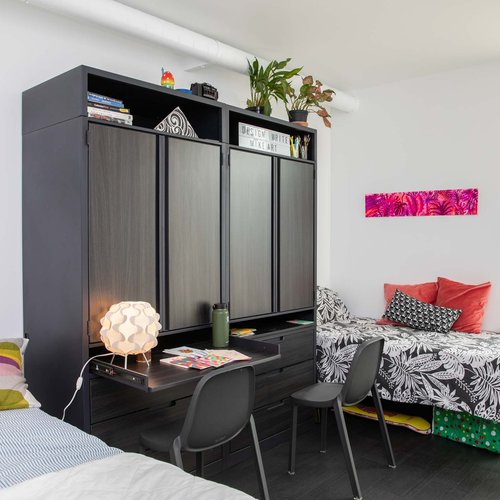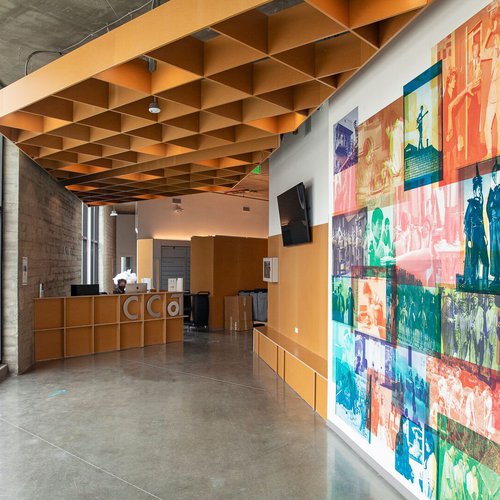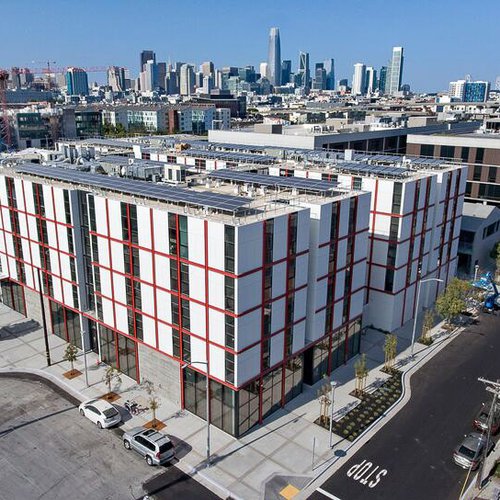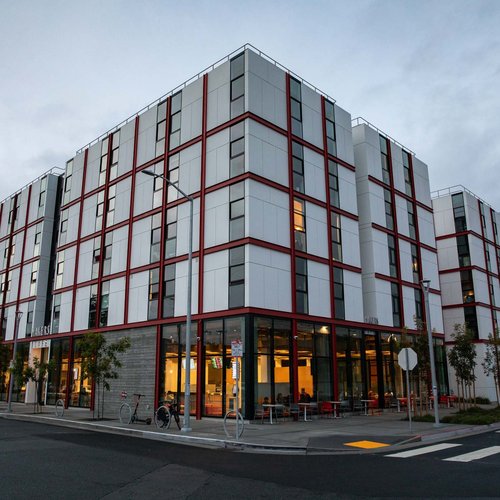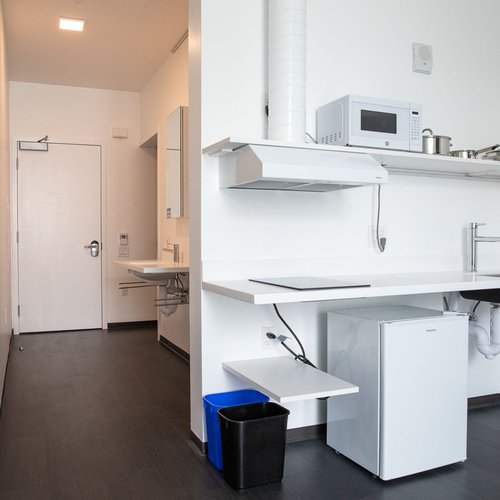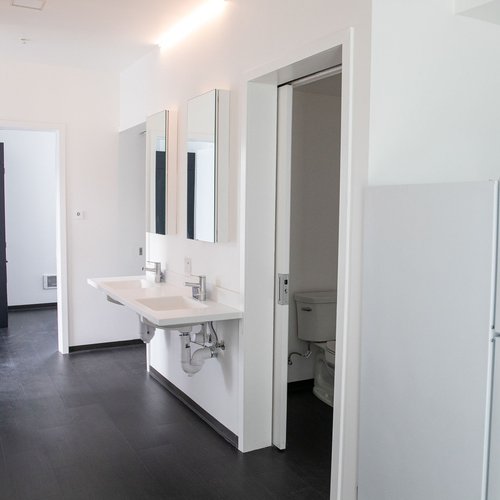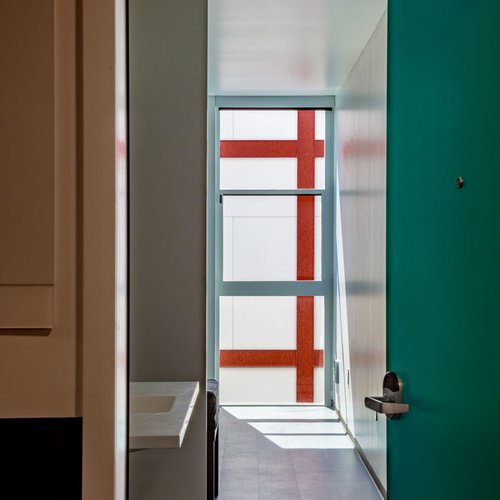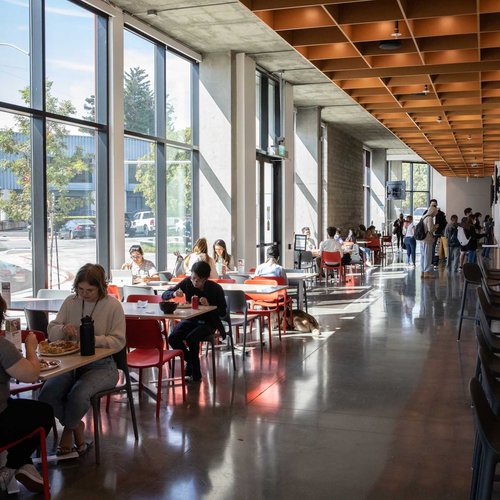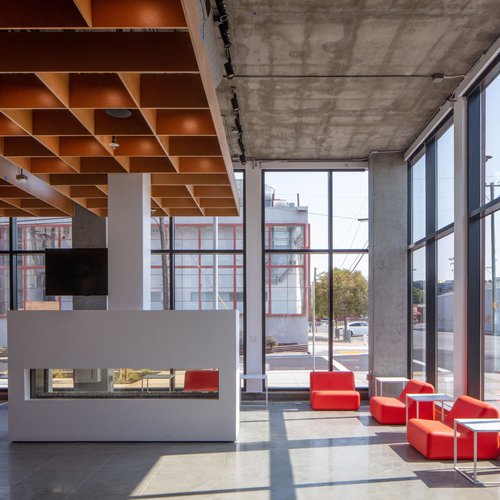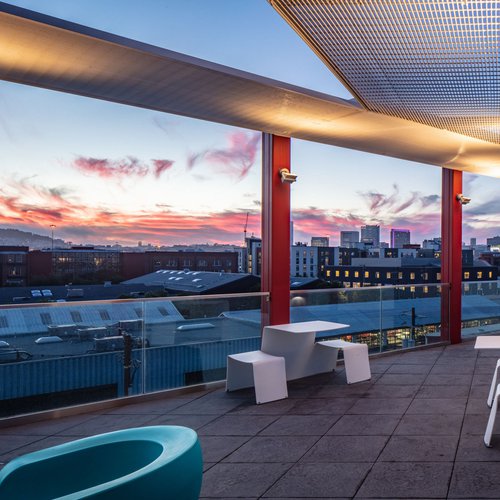 Blattner Hall
Just two blocks from our campus, this new, apartment-style residence hall caters to continuing undergraduate and transfer students. It offers apartments with two-person rooms and many modern amenities, including a living room and full kitchen in each suite.
Blattner Hall's design supports environmental sustainability and making connections. The building features a solar panel-covered roof, for renewable electricity and hot water production, and holds the GreenPoint rating system's highest ranking of Platinum. Adjoining courtyards and first-floor spaces are designed for community gathering, and the building's location is hard to beat: High-profile art venues like fused space, San Francisco Center for the Book, and CCA's Wattis Institute are all Blattner Hall's neighbors. A Whole Foods is just blocks away, and Philz Coffee, one of a handful of nearby cafes, is a great spot to hold an impromptu study group.
Spacious floor plans and suite apartments reside at Blattner Hall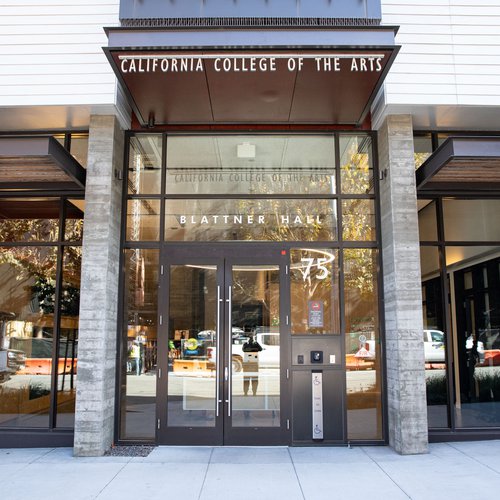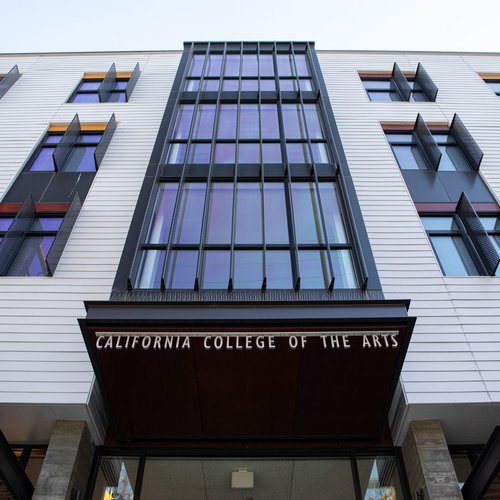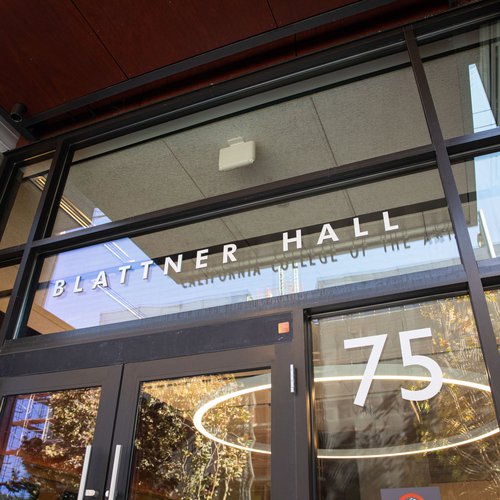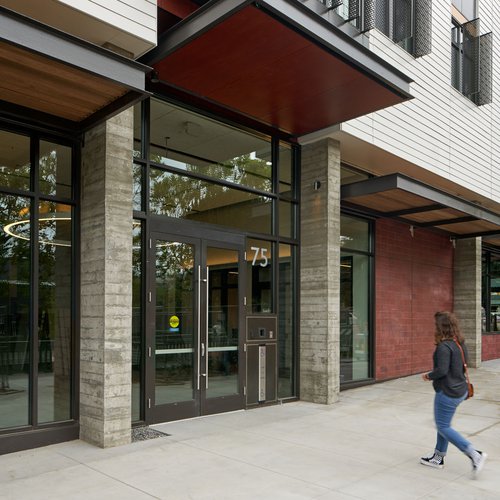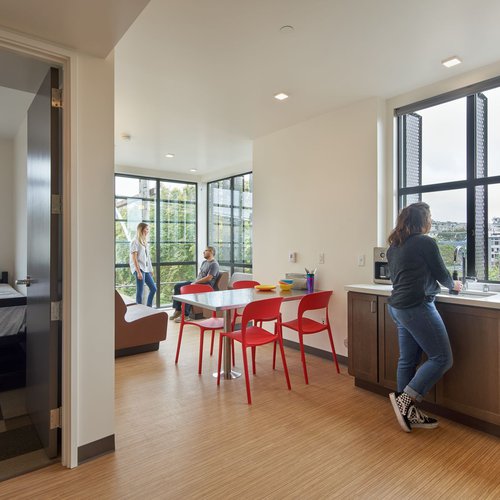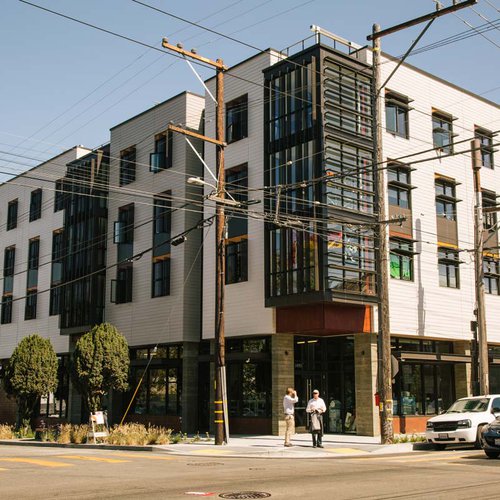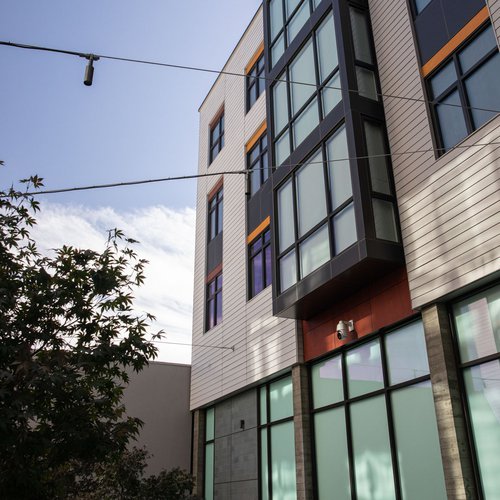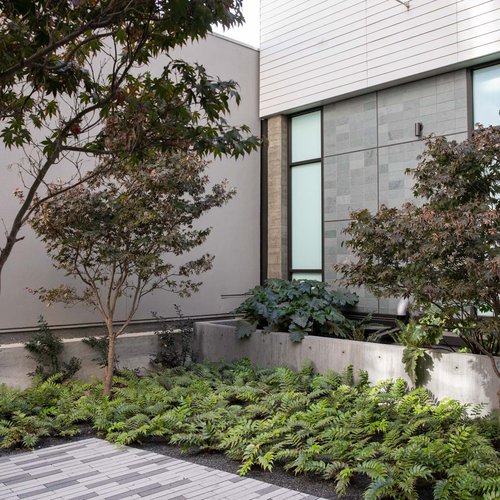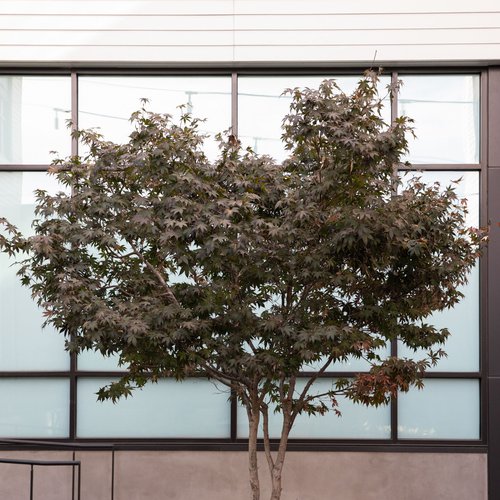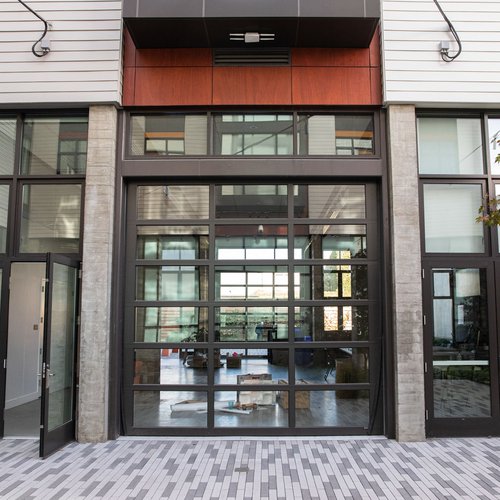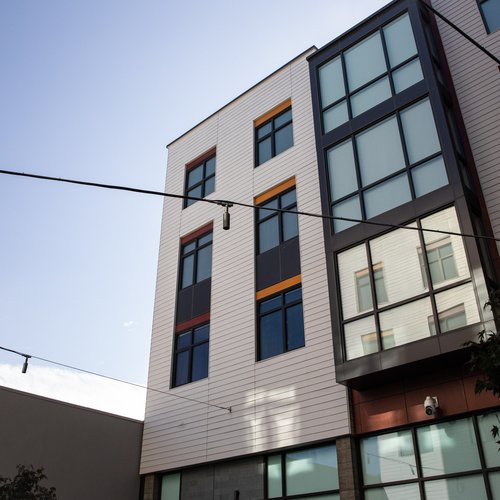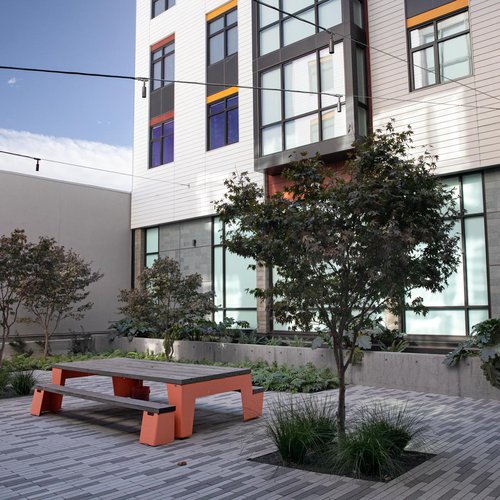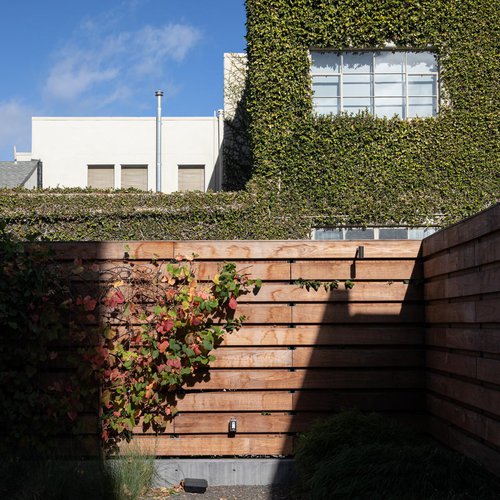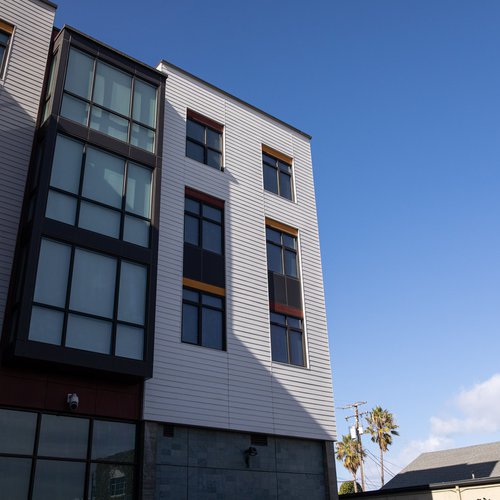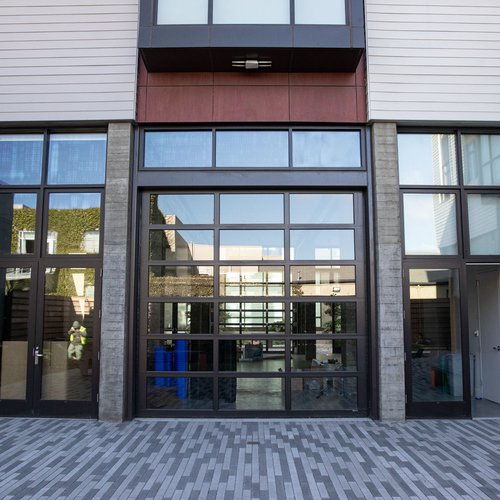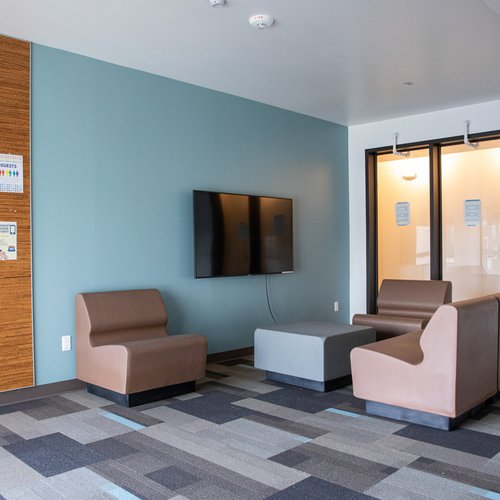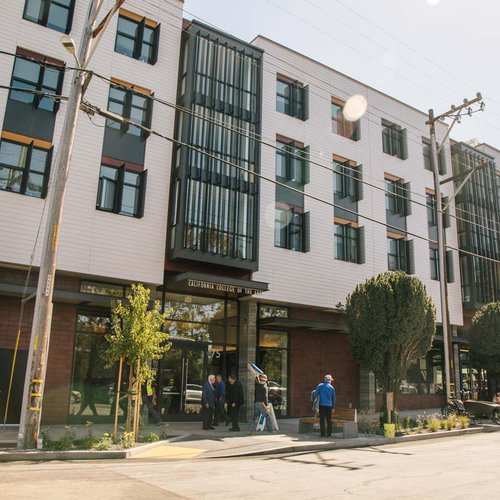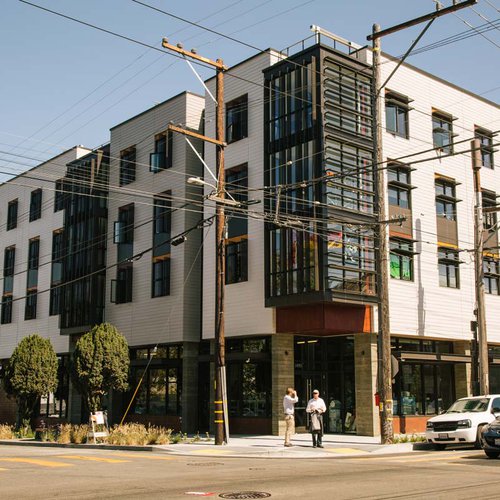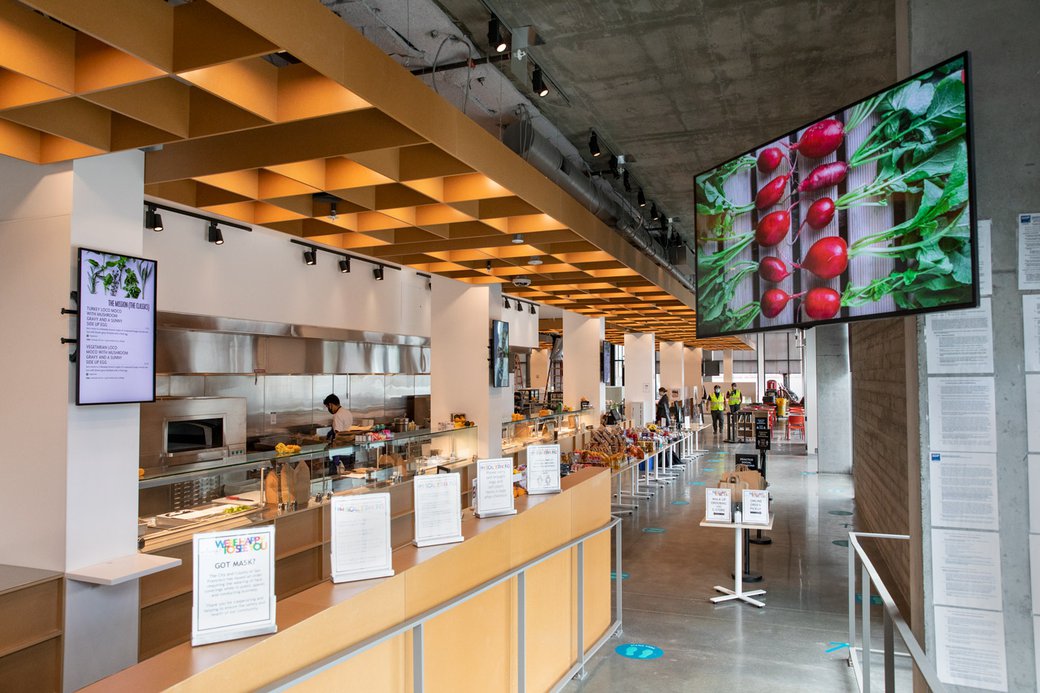 Flexible dining at Makers Cafe
Makers Cafe, located on the ground floor of our newest residence, Founders Hall, opened in fall 2020. The cafe is designed to accommodate the wide-ranging needs of our diverse campus community and neighbors. Enjoy seasonal menus and daily specials made with local and organic ingredients when possible, made-to-order hot and cold items, and fresh coffee and espresso from a full-service counter. An adjacent convenience store will keep hours for late-night needs.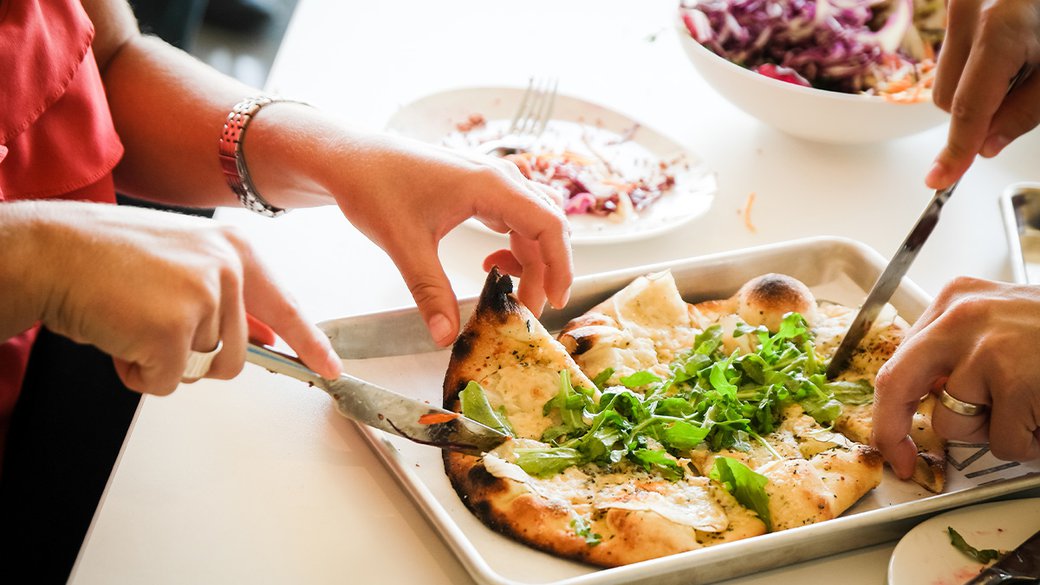 Committed to sustainability
CCA's dining venues are managed by Bon Appétit, a James Beard-award winning food service management company that shares CCA's sustainability values. Bon Appétit, which is based in Palo Alto, is recognized as an industry leader in environmentally and socially responsible practices, cooking made-from-scratch menu items with seasonal ingredients from local food growers. It was the first food service company to advocate for farmworkers' rights, switch to cage-free eggs, strive to serve only sustainable seafood, and many other initiatives that aimed to tackle food's role in climate change and pioneer environmentally sound sourcing policies. Together we're developing a robust operations plan that ensures our food program is as sustainable as possible.
Save with a student meal plan
New CCA meal plans will create significant savings in the total cost of living for all eligible students. Students who live in Founders and Blattner halls will be required to choose from a selection of tax-free, declining-balance meal plans; the meal plan baseline will be based on whether a student lives in a unit with or without a kitchenette. Students who live off campus will have the opportunity to purchase a meal plan.
Socialize right outside your room
Living in a CCA residence hall community makes it easier to connect with peers, push creative boundaries, and reach your goals. Your neighbors are like-minded makers who understand your priorities and schedule. They're also great people to grow alongside and get to know at housing hangouts that happen all semester long, such as:
Movie, karaoke, and game nights
Community service opportunities
Professional and counseling meetups
International and holiday potlucks
So much more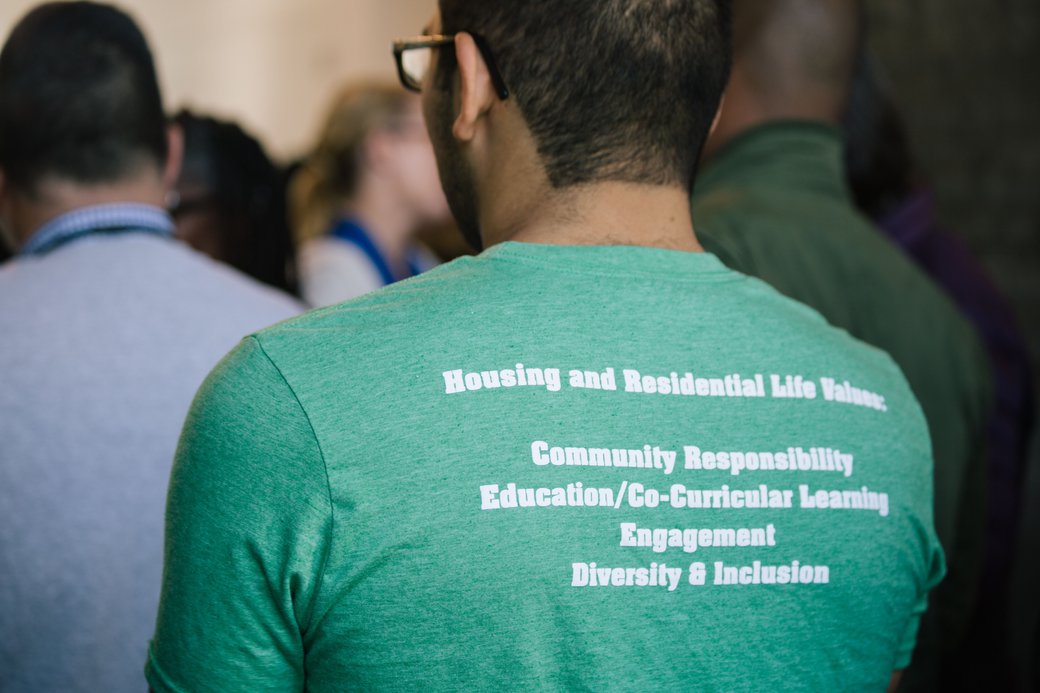 Help on-hand when you need it
CCA's Housing, Dining, and Residential Education team members are always close by for mentorship and 24/7 assistance. In each hall, professional staff members, graduate interns, and trained student Resident Advisors provide a welcoming environment and guidance in your personal and artistic pursuits outside the classroom. (They can also tell you where to get discount art supplies.)
Summer 2023 campus housing is available
CCA offers summer housing to students enrolled in summer courses or continuing students enrolled at CCA for the fall 2023 semester. Summer housing is available between May 15 and August 13. Private studios with kitchenettes are available and will be assigned on a first-come, first-served basis, so apply early!
Apply for fall 2023 campus housing
CCA has a live-on residency policy that requires incoming first-year and transfer students to live in campus housing. For continuing and graduate students who are looking for convenience and community, the college offers suite-style units and studio apartments.