Alumni Stories: Aaron De La Cruz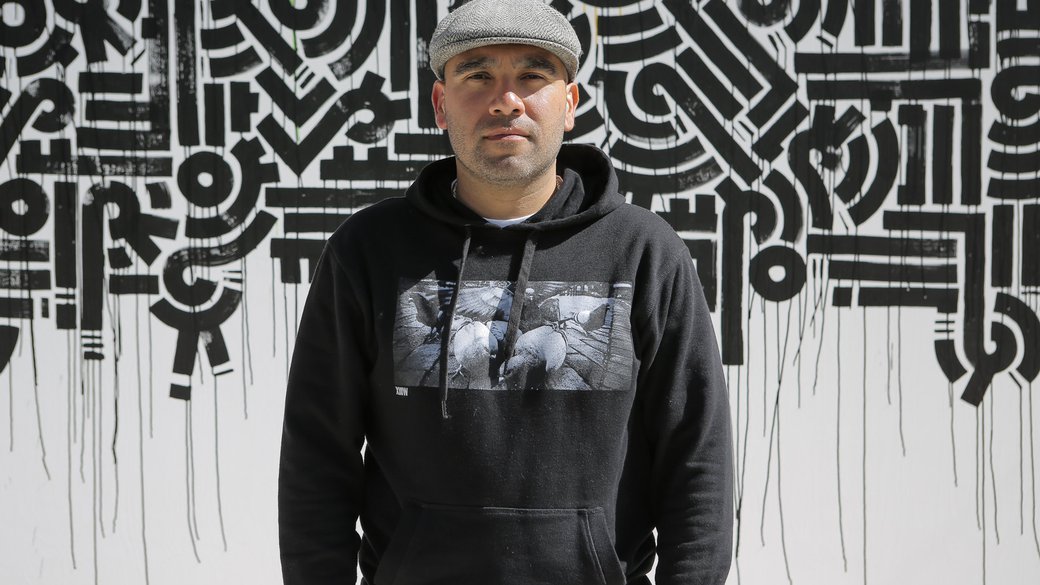 Background and Education
Raised in Fresno, De La Cruz attended Fresno City College for a year and was encouraged by an instructor in a screen printing class to apply to art school. He was accepted at three different colleges in California and decided on CCA for the simple reason that his parents went to a Pink Floyd concert in San Francisco in the 1970s, which they said was also the pinnacle of their traveling experience, and he "wanted to start something where they left off."
At CCA, De La Cruz says, he met some great teachers and got an idea what it was like to be a working artist. He credits John Hersey with giving him the confidence to pursue his style. Another instructor he cites as an inspiration is Randy Chavez, who "really pushed me and showed me how to push myself." A trip to Mexico City arranged by Julio Morales was eye-opening. The class toured the Jumex museum collection before the building was officially open. "The collection then was housed in the factory where the company produced juice; it was surreal to see this large body of work in that location," De La Cruz says. It was "insane" to be able to flip through vertical files of paintings and touch the work of artists he'd seen in textbooks.
CCA also provided De La Cruz with a solid group of friends, with whom he stays in touch. "We're all doing what we wanted to do when we first met at school," he says, which helps keep him motivated and inspired.
Works by Aaron De La Cruz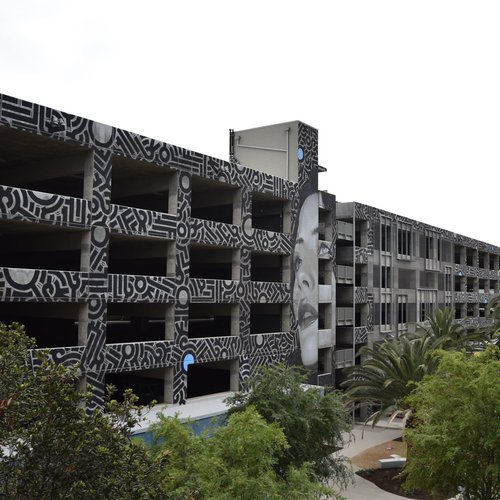 Recurring Motif and Favorite Projects
A recurring motif in De La Cruz's work is a straight line with a curve at the bottom, like a backward letter J. He has said the mark represents "the feeling you have when you're letting go of fear," and it appears in almost all his work.
He explains that because his paintings are made in the moment, without being sketched ahead of time, he starts each work with "the feeling of being scared or not knowing the outcome." He compares that feeling to the one he had when he and his wife decided to start a family, and he wondered if he'd have the time and resources to continue as an artist. With a lot of family support—"my wife gives me the courage to do what I do," he says—he's been able to thrive as an artist in San Francisco.
One of De La Cruz's favorite recent projects was a 2013 collaboration with the Free the Data project—an effort to make data on gene mutations public in order to further research. The artist worked with a scientist and a number of cancer survivors to create a mural that represents the human genome and cancer-causing gene mutations.
"This was the first time I was able to take my experience working in art education and integrate it with my personal work," he says. The project was especially personal, since his mother is a cancer survivor. "I get excited when collaborations have a direct tie with my family experience."