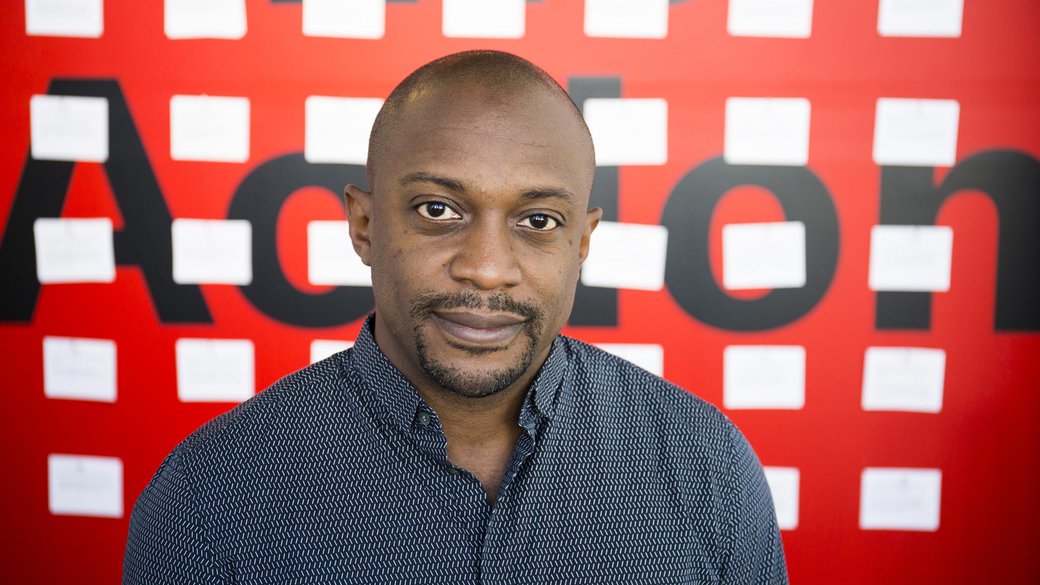 A mobile video recording booth, participatory art walks, an installation of bell sounds: CCA alumni are bringing public art to the streets and parks of New York City. The artists are engaged in a 21st-century social and community public art practice that is not always object-based.
"Space is at a premium in New York City," says Hank Willis Thomas (MFA Photography, MA Visual Criticism 2004), a conceptual artist who approaches his practice "assuming the role of a visual culture archaeologist." His photographs address identity, race, and popular culture and are included in the collections of MoMA, the Whitney Museum of American Art, and many more.
"Scale and Audacity"
Thomas was involved in two New York public art projects in 2015 and was recently appointed by Mayor Bill de Blasio to the Public Design Commission, which reviews permanent works of art and acts as caretaker and curator of the city's public art collection. "Nothing in the US approaches the scale and audacity of temporary projects in New York City—although there is less willingness to make an investment in ambitious, permanent art," he admits.
Thomas says he was initially drawn to CCA to study with the late photographer Larry Sultan, who had collaborated with public artist Mike Mandell, known for transforming photographic imagery into large-scale murals. A public art class taught by Sonia BasSheva Mañjon, former director of the Center for Art and Public Life and founding chair of the Community Arts Program, provided Thomas with the building blocks for a dynamic public art studio and an administrative skill set, including planning and budgeting.
After graduating from CCA, Thomas soon formed ©ause Collective with Ryan Alexiev (MFA Design 2007) and Jim Ricks (BFA Photography 2002), and in 2010 the trio created a large-scale video installation for the Oakland Airport. Last year New York City nonprofit Public Art Fund presented their In Search of the Truth (The Truth Booth), a portable, inflatable interactive video recording booth that has also been featured in installations in Afghanistan, South Africa, and Ireland.
Participatory Walks
Todd Shalom (MFA Writing 2004) is a writer and performer whose participatory walks utilize techniques from poetry, sound, and performance to activate and "reframe" public spaces and public art installations. In just a handful of years he has managed to situate the participatory walk as a public art genre in and of itself. Through his nonprofit organization Elastic City he has commissioned dozens of artists to lead walks not only through the boroughs of New York City but also in other cities throughout the world. Shalom plans to complete the Elastic City project in its seventh year with a free festival in New York this summer and a book in the near future.
He credits CCA with giving him "the flexibility to follow my gut and to not get caught up in categories, genres, or media—I learned how the construction of a poem can also be applied to, say, performance and sound."
Last June Brent Foster Jones (MFA Writing 2004), a writer and New York City–based strategic advisor to arts leaders and philanthropists, was asked to help coordinate a conversation among artists, curators, nonprofit leaders, and executives of city, state, and national park systems to discuss art in US parks. Public art veteran Anne Pasternak hosted a fast-paced roundtable in Harlem. Fellow CCA alumni Thomas and Shalom were among the 30 individuals handpicked to participate.
At CCA Jones recalls studying the complex social and political contexts of contemporary Chinese artists working in the public sphere under critic and curator David Spalding. His studies inspired him to start his own advising practice after graduation, specializing in art and social justice.
Bell Sounds on the High Line
Meredith Johnson (MA Curatorial Practice 2005) is a curator at Creative Time and has commissioned multiple art projects in parks, including the High Line, the abandoned elevated railway that has been repurposed into an elegant, lush public space 30 feet above street level that features a program of changing art.
She organized former punk guitarist turned sound artist Stephen Vitiello's A Bell for Every Minute (2010–11), a multi-channel sound installation on the High Line that featured a tour of New York City via iconic bell sounds from the New York Stock Exchange, bicycles, diners, and neighborhood churches.
Like Thomas and Shalom—whom she refers to as "the poet laureate of public space"—Johnson says her time at CCA was "transformative," and the dynamism of the program's curriculum and location on the West Coast uniquely prepared her to work in the public realm. Johnson studied earthworks and other topics under art historian Julian Myers; a journey to the late Robert Smithson's Spiral Jetty in Utah with photographer and curator Matthew Coolidge helped her understand that "no [public] site is without its contexts, no site is without communities."
Johnson recalls discussing Smithson's essay in her master's thesis, in which the artist argued that Central Park was the first land art project in the US. Although, she points out, Smithson was well aware that the park's legendary designer Frederick Law Olmsted had created a "mediated experience—every stone, every piece of dirt and tree was planned out. Olmsted had a very different view of art in the park, though then art was either bronze or a sculpture."
These alums connect their studio and academic experiences at CCA to their current art and professional practices in New York City and their passion for site-specific, site-responsive public art that is socially inclusive.
"CCA has always been on the vanguard and prepared each of us to shape culture," says Jones. "But it's also a community. Todd and Meredith often talk about ideas and public art strategies; the four of us are planning to sit down for a meal soon to talk about our various projects and how we can support one another."