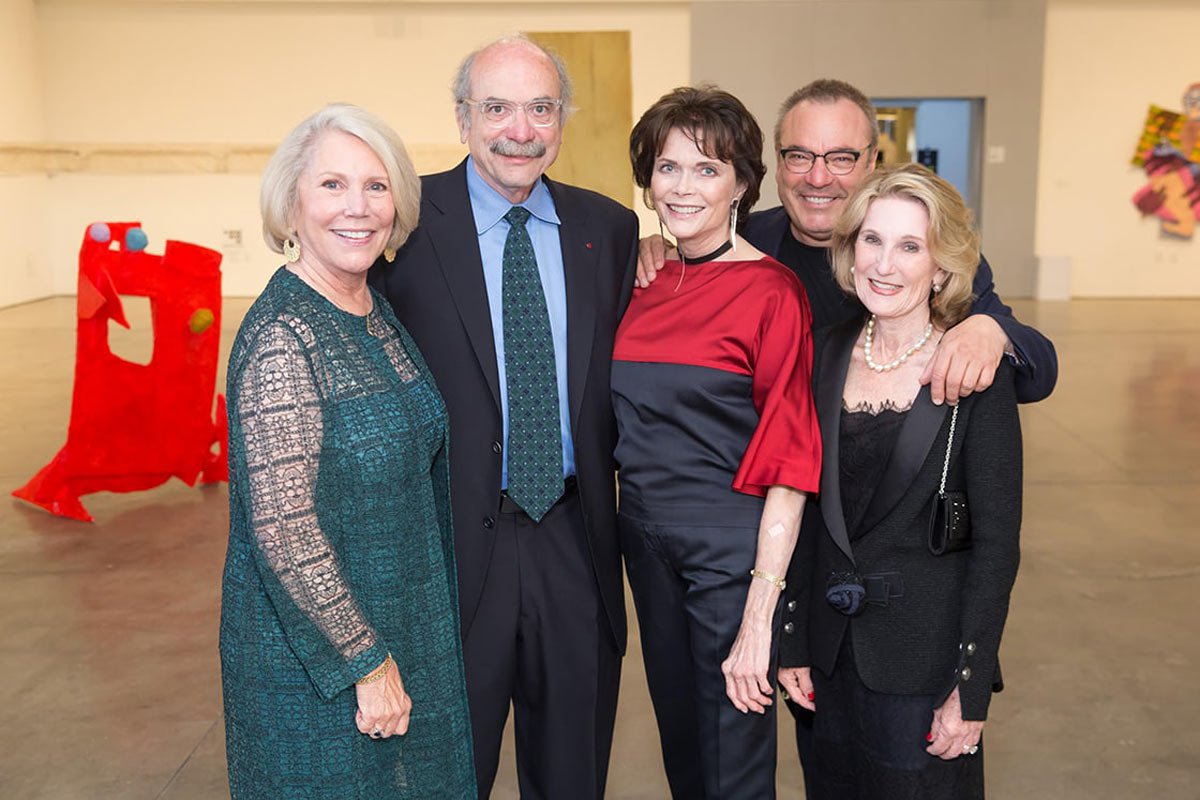 A Sold-out Celebration
San Francisco, CA., May 24, 2017 — California College of the Arts (CCA) drew more than 400 supporters to the elegant Nave of its San Francisco campus for a sold-out celebration honoring renowned design visionary David Kelley, founder of the global design consultancy IDEO and Stanford University's lauded d.school.
The annual fundraising event—which exceeded expectations by grossing more than $1 million in donations—was a benefit for CCA student scholarships. Helmed by co-chairs and CCA trustees Patricia W. Fitzpatrick, Lorna Meyer Calas, and Kay Kimpton Walker, along with honorary chair and CCA trustee Stanlee Gatti, the gala brought together both long-standing CCA patrons and new supporters from across the Bay Area design industry to fête the honoree and his influential contributions to the culture of design and innovation.
A Night of Festivities
Festivities began with a lively cocktail reception, where guests enjoyed libations by Anchor Distilling Company, Peregrine Ranch Winery, Vintap Wine Company, and RMH–River Myst Haven, as well as a special cocktail called "The Creative Jolt," which was created for the occasion in honor of Kelley. Attendees mingled amid an exhibition showcasing work by CCA alumni fine artists and designers, many of whom benefited from scholarship support while attending the college.
A tented venue located just outside the Nave hosted an industrial-chic "urban greenhouse" dining experience, created by Gatti's team with a profusion of yellow roses against a backdrop of shipping containers adorned with murals by CCA students. A delicious dinner of grilled lamb chops was served by McCalls, and was followed by a live conversation between Kelley and Chris Flink, executive director of the Exploratorium and a proud, long-time protégé of the honoree.
Introducing the evening's honoree, CCA president Stephen Beal said, "Through his far-reaching influence and deep relationships with CCA's design faculty over time, David has had his fingerprints on our teaching approach for decades. His human-centered design advocacy and ability to recognize each person's creative capacity have made him an inspirational figure for countless young people who are shaping the future of our built world."
In return, David Kelley expressed deep admiration for the college. "I'm a big fan of CCA, and that's why I'm here," he said. "When you see the talent of CCA students each year at the college's graduate exhibition, it's nothing short of magical."
Later on, vice president of experience design at Autodesk and CCA trustee Maria Guidice, who served as the evening's emcee, invited Gatti to the podium. Together they announced that the college is establishing a new scholarship fund in honor of Kelley—the David Kelley Endowed Scholarship—and inspired the crowd to make generous, real-time donations to inaugurate the fund.
Guests took home a poster featuring an illustrated likeness of the evening's guest of honor, as rendered by CCA graphic design professor Bob Aufuldish.
Distinguished Guest List
Among the many other distinguished guests were: SFMOMA director Neal Benezra, Gretchen and John Berggruen; Jennifer Biederbeck; Gay-Lynn and Robert Blanding; Victoire Reynal Brown; Sabrina Buell and Yves Béhar; Penny Coulter; Carla and David Crane; Douglas Durkin; Art Gensler; Kim and Rajvi Ghatalia; Debra Gordon; Marritje and James Greene; FAMSF director Max Hollein; Anthony Huberman; Mark Jensen and Johanna Grawunder; Diane Morris; Dean Orr; Gina and Stuart Peterson; Cathy and Mike Podell; Adrian Rosenfeld; Chara Schreyer; Jessica Silverman; Carla Emil and Rich Silverstein; Susan Swig; Jack and Susy Wadsworth; and artists Tammy Rae Carland and Raymond Saunders, to name just a few.
About CCA's Scholarship Program
CCA devotes 27 percent of its annual budget to student scholarships. Two of every three CCA students receive scholarship support of some kind.
The college firmly believes that an excellent art and design education is only made possible with the inclusion of diverse persons and perspectives on campus, and that financial barriers should never prevent any talented, committed student from enrolling at CCA.
To achieve this goal, CCA dedicates significant institutional resources to need-based aid, with the scholarship fund being its highest fundraising priority.