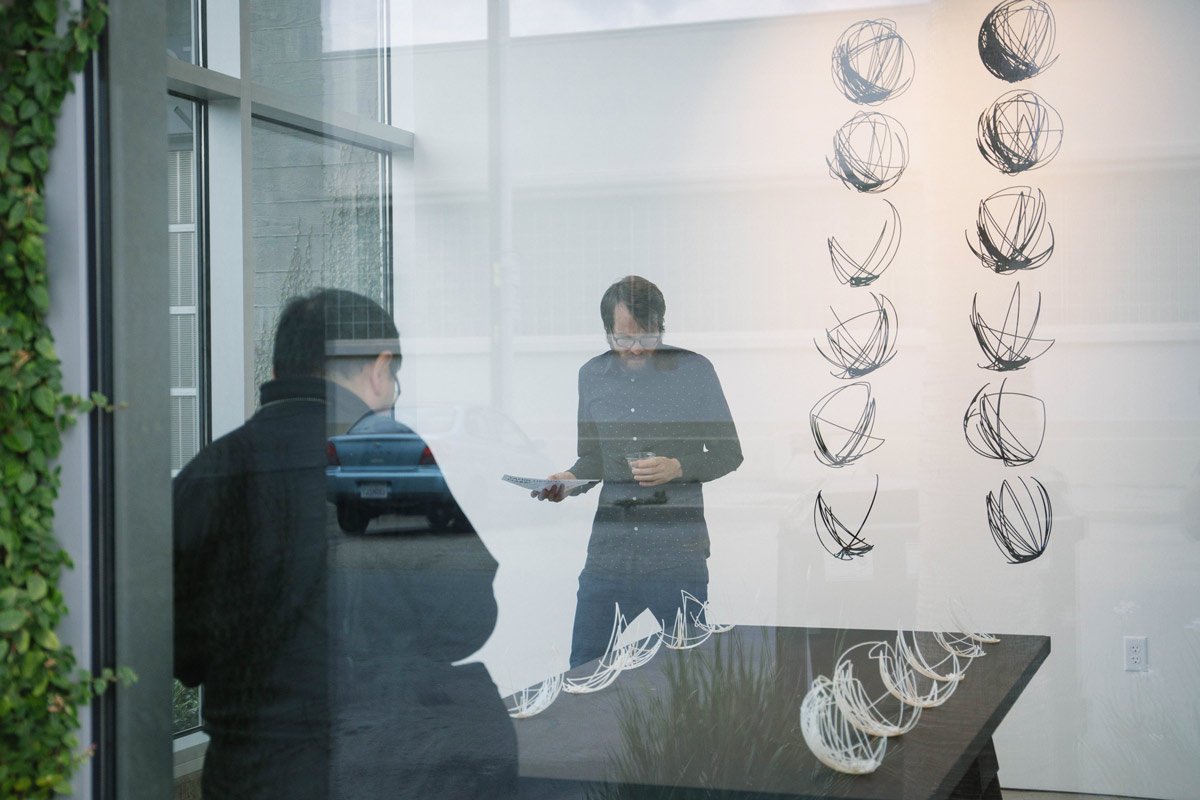 San Francisco, CA—August 15, 2017—California College of the Arts (CCA) will present Tahir Hemphill: Mapper's Delight September 5 through October 21, 2017 at the CCA Hubbell Street Galleries in San Francisco. This marks the first solo exhibition for the New York-based artist and author.
Rap Research Lab and Hip-Hop Word Count
In 2014, Hemphill founded the Rap Research Lab, a creative technology studio for youth that explores rap as a cultural indicator through educational, editorial, and creative interrogations. With the proliferation of hip-hop in recent times, the artist began to think of the art form as a corpus of written and spoken art. He realized that archiving rap lyrics would allow a greater ability to study their evolving meaning and to discover what's being said about our culture. From this investigation Hemphill created the Hip-Hop Word Count project.
He entered the lyrics to more than 50,000 rap songs from 1979 to the present into a massive open source database, which is searchable by date, artist, word, locality, and a host of other metrics. "Visualizing hip-hop's data allows us to listen to hip-hop in a new way; this new way of listening produces new ways of understanding hip-hop culture and in turn, new ways of understanding ourselves," explained Hemphill.
Mapper's Delight
The exhibition at CCA will feature Hemphill's photographic prints based on data mined from rap lyrics, alongside new sculptural and 3D printed work. An example of Hemphill's work is a series of photographic prints that extract mentions of geographic locations contained in the music of Jay-Z, Missy Elliott, 2Pac, Kanye West, and Kendrick Lamar. The locations are translated into geographic coordinates, which are then made into points used to plot the movements of an industrial robot arm.
Rap Research Lab at CCA
As part of the exhibition, the artist will run his Rap Research Lab in CCA's galleries. The youth media arts program instructs students in art, design, data analysis, and data visualization using a project-based curriculum that visualizes hip-hop.
CCA Exhibitions Director Jaime Austin commented, "Tahir has a long history of teaching community data workshops that create critical discourse around issues of social justice, race, class, and identity. We are excited to be hosting his first solo exhibition at the CCA Hubbell Street Galleries, which investigates the relationships between hip-hop data and society through a critical engagement with the production and interpretation of hip-hop lyrics." The exhibition is supported by Creative Capital and the National Endowment for the Arts.
Artist Talk
Tahir Hemphilll will give an artist talk in conjunction with the exhibition. The talk is scheduled for 7:30 p.m. on September 28 in Timken Lecture Hall on CCA's San Francisco campus at 1111 Eighth Street. This program is free and open to the public.
About Tahir Hemphill
Tahir Hemphill is an award-winning multimedia artist and designer of the Hip-Hop Word Count database. Hemphill manages the media arts education program for the Rap Research Lab, a studio for the production of creative technology projects and for the instruction of digital humanities, media criticism, and data visualization.
Hemphill was the 2016 Media Artist in Residence at Spotify, a resident at The Rockefeller Foundation Bellagio Center Thematic Month on Human Behavior (2016), member of the Yerba Buena Center for the Arts YBCA 100 (2016), a Bronx Museum of Art AIM Program participant (2015), Hip Hop Archive fellow at the W.E.B. Du Bois Institute for African and African American Research at Harvard University (2012-13), and a fellow at the Frank-Ratchye STUDIO for Creative Inquiry at Carnegie Mellon University (2013).
Calendar Editors, Please Note:
California College of the Arts Presents Tahir Hemphill: Mapper's Delight, a solo exhibition by New York-based artist Tahir Hemphill
Opening reception:
Thursday, September 7th, 5:30-8:30 p.m.
Location: CCA Hubbell Street Galleries, 161 Hubbell Street, San Francisco
Gallery Hours: Tues.–Sat., noon–5 p.m. & Thurs., noon–7:30 p.m.
Admission: Free
Artist talk:
Thursday, September 28th, 7:30-9:00 p.m.
Location: Timken Lecture Hall, California College of the Arts, 1111 Eighth Street, San Francisco
Admission: Free