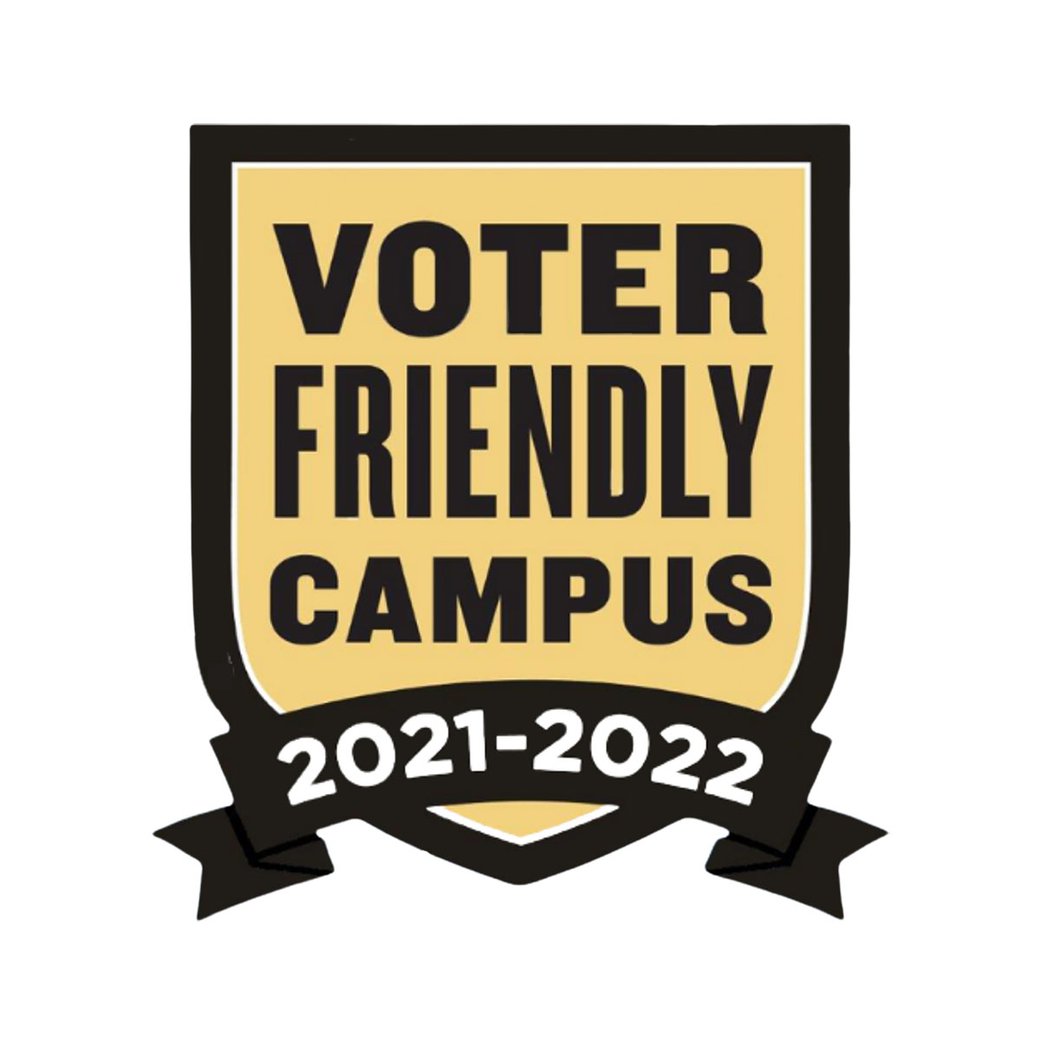 California College of the Arts was recently recognized as a Voter Friendly Campus by the Campus Vote Project and NASPA, the professional association for student affairs administrators in higher education. CCA was one of just two art and design colleges out of 235 schools in the U.S. to meet the rigorous criteria to be named a Voter Friendly Campus this year.
The designation, which stands through 2022, is the newest expression of one of the college's long-standing core values: creative citizenship. The Voter Friendly Campus initiative was led by Creative Citizens in Action (CCA@CCA), a group of students, faculty, and staff who build on the college's existing democratic engagement work by providing opportunities for civic education and collaboration.
"If you emphasize being a creative citizen and students can really embrace that concept, the idea of voting is a natural progression," says Connie Jeung-Mills, Marketing and Communications project manager and a core member of the CCA@CCA Voter Friendly Campus Coalition, which also includes Director of Exhibitions and Public Programming Jaime Austin and Director of Student Life Noki Seekao, among others from across the college.
"We felt like we were approaching it from a point of creativity and hands-on participation," Austin says. "And we were doing this while being in a fully remote environment."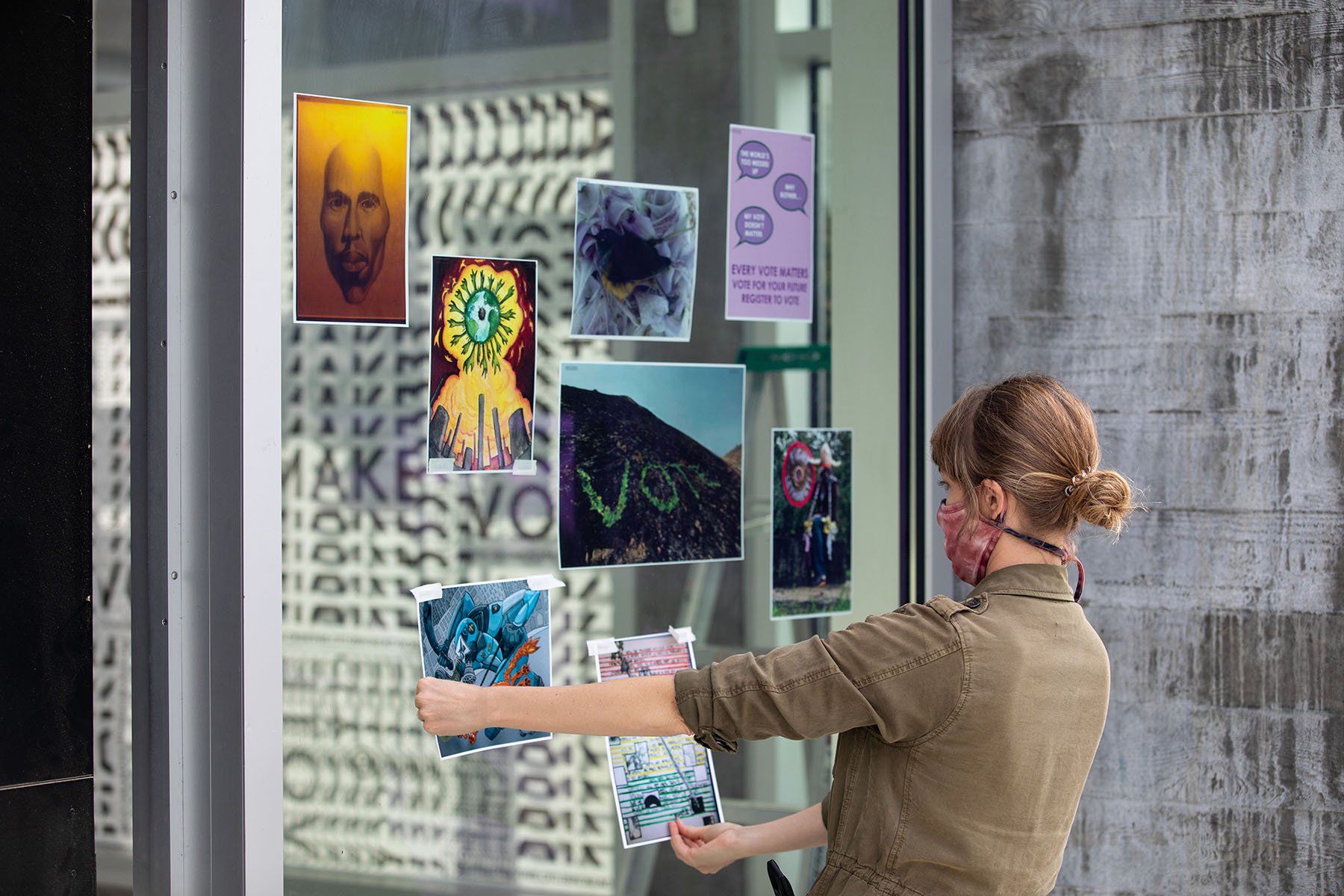 CCA@CCA shifted online last fall through several projects that helped the college earn the Voter Friendly Campus distinction, including virtual voter registration events; the Deborah and Kenneth Novack Creative Citizens Series, a newly endowed public program series promoting creative activism and democratic engagement; and the CCA@CCA Artwork Campaign, a walk-by exhibition and interactive digital presentation of artwork and poster designs by 66 students, faculty, staff, and alumni. The fall 2020 semester also marked the first time students could select from 27 "Creative Citizen"-tagged courses that taught skills in creative activism and civic engagement.
"Creative Citizenship is truly baked into CCA's DNA."
Director of Student Life
"Creative Citizenship is truly baked into CCA's DNA," says Seekao. "It's baked into the arts and crafts. This is why folks are gravitating toward the term 'creative citizen,' because it's bringing to their practice an impact."
Riah Trevino (BFA Film 2023), a resident assistant in Founders Hall, served as the coalition's student ambassador last fall, after being recruited during a virtual voting registration event. She and Jeung-Mills bonded over their individual callings toward civic engagement and worked together to register Trevino to vote in her home state.
As the coalition's "person on the ground," Trevino organized a voting walk-and-talk event for Founders Hall residents, taking them to CCA's polling location, locating their local mailbox, and visiting the CCA@CCA Artwork Campaign. "It was basically an open FAQ," Trevino says. "Voting is something that the system makes unnecessarily complicated, but if we clear that path and provide resources, it makes the whole ordeal what it's supposed to be: doing your civic duty and being your own person."
We had a hand in one of the largest youth turnouts ever with voting."
A first-time voter herself, Trevino is proud of the work she did to encourage her friends and family to vote. "We had a hand in one of the largest youth turnouts ever with voting," she says. "It was so nice to see that and be able to look at the result and say, 'We had a hand in that.'"
The Voter Friendly Campus Coalition also stressed the importance of involving students who couldn't vote. "Creative activism at CCA is broader than just democratic voting participation," Austin says. "We're also dedicated to serving our international, DACA, and other non-citizen students." Through Creative Citizen coursework, public events, and conversations, these students had opportunities to speak with their peers about issues at stake for them.
The coalition sees the Voter Friendly Campus designation as a valuable acknowledgment of their hard work—but they're far from done. "Our idea is to plant our stake in the ground so it becomes a permanent part of CCA going forward," Jeung-Mills says. "This is just another step in that process."