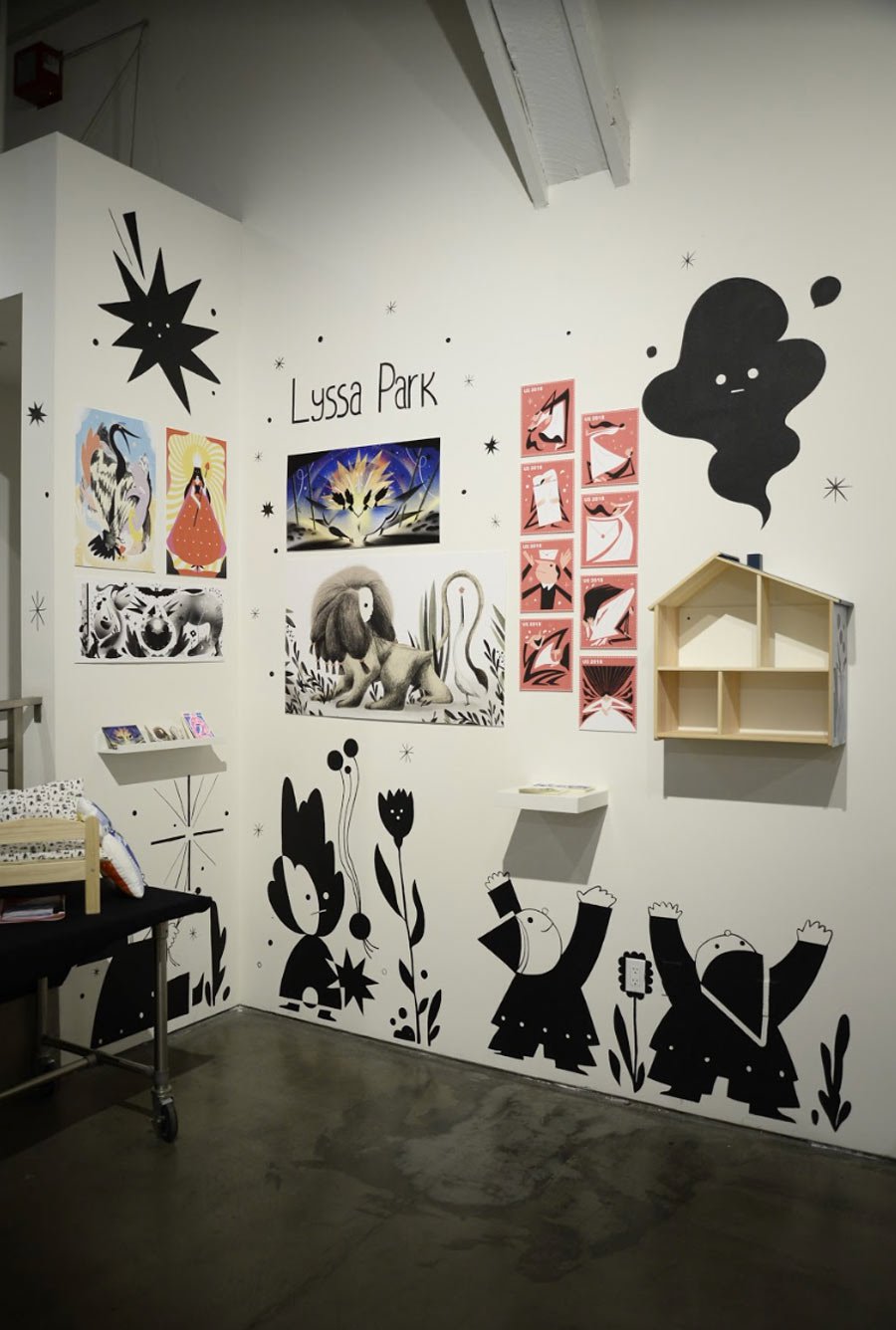 Every fall semester, a cohort of BFA students from CCA's Illustration, Industrial Design, and Graphic Design programs graduate with a culminating exhibition of their thesis works. This year's BFA Design thesis show was held at the Perry Family Event Center on Kansas Street, San Francisco. With themes ranging from cross-cultural communication to advocacy and stress relief, the works of these young designers had us feeling optimistic about the future and excited to see them launch their practices.
Illustration students presented a collection of works with diverse applications, including skateboards, book covers, dollhouses, pillows, and wall decals, to name just a few. Lyssa Park's work, in particular, really stood out. She approaches her craft "with serious subject matter in a playful way," says Professor Michael Wertz. "We're drawn to the bright colors and bold shapes and then surprised by the depth of the tale she's telling." To visualize this duality, just imagine a pop-up book based on Kafka's The Trial.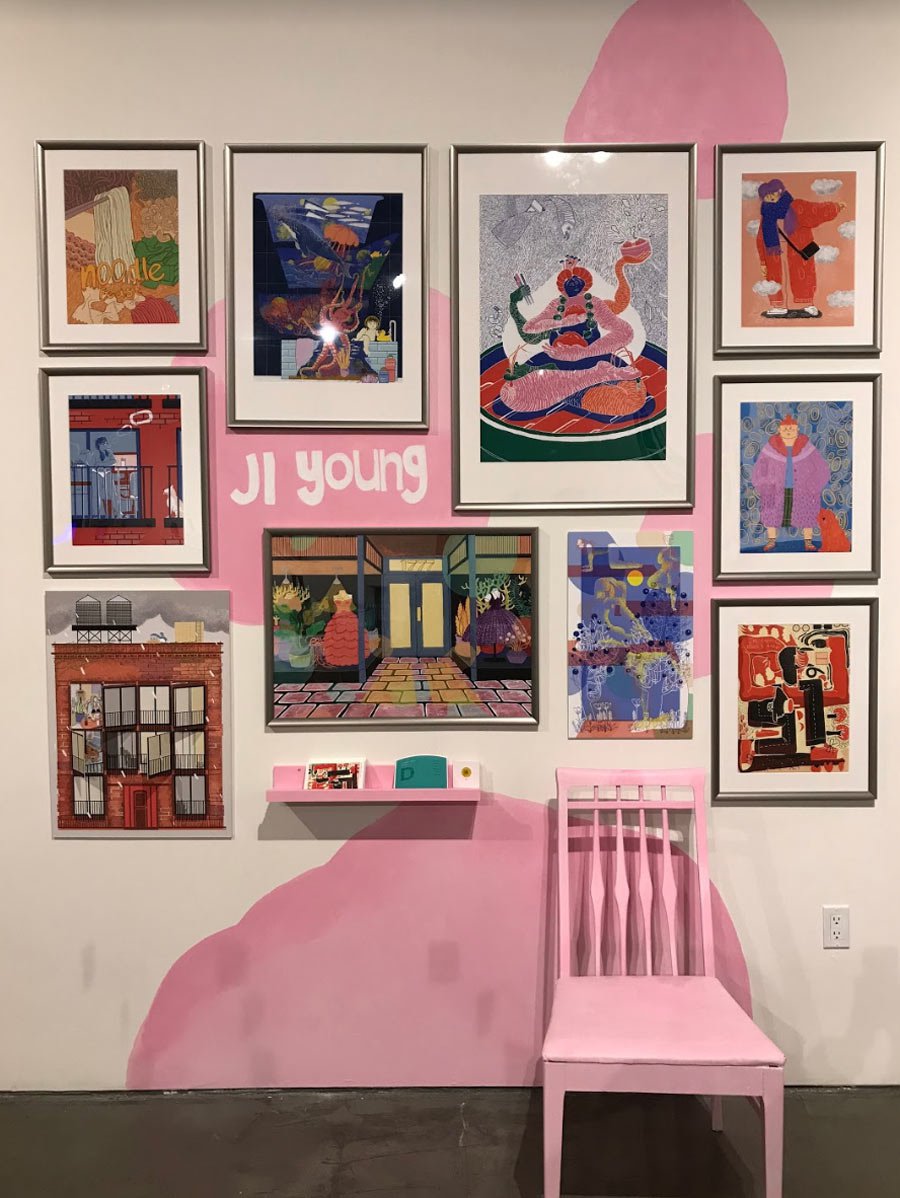 Ji Young's work also stood out, her densely saturated colors and compelling scenes crafting a stylistic coherence across disparate subjects. The overall presentation celebrated individuality while still coming together to make a vivid and beautifully crafted collection.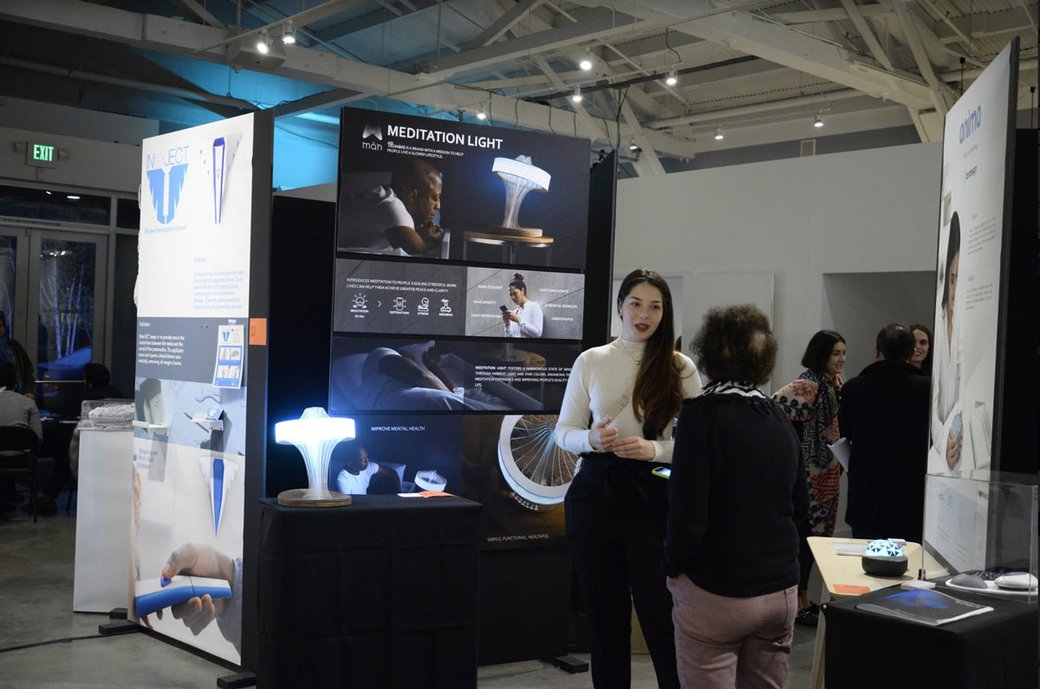 The Industrial Design students covered a wide range of themes. Quite a few projects focused on anxiety relief through light, touch, or monitoring. Kimberly Macdonald, project manager in Graphic Design, led the exhibition planning team and walked the show with me before opening night, excited by the energy of installation and all the work the students had put into the show. We were both really taken with the craftsmanship in Powei Chen's Meditation Light that emanates changing colored light through concentric acrylic panels. Yong Wang's Lanjing Mars Station seemed perplexingly minimal, a matte white model of what looked like a train on struts. But the web address at the bottom of Wang's poster led to a richly envisioned speculative Mars space station for 2025, complete with research and funding plans.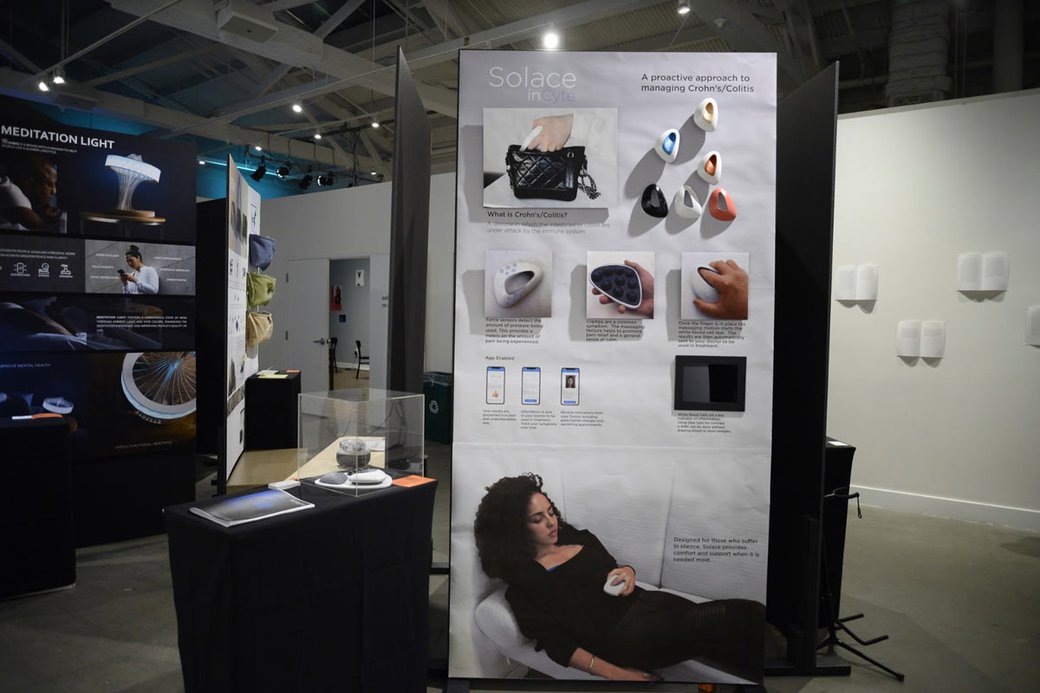 Also notable was Matt Potter's Solace inCyte device for monitoring colitis and Crohn's disease and enhancing doctor-patient communication. From space, to stress and medical devices, to ecology, the Industrial Design students took on real problems, demonstrating the innovation, research, and craft they've been developing over the course of their years with us.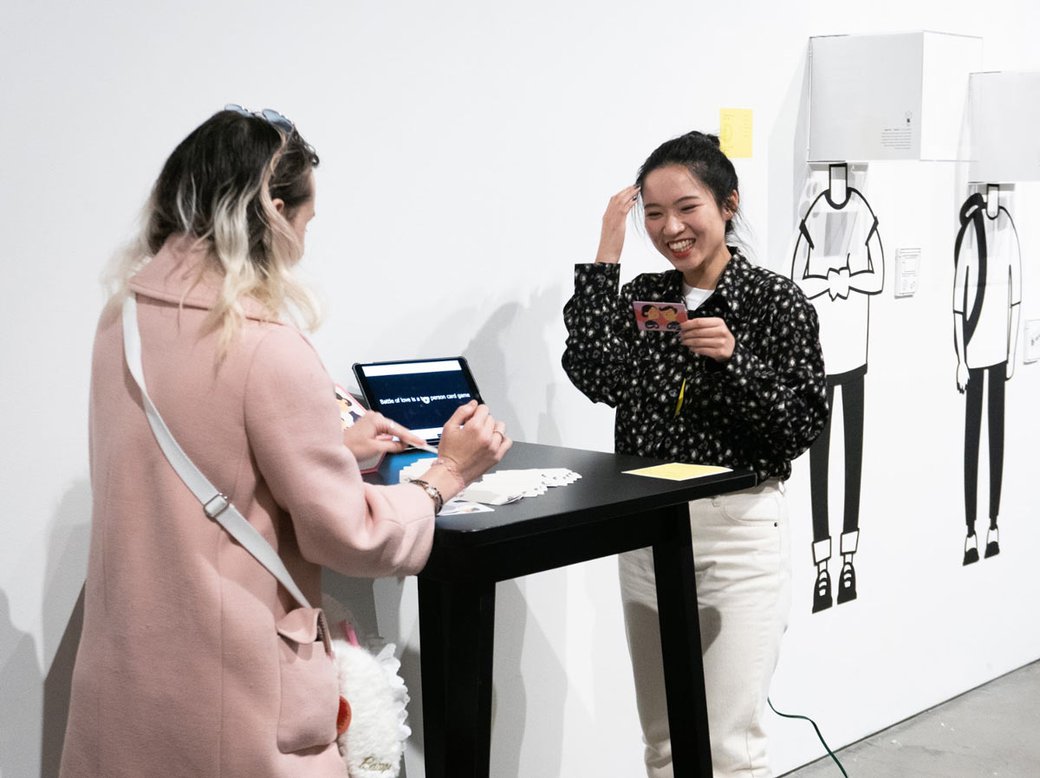 The Graphic Design students focused on empathy, exchange, and webs of reliance, support, and lineage. Graphic Design Chair Rachel Berger explained, "The thesis is one of my favorite aspects of our program. The students work in such a broad array of media. The only constraint on their projects is that they have to respond to a word chosen by the faculty. This group's word was 'social.' I was so impressed and intrigued by their creative interpretations of the word."
Across faculty and administration, many of us took delight in Elaine Meng's game Battle of Love. Meng told me that "for this game, I examined Chinese Gen X social and cultural attitudes around love and marriage, using survey data to compare viewpoints and reactions of both generations on the challenges of loving and finding a partner in marriage. The game gives an opportunity for Western Millennials to navigate in the shoes of their Chinese counterparts as if they had Chinese parents… I felt happy when a Chinese player told me that the text on the cards was exactly what her mother would say." At the exhibition reception, guests mingled and laughed as they played the game.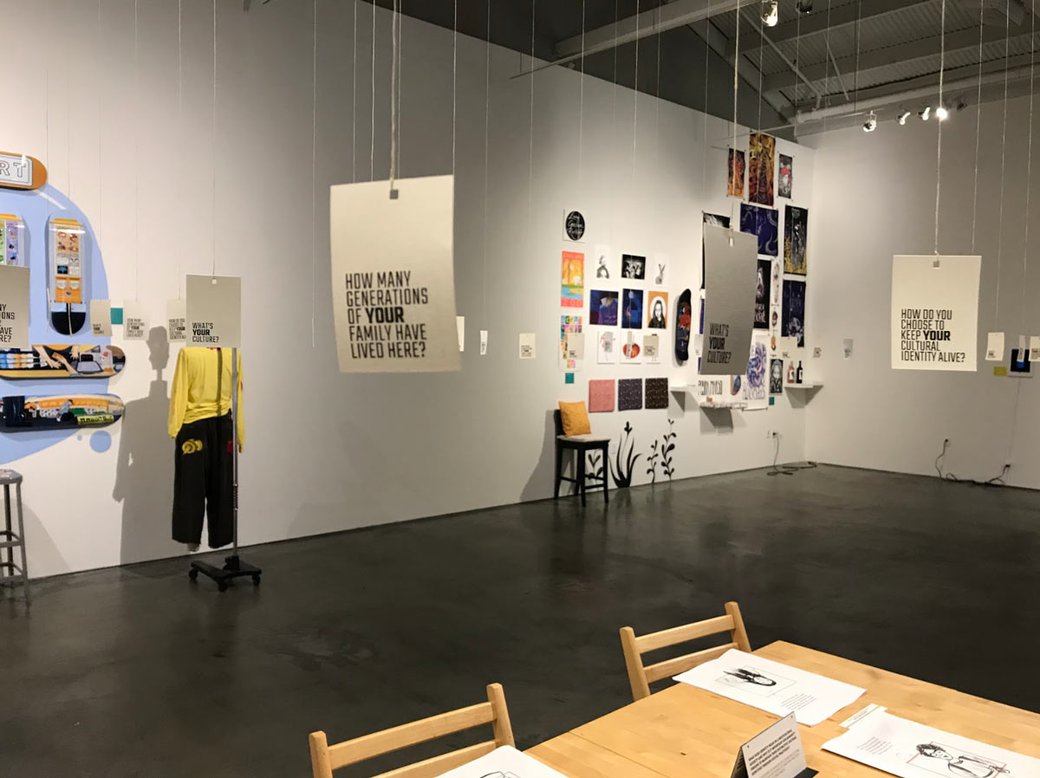 Divya Das's In Conversation With featured an immersive constellation of cards with questions about family traditions and immigration history suspended over a table and chairs. Das wrote that "through social practices and cultural nuances, immigrants and children of immigrants work hard to keep their cultural identities alive while coexisting in a society that isn't inherently theirs."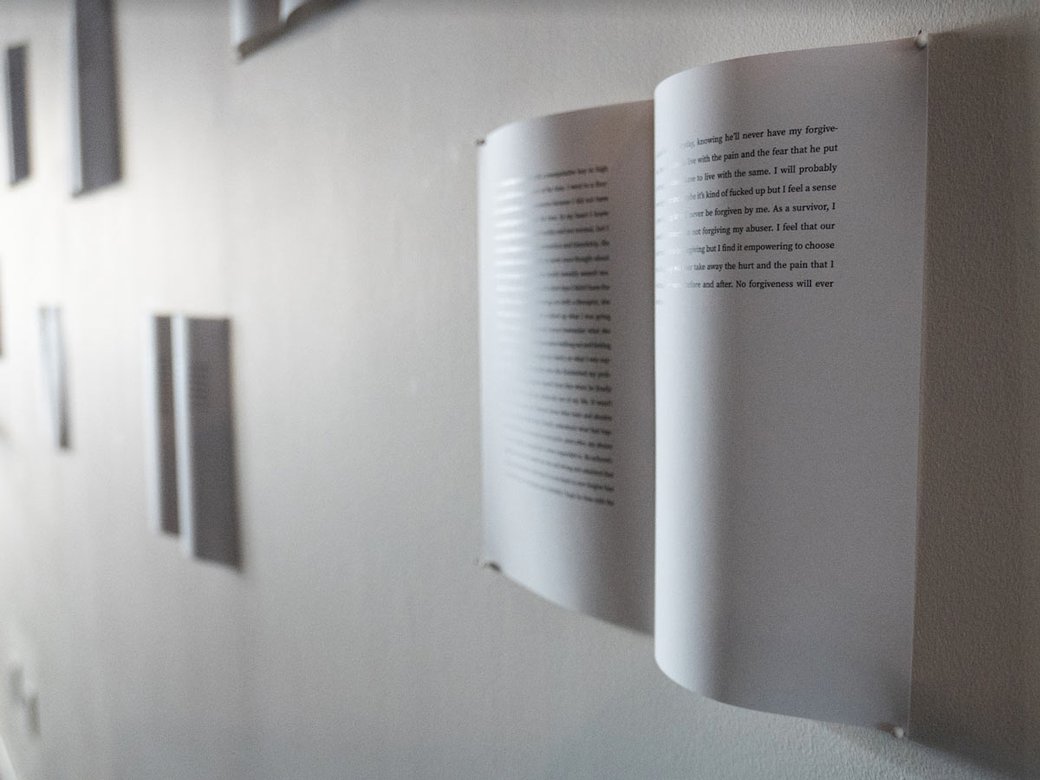 Lucy Peterson solicited stories from survivors of sexual assault, employing her skills and platform to give voice to others. Peterson's work, along with many other students', is timely and aware. This grounding in current politics and positions of agency for designers contributes to the optimism we feel about the show overall.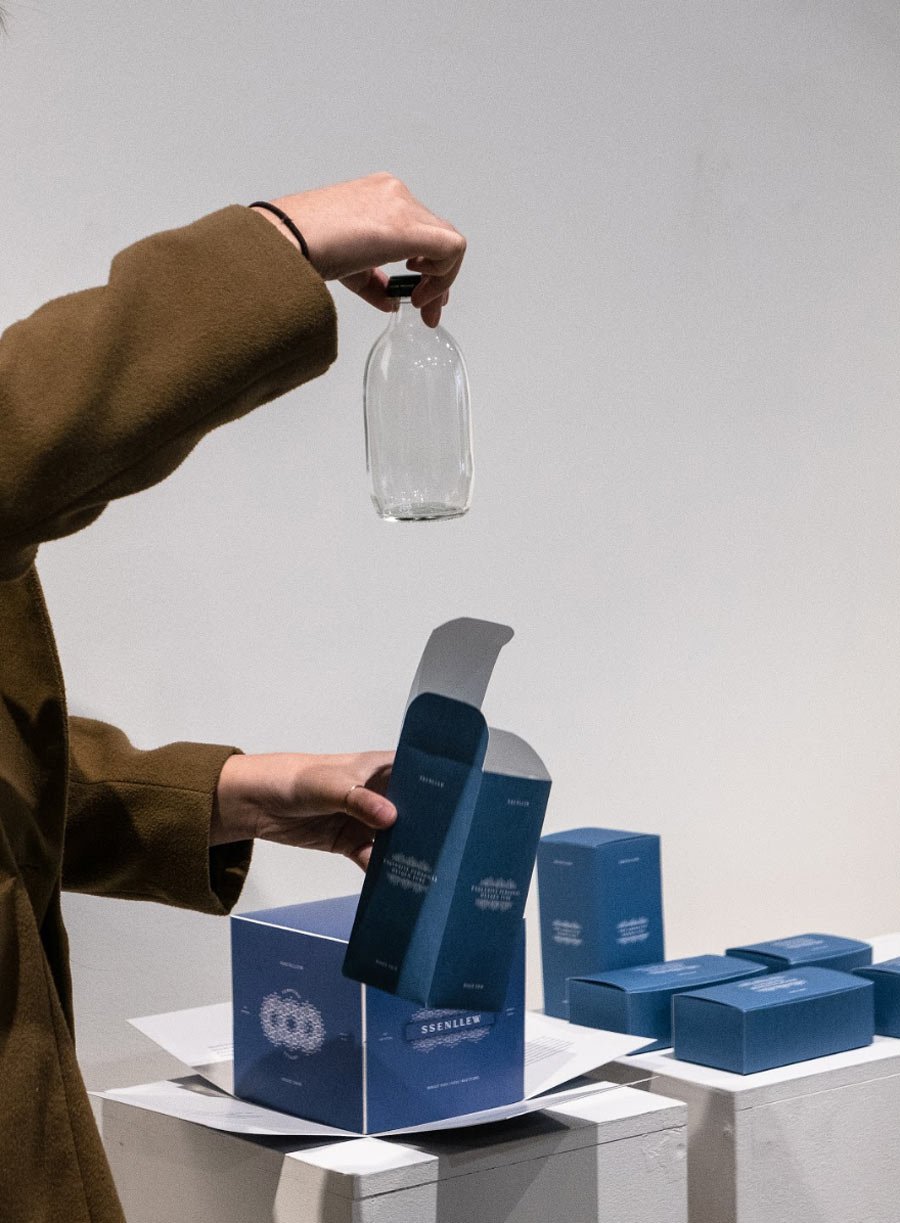 In a different direction, yet also savvy and critical, Gabby Shao's Ssenllew project featured a line of ordinary products in ornately printed boxes with band-aids pitched as "sacred healing stickers" and a toothbrush as "the ultimate wonder wand," reading as either a critique of or a marvel at consumption. Kimberly Macdonald described that even her review embodied this ambiguity, feeling part presentation and part theatre.
It's wonderful to see the focus on critical thinking both in the students' writing and in the depth of the work. This marriage of form and meaning distinguishes the cohort; and these students combined their critical rigor with their individual voices in a way that makes us very proud. We send them a huge congratulations, well-wishes for their next steps, and remind them to stay in touch as their careers blossom.