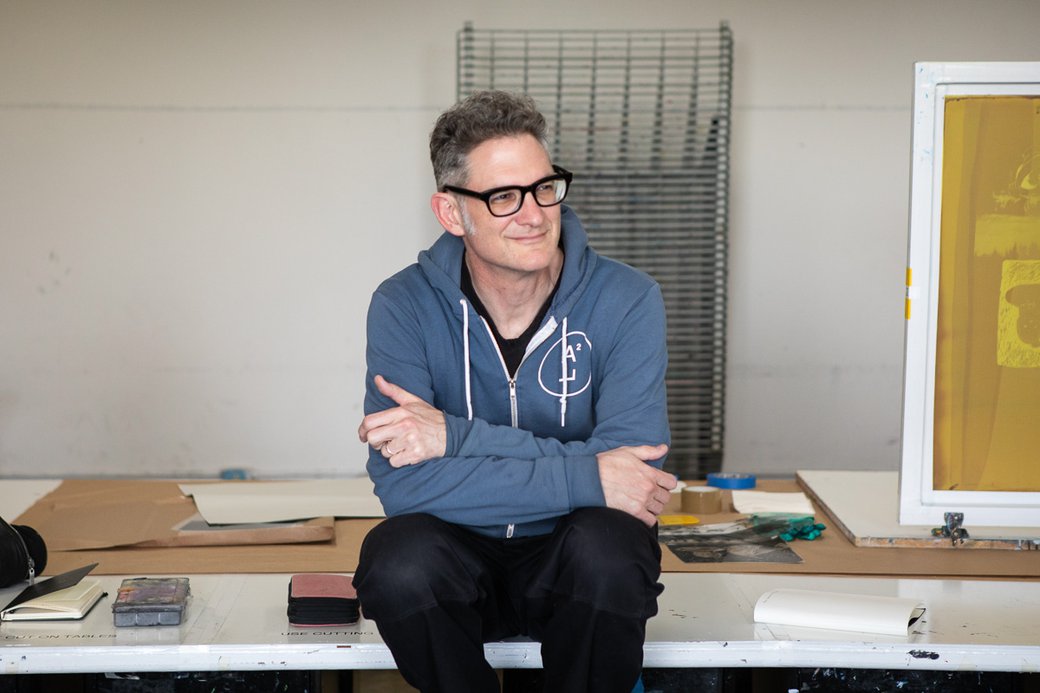 Assistant Chair of Illustration Michael Wertz (BFA Illustration 1995) is known for being a prolific illustrator and printmaker. In the first half of 2020, however, "I stopped working for a little bit," he says. "It was a time to listen."
Then his friend Lea Redmond, founder of Leafcutter Designs and the World's Smallest Post Service, reached out. Redmond was responding to national unrest and the murders of Breonna Taylor and George Floyd through her Postage Stamp Protest project. She wanted to expand on the series with Wertz's help on a series of images that encouraged voting and celebrated Ruth Bader Ginsberg.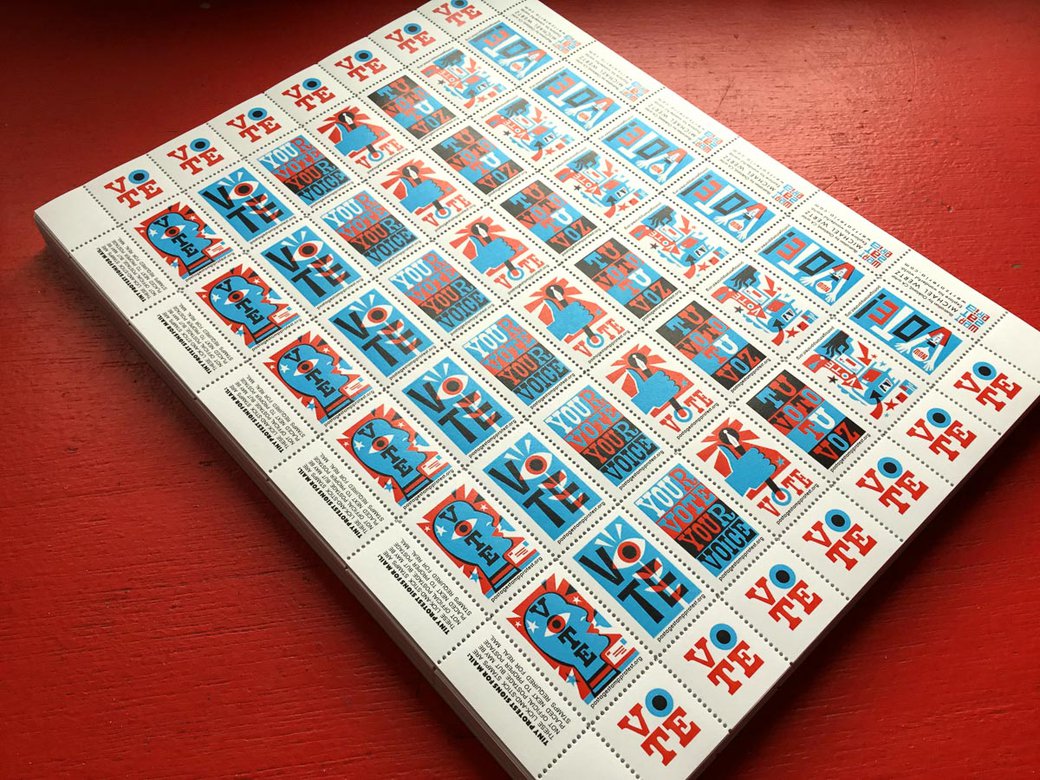 "By adding my 'tiny protest signs' in the shape of stamps to their mail," Redmond says, "folks can help spread important stories and ideas, showing solidarity from their desk or dining room table. It's like a tiny decentralized protest flying around in the mail system, waiting for curious eyes and open hearts to land on these little works of art—encouraging them to reflect and to act. The more forms of protest and the more inclusive this movement can be, the better, in my opinion."
Wertz agreed and sketched out a few designs over the course of a weekend.
"Then over the course of another weekend, I did the finals and sent them off, not expecting a big response," Wertz says. "I thought, 'Oh, that's cool. There will be stamps.' And then it just really took off."
His small-scale designs were picked up by votevotevote.us, which turned them into postcards, posters, and stamps and distributed them across the country. They got even bigger still, quite literally, in October, when San Francisco's Grace Cathedral projected the designs onto the historic building.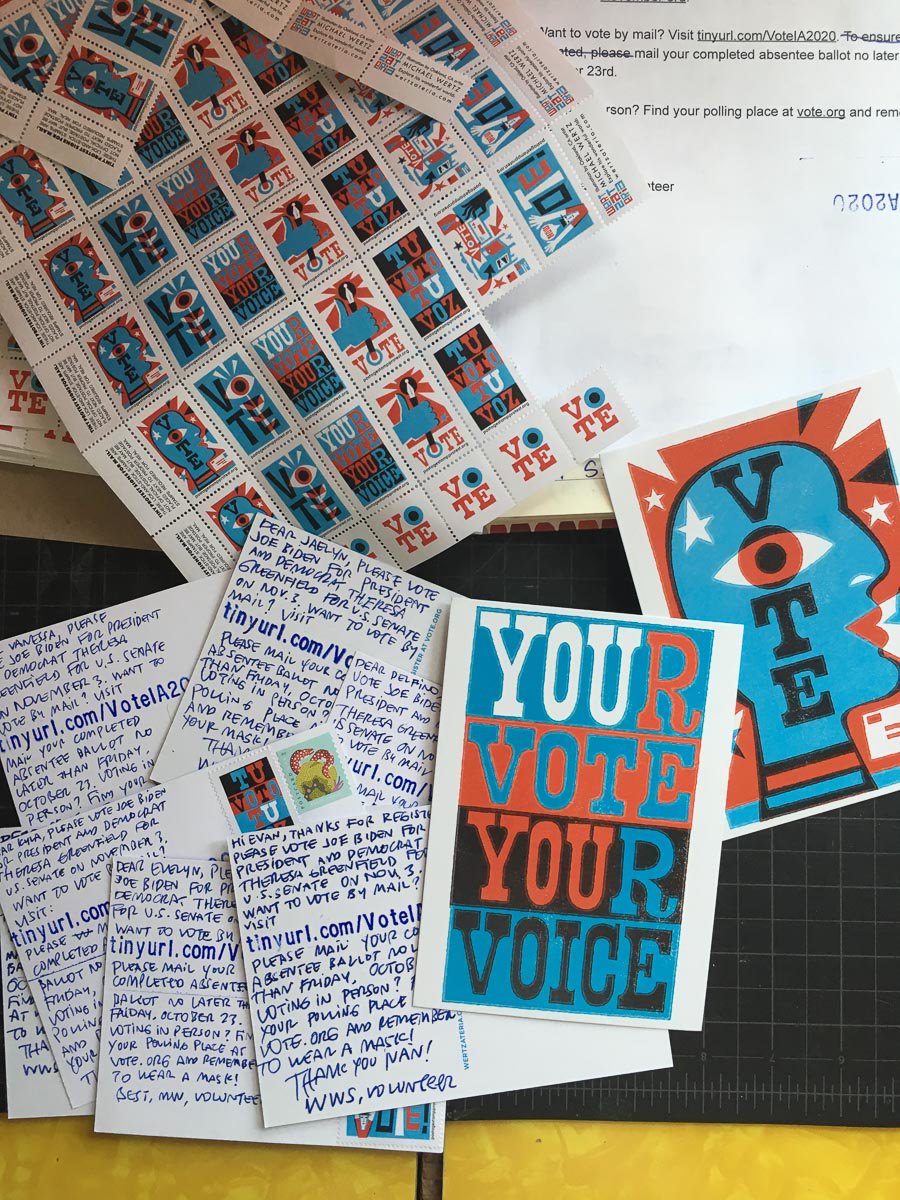 They helped inspire Wertz to take further action, too. He wrote messages about making a voting plan on nearly 250 postcards from VoteVoteVote to spread awareness about how to register and why voting is more important than ever.
"I turn to Michael when I'm looking for a real show-stopper," says Redmond, who has collaborated with Wertz before. "I think the energy in his style lends itself particularly well to activism. It's almost as if the imagery itself gives you the energy that you need to take the first step, to follow-through, or persevere."

Q+A with Michael Wertz
Creative activism infuses many of Wertz's professional projects, not just the 2020 protest stamps and Vote series. He's created work for numerous high-profile clients, including the de Young Museum and the New York Times, but he's all-in for an educational adventure too.
Among his many projects: children's books about everything from sea creatures to the Golden Gate Park, a 60-foot mural for Oakland Animal Services, a fairyland-themed library card for Oakland Library, screenprinted posters for Fillmore Auditorium, and much more.
That range, Wertz says, is one of his favorite things about being an illustrator.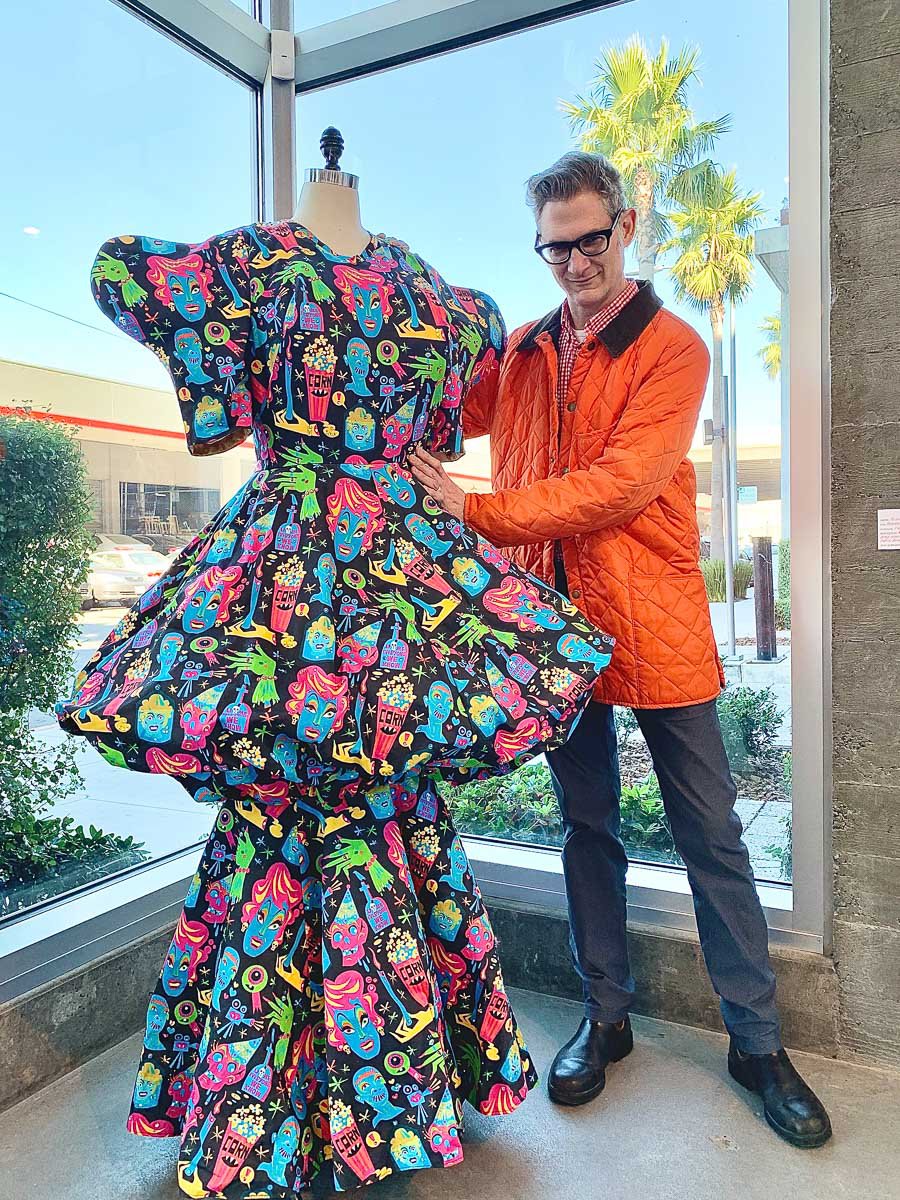 Q. When did you know you wanted to be an artist?
A. I was a student at UC Santa Cruz studying French language and literature. I had kept sketchbooks, but it wasn't something I was pursuing from a very young age. There was a clue that showed up in one of my sketchbooks though, a clue that I could live in the world based on this line that I was drawing. Without sounding too hippie, I could hear the line talking back at me, as if the line wanted to show up. I think of that line now as a portal that I drew for myself, and I walked through it.
The other thing that landed me in art school was a book by the artist Lynda Barry. I was at Au Coquelet Cafe in Berkeley, which was a hangout for us when we were kids, and somebody handed me that book and I was like, "I could crawl inside these little comics and live here."
Q. What do you like about illustration?
A. One thing that's nice about being an illustrator is that it teaches you how to be nimble. You've got a basic knowledge of graphic design. You can draw really well. You can think really well because you're versed in visual communication.
Illustration allows you to apply that to a lot of different things and work in a bunch of different ways. The way illustration can be seen and used in the world runs the whole gamut. Even after major disasters, you're still able to kind of piece it together and carve out a space for yourself in a creative world.
Q. What has your personal practice looked like in quarantine?
A. I set up a screenprint shop on my back deck. There's something about the process and getting away from the computer. The act of pulling a print is really wonderful and engages your body in a way that no other artmaking can.
Q. What is the value of studying at an art and design school like CCA?
A. You know, YouTube is amazing right now in that you can basically curate a class for yourself, but it's the relationships that you create at art school that are especially valuable. Not just in terms of getting clients, but in terms of personal and creative growth.
At CCA, you're seeing what other artists are working on, and you can access tools, like the Risograph printer. Risograph style is so popular right now and that machine is probably happy for the break it's getting [while campus is closed]. It's probably like, "Somebody put a pizza through me!"
But exposure to these tools and other forms allows illustrators to work as printmakers, designers to work as illustrators, and so on. That's really nice. It's like osmosis between approaches. You're only going to get that at an art school like CCA.
Illustration as activism