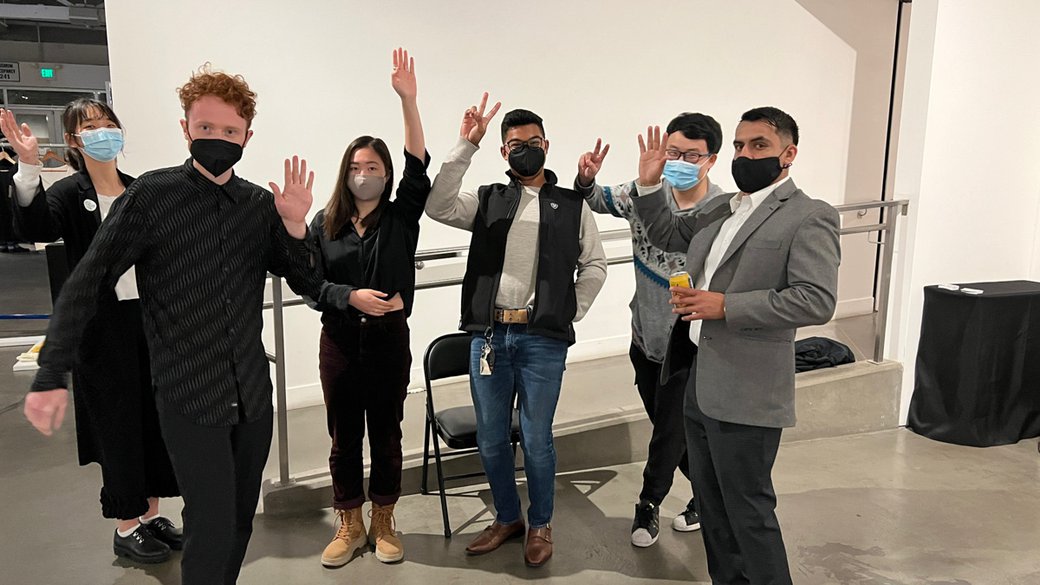 Presented at the Perry Family Event Center (aka 350 Kansas Street), the 21 students who created compact displays of their thesis projects were eager and excited to share their work. These were projects that addressed so many pertinent issues, among them climate change, renewable energy, the housing crisis, medical waste, and communicating the unique human challenges of earning a BFA in tumultuous times. Meeting these soon-to-be grads was heartening and full of hope, good spirits, and ingenious design. I caught up with three of them to find out more about their projects and experience at CCA.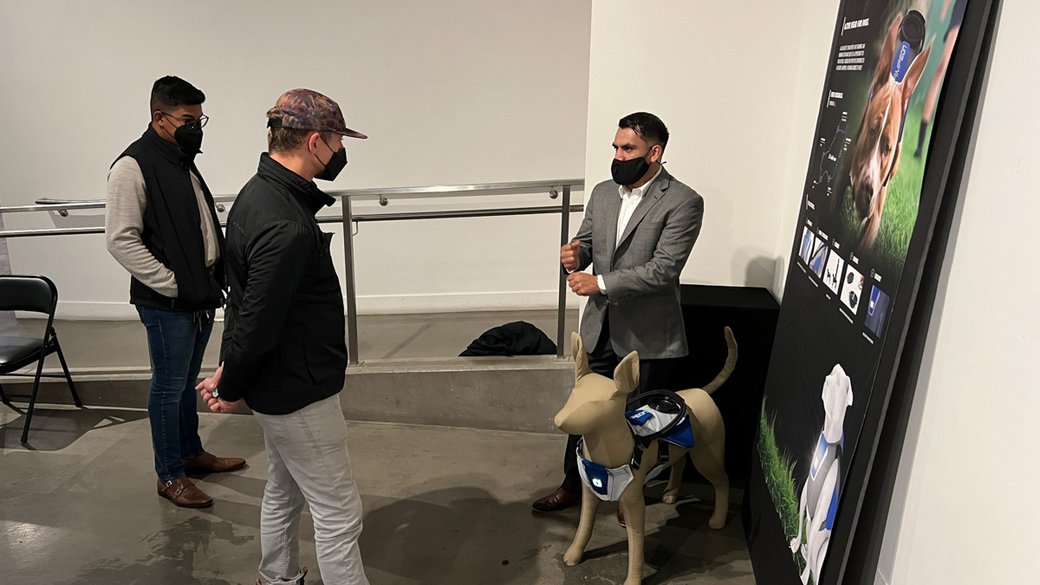 Little Nava: "Campeon"
The pandemic has had its inspirational upsides. Little Nava's Industrial Design thesis project grew out of the shifts COVID-19 brought to his athletic training routine. He's a competitive boxer, a sport that requires constant conditioning. "I'm always running," he tells me. He does it five or six days a week at Baylands Park, in Menlo Park. During the various gym closures during 2020, he'd be out there with his dog, Campeon. Nava, however, would be carrying all the canine provisions—treats, toys, a water bowl. "It was an added stressor on my body," he says.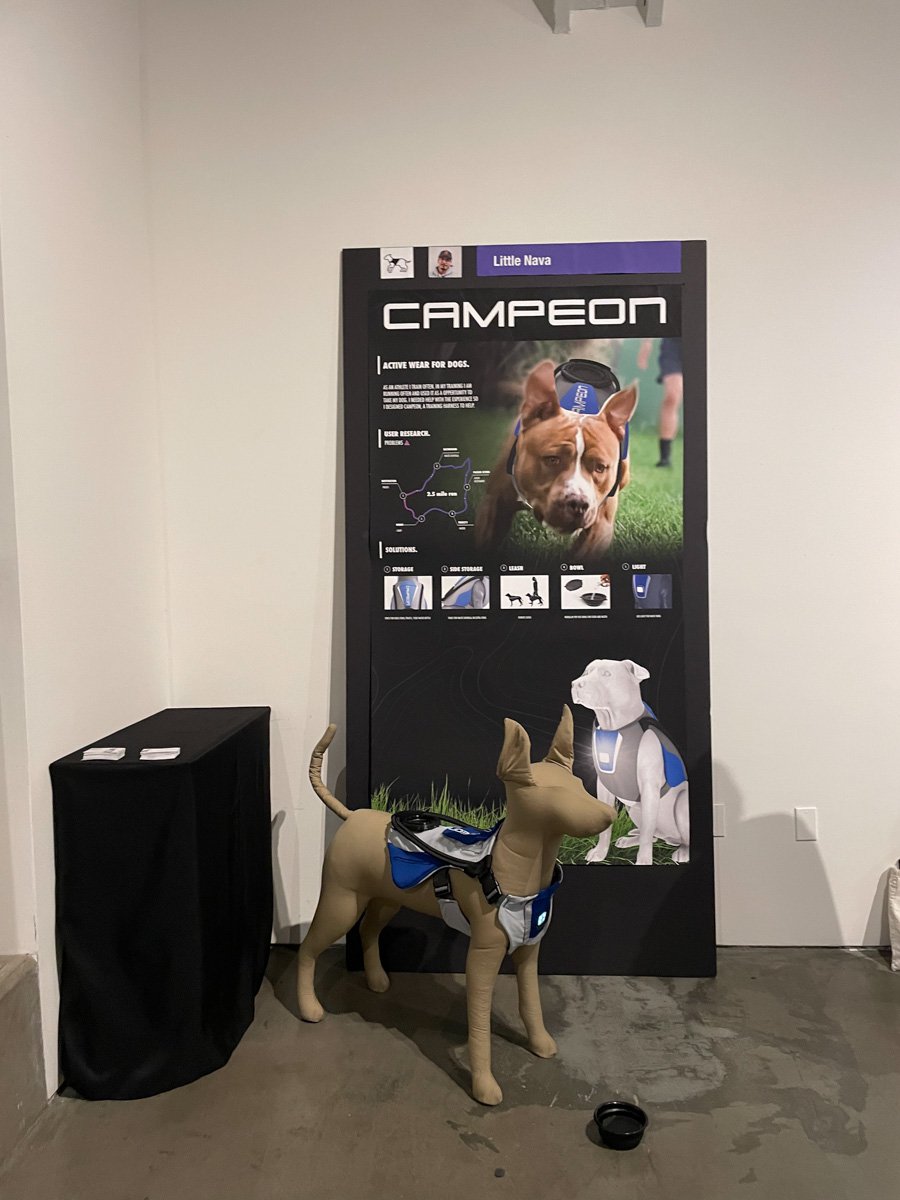 So he designed a multi-purpose harness that more efficiently transfers the weight bearing to his pup, for whom the project is named. Campeon integrates all the features—leash, food, water, night safety reflectors—into the harness, so a dog can effortlessly carry all its own pack. "It's a modular system, so it's also adaptable for service dogs," Nava explains.
At the senior show Nava says he got feedback to further refine the project. He'll go on, for example, to try some different materials for the harness. "My goal is to design something to bring to market, and make my own business," he says. "I also wanted to approach activewear in a different way." And based on the feedback he got, he thinks he's hit the mark. He gives props to Industrial Design professor Ian MacColl for helping to give him a realistic, authentic approach to design.
Nava's spirit is entrepreneurial. He started a business pressure washing boats to help cover tuition, and is currently in discussion with investors interested in seeing "Campeon" make it to production. Nava engaged a real life Shark Tank–style negotiation when the interested parties came to see the latest version at the show. While he doesn't have a set timeline, he's hitting the post-school ground, pardon the pun, running. "I like to make things. It brought me joy to be able to do something that can have a function in the world. This whole entire journey has been a lot of fun."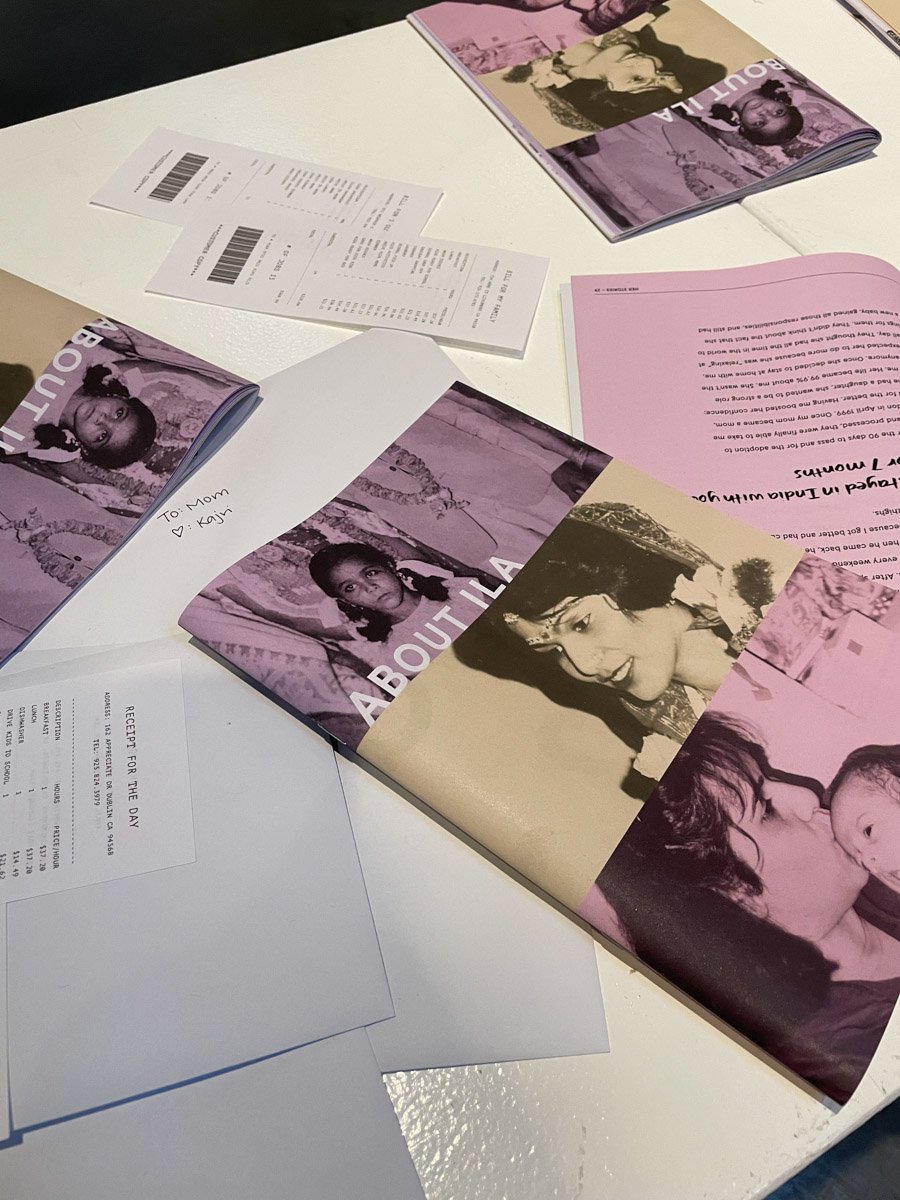 Kajri Popat: "About Ila"
Economy. The dictionary definition refers to "the wealth and resources of a country or region, especially in terms of the production and consumption of goods and services." It also relates to the efficient use, the careful management of those resources. Kajri Popat found it a productive prompt—given by professors Bob Aufuldish and Leslie Becker— for her Graphic Design thesis project, a book that elegantly reframes domestic acts, and ideas about value, in heartfelt terms.
"About Ila" is a 39-page biographical love letter to Popat's mother Ila, an Indian woman born in Uganda, who then settled in India, London, and Northern California. Much of her story is traditional particularly as it relates to gender roles—helping around the house as a child, arranged marriage, supporting her husband through his studies, motherhood, homemaker.
"I wanted to find a way to blend graphic design with something personal," Popat says. "I wanted the thesis project to be something big and about something I cared about." The book demonstrates, in simple, direct prose, just how much she appreciates her mom.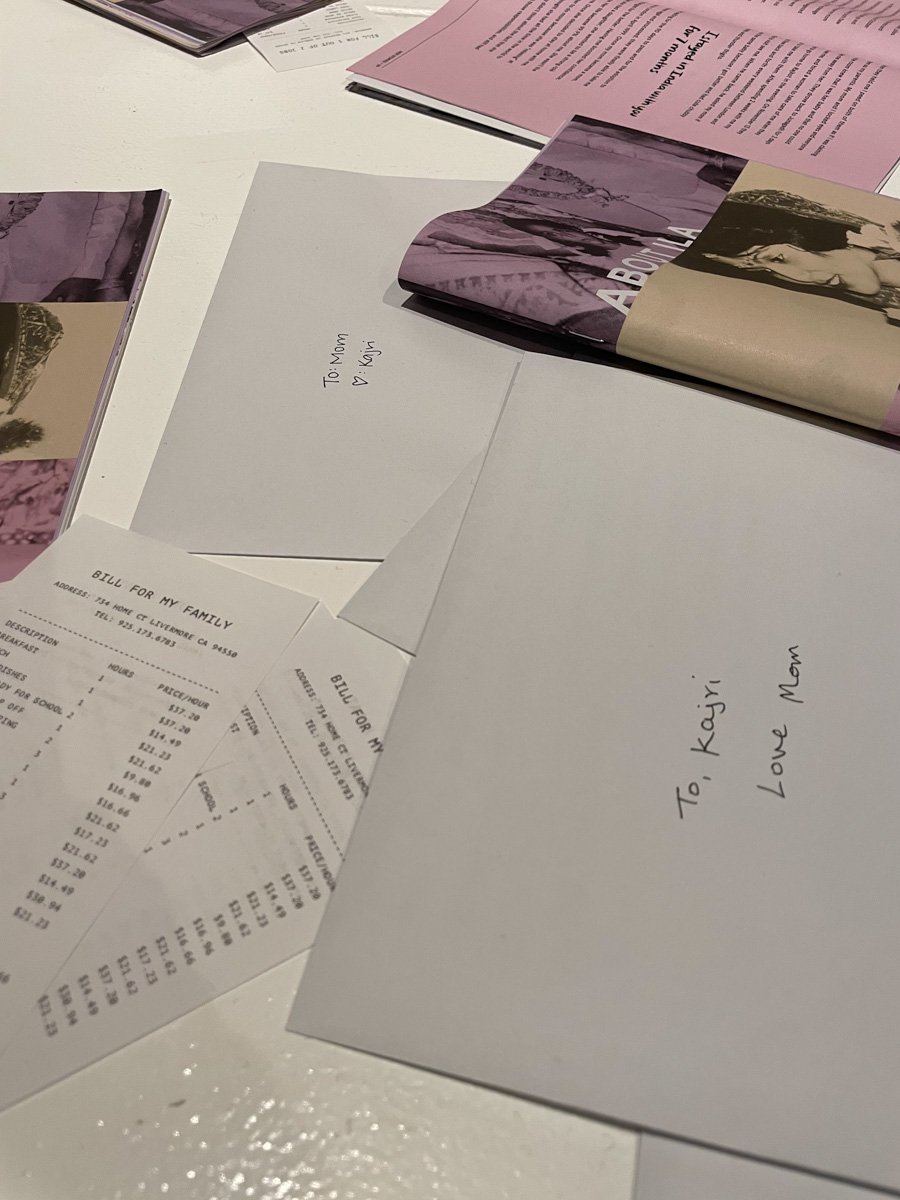 How, though, does this relate to economy? "I struggled at the beginning but once I settled on doing something about my mother, things started to click." The key was homemaker status. "The unseen labor really opened my eyes," Popat says. To this end, she created ancillary documents in the form of a "Receipt for the Day" and a "Bill for My Family," both of which tally a mother's unpaid labor. Cooking meals, driving kids to school, laundry, various household chores, are tallied with hourly rates that Popat based on fact.
"I collected actual salaries for job titles and got hours from different women who I talked to," she says. During her senior thesis review, faculty were impressed by the amount of research. "They told me I could go into a design research career, which is something I was curious about. I didn't have the confidence to pursue that. But now I do."
The receipts have a way of balancing out the sweetness of this project—they serve, literally, as bookmarks, to mark passage through the familiar narrative. Popat also includes facsimiles of letters, to and from her mother, reflecting on the project. "You have immeasurable value," Popat concludes in hers, ever so complicating the meaning of 'economy'.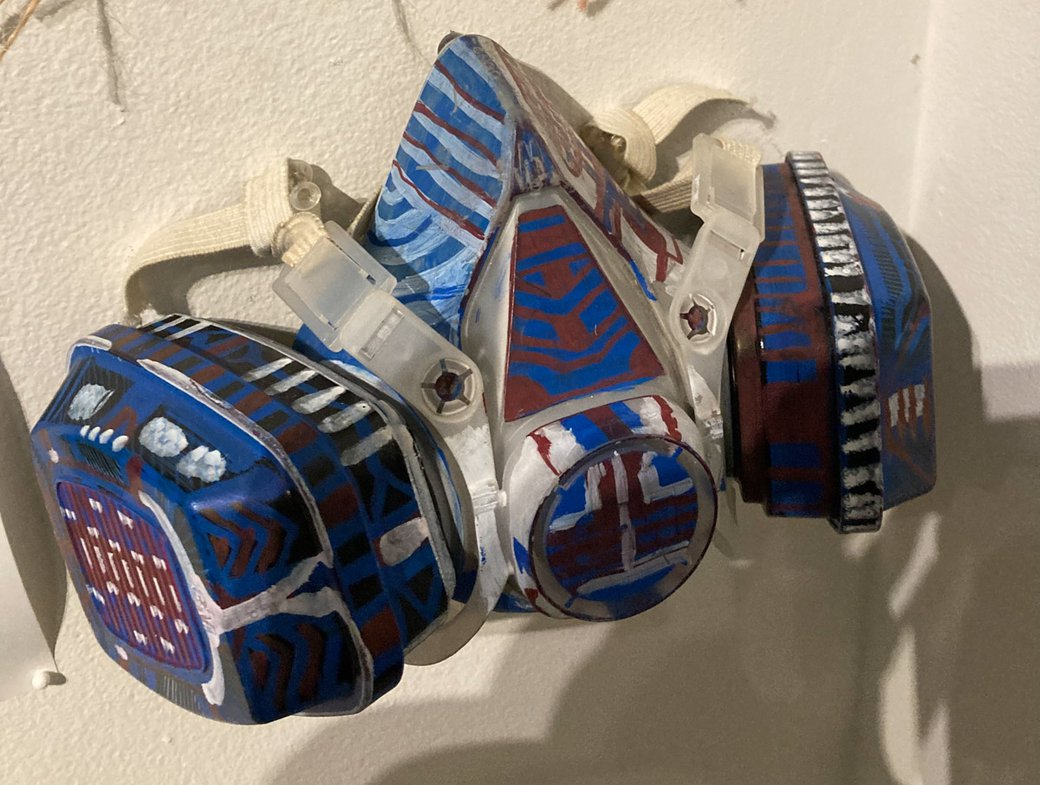 Sebastian Petersen: Boundless Mediums
In the back corner of the exhibition at the Perry Family Event Center (350 Kansas Street) there's an abundant display: diagrammatic black and white drawings pinned to the wall and low pedestals with an array of objects, as well as blocks of wood, welding masks—each richly detailed with pattern and suggested narratives. These are pieces by Illustration major Sebastian Petersen, whose abundant output blurs the boundaries between design, craft, and art. That approach is something he takes seriously.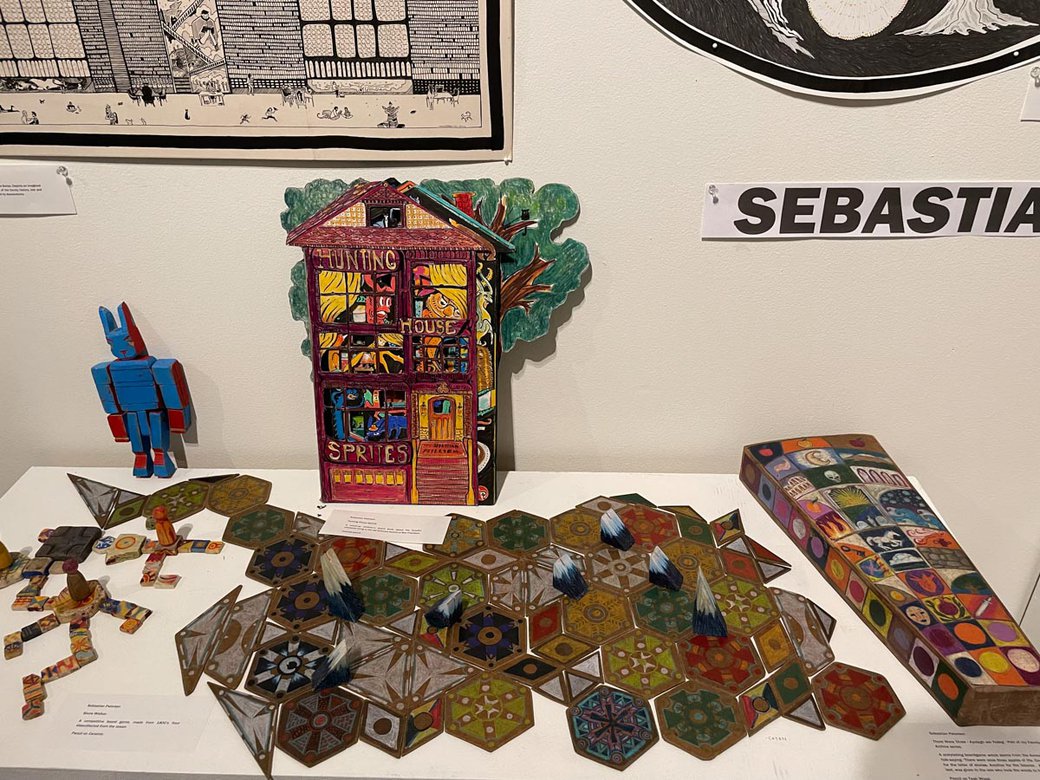 "A core concept I grapple with is that the boundaries of medium are fluid and often deeply cultural," he writes in an email exchange.
Petersen transferred to CCA from the art program at San Francisco Art Institute, and found the shift refreshing. He writes, "I find that tribalistic mentalities in the arts are a detriment to the health of the arts themselves." In transferring to CCA's Illustration department, he was happy to find that hard and defined delinations between mediums was "aggressively discouraged."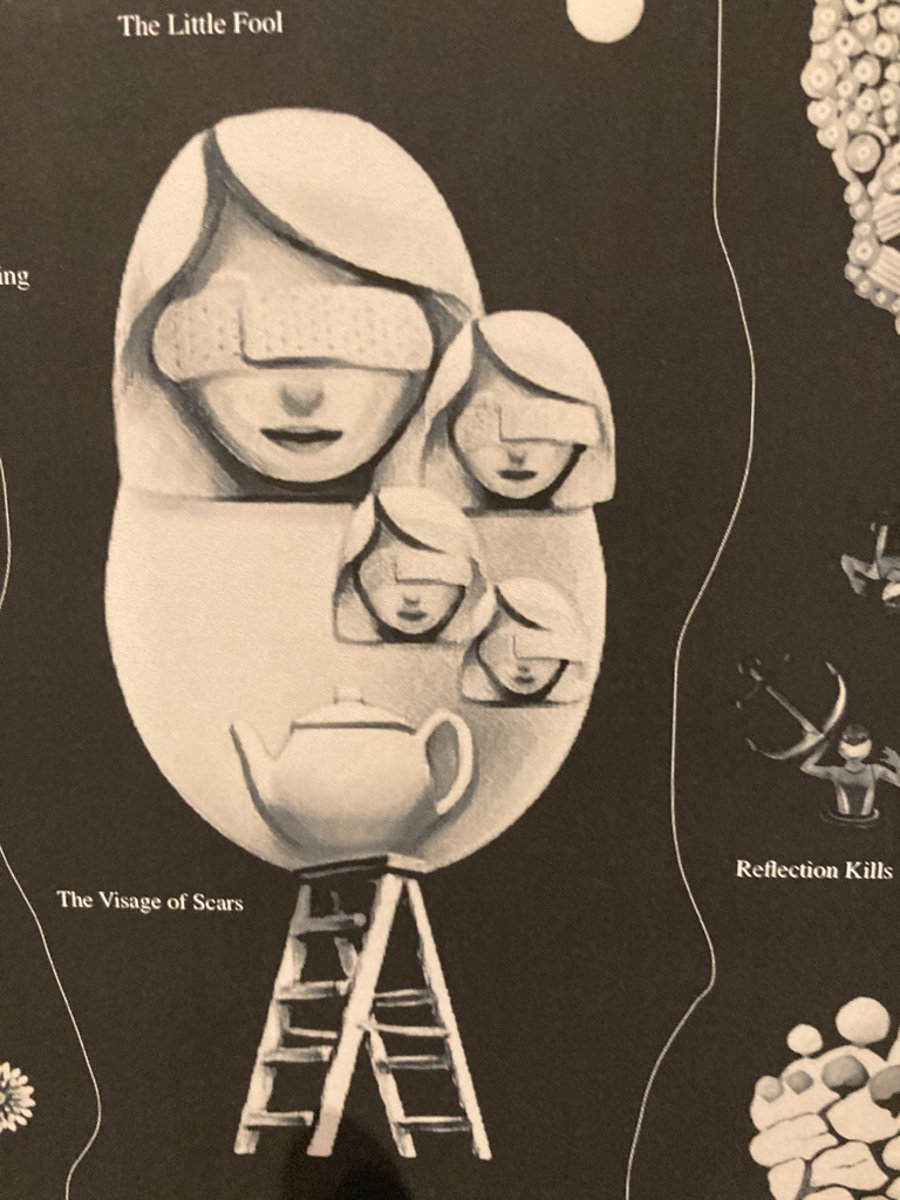 "Illustration is a creative practice that is 'of the people' in a way that many other practices have shied away from. I chose it as such as I feel it is a perfect starting point to get the interdisciplinary sharing of knowledge and cultural currency," Petersen asserts.
He appreciates the open-mindedness of the program and the support in expanding his creative scope. He credits faculty members Isabel Samara, Lisa Brown, Randy Chavez, and Bob Ciano for attuning him to historical sources, use of narrative, and embracing weirdness. All is in evidence in his abundant display of invented cosmologies, games, and sculpture. Some of the projects riff on genealogical diagrams:Petersen comes from a long line of creative people. His father and grandfather were both interdisciplinary artists.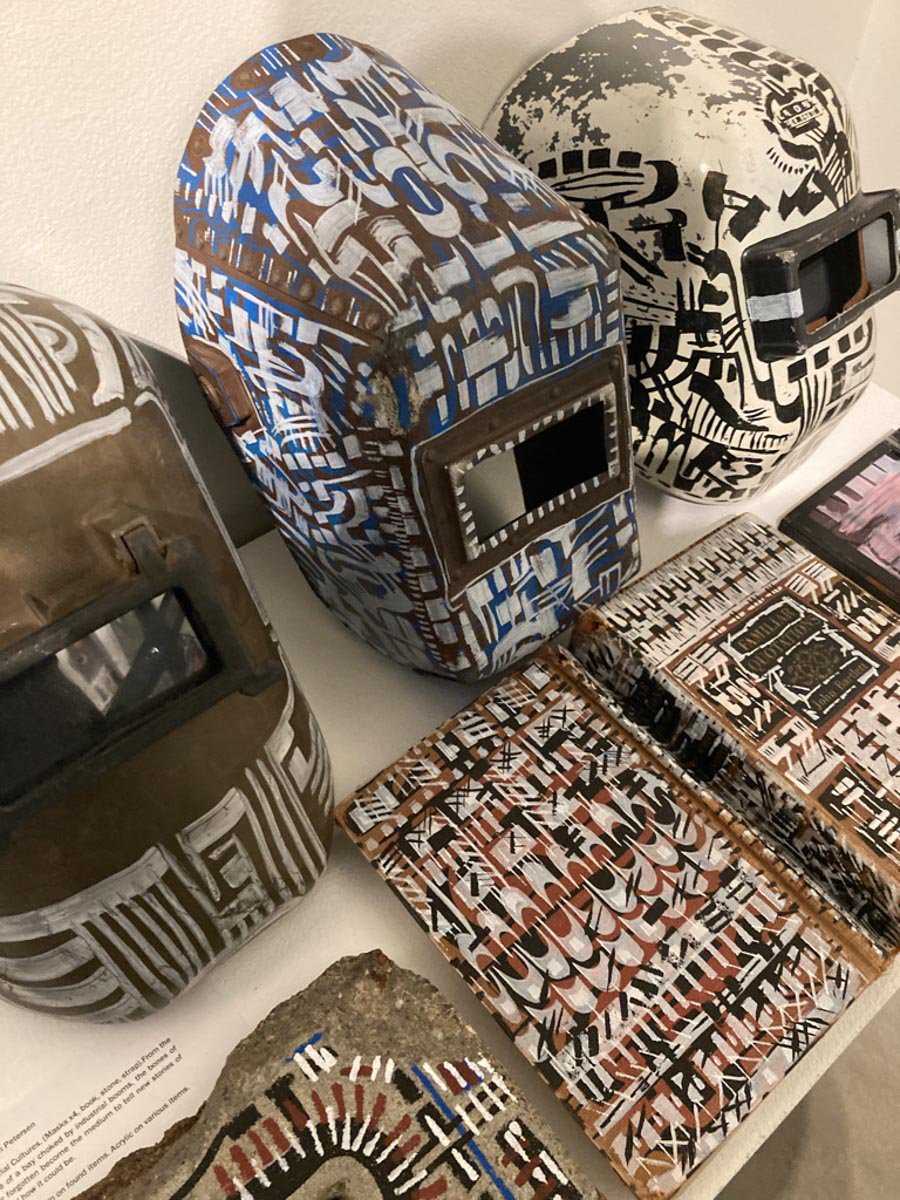 "I've spent a good deal of the last few years tracking family history and creating a series of multi-media works as an archive for my present and future family," Petersen writes. As for his professional future, he's hoping for editorial illustration work, to write and illustrate books, and to "open a physical materials library for creatives." Based on the range of work he's created at CCA, he's primed for what comes next.
These were only a fraction of the graduating students, and they each were a delight to speak with. They all were clearly thrilled to be able to talk about their work. It is clear that they will be able to apply what they've learned at CCA to their next endeavors.
—Glen Helfand
January 18, 2022