Learning about the Sustainable Cotton Project with support from Cotton Incorporated
You might be surprised to learn that it takes two pounds of cotton fiber to produce a single pair of jeans (including spinning and cutting waste). Even more if those jeans are stylishly crisp thick 32 oz. denim currently on trend. All that raw material comes from regions across the world with climates that support cotton cultivation.
You might also be surprised to learn that one of those regions is just two hours southeast of the Bay Area in the San Joaquin Valley where California cotton growers are using integrated pest management (IPM) and regenerative farming practices to grow some of the best quality cotton in the world. That cotton has been trademarked as Cleaner Cotton™ by the Sustainable Cotton Project (SCP), an initiative that CCA Fashion Design faculty member Lynda Grose has been helping to popularize since the mid-1990s with the original goal to decrease the use of harmful chemicals and support organic cotton production. This year, SCP's farm tour also included information on regenerative farming practices that help farmers to use less water and chemicals and sequester carbon in the soil while at the same time maintaining high yields and producing superior quality cotton.
CCA Fashion Design students learned these facts, and many others about cotton, in their annual trip to the valley to meet California cotton farmers who are growing the highly prized pima cotton. This on-site experiential learning helps to lay a solid foundation for each student's sustainable design practice and supports CCA's commitment to sustainability in all the ways we define it. Even slight changes to the industry can make larger-scale impacts and one of the best ways to initiate change is through the education of new fashion designers.
The trip was made possible by an annual grant from Cotton Incorporated, a national partner of CCA dedicated to furthering education on and support for the cotton industry at every stage. By helping fashion design students understand where cotton comes from and encouraging its use, the grant benefits students and the cotton industry alike.
Fashion Design Chair Gregory Climer confirms that sustainability is a "thread that weaves throughout the curriculum," beginning in the junior-level Ecology of Clothing course and reinforced in senior year when each student builds their collection on a solid foundation of sustainability knowledge. In addition to specifying sustainable materials, students develop zero waste patterns and processes, create durable garments whose value increases with age, imagine entirely new systems of dress, and consider garments that require less washing over their lifetime.
Climer explains that, "current models of sustainability fall on everyone else in the industry and not the designers." But emerging fashion designers with a deep knowledge of sustainable materials and practices can demand sustainability in all sectors of the fashion industry. This sense of agency is bolstered by their understanding of how cotton is grown and processed.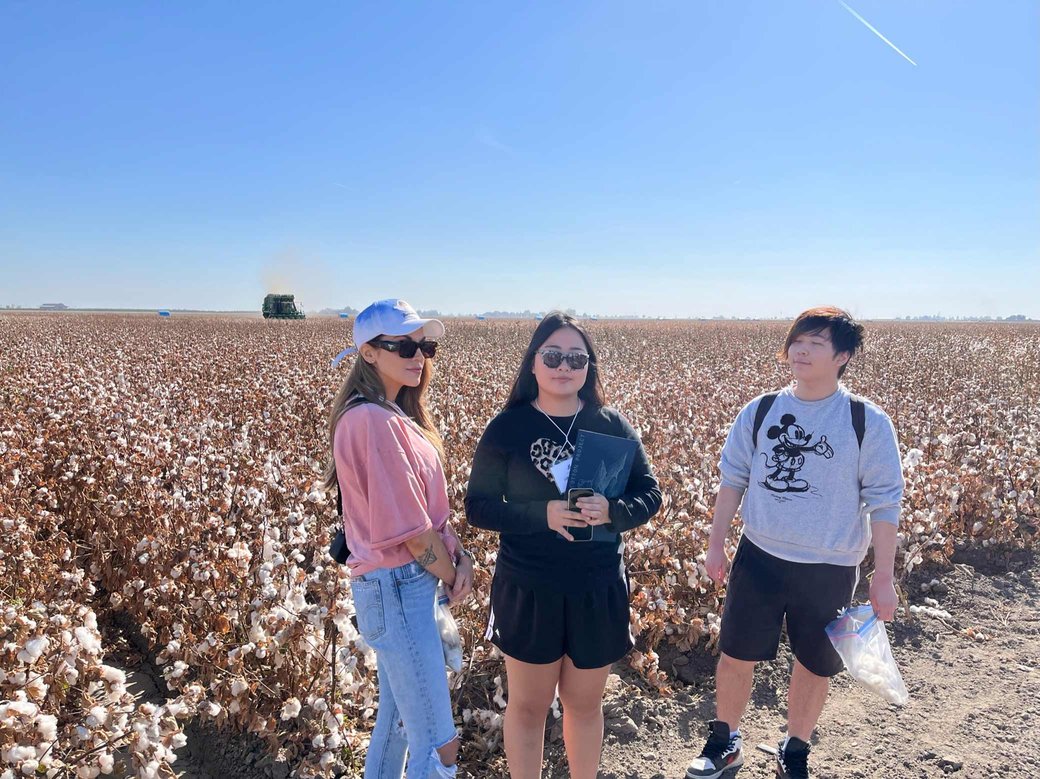 Surveying the cotton fields at harvest time
Marcia Gibbs, director of the Sustainable Cotton Project, led the tour that began with a visit to the San Luis National Wildlife Refuge, which was established in 1967 to provide habitat for local flora and fauna. Students learned about the original history of the land and how the extensive wetlands, woods, and grasslands supported flocks of migrating birds, the Tule Elk, and a diversity of other mammals, reptiles and amphibians. This land is the ancestral home of the Yokuts and Miwok indigenous peoples who were removed from it during the era of Spanish colonial rule, after which it was sold off for large-scale ranching. In the late 1800s it was plowed to make way for agricultural purposes.
The land surrounding the preserve is now used primarily for farming, planted with almond and pistachio trees, alfalfa, grapevines and the focus of our visit—cotton. Currently, around 250,000 acres are planted with cotton, down from 1.5 million acres at the high point in the 1950s and 1960s. Global competition from India and China has reduced the price of cotton and forced growers to shift to more economically viable crops that have a greater market price relative to the cost of production. Other factors have impacted cotton production too, as drought conditions continue and consumer demands and tastes shift.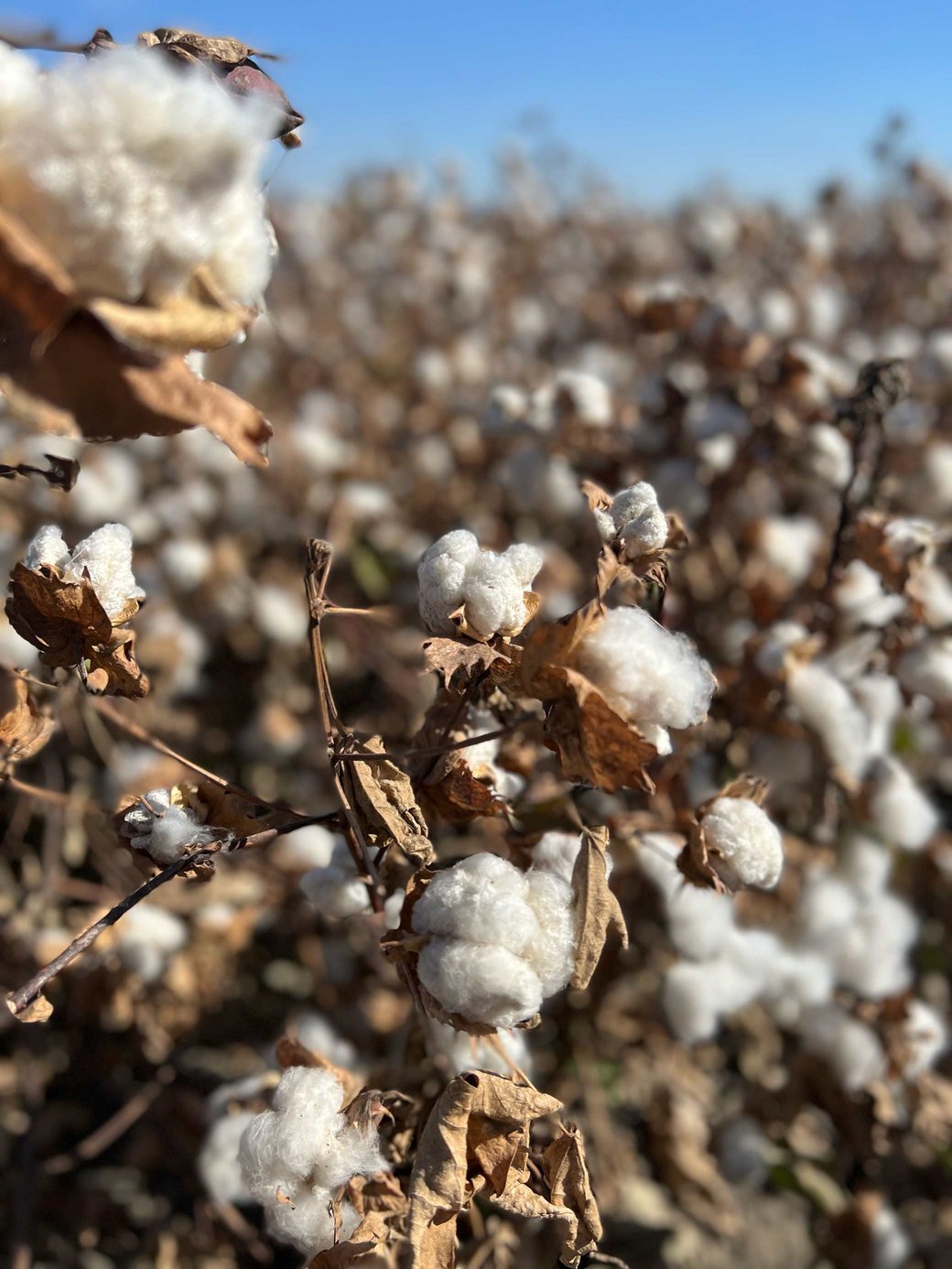 The cotton grown in the San Joaquin Valley is primarily pima cotton, notable for its long staple fibers (known as lint) that when spun into fine yarns can be woven into highly prized textiles for bedding and apparel. When you touch a 500-thread-count sheet, you are essentially touching pima cotton.
We visited during the high point of this year's harvest in mid-October when acres of dried cotton plants were bursting with bolls of silky white cotton. The harvesting is done by a highly automated John Deere harvester that separates the cotton bolls from the plants and rolls them into plastic-wrapped modules that emerge from the massive machine every few rows. A natural deadline loomed as rain storms were expected the following week that would make harvesting difficult and affect the quality of the cotton.
One of the goals of the Sustainable Cotton Project is to use "knowledge and experience working in the field with farmers and with the fashion industry to speak honestly about impacts and to clarify effective actions." Pressing for a reduction in chemicals that can impact the land, water and air quality in the valley, they work with individual growers to manage pests, improve water retention of the soil, share knowledge, and market the high quality cotton they grow. By bringing fashion students and professionals to learn about Cleaner Cotton™, their mission extends beyond the fields and to the designers who can support the mission in their work.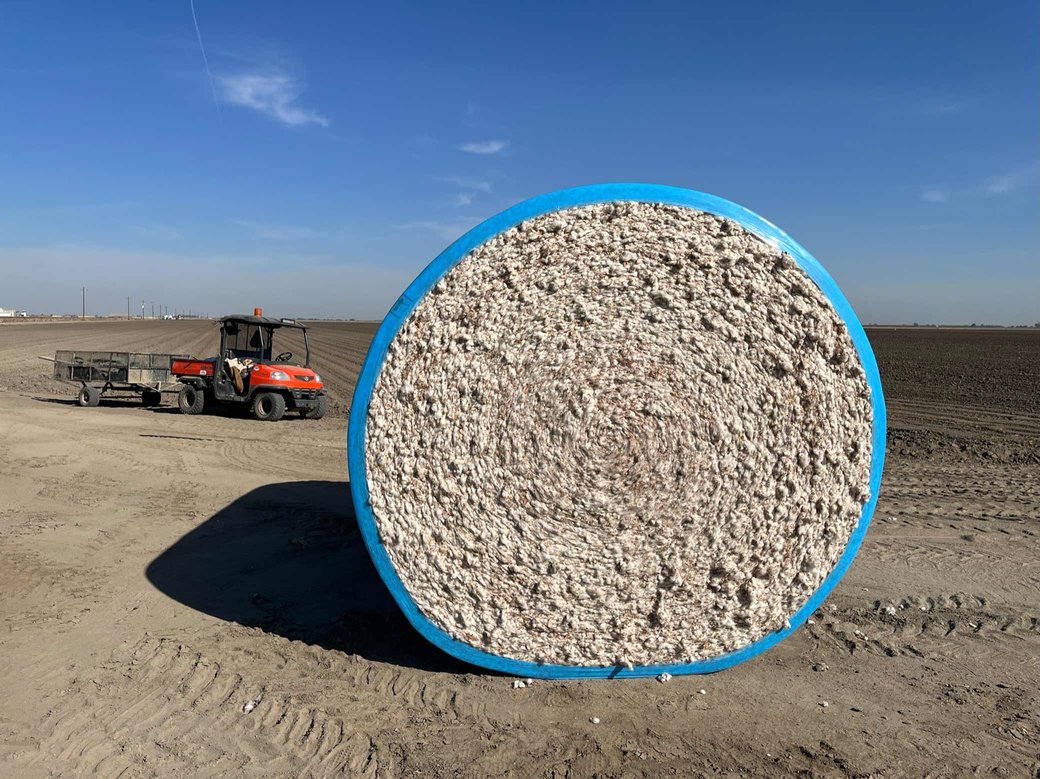 Lunch break with cotton farmers
Lunch with the farmers in the town of Firebaugh was a time to learn more about the lifecycle of the plant. Local farmers Gary and Mari Martin from Pikalok Farm, whose family has been farming in the area for three generations, brought cuttings of cotton plants from their fields to show the leaves, flowers, and bolls in their pre-ripe stages.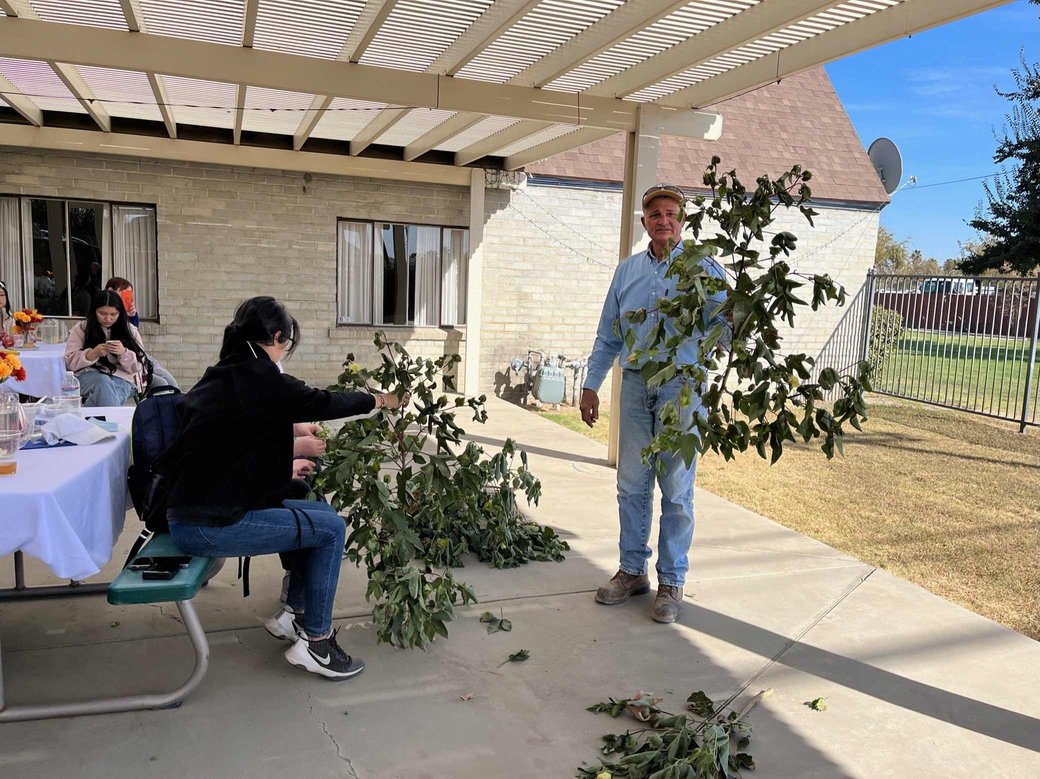 Grose brought samples of cotton in colors to highlight efforts to breed the plant to produce lint in natural hues that do not need to be dyed, therefore eliminating the often toxic and water intensive dying steps from the textile production process. A vintage North Face "Backyard" hoodie developed through a collaboration with Fibershed, cotton plant breeder Sally Fox, the California Cloth Foundry, and SCP showed what naturally colored cotton can look like when used to create a knit fabric.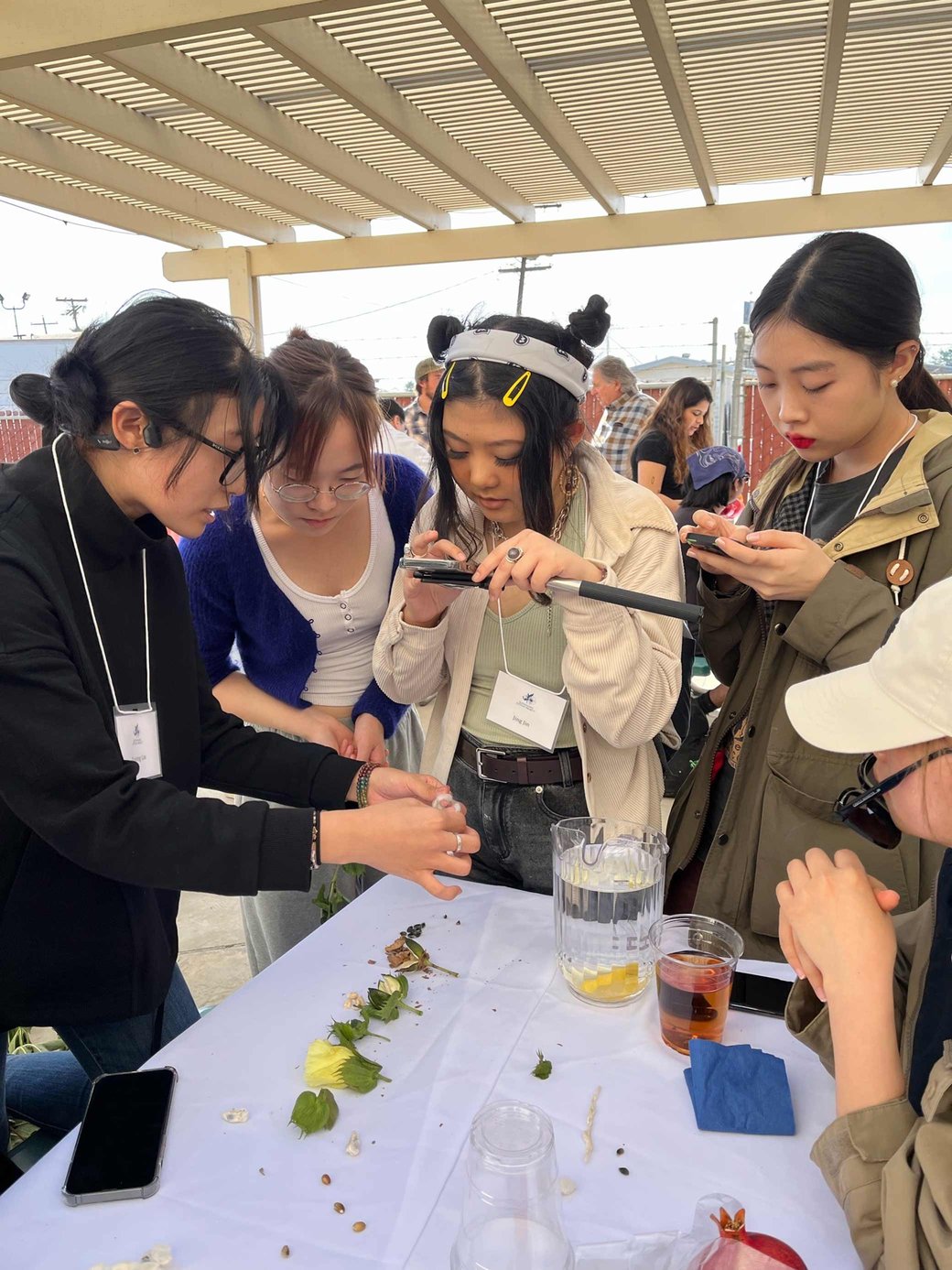 We were also joined by Six Cheung, a fabric buyer from Hong Kong who sources and develops sustainable fibers and textiles for fashion brands such as Everlane and Juicy Couture. Cheung stressed "without traceability, sustainability doesn't work." Fiber traceability ensures quality, and also supports the fair trade and environmental claims that brands make to their customers. He noted that the regenerative growing processes also sequester carbon in the soil which is a key step to creating more sustainable fashion systems from the very beginning. This was Cheung's first time visiting cotton fields after 30 years in the industry and he reminded students how fortunate they were to have this foundation of knowledge at the beginning of their design careers.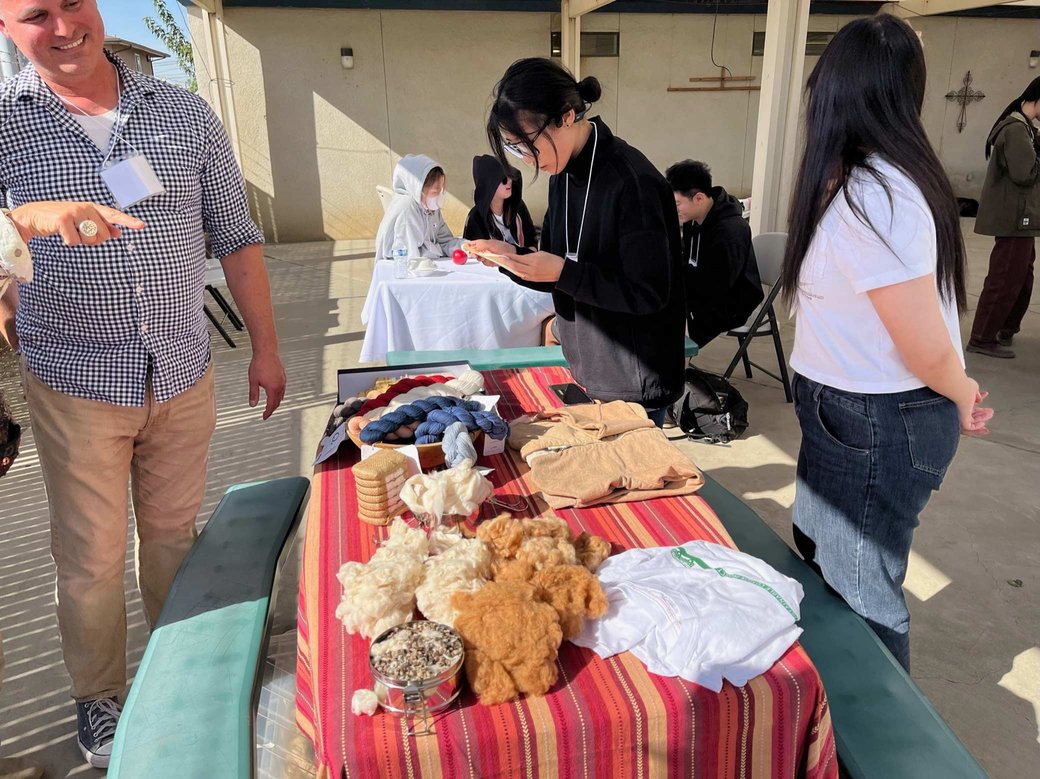 The ginning process prepares cotton for sale
Cotton uses a moderate amount of water in the San Joaquin Valley, requiring less than alfalfa, almonds, corn, and many row crops. Grose explains that "UC agricultural extension scientists work with farmers to monitor water applications during the life of the plant, which responds particularly well to deficit water conditions just before bolls open. Because water is expensive in California, farmers must be assured that each application will result in an increase in fiber yield." The cotton fields we visited are known for their high yields.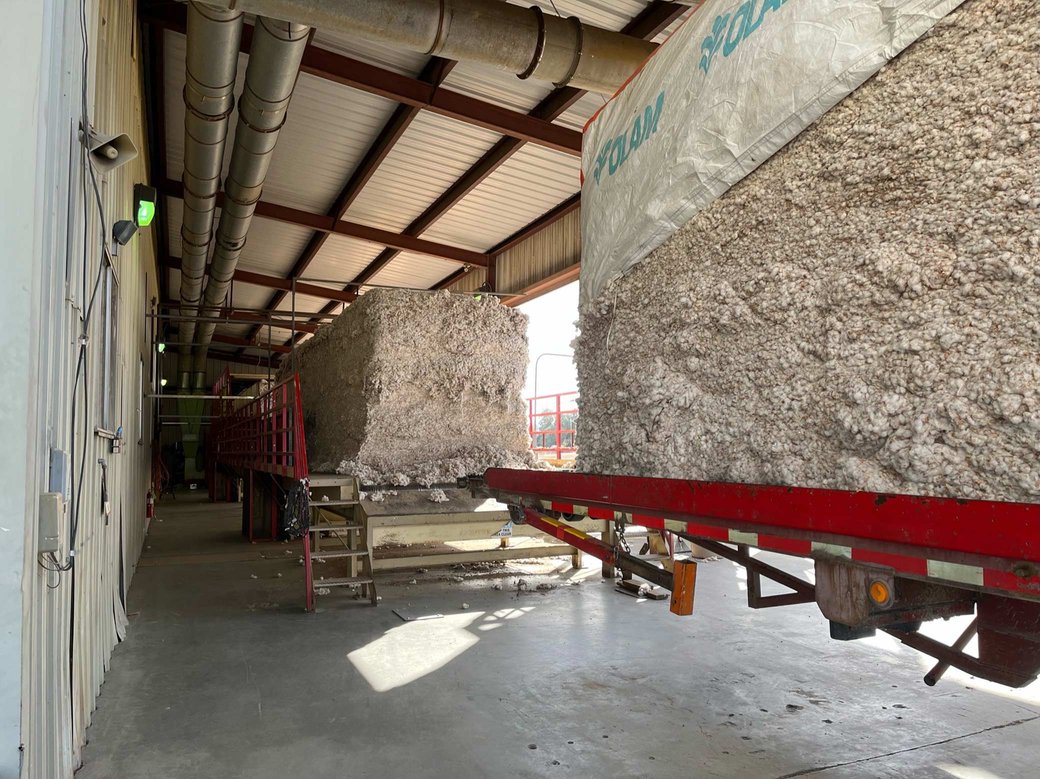 Once the cotton is harvested and wrapped, each module is ready for transport to the local cotton gin to remove the sticky seeds, bits of leaves and stems (known as trash) that were caught in the lint during the machine harvesting process. The cotton lint is loaded into the gin where it is dried and air tumbled multiple times to remove the trash. In another step, the seeds are pulled from each boll through a series of spiked rollers.
At the final phase, the lint is blown into a uniform layer and pressed into bales that are strapped, wrapped, and tagged with an electronic USDA bar code before heading to storage where they await grading. Tracking allows the eventual buyer to claim their fiber's origin from the regenerative fields in which it was grown. It also allows the farmer to command a higher price depending on the grade their cotton receives. Grose confirmed that the tracking system is reliable and contributes to trust throughout the industry because the claims of origin and quality can be supported. Designers should care about this part of the process because it makes it possible for them to trace the fibers they specify for their designs.
Ginning is but one step in the life of this fiber that includes planting and growing, harvesting and ginning, combing and spinning, dying and bleaching, finishing with weaving and processing textiles for market. Like all industrially produced materials and products, water use and carbon emissions occur at every step. Not to mention the hundreds of washings and dryings our garments go through after we make a purchase.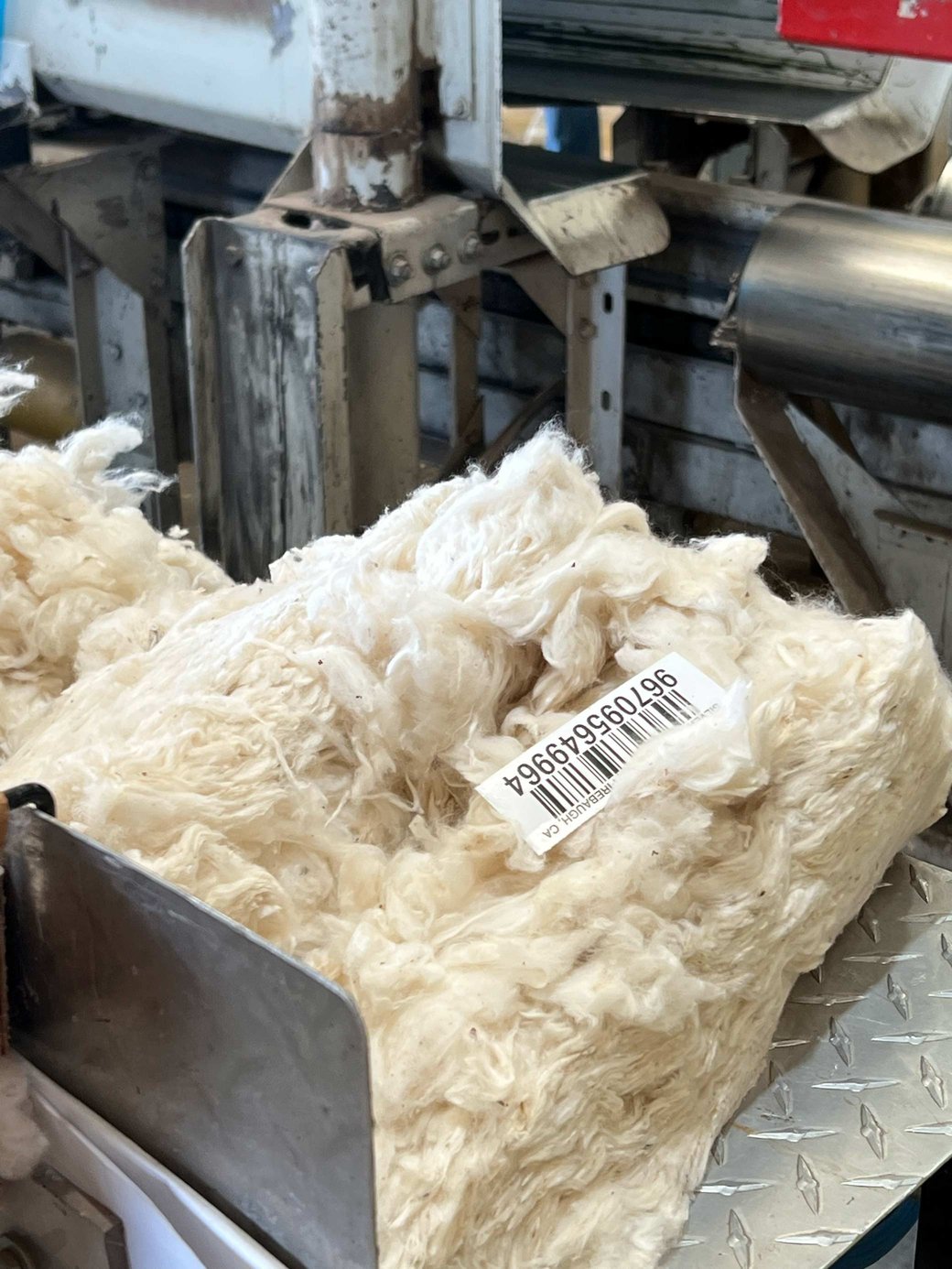 Greater knowledge can foster industry changes
At each moment during our visit to the valley, students were able to see for themselves the efforts made by committed growers and the Sustainable Cotton Project to improve the yields of the fields and the quality of the fiber while limiting negative impacts on the environment. All are key to making the textile industry more sustainable and accountable. Ideally, with new insights gained through understanding how cotton's story begins, students will also understand the essential role they play in that story and they will develop the confidence and agency to push for (even demand) the local and global changes needed to ensure fashion's sustainable future.
Funding was provided by Cotton Incorporated.
— Mara Holt Skov, associate professor of Industrial Design
January 12, 2022