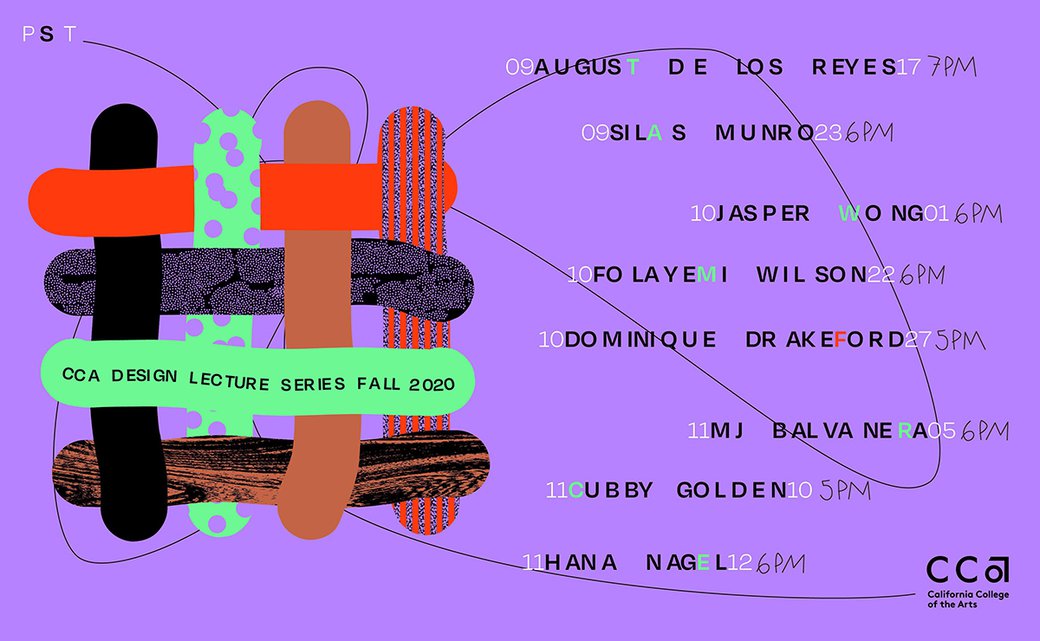 The Fall 2020 Design Lecture Series was the division's first round of talks exclusively held online. We miss filtering into the beautiful Nave Alcove, with its high ceilings and expansive white walls, lines of seats set up; the anticipatory hum of faculty, students, colleagues, leaders of our field; the cameras clicking and chairs shifting—the urgency of a live event.
But we have gained some things in these broadcast lectures. Curling on our couch in slippers, chopping vegetables while listening, pausing, re-watching, sending links to friends; seeing these incredible speakers when and where we want to. Speakers, too, can join us from their homes and studios, no longer limited by geography.
There is a different kind of intimacy, speaking to a camera that goes right into the homes of every audience member, a kind of one-to-one connection across continents and time zones that in some ways reduces the formal distance of stage and audience. Let's look back at the highlights, ideas we explored during this new way of gathering, and preview what we're eager to experience together this spring.
In review: Fall 2020 Design Lecture Series
The fall 2020 lineup favored themes of agency and responsibility. The season kicked off with the late August de los Reyes, who took us through his career path of graphic design and IxD, offering a vision of design that is inclusive, playful, and enduring, that preserves dignity and is serene. Silas Munro, who will teach this spring in MFA Design, shared his work researching, presenting, and exhibiting the work of African American designers and explored the call for bringing a more embodied self into the design process.
Jasper Wong, a 2006 alum of CCA's BFA Illustration program, shared the breadth of his career, from exhibition and event design to large scale murals and gallery launches. Folayemi Wilson, a designer, curator, writer, and founding principal at blkHaUS Studios, argued that we must be true to ourselves and make work free of gatekeeping and surveillance to create radical new systems of beauty that aren't about the market and don't speak in a normative language.
Mj Balvanera joined us mid-pandemic from Mexico City and described her work with the Women's Center for Creative Work, a community space that prioritizes women of color and other underrepresented communities, and how risograph printing and bookmaking became her dream job, hobby, and creative practice. In a fiery call to action to know our history and change our trajectory, Dominique Drakeford laid bare the inextricability of race, labor, materials, sustainability, and fashion. And in a deeply personal narration of his career path, alum Cubby Golden (BFA Industrial Design 2007) shared about his discovery of design and about being a young Black man in design school where the students, faculty, and heroes didn't look like him, finding his way to mentors and self-authorship in and beyond product design. Finally, Hana Nagel offered us a framework for weaving critical consciousness, integration, and collaboration into the process of building AI models.
We are deeply fortunate to have hosted these events and to have them in our library, each accompanied by a synopsis and live Q+A, ready to share, teach, and reference. The series poster is always designed by a member of our community, and for fall 2020, Juan Pablo Rahal (MFA Design 2020) created a graphic theme of weaving that honors craft as well as the individual strands that form the whole fabric of a community—our community, coming together to learn from one another, all around the world.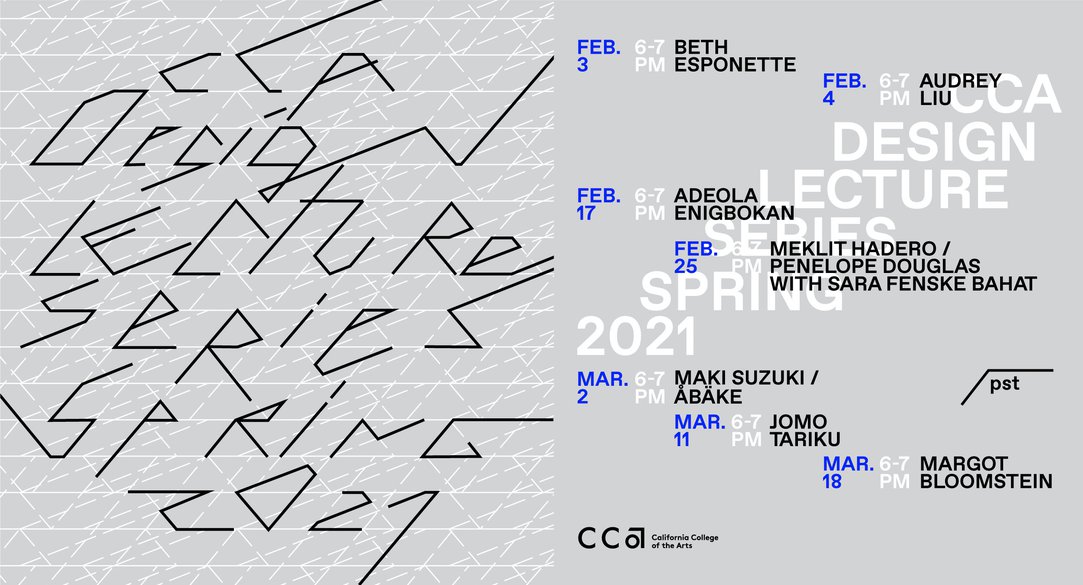 Coming up: Spring 2021 Design Lecture Series
For the Spring 2021 Design Lecture Series, Alejandra Valenzuela (MFA Design 2015) is creating the graphic identity for the series, and we are visited by seven excellent speakers that comprise the exciting, interdisciplinary lineup. Beth Esponette from unspun speaks to intentional, custom, and circular fashion models. Audrey Liu of Lyft discusses the power of optimism in design and her path as a woman of color in tech. Adeola Enigbokan presents on designing and implementing a trust protocol. Meklit Hadero and Penelope Douglas join DMBA Chair Sara Fenske Bahat in conversation about YBCA's transformative work of investing in artists. Maki Suzuki introduces the work of the Abake collective and their exhibition on mirrors, duplication, and fiction. Jomo Tariku shares his personal perspective and experience designing African furniture. Finally, Margot Bloomstein walks us through building empowerment to get to trust in brand identity development.
Join us for these events, from all of your studios, kitchens, couches, and offices. Through our challenges, we have created networks, built interactions, brought speakers, and asked questions. Challenge is part of the fabric of our craft. We're ready for the new year and we're sure you are, too. Let's do it together.
—Saraleah Fordyce
February 2, 2021