Fall at CCA regularly features a robust lineup of engaging events and prominent guest lecturers for CCA students, faculty, staff, alumni, and the local community to attend on campus. But this year, because the semester is entirely remote, those lectures and events are moving online—and, in the process, opening up access to audiences around the world.
With an entirely remote series of events, location is no longer an issue. Many academic programs have been able to take advantage of that flexibility to book captivating guest speakers and industry heavyweights whose busy schedules might not have made an in-person lecture possible. And in some cases, it has allowed programs to partner more intentionally with other cultural and academic institutions to jointly present engaging programs and discussions. The 2020 Architecture Lecture Series, for example, is co-presenting many of its public programs with other institutions (Museum of the African Diaspora, Asian Art Museum of San Francisco) and colleges (SUNY Buffalo, University of Toronto, Columbia University).
CCA's public programs this fall also offer new perspectives on the crucial roles that art and design play in building a more equitable, anti-racist world. This season's diverse lineup of guest lecturers—including designer August de los Reyes, migration scholar Sarah Lopez, architectural researcher Ronald Rael, environmental educator and sustainable fashion advocate Dominique Drakeford, and CCA alum and mural artist Jasper Wong (BFA Illustration 2006)—will cover important topics like inclusive design; sustainability; racial inequality, bias, and exclusion; cross-border collaboration and centering migrant experiences; climate change; and more.
Read on to learn about CCA's free virtual public programs that you can attend this fall.

Architecture Lecture Series: Exploring "Remaking…"
The fall 2020 Architecture Lecture Series—based around the theme of "Remaking"—focuses on relevant, timely actions and opportunities for architecture, interior design, and urbanism to be more inclusive, accessible, and diverse. This coincides with the launch of SCAFFOLD, an online content channel from CCA's Architecture division. Each semester, SCAFFOLD will highlight public programs and share stories that demonstrate the value of—and our pride in—the thinking and work that the college's students, faculty, alumni, and larger community are undertaking, bringing visitors insights from the leading edge of design, research, teaching, and learning.
The series opened on Wednesday, September 16 with the first of three panel discussions launching the fourth volume of Bracket, titled "Takes Action." Led by the annual publication's co-editors Neeraj Bhatia (CCA) and Mason White (University of Toronto), the three sessions—September 16, October 7, and November 11—explore how actions can be designed, accommodated for, and encouraged through both creative practice and design citizenship.
September 21–28, CCA's Urban Works Agency presents a three-part symposium titled "Reclaiming Land," bringing together scholars and practitioners from diverse disciplines to ask how property can be reimagined for equity and inclusiveness.
On November 2, the Architecture division hosts an election-eve conversation with founding members of Dark Matter University, a democratic network of architects, designers, and scholars founded to work inside and outside of existing systems to challenge, inform, and reshape our present world toward a better future.
Additional events include lectures with Sean Canty (BArch 2010) of Studio SC (November 23); Tajai Massey and Sekou Cooke speaking on "Hip Hop Architecture in Dialogue" on October 5 and Mario Gooden of Huff + Gooden Architects on October 10, both co-presented with the Museum of the African Diaspora; a September 18 book launch for CCA professor Irene Cheng's new publication, co-edited with Mabel O. Wilson and Charles L. Davis, Race and Modern Architecture, co-presented with Columbia University and SUNY Buffalo; two roundtable discussions about "Urbanism Beyond Corona" presented by CCA's Urban Works Agency and Experimental History Project (November 16); and two keynote lectures featuring migration scholar Sarah Lopez (October 19) and architectural researcher Ronald Rael (October 26) in connection with "Make. Act. Resist: A Teach-In on Borders and Migration."
Tuesday Talks Visiting Writers Series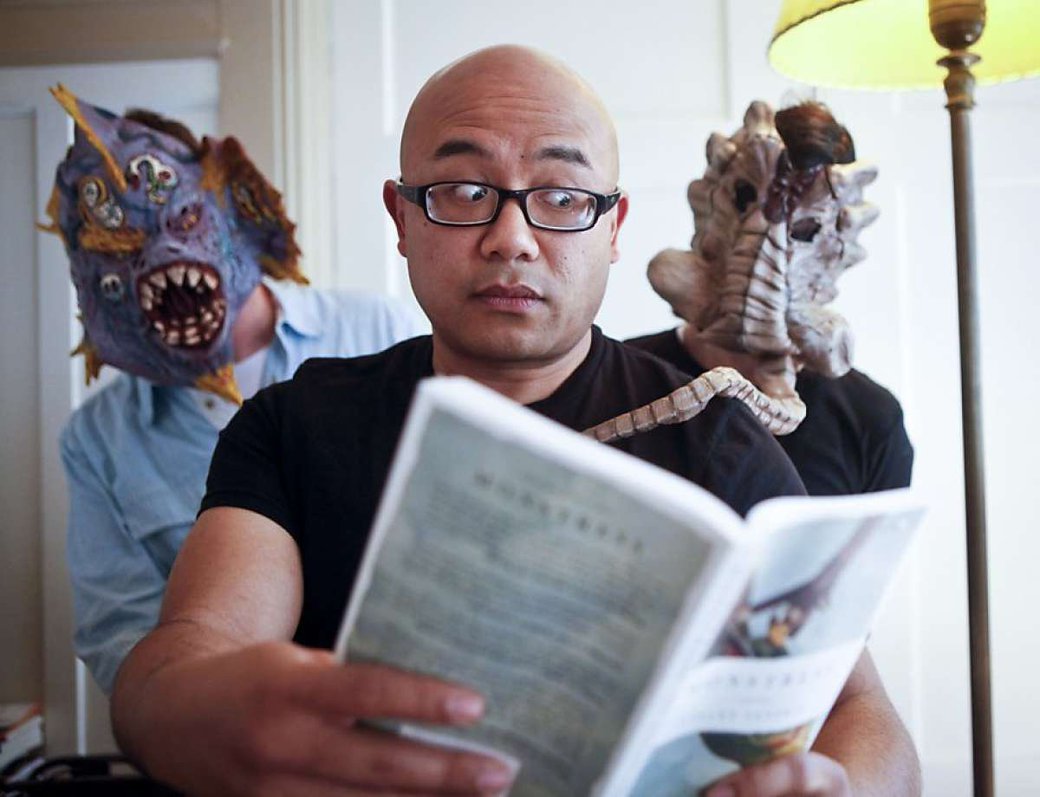 Avid readers and aspiring writers will want to bookmark the Tuesday Talks Visiting Writers series, hosted by CCA's MFA Writing program. This fall's lineup features four distinguished poets, short story writers, novelists, and memoirists, including Iranian American poet and scholar Kaveh Akbar—author of Calling a Wolf a Wolf and his forthcoming project Pilgrim Bell—who opened the series on September 15. The series also features San Francisco–based novelist and short story writer Lysley Tenorio (The Son of Good Fortune and Monstress) on September 29, Japanese American novelist and memoirist Marie Mutsuki Mockett (Where the Dead Pause and the Japanese Say Goodbye) on November 7, and Pulitzer Prize–winning poet Jericho Brown (The Tradition) on December 8.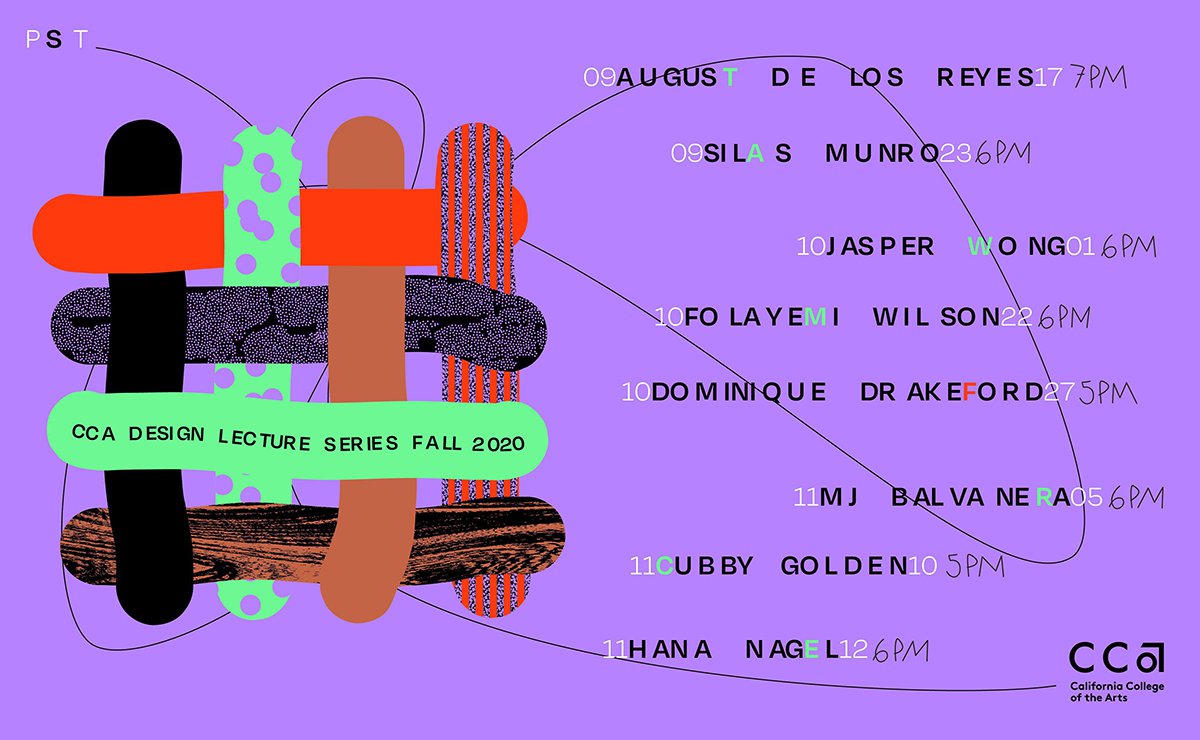 Design Lecture Series: Design as a tool of empowerment
This fall, the Design Lecture Series features eight respected designers, strategists, curators, and educators who will address how they use design as a tool of empowerment—to defy and overcome the most pressing issues of our time including racial inequality, bias, and exclusion; marginalized communities and practices; environmental catastrophe; and inhumane technological change.
Guests include August de los Reyes on the power of inclusive design (September 17); Silas Munro speaking on "A Designer's Struggle for Integrity"; Jasper Wong (BFA Illustration 2006) on the impact of murals and the street art movement (October 1); Folayemi Wilson on her practice of radical making (October 22); Dominique Drakeford presenting on "Fashion, Race, and Sustainability" (October 27); graphic designer Mj Balvanera on "Publishing for Social Change" (November 5); alum Cubby Golden (BFA Industrial Design 2007) discussing his path as a Black designer (November 10); and Hana Nagel presenting on "Simple Ethics for Complex Technology" (November 12).
All Design Lecture Series events will be recorded and available to the CCA community for educational purposes after the event.
CCA Wattis Institute fall lectures and events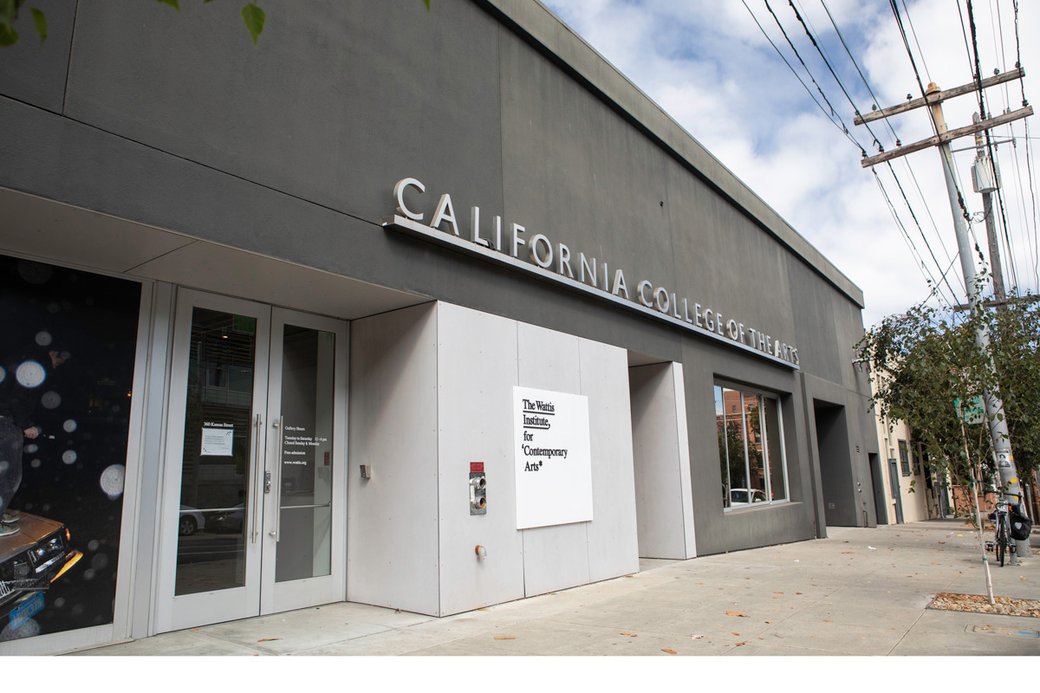 In collaboration with CCA's Visual + Critical Studies program, the Wattis Institute for Contemporary Arts launches a new lecture series, "Land to Light On." The series opens on October 21 with a talk from Joshua Myers, associate professor of Africana Studies in the Department of Afro-American Studies at Howard University and author of We Are Worth Fighting For: A History of the Howard University Protest of 1989. In early December, the Wattis welcomes author and filmmaker Ayesha Hameed to deliver a performative lecture exploring contemporary borders and migration.
The Wattis also continues to present a series of events focusing on Bay Area art history, celebrating the various artists, groups, and spaces that have shaped the region's art community. Upcoming programs celebrate the work of iconic San Francisco–based filmmaker and curator Craig Baldwin (September 24) and visual artist and former CCA faculty member Jay DeFeo (November 14).
This year, the Wattis Institute devotes its research season to the work of artist, poet, and activist Cecilia Vicuña. As a research institute, the Wattis annually dedicates an entire year to reflecting on the questions posed by a single artist's work. Vicuña's work will be used as a lens to think about the current contemporary moment through a series of open questions that will inspire a year-long schedule of public events: reading groups, lectures, performances, screenings, and other programs that will explore artists and ideas that emerge through a series of discussions.. Small public reading groups begin on September 28 (space is limited!), and a series of events will be announced at a later date.
Many of this fall's events at the Wattis will be available later on the Wattis Library, a free, ever-expanding online platform for videos, lectures, and essays that provides in-depth access and proximity to many of the artists and thinkers of our time.

Creative Citizens in Action ([email protected]), a collegewide initiative that promotes creative activism and democratic engagement through public programs, exhibitions, and curriculum connections, is hosting a series of events aimed at engaging the CCA community leading up to and following the U.S. general election this fall.
To kick things off, on September 23, Assistant Professor of Printmedia Sam Vernon moderates [email protected] Hosts Virtual Brunch: A Conversation on Art in Times of Social Distance. The event features a conversation with Bay Area–based artists, arts administrators, and activists who have had significant success in transitioning their programs for social distancing.
On Thursday, October 15, [email protected] presents What is Your Voting Story?, a live, student-led conversation organized by Associate Professor of Photography Aspen Mays (one of this year's [email protected] Micro Grant recipients) and hosted and streamed by SF Camerawork. The series will include additional programs, town halls, virtual brunches, and more events to be announced throughout the fall.