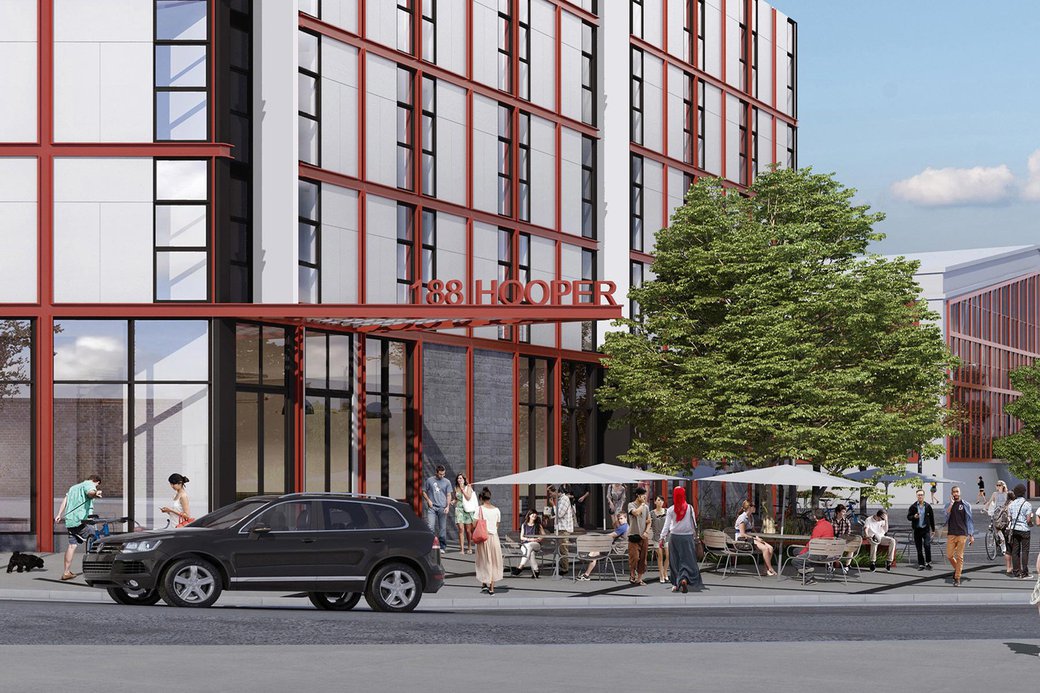 188 Hooper is a new student housing facility that is part of CCA's expanded campus design in San Francisco and reflects the college's goals of creating a campus that is "creatively hackable," sparking student imagination, experimentation, and discovery; "sustainably agile" acting as a model of sustainable design; and comprising a "connective campus," weaving together people, ideas, and practices across the schools diverse programs and the surrounding Bay Area.
The building provides below market rate housing for 500 first and second year students on the CCA's San Francisco campus. At five-stories and 133,634 square feet, the structure features single and multiple-occupancy units and over 12,000 square feet of common areas, including gathering, kitchen, dining and study spaces. In addition, the building will feature a 400 square-foot outdoor deck on the fifth floor. At the ground level, the facility will feature over 10,000 additional square feet of outdoor space with newly landscaped, interconnected courtyards.
The sidewalk outside of the building is expanded into the street and crosswalks are added—at once making the immediate area more pedestrian-friendly and creating better traffic flow at the intersection of Hooper and 8th street. An inviting restaurant on the ground floor of the building is surrounded by floor-to-ceiling glass windows, features a meal plan for the building residents.
The facility builds upon CCA's commitment to sustainability, with photovoltaic rays and a solar water heating system, high performance windows to conserve energy, 160 indoor bike parking spaces, and floor to ceiling windows providing natural day lighting in all rooms.
The housing will replace two of three of CCA's existing buildings that are currently being used as studios for the college's Graduate in Fine Arts program. Beginning in Fall of 2018 and for the next five years, these studios will be located in the American Industrial Center–a building at the heart of Dogpatch's burgeoning contemporary arts scene where the college is continuing to build relationships with organizations such as Minnesota Street Project. More information about the move can be found here.