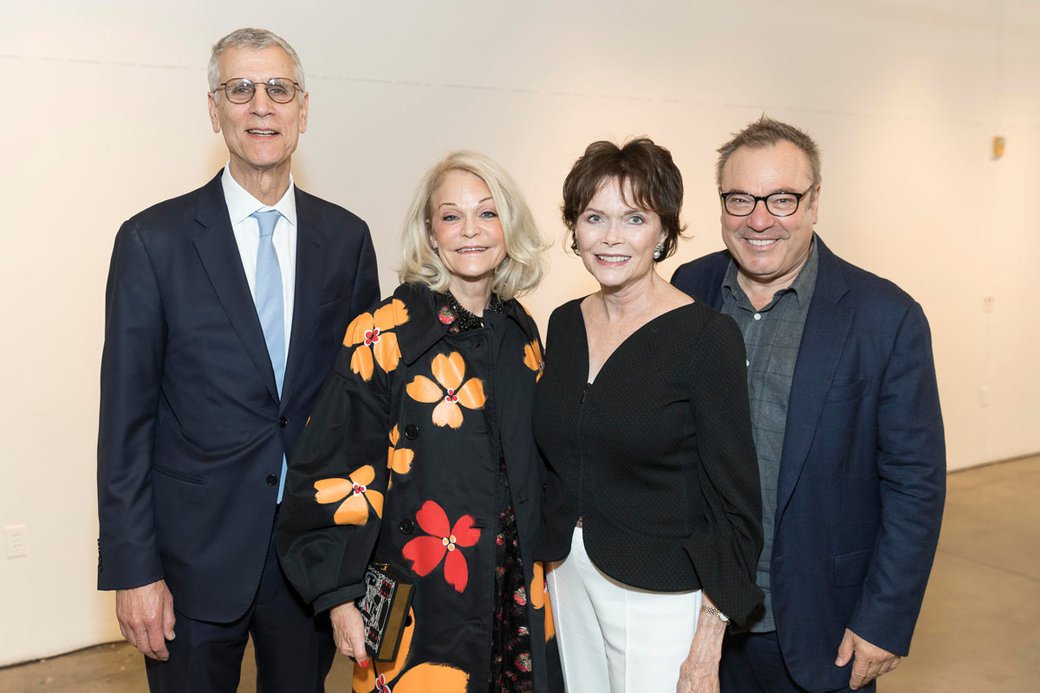 San Francisco, CA—May 24, 2018—California College of the Arts (CCA) drew 375 supporters to its San Francisco campus for a celebration benefiting CCA student scholarships and honoring Kay Kimpton Walker, who has been a champion of artists and designers for decades through her 26 years running K Kimpton Contemporary Art, her tenure as president of the San Francisco Art Dealers Association, and her 12 years as a CCA trustee.
The annual fundraising event—which grossed the largest donations for a CCA Gala to-date at $1,267,000—was helmed by co-chairs and CCA trustees Cathy Podell and Stanlee Gatti. Ms. Walker's daughter and Pulitzer Prize-winning author Jennifer Egan about her mother's avid support of her writing career; a video tribute to Ms. Walker with virtual messages from leading figures in the art world and culture and society in San Francisco; moving speeches from CCA scholarship students Daniel Ortiz (Industrial Design 2018) and Arleene Correa Valencia (Individualized Major 2018); and an energetic real-time donation "raise the paddle" event hosted by Emmy Award-winning radio and television personality Liam Mayclem.
The gala brought together long-standing CCA patrons, museum directors, gallery owners and art collectors, architects, artists, renowned authors, and CCA alumni, students, faculty, and staff.
Leaders of major San Francisco arts institutions who attended included John and Gretchen Berggruen (Owners, Berggruen Gallery), Jennifer Biederbeck (Director, Sotheby's San Francisco) and Doug Biederbeck, Neal Benezra (Director, SFMOMA) and Maria Makela, Robert J. Fisher (Board President, SFMOMA) and Randi Fisher, Ann Hatch (Founder/Owner, Workshop Residence), Lawrence Rinder (Director, BAMPFA), Andy and Mary Pilara (Founders, Pier 24), Jessica Silverman (CCA alumna and Founder, Jessica Silverman Gallery), and Valerie Wade (Director, Crown Point Press).
Major art collectors included the likes of Sabrina Buell, Frances Bowes, Chara Schreyer, and Susy and Jack Wadsworth. Also in attendance were: designers, architects, and artists such as Yves Béhar, Arthur Gensler Jr., Jim Jennings, Michael Vanderbyl, Sandy Walker, Alyssa Warnock, Ann Weber, Sonya Yu and Zack Lara; renowned authors Tom Barbash, Jennifer Egan, and Vendela Vida; musicians such as Boz Scaggs; and major cultural and society figures in the San Francisco Bay Area including owner of the Giants Larry Baer, founder of Hiball Energy Todd Berardi, Gay-Lynn and Robert Blanding, Penny Coulter, vice president of Google Catherine Courage, John and Ellen Drew, Heidi Fisher, Fred and Shelby Gans, Michael Krasny, Michele Meany, Amanda Michaels, Paul Pelosi, Gina Peterson, Alison Pincus, Cathy and Mike Podell, Leslie Podell, John Pritzker, Allison Speer, Kim Swig, Roselyne Swig, Susan Swig, Hillary Thomas, Laney and Pasha Thornton, Katie Traina, Danielle Walker, Summer and Brooks Walker, and Pat Wilson.