Near the corner of Wood and 16th Streets in West Oakland, an imposing Beaux-Arts building rises above a changing landscape with new housing developments on one side and old industrial buildings on another. Once a bustling train hub, the 16h Street Station now lies abandoned, patiently awaiting travelers. This fall, students from CCA had the opportunity to stop by this former station along with many other Oakland landmarks in the class "Hella Oakland."
Taught by History of Art and Visual Culture Professor Mitchell Schwarzer, "Hella Oakland" takes students on a journey through Oakland's proud yet tumultuous history, from early human settlement by the Ohlone peoples to present-day struggles to remain housed.
Schwarzer, who recently published the book Hella Town: Oakland's History of Development and Disruption (University of California Press), brought the class to life through walking tours of the city. With stops like those at 16th Street Station, he showed students how Oakland's history of transportation, racial covenants, and urban renewal have shaped the city we know today. Students learned a new way to connect to history, see their community, and challenge their curiosity.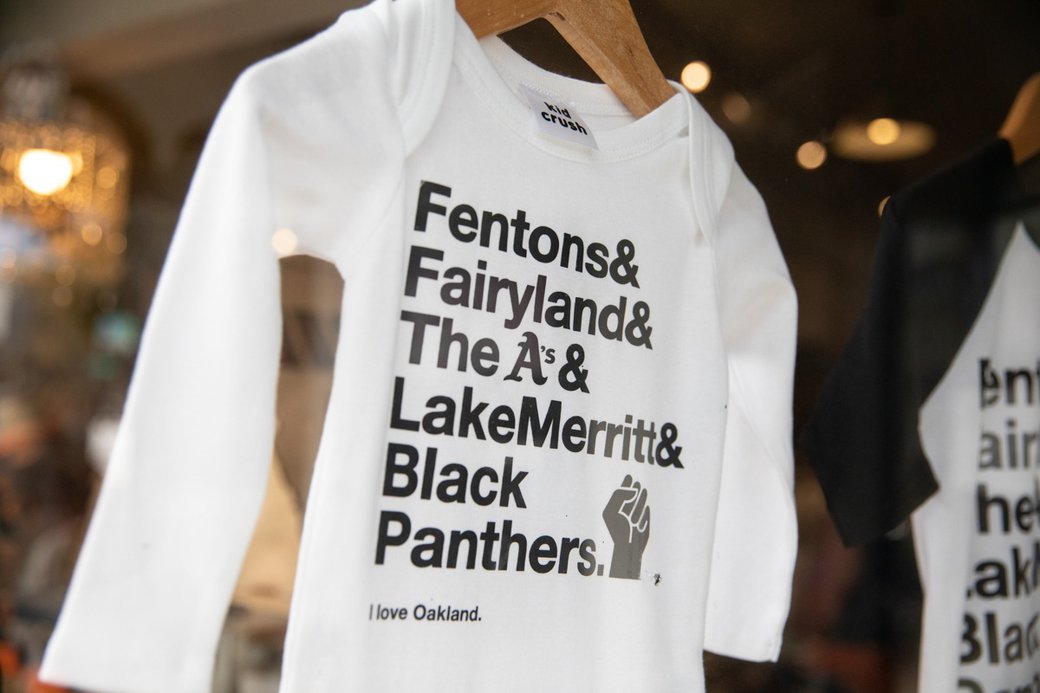 Connecting students to place and history
Schwarzer imparted his own passion for urban history and curiosity about Oakland to students in the course. As with his book, Schwarzer wanted students to immerse themselves in the city they live in as well as understand the complex history woven into its streets. "What the students learn from the class is a curiosity in place," he says. "If you're curious, then you're a self-motivating engine. And that's what creates great art, right? It's people who look around them and ask deep, provocative questions."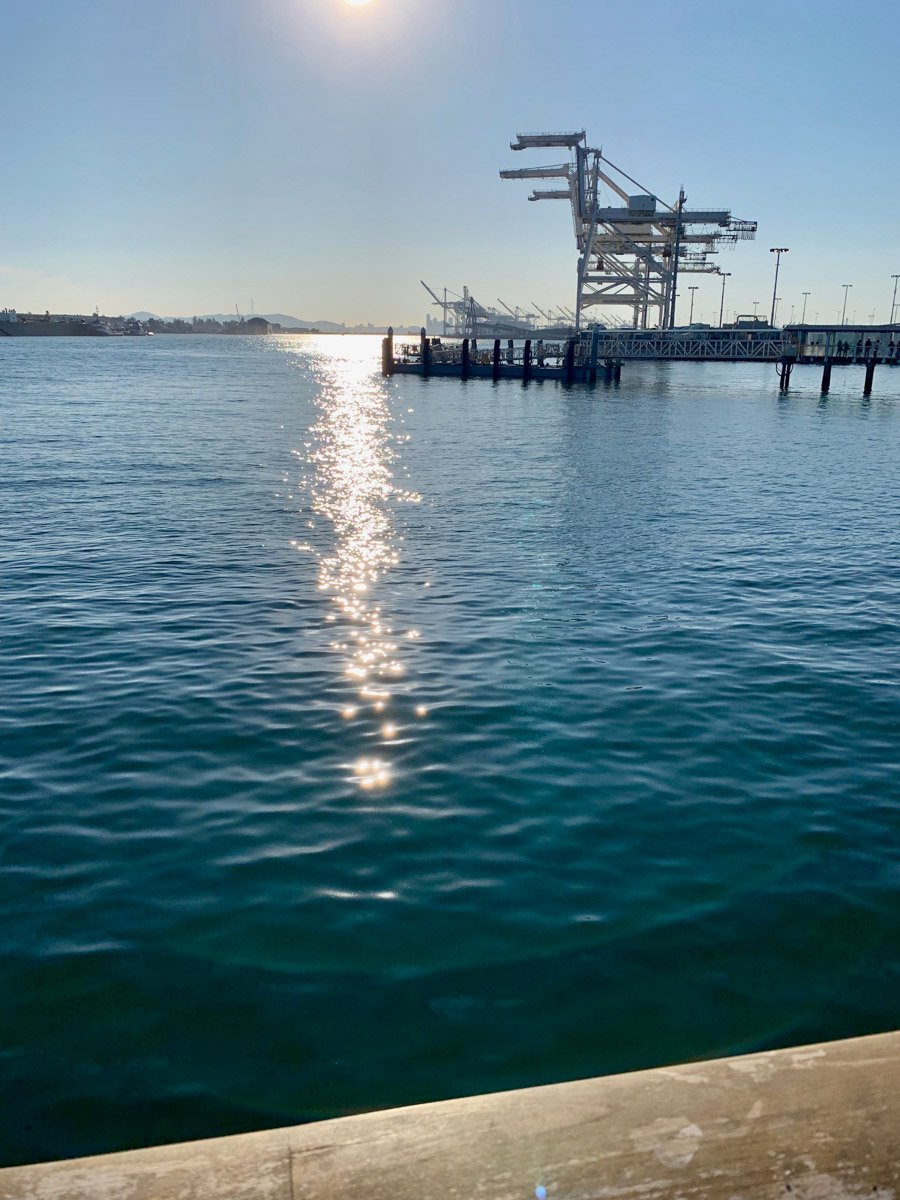 While the course was taught online, the class highlight was four walking tours of historic Oakland neighborhoods. Jackson Snyder, a student in the History of Art and Visual Culture program, says, "The tours were fascinating and my favorite part of the class. Mitchell [Schwarzer] knew every block we walked on, and it was exciting to see in person what we were learning about in school."
As a part of the course, students also selected an aspect of present-day Oakland, which resonated to them. Olivia Meurk, a student in the Individual Studies program, decided to research the Port of Oakland and the Port of San Francisco to see what made them so different. "I chose this topic because my family has a particular connection to the maritime industry through shipbuilding," says Meurk, who is a San Francisco native. "My grandfather worked for the Todd Shipyards his entire life, as did my uncle after him, and my great-grandfather did naval engineering before that."
In engaging with all things Oakland, Schwarzer believes that students in the class develop a deeper connection to their community by understanding a city's history. He says, "Students become not only curious about where they live but also feel a sense of responsibility toward their city. They don't just want to be a passive spectator; they actually see the world and wonder 'What can I do? How can I get involved to make things better?'"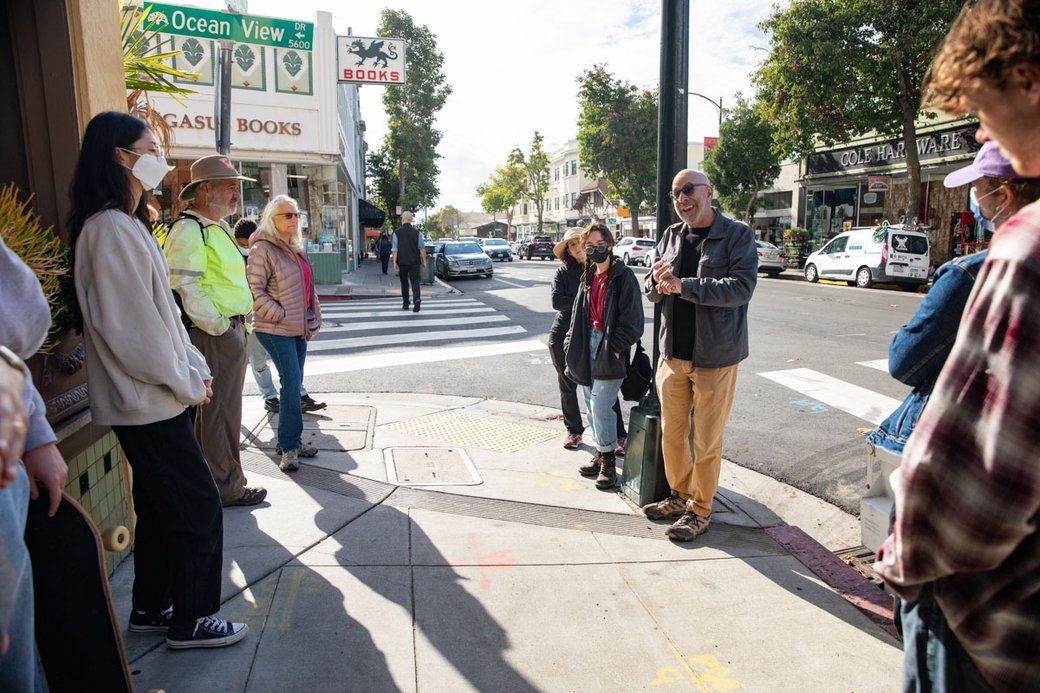 Getting outside the classroom
Schwarzer took the students out of the Zoom classroom and into the streets of Oakland to teach them firsthand how to explore the many layers of the city. Over the course of four tours, the class explored Oakland's history and urban fabric, from the city's origins near Jack London Square to downtown's modern skyline to Rockridge Place's exclusive enclave.
The first two tours set off from the Oakland waterfront at Jack London Square. The class walked underneath Interstate 880 and then explored the historic Old Oakland district. On the second part of the downtown tour, students took in breathtaking views of the city from atop Kaiser Center.
Schwarzer notes that Interstate 880, like many interstate projects built in the U.S. in the 1950s, effectively cut off one section of Oakland from another. "In the 1950s, it ran through Chinatown and what was known as the Mexican Town, the largest non-white communities in the 50s, and it devastated both of them," he says. Although today's freeways are often taken for granted, students learned the impact they exacted on the communities they bisected.
West Oakland, which many students recall as the most revealing, was the next tour. It began at the West Oakland BART station, which opened to commuters in 1974. Schwarzer then led the class up Mandela Parkway, where he discussed public housing projects such as Peralta Villas and Campbell Village, as well as Acorn Urban Renewal—a project started in 1962 aimed at attracting white residents to return to West Oakland. (The project resulted in many of West Oakland's Black citizens to be displaced.)
Students then stopped to experience now closed-down industrial buildings such as the Pacific Coast Shredded Wheat Company. On 16th and Wood, they visited the once-bustling 16th Street Station, a rail terminal that now lies abandoned. Circling back to 7th Street, Schwarzer told students that the thoroughfare was a historical center of Black Oakland, with nightclubs like Slim Jenkins and Esther's Orbit room. "It was all devastated by a combination of freeway construction, urban renewal, a US regional post office and BART construction," he says.
Olivia Meurk (student in Individualized Studies) found the West Oakland tour to be one of the most eye-opening. "Black Panther historical locations, what was once a bustling jazz scene, varied types of housing, ghostly former industrial buildings and a very loud BART station—so much rich history happened in that neighborhood that we don't really hear about," she says.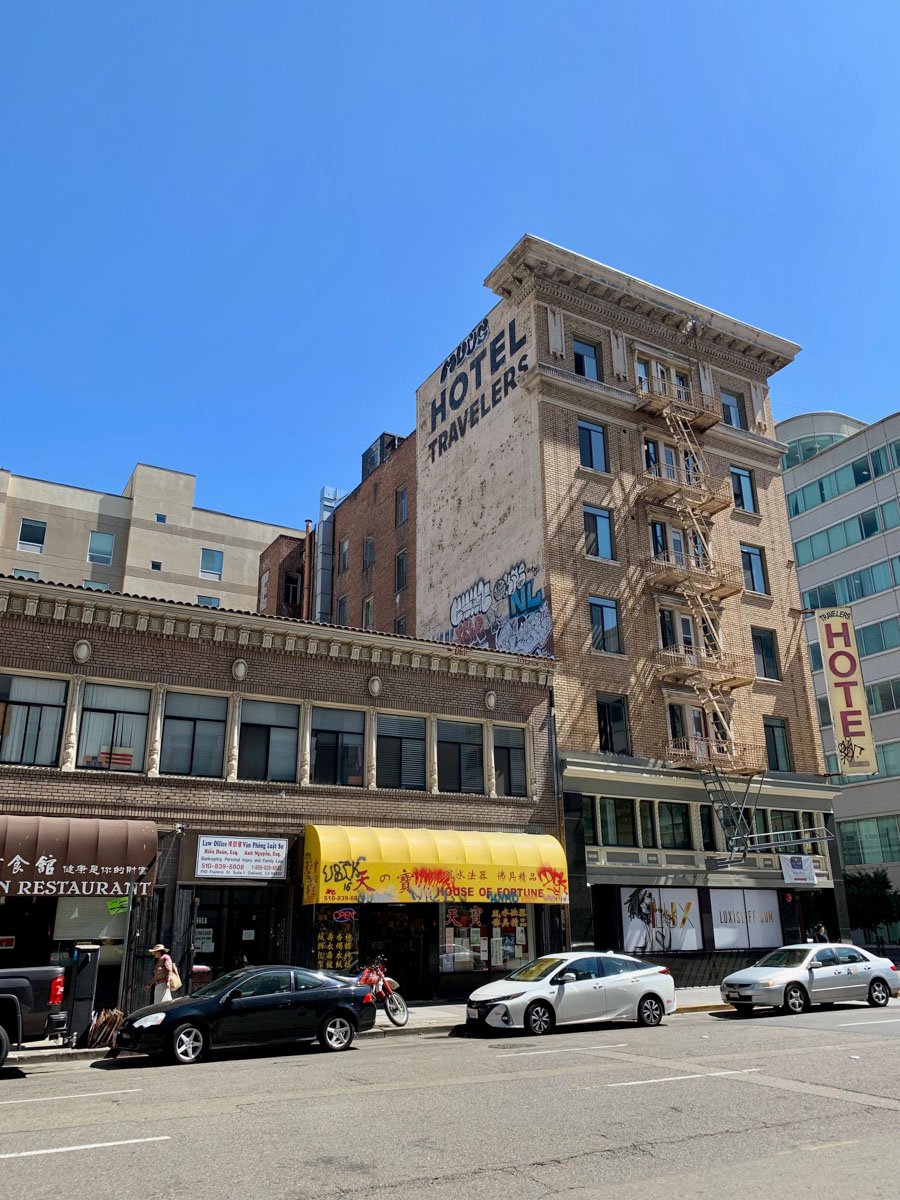 The last tour concluded with an urban hike around the Rockridge neighborhood. Schwarzer explained to students Rockridge's unique history of gentrification, which first started in the 1970s with alternative businesses like the Pegasus Book Store, Rockridge Cafe, and the Edible Complex. He says,"These are counterculture entrepreneurs from the early 70s who started the kind of businesses that hadn't existed in Oakland before. And that transitioned over time into more 'upscale gentrification' symbolized by Market Hall."
After walking toward the Oakland Hills, Schwarzer described how a community like Rockridge Place was built to remain exclusively white, while other racially mixed communities were neglected by the state. "The federal government would rate racially mixed commercial and residential neighborhoods as 'high risk'. And they wouldn't guarantee bank loans. This is how disinvestment happened … elsewhere they're guaranteeing loans for returning vets and other white people so they can buy houses in the suburbs," he says.
As Schwarzer explains on the tours, today's Oakland grapples with its multilayered history. The city contends with the lasting impacts of urban renewal projects, the effects of transportation and the automobile, and disinvestment of the city, which particularly impacted residents of color.
Beyond Oakland
Schwarzer has seen firsthand how a city like Oakland evolves over time. As a kid in 1960s New York, he was fascinated by the changes he saw as he traveled from the suburbs to the city. "In Brooklyn, we would see old buildings and different kinds of people, and it would contrast with the new suburbs which were mostly white. That was very powerful to see." he says. "And Oakland parallels that very well; what you see in New York, on a much smaller scale, is what you see in Oakland."
Students who took his class also drew parallels to broader themes. Jackson Snyder (student in History of Art and Visual Culture) observed how systemic racism and transportation formed a toxic symbiosis in cities like Oakland. He says, "It was eye-opening to learn how much the transportation network played a role in shaping the city we see today and how systemic racism affected where minorities could live in Oakland."
Olivia Meurk was moved by the class's depth and subject matter. "Some of the tours included guest speakers from the neighborhood or other Oakland experts," she says. "I ended up meeting Gene Anderson who wrote the Legendary Locals of Oakland. I feel inspired when I meet people who dedicate their time to their communities."
Although students learned new ways to experience their city, Schwarzer knows they come to his class already committed to making the cities where they live and work better places. He says, "I believe a lot of our students want to help people and to be involved. They don't want to just create art for art's sake. They want to create art as a way to heal, to beautify, and to make things better."