Today marks the beginning of Black History Month and we invite our community to join a number of events and exhibitions under this year's national theme of Black Resistance. These programs explore how Black artists, architects, designers, and scholars resist historic and ongoing oppression in diverse and expansive ways to build a thriving tomorrow.
"Black History Month is an opportunity for everyone to participate in our on-campus and community events, not just to acknowledge the past, but to also see how today's African American community is working to make changes in the present for a better and more equitable future for everyone," says Janeece Hayes, director of Student Inclusion and Belonging.
Tricia Brand, vice president of Diversity, Equity, Inclusion, and Belonging, adds, "This is a meaningful opportunity to explore the multiplicity of identities and backgrounds within the Black community and the many intersections with other cultural and creative communities."
We are excited to feature these programs and we invite you all to participate and reflect with us all month long. All events are free, open to the public, and drop in, unless otherwise noted.
Real Talk Radio Preview Screening
February 2, 3–4 pm in Timken Hall (1111 Eighth Street)
Organized by CCA Design
Join us for a preview screening of Real Talk Radio, by artist Ekene Ijeoma of the Poetic Justice Group for a live-streamed sound and video artwork that explores intergenerational knowledge and expression within Black music.
Rose Salseda—Unrest in Black and White: Visualizing the 1992 Los Angeles Riots in the Artwork of Adrian Piper
February 2, 5–6:30 pm in the De Haro Studio (195 De Haro Street)
Organized by CCA Graduate Visual & Critical Studies
This guest lecture by Dr. Rose Salseda explores the potential of art as an important record during the Rodney King trial of 1992. Salseda will recover the missing historical narrative through the analysis of Adrian Piper's Black Box/White Box (1992). Also through Piper's writing and references to music and literature, Dr. Salseda reveals Piper's strategies to engage viewers in examining how white supremacy and xenophobia characterize both the King beating and the nation's treatment of African Americans throughout history.
Liz Ogbu: Design/ing in the Apocalypse
February 2, 5-6:30 pm in the Main Building (1111 Eighth Street)
Organized by CCA Architecture
A designer, urbanist, and spatial justice activist, Liz Ogbu is a global expert on engaging and transforming unjust urban environments. This talk and conversation, part of the Spring 2023 Architecture Lecture Series, will explore how design/ers shape the environments in which we all live in and can be complicit in the harm. Ogbu will discuss how designers wrestle with that reality and what it could mean to negotiate issues of race and space in service of repair and healing. Learn more about the event and speaker.
Poetic Justice
February 1, 5–7:30 pm in the Nave Presentation Space (1111 Eighth Street) or virtually via Zoom.
Organized by CCA Design
Part of the Spring 2023 Design Lecture Series, Ekene Ijeoma, founder and director of the Poetic Justice Group at Media Lab, discusses how art can address the scale of sociopolitical issues through distributed, multisite, and participatory public artworks that are accessible over the phone, online, and on the streets. Learn more about the event.
Nana Adusei-Poku—Black Melancholia as Critical Practice
February 23, 5–6:30 pm in Timken Hall (1111 Eighth Street)
Organized by CCA Graduate Visual & Critical Studies
This guest lecture by Nana Adusei-Poku, PhD, part of the Visual & Critical Studies Forum, proposes Black Melancholia as a critical art-historical and curatorial practice which engages with methodological as well as ethical questions when we encounter gaps in the archive and are confronted with the non-linear aspects of anti-blackness in Black artists' lives.
Drum Listens to Heart (Part III) and Live Musical Performance by Raven Chacon and Music Research Strategies at The Lab
Performance: February 25, 8 pm at The Lab (2948 16th Street, San Francisco)
Exhibition: Through March 4 at CCA Wattis Institute for Contemporary Art (360 Kansas Street)
The third installment of the critically acclaimed exhibition Drum Listens to Heart includes work by contemporary Black American artists David Hammons and NICKay. The exhibition is also accompanied by a live musical performance series that concludes with a performance of Raven Chacon's American Ledger No.1 (2018) and an audio visual performance by Marshall Trammell's Music Research Strategies titled Deep Phonology: Technique and Sound Become Visual and Transformative. $15; tickets available at thelab.org and at the door.
Black History Month display at the Simpson Library
February 1–28, Simpson Library (1111 Eighth Street)
Organized by CCA Libraries
For Black History Month, the Simpson Library dedicates a display focusing on Black Resistance, including works by or about Kara Walker, Kehinde Wiley, Nellie Mae Rowe, the Combahee River Collective, and many more.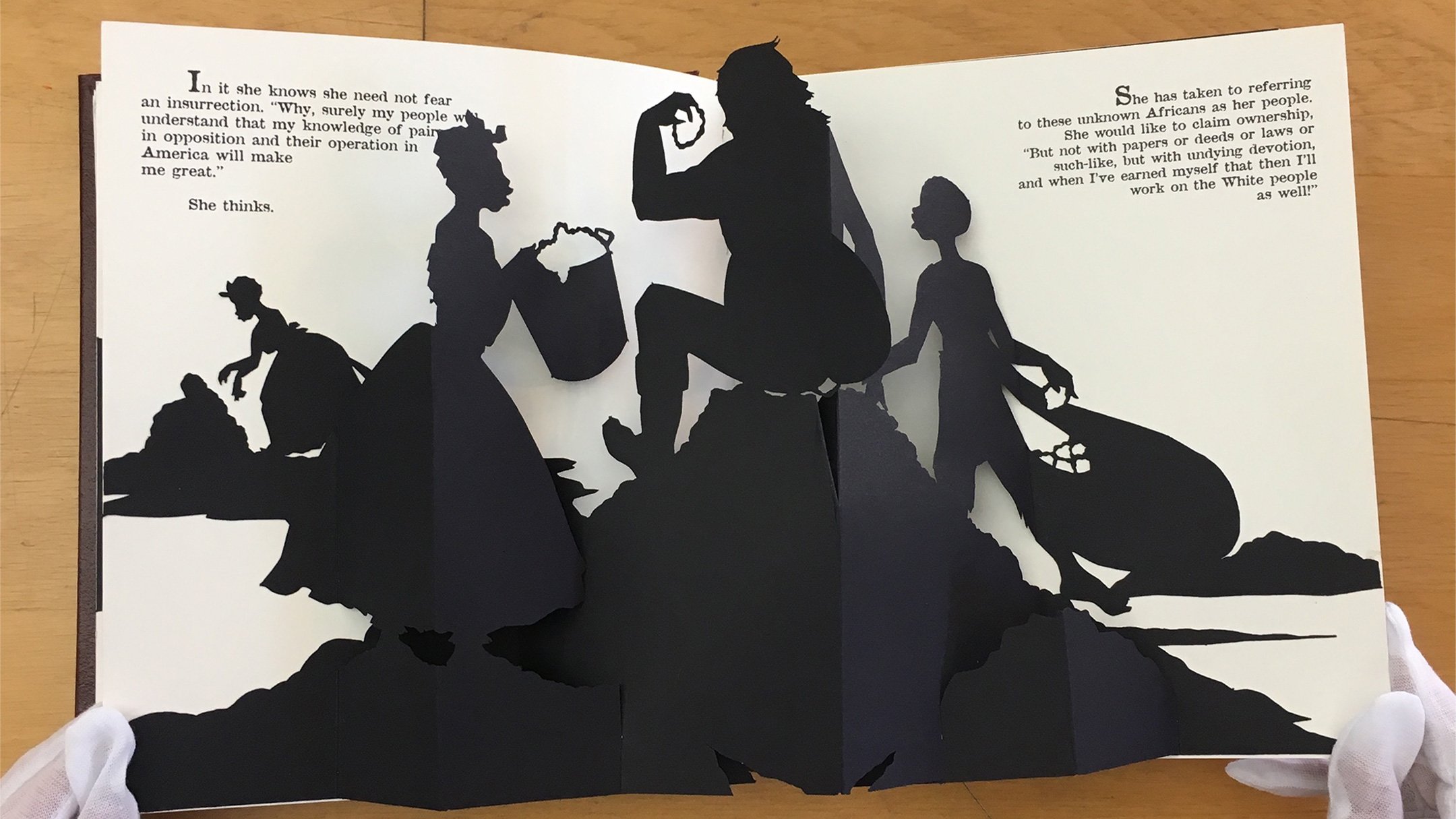 Beyond the CCA campus, we're proud to see alumni work shine and spark dialogue in nearby museums and galleries. You can see Ashley Ross's (BFA Photography 2021) work exploring Black familial structures at the Museum of the African Diaspora, Hank Willis Thomas (MFA Photography/MA Visual Criticism 2003) and Lava Thomas (BFA Ceramics 1999) in a group show about the liberation and celebration of Black women at the ICA San Francisco, and Chanell Stone's (BFA Photography 2019) images that uncover Black erasure on view at the San Francisco Museum of Modern Art.
We aspire to center BIPOC voices and perspectives in art and design all year long through weekly, free, public programs, from exhibitions and workshops to lectures and talks.
Published on February 1, 2023