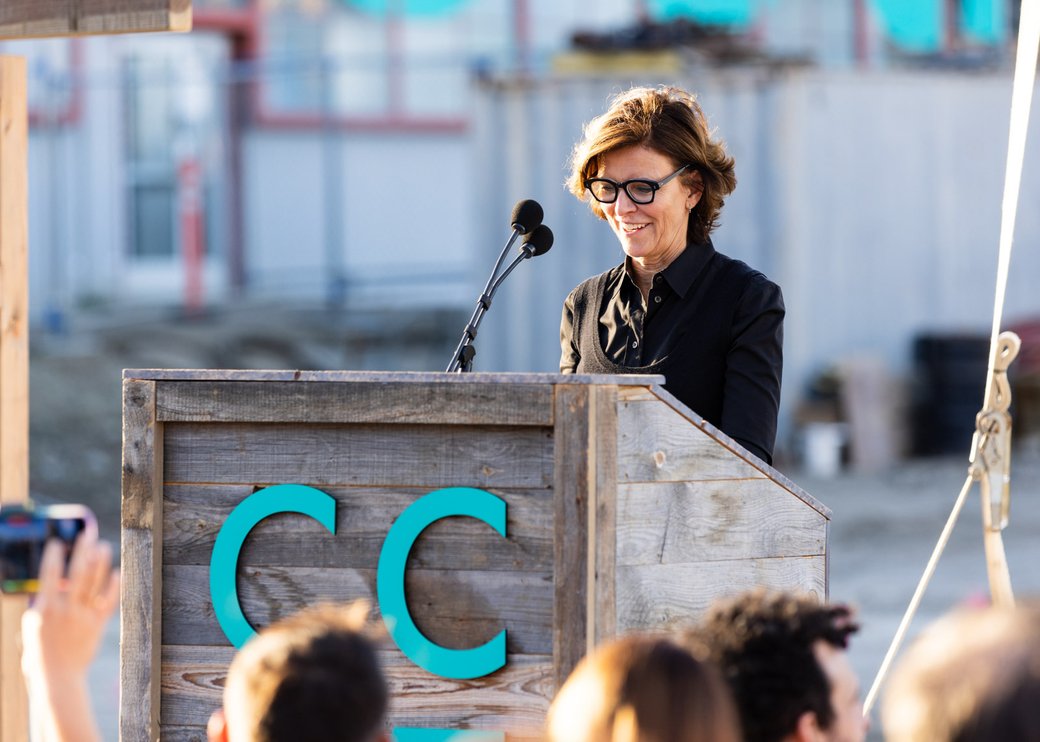 Why were you drawn to this project?
This was a dream project for me as a designer. It was exciting to think about what kinds of spaces artists and designers need for creativity and making. I know that proximity to other makers—the creative energy that flows between people—is really important. So, encouraging collaboration between people and disciplines emerged as the ultimate design goal. We asked, "How can architecture make collaboration more fruitful? How can it amplify creativity in a space?" We thought about how to create situations where students bump into each other serendipitously and how to bring them together to work on projects, to come up with new ideas, and to make those ideas real.
We also asked what was going on in the area surrounding the campus—how could the design facilitate partnerships and collaborations at the urban scale? The building aims to engage the primary people who use it, the CCA community and their guests, and also to become a center of buzzing activity in the neighborhood, drawing people in and sending CCA students and faculty out to spark new relationships.
How does the design promote this goal of collaboration?
At nearly every single college and university, disciplines tend to be siloed. This is a problem, especially because it restricts our ability to solve complex issues and exercise our full creativity. The design concept for the CCA campus seeks to help "de-silo" the school and fully unify it. First, it creates one continuous level for all of the physical making spaces—the shops—and their shared tools, materials, and equipment. This makes it very easy for students to meet people from different disciplines and to foster collaboration. Then, atop this robust maker level, the design adds a green outdoor layer for recreation and gathering. This gives everyone at CCA a shared place to come together as a community, increasing the feeling of a unified campus that was previously missing.
How does sustainability inform the project?
There are two key factors to consider when designing sustainable architecture: how much energy the building uses (operational energy) and how much energy went into making the building materials and constructing the building (embodied energy). To design the CCA project, we started by saying, "Let's orient the building for passive heating and cooling, so it's intrinsically laid out to use as little energy as possible, and then let's start the equation of further lowering energy use."
The continuous shop level is central to the radically passive energy strategy we adopted, because rather than spreading out all of these spaces and the resources they require, it is sharing load, sharing energy, and sharing tools—all in one zone. It also saves on building materials and construction. The thick roof of this level provides great insulation, which saves more energy, and allows for the occupiable green level above. The deep covered porches that extend the shops into outdoor maker spaces also serve to shade the building and provide other thermal benefits. So, all of these strategies add up to a very low-energy building.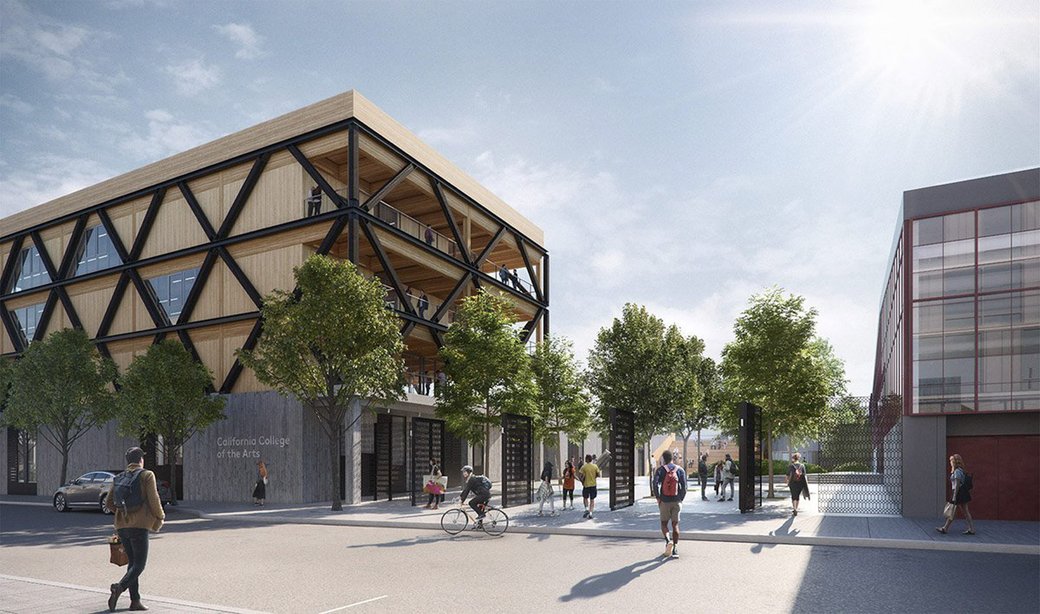 What strategies did you use to provide the flexibility required by an art and design school?
We wanted to make a "creatively hackable" space, one that can adapt depending on changing uses. We thought in terms of an optimal column grid, one that can be reconfigured for the future and for different ways of making art that we don't even know about right now! Defining the column grids, and then deciding to avoid covering the columns and beams in layers and layers of material—just letting them be lovely bones—were crucial to creating a flexible space. This way, you don't have to cut into drywall to change the interior. You can just move partitions between the columns, which is much simpler and less costly. Its flexibility will serve the college well in the future because the layout is able to change according to the ways that students want to work, the different kinds of teaching that is taking place, and the many directions for collaboration.
"With so many indoor/outdoor connections, you can walk right out of your classroom and onto a covered porch, or you can enter a maker yard that opens right up from a shop, or you can continue a discussion with your friends outside in a green, planted space—or gather there to play Frisbee."
Founding principal of Studio Gang
How did you think about the role of the building in creating a healthy environment?
The well-being of students, faculty, and staff, and everyone else who comes to CCA, is central to the design. The San Francisco campus is in a semi-industrial neighborhood that lends itself well to becoming maker space, but it doesn't provide all the other qualities and amenities that a typical college campus has, which support people's health and wellness. That is one of the reasons why we felt it was so important to create a green upper layer for the campus, and to establish lots of ways that you can access the outdoors. With so many indoor/outdoor connections, you can walk right out of your classroom and onto a covered porch, or you can enter a maker yard that opens right up from a shop, or you can continue a discussion with your friends outside in a green, planted space—or gather there to play Frisbee. The design allows the CCA community to enjoy all of these amenities that most campuses have, but here, they're interestingly woven into the post-industrial urban context.
How does the design incorporate student input?
Student workshops were key to our early design process. We spent six months listening, gathering input, and brainstorming ideas with the CCA community to understand how all of the different departments and people work, and to develop different spatial schemes that could support the unique needs and aspirations we heard. Students told us they wanted hybrid experiences in their art making—those who were learning welding also wanted to be able to work in the wood shop, for example, and other crossovers. That was really exciting to hear and helped inform this unified campus with a unified shop space: everyone is able to safely access everything.
Another insight we gleaned from students is that it's really important to them to have different kinds of spaces for different types of activities. It's not all making at CCA; sometimes you need some quiet time and places to study. So, we thought about and designed a whole ecology of different spaces that are needed for students to feel comfortable and do their best work.
What do you think the legacy of this project will be?
This project looks forward to what art making will be in the future. CCA has a self-critical attitude: If it's not working, let's change it, let's evolve it. The building allows for exactly that. It will be a place where people want to come to make art for many, many years to come. It's setting up the school for a very successful future.
Published on June 6, 2023