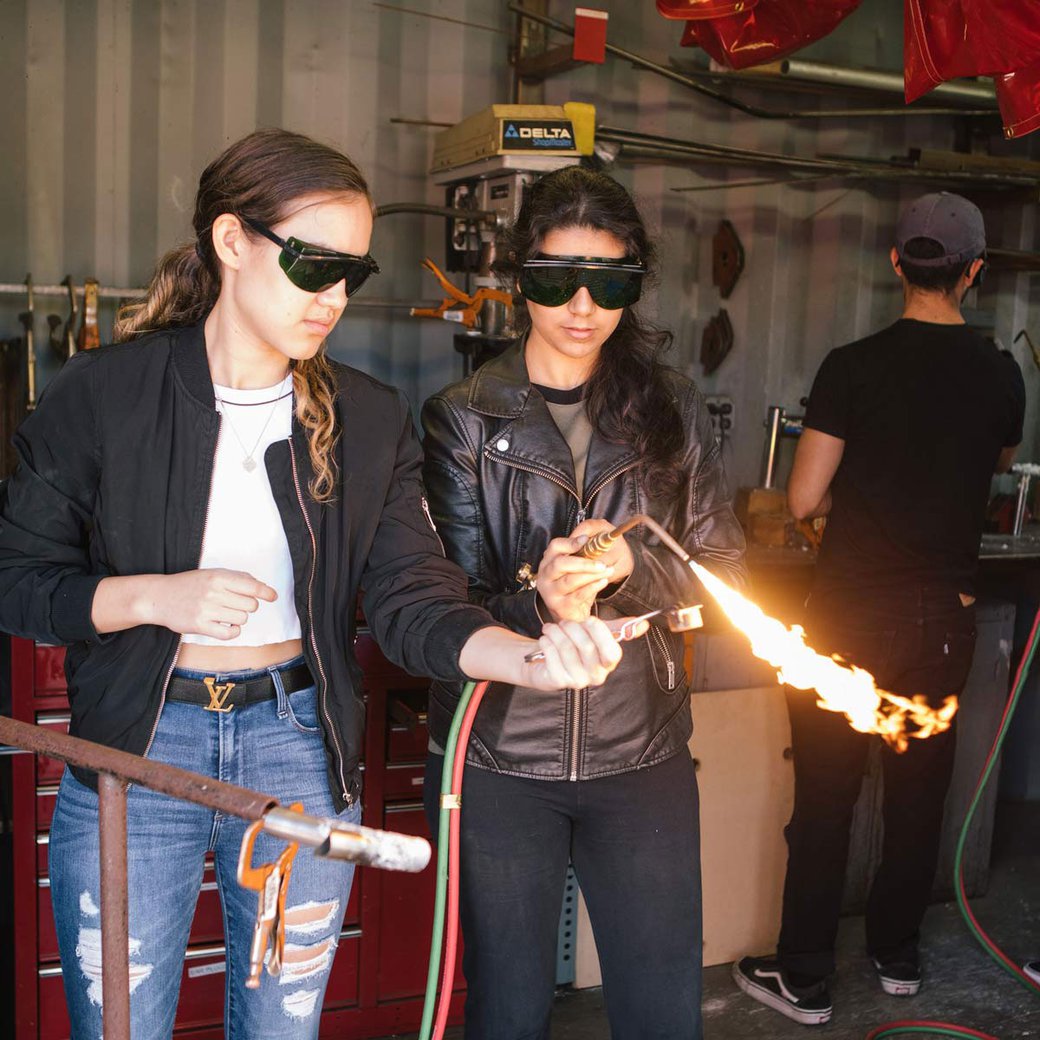 One of the things we've missed most about being on campus during the COVID–19 pandemic is the social life and creative kismet that happens outside of the classroom in community spaces like the Nave and CCA's studios and shops. It's part of the intentional magic of CCA, where happenstance creates opportunities for interdisciplinary collaboration and students can find inspiration experimenting with new techniques and materials.
While we wait for it to be safe to return to those gathering places, studio managers and faculty—along with a small but ambitious group of work-study students—have been hard at work building CCA Maker's Commons, a creative stomping ground online for the entire CCA community.
How can studio life happen online?
As CCA faculty and staff worked diligently to adapt coursework for online learning during the summer of 2020, First Year Studio Operations Manager Cassie Kise and Assistant Studio Manager Tianna Mackey searched for a virtual community-gathering space that could mimic many of the social, psychological, and communal needs that couldn't be met through tools like Zoom and Moodle. "A lot of studio management's job on paper is safety and health," Kise says, "but so much of it ends up being about community and facilitating relationships because we're consistent faces on campus outside of the classroom."
Finding the right community platform was critical to their success. It needed to be available behind international firewalls and accessible in China, where many CCA students are learning remotely, and it needed to be intuitive and customizable so the community could engage fluidly and crowdsource information outside of the classroom easily.
A faculty member pointed Kise to Mighty Networks, a community building tool that checked all of the right boxes, and in fall 2020, they began to roll out CCA Maker's Commons, a new, casual online space for students, studio managers, and faculty to connect more organically outside of the remote classroom. "We recognized that what students will informally say when they're not in the classroom is very different," Kise says.
"I like to think of Maker's Commons as CCA's new social media platform."
(BFA Animation 2022)
Students come together to lead the way
In Maker's Commons, the CCA community can connect through posts and polls, video calls and chat, and live events and demonstrations. The digital space features a collegewide feed, private group forums and studio rooms, and tools for one-on-one conversations.
"I like to think of Maker's Commons as CCA's new social media platform in a more controlled environment, with stricter guidelines and more education-oriented activities," says Lyliana Kang (BFA Animation 2022). "It allows students and staff to connect with each other less formally than class sessions and hall meetings."
Hannah Wong (BFA Illustration 2021) says, "It also gives students the ability to create groups, share articles and events, and pose questions to a network of faculty and staff experts that we wouldn't have on Instagram."
Kang and Wong are two members of a small cohort of work-study students that Kise and Mackey recruited during the fall to be community managers, creating content and engaging with new members—ultimately taking the Maker's Commons reins to build a student-led experience. "We wanted the students to have agency over what types of posts they make and the kind of content they want to see," Mackey says. "They really love having a purpose and are constantly coming up with ways to make the space better and expand."
As they started to build out Maker's Commons, it was clear to Kise, Mackey, and the student community managers that it needed to also serve as a safe space that could nurture the community on a personal level during this challenging time. They began sharing tips on self-care and stress management, finding information on Bay Area food resources, and openly discussing difficult current events like the January 6 insurrection at the Capitol.
Androgony King (BFA Photography 2023), a Maker's Commons community manager, says the space gives him a sense of hope. "It lets me know that although we are far apart, that will not stop us from creating and sharing our art," he says. "I hope this community will make everyone feel welcomed just how I felt welcomed."
"I hope this community will make everyone feel welcomed just how I felt welcomed."
(BFA Photography 2023)
All at CCA are welcome to join
Although Maker's Commons is still in its early days, "there's a real hope that this will take off," Mackey says. They're already seeing steady growth and engagement in its second semester, hiring more community managers, and working on expanding how students can connect within the platform by offering additional educational demonstrations and fun synchronous activities. "We hope more of the CCA community will see it as an opportunity to reach out and connect with people via making, skillshare, and more informal student and staff-led events," Kise says.
"As more and more students from different majors and backgrounds join, the chances become higher for people to introduce each other and meet new friends," says Lindsey Choi (BFA Animation 2022), a Maker's Commons community manager. "I think it's wonderful to see how the CCA community space is transitioning to virtual communication."
—Taryn Lott
February 4, 2021