Remote learning isn't completely new to CCA. Students in our low-residency graduate programs have built-in opportunities to learn both off campus and on-site, allowing them flexibility to learn where they want and balance other activities and commitments outside of school.
For students in our MFA in Comics program, a typical July includes time with incredible faculty and visiting artists from around the globe. During the rest of the year, our graduate Comics students use the time to focus on thesis projects and coursework that can be completed on campus or around the world. For three consecutive summers, students follow this pattern, taking away insights from meeting with peers and faculty face-to-face before they go back to their personal work desks at home.
But what happened when COVID–19 disrupted their usual plans to join us in San Francisco this summer? A few of our current students share their perspectives on how the structure of this program assists them with accomplishing their goals and how they're staying connected with faculty and fellow students even when they can't be together in the Bay Area.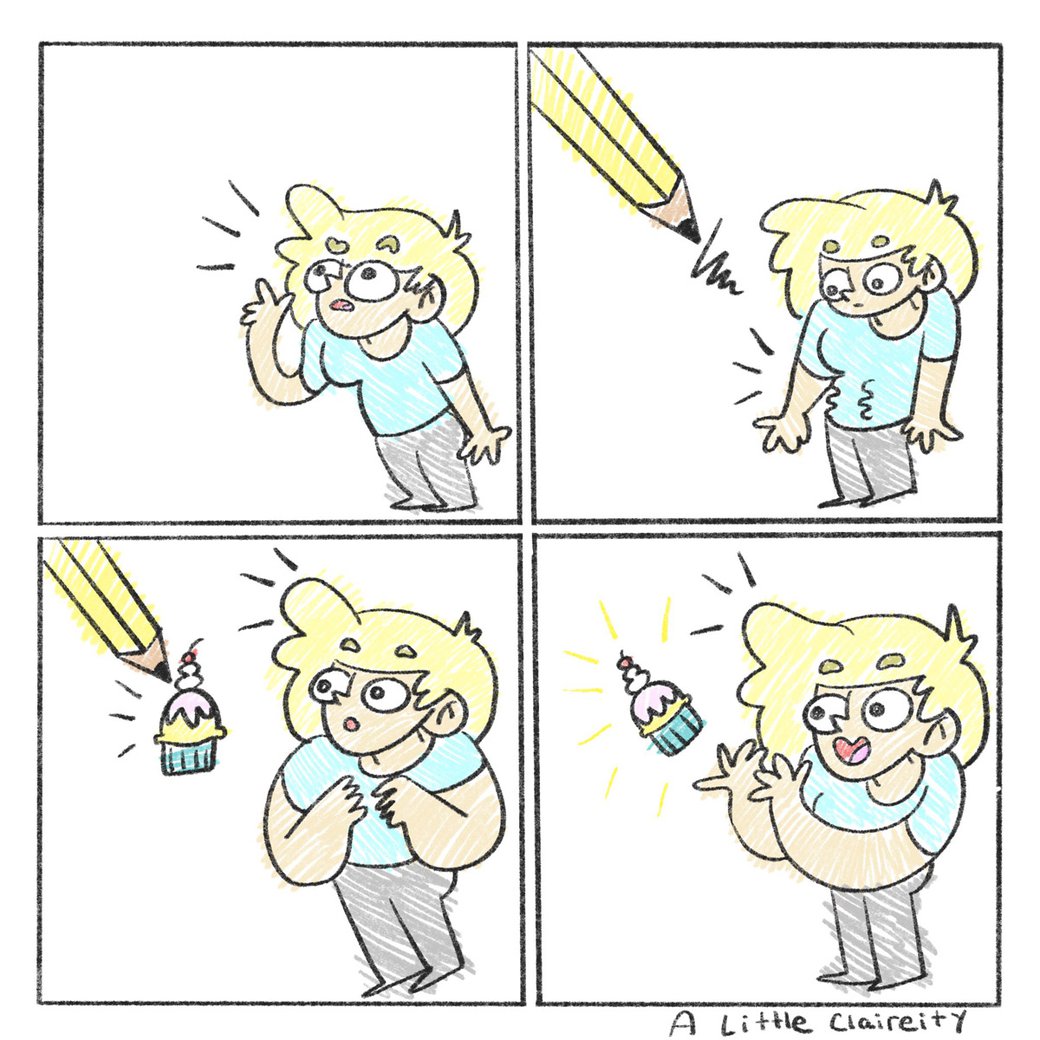 Claire Tomasi (MFA Comics 2020)
Currently living in New Jersey and finishing her final summer with the MFA in Comics program, Claire Tomasi (MFA Comics 2020) is a self-professed lifelong reader of comics and enjoys fusing illustrations and creative writing together to create engaging, thoughtful, and humorous comics. Comic memoir is her favorite medium, and she's passionate about seeing how words and pictures can create an impactful story. She made her first comic in her sixth grade math class and now makes comics for her daily webcomic, A Little Claireity, accompanied by her loyal and friendly dog, Ticket.
"This program changed my life. It gave me the toolkit I needed to follow my dreams of being a graphic novelist. If you are AT ALL interested in pursuing comics as a career, PLEASE apply. Bring your talent, your stories, and your passion for this art. You'll find a community of people who value comics just as much as you do."
(MFA Comics 2020)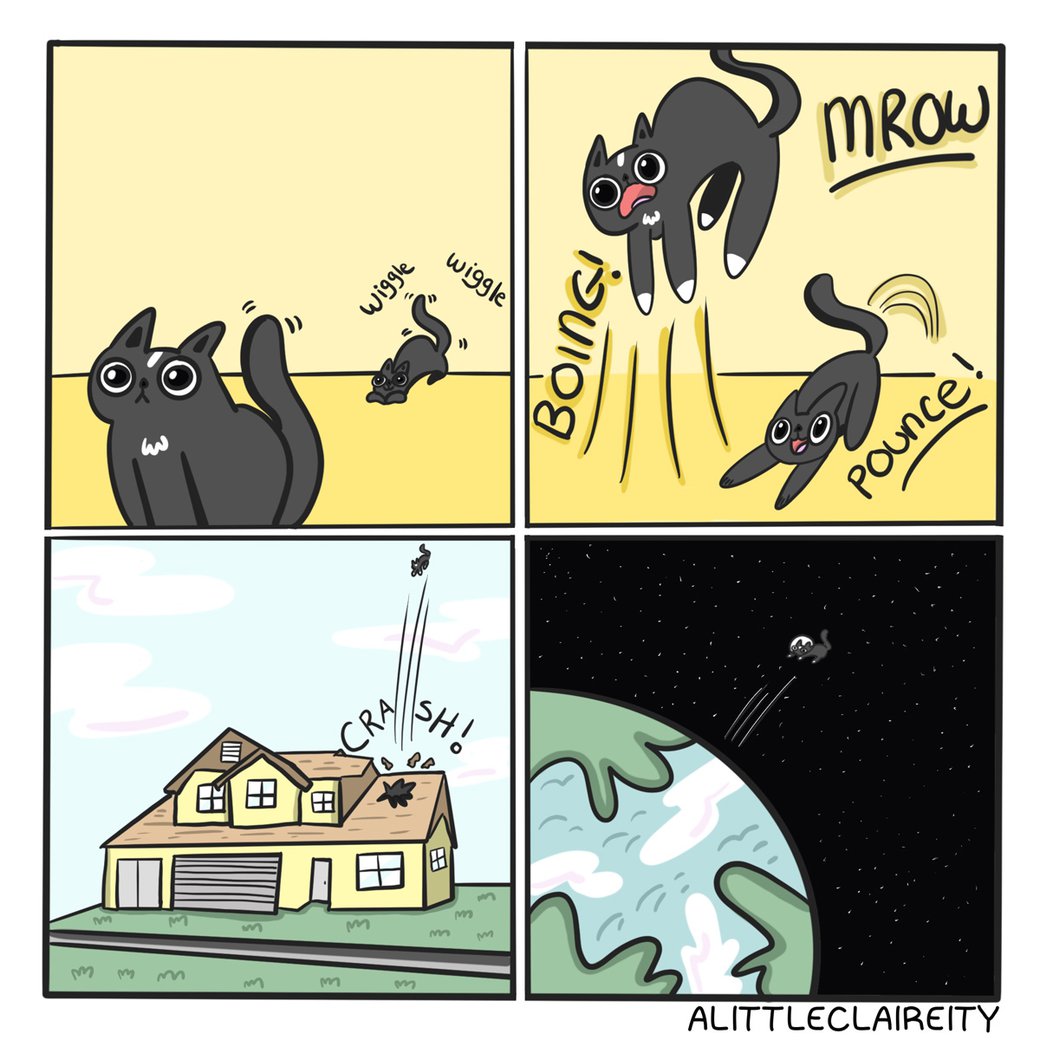 As an East Coast resident, Tomasi was grateful to complete work in her own space and have enough time in between classes to process her work. The structure of the MFA in Comics program provided her with a low-stress environment that fostered creativity, she says. Courses like History and Cultural Context seminar and Production and Publication Design studio gave her a chance to develop a graphic novel that was ready to pitch to publishers. What she's most grateful for is the instruction from top-notch professors who are excited to teach and see students grow.
J.M. Hunter (MFA Comics 2021)
When creating, a top priority for graduate comics student J.M. Hunter (MFA Comics 2021) is using many layers, both visually, theoretically, and symbolically. Whether he does this through the use of color, iconography, text elements inspired by graffiti, or bold imagery, everything is textured with an intention to tell a story or make a statement.
Work by J.M. Hunter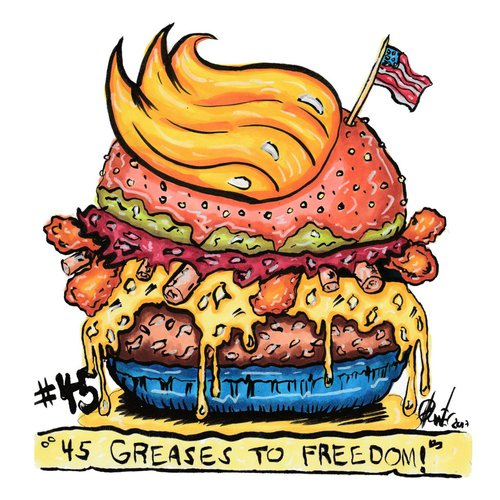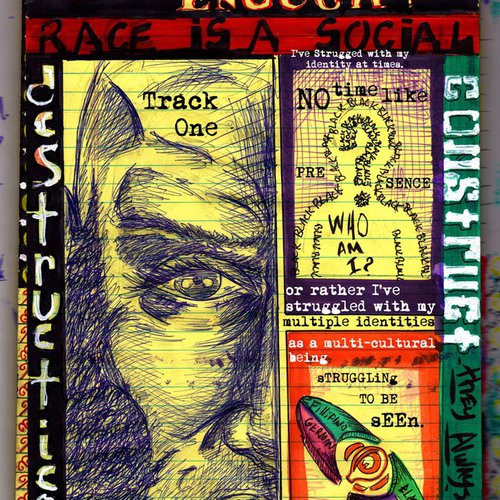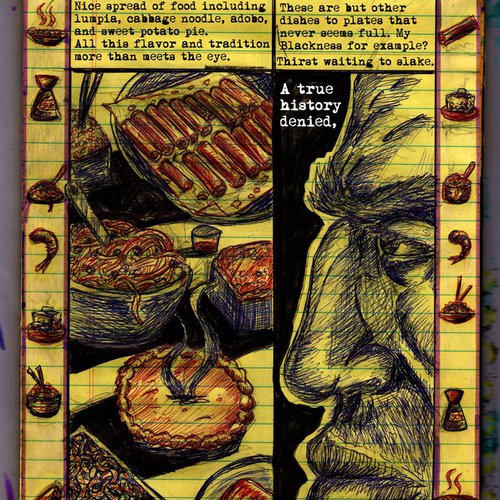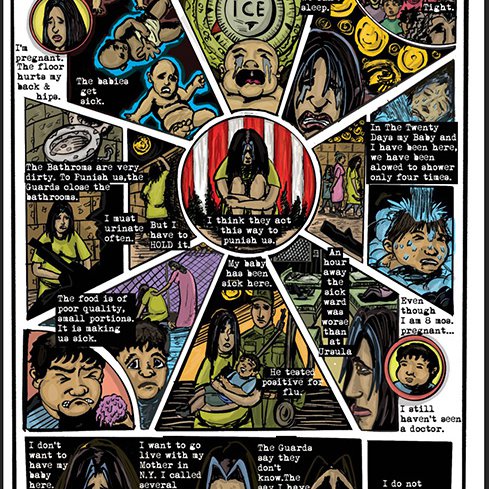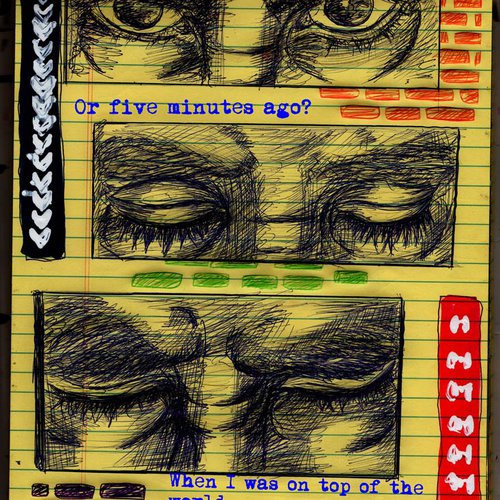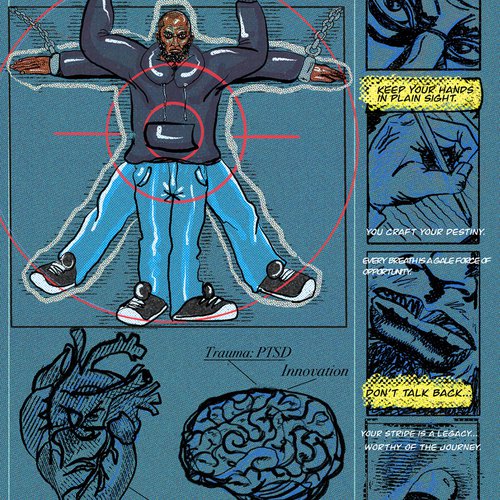 Having completed two of the three summers required for his MFA in Comics degree before this year, Hunter found the most challenging part of the program was leaving his family every July, though he enjoyed being among his cohort: "The sweet part was in becoming a part of a community, on location in San Francisco, workshopping comics for 11 hours a day, and just deep diving into the medium with enthusiastic fellow comic heads, and the faculty also being equally geeked about this medium and experience was a different type of education that I've longed for. I love not being nickeled and dimed about a grade or point system to get a letter grade, and the true purpose of this program is to learn the craft and execute our vision."
With all in-person classes and exhibitions on hold this semester, Hunter's Narrative Arts course, taught by Ed Luce, found ways to continue to stay connected even when remote. Their collaboration eventually led to the virtual exhibition Emanata. Hunter credits his classmates as being the inspiration to grow and develop his work and skills.
"In Emanata, I think it'll be clear to see how distinctive and vibrant each of our voices are within our work," says Hunter. "Being able to focus on refining my thesis or just thoughts and questions I've had all my life and to try and put it into a medium like comics to communicate that to others is a maturation process that is also exciting. I'm doing work that I feel I can be proud of, knowing that we're just scratching the surface of what we can do."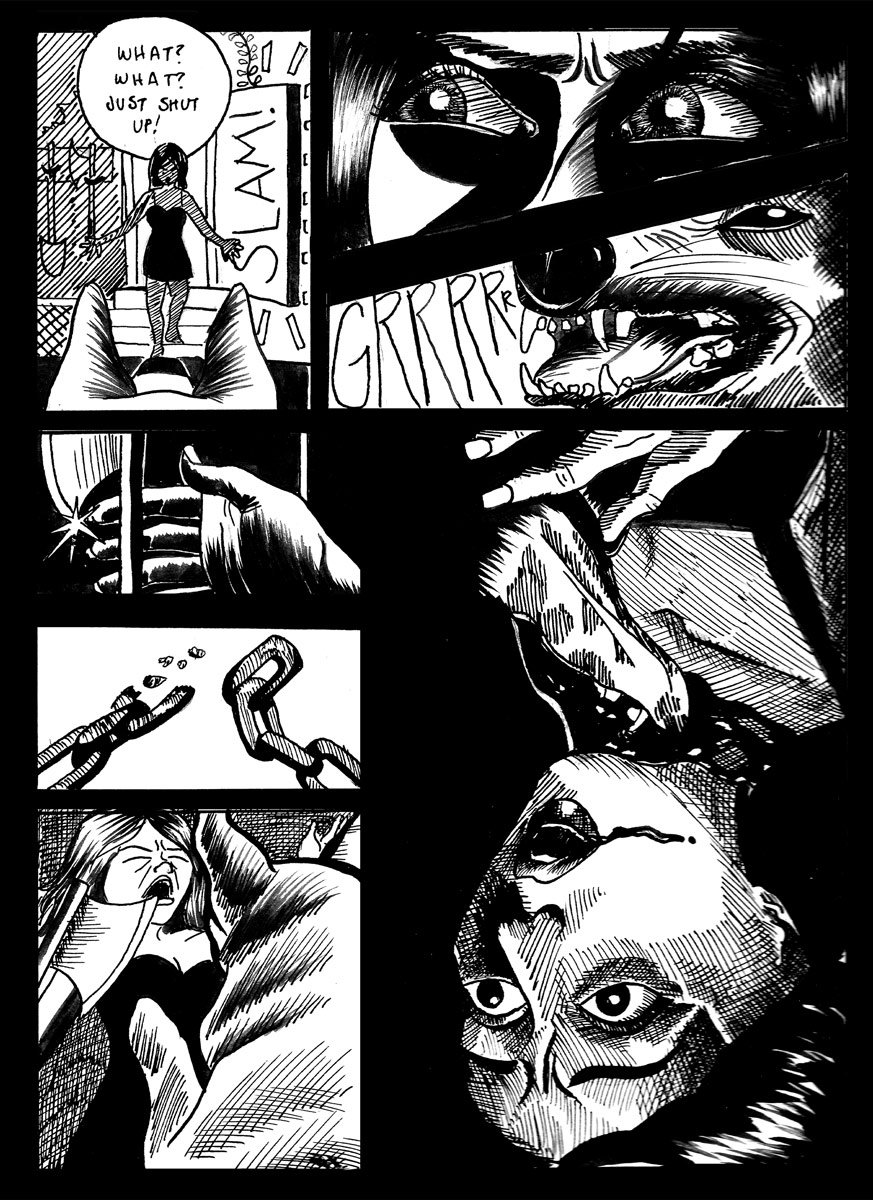 Charly Shooster (MFA Comics 2022)
In comics, Charly Shooster (MFA Comics 2022) explores themes of trauma—loss, separation, death, growing up, assault, and other situations that feel like a rupture or unwelcome interruption. By asking questions about the character and how they cope with hurt, Charly seeks to find pathways for moving through the pain. They also enjoy comedy, which may sound like an opposition to trauma, but Charly sees pain and humor as opposites that coexist with one another.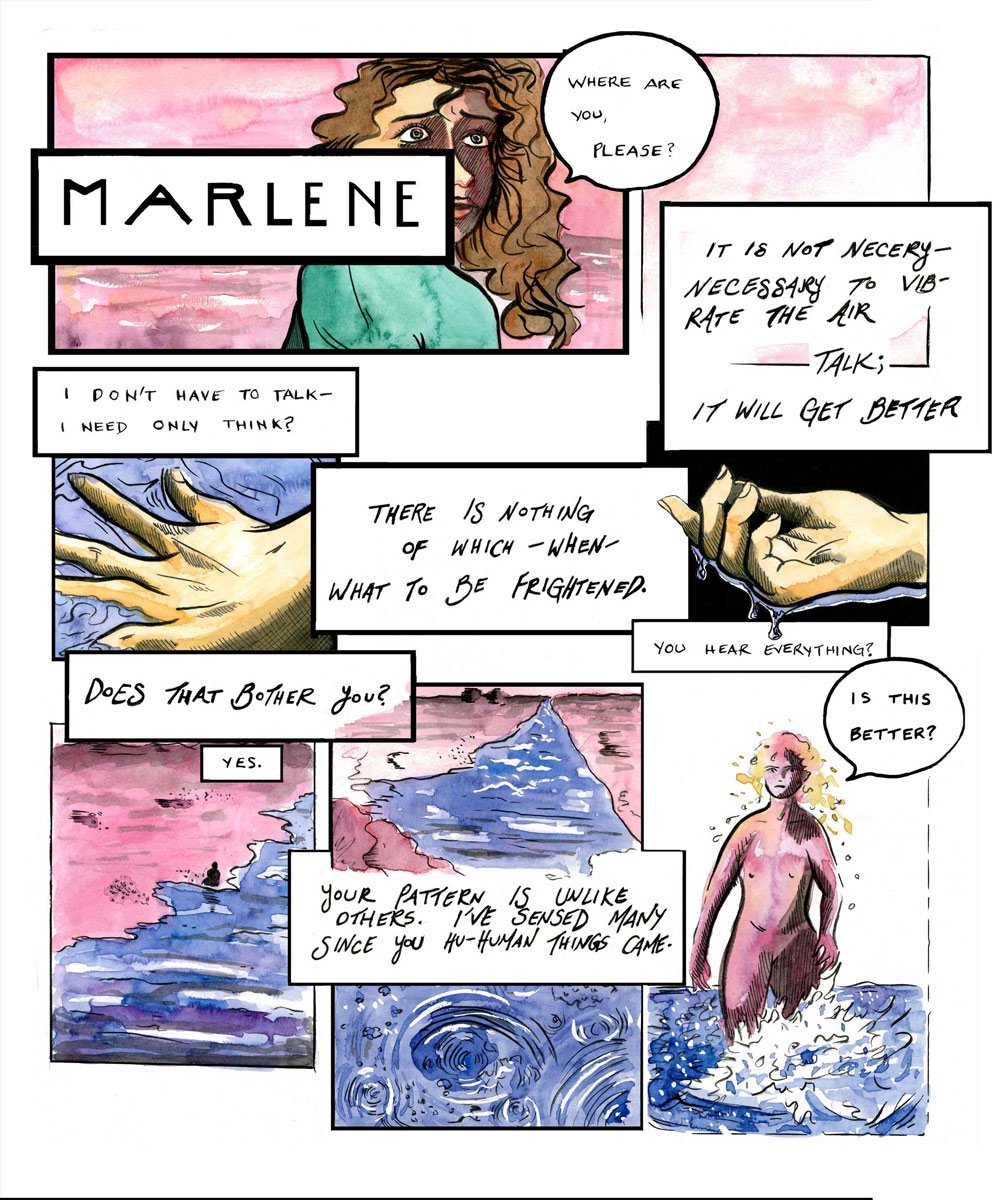 Charly's experience with comics began at a young age when they created illustrations with text and dialogue "bubbles" for characters. With a fine artist as a dad, they always had a critic and enthusiast at the ready. Most weekends were spent painting, sculpting, or drawing with items found in the garage shelves.
A formal understanding of comics didn't emerge until Charly graduated from college with a bachelor's degree in art history; they created a comic about Yoko Ono in their final thesis paper. Intrigued, Charly enrolled at Sequential Artists Workshop with Tom Hart and began to find their voice as a comic artist. For Shooster, comics felt like the exactly right space to explore accessibility in art history and beyond.
With one summer session complete, Charly says the setup of the MFA in Comics program is helping them reach their professional aspirations. "The low-residency structure is helping me reach my goals by allowing me to stay in my beloved town of Gainesville, Florida, and work part-time throughout," they say. "Making comics is a hustle! I want to make them forever, but I realize it is a difficult task to monetize comics production. The MFA in Comics structure allows me to save money in Gainesville, where rent is cheap and food is cheaper, and work part-time as a graphic designer for the university here. If I had to pick up and move across the country, focusing on the making of comics would be much more difficult. Here, I am established, close to my family, and making a side income."
—Brooke Vlasich
September 29, 2020