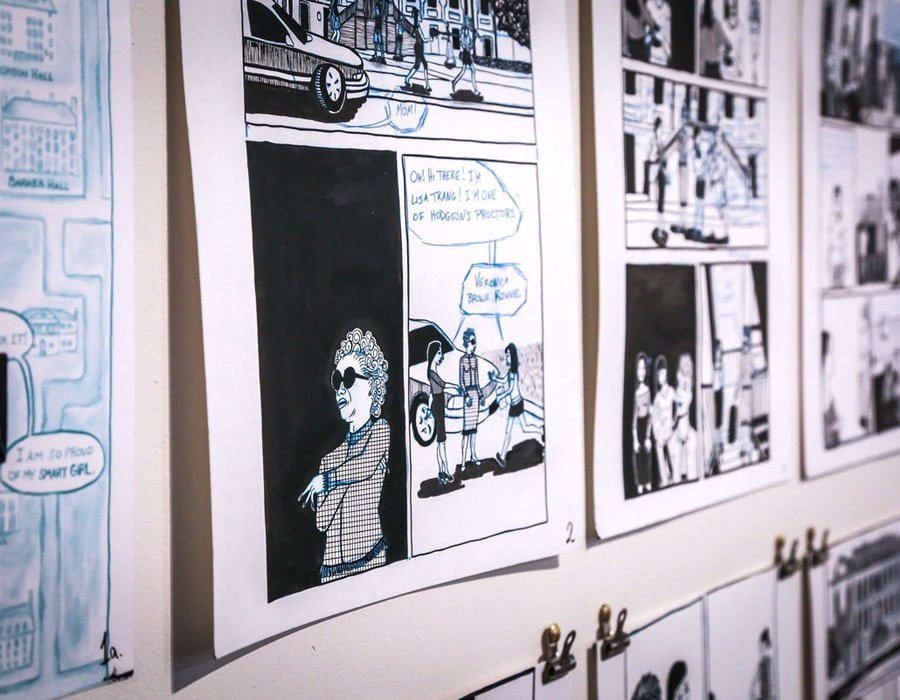 Turn your passion for storytelling and the comics medium into a lifelong career.
Join an inspiring, supportive community
CCA's graduate comics program trains students in the creation of comics, graphic novels, and other similar forms of visual storytelling. Students come together to support and challenge each other's craft, all while studying a wide variety of subjects, such as script writing, page layouts, comics history, and publishing strategies. Our low-residency structure gives you the freedom to build your creative practice from anywhere, while keeping you on track with project deadlines and individualized goals.
The curriculum embraces your authentic path as an artist and encourages the development of your individual style. You'll also benefit from peers and faculty who approach comics from different perspectives. Collaboration and interdisciplinary exploration will help you discover what makes a great story work.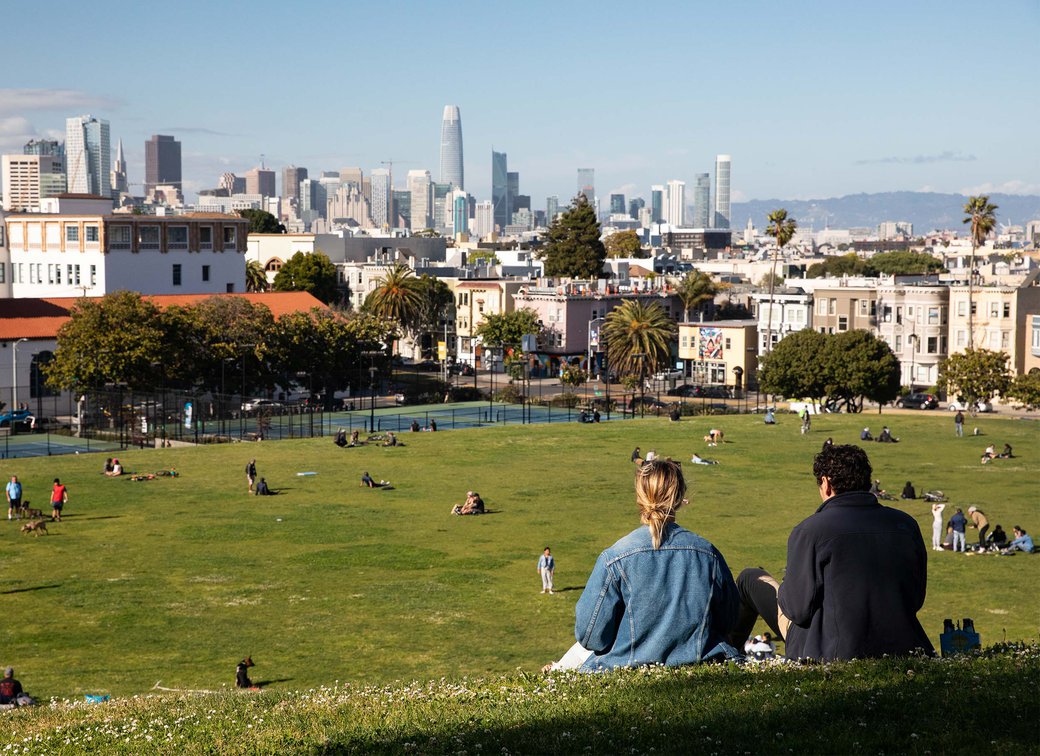 Study and live in the Bay Area year-round
All domestic MFA in Comics students are eligible to apply for graduate housing on our San Francisco campus for the duration of their studies. Comics students who enroll in an additional 3 units (for a total of 9 units) in the fall and spring semesters of each year are considered full-time and are automatically enrolled in the college's health insurance plan. By enrolling in 9 units, our international students can also stay in San Francisco year-round while maintaining a valid F1 visa status.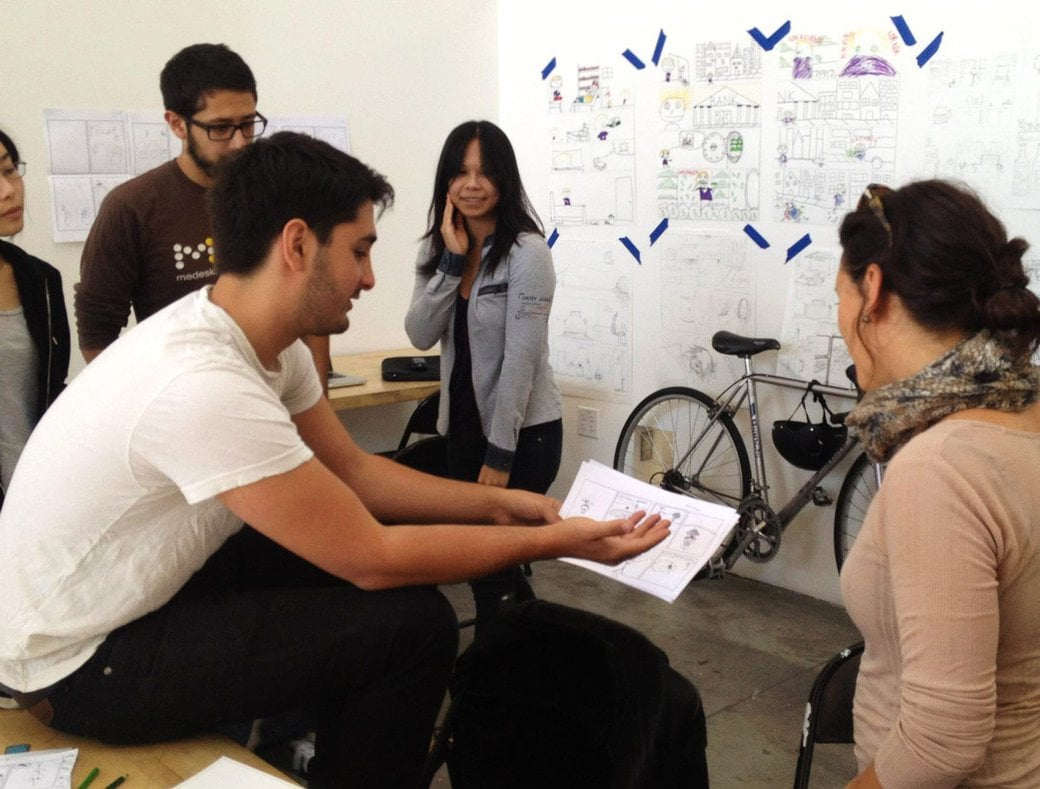 Our program focuses on three aspects of the creative process: the history and culture of the medium, the craft of making comics, and the critical analysis of our work. Whether we're creating literary graphic novels or web-based comics, process is as important as the final product. You'll work with faculty mentors, from start to finish, as you capitalize on your individual strengths and build toward a long-form comics project for graduation.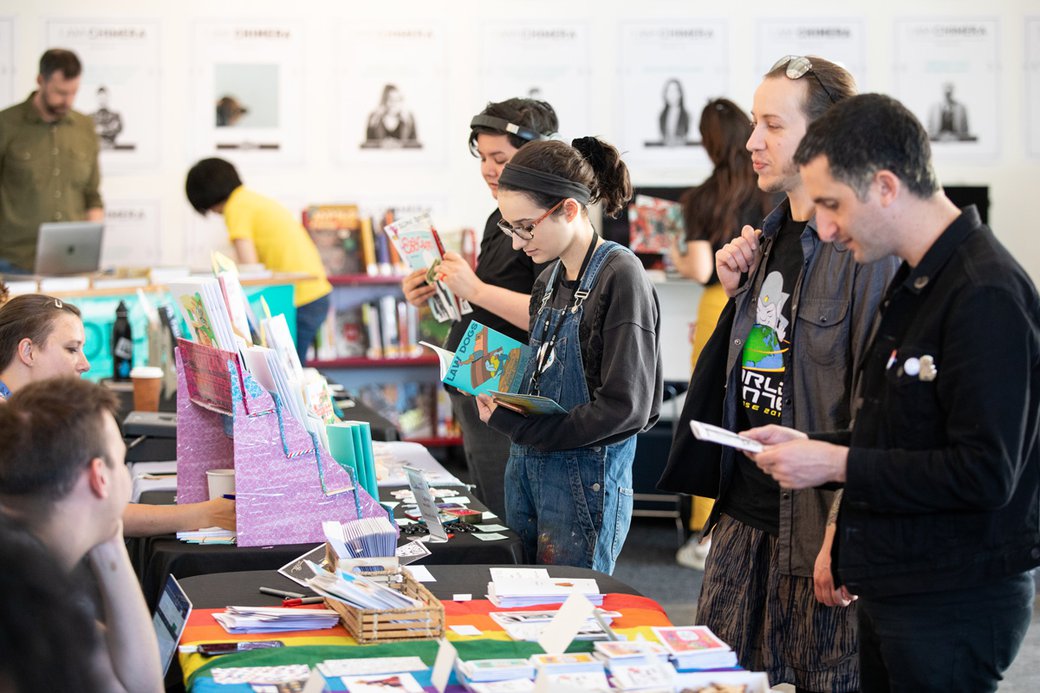 Connecting with a global audience
In addition to supporting your creative process, we also help you connect with an ever-growing audience for new comics. We take a deep dive into digital comics, connect with agents and editors, study comics pedagogy, and look at various crowdsourcing platforms like Kickstarter and Patreon.
During the third and final summer session in San Francisco, you'll explore digital distribution channels, as well as self-publishing strategies, with the goal of sharing your original art with a global audience. We travel to comics conventions around the U.S., giving you the opportunity to interact face-to-face with comics fans and industry professionals. We also bring accomplished creators to campus during the summer intensives with our renowned Comics in the City speaker series.
Recent Comics in the City speakers
Marguerite Abouet (Aya: Life in Yop City)
Alison Bechdel (Fun Home)
Emil Ferris (My Favorite Thing Is Monsters)
Ebony Flowers (Hot Comb)
Gilbert Hernandez (Love and Rockets)
Akira Himekawa (The Legend of Zelda)
Keith Knight (Woke, K Chronicles)
MariNaomi (Life on Earth trilogy)
Mike Mignola (Hellboy)
Jason Shiga (Demon, Meanwhile)
Steenz (Heart of the City)
Mariko Tamaki (This One Summer)
Raina Telgemeier (Smile, Drama)
J.H. Williams III (Promethea, Sandman: Overture)
Gene Luen Yang (Dragon Hoops)
Our faculty are practicing cartoonists who are dedicated to eliminating any barriers between you and your dream projects. Imagine working with a critically acclaimed graphic novelist, or an Eisner-nominated writer. Our all-star faculty serve as your professional guides in everything from comics theory to publication design.
You'll also study with faculty from related programs, such as Illustration and Writing and Literature, to help you discover new ways to bring your story to life on the page or screen.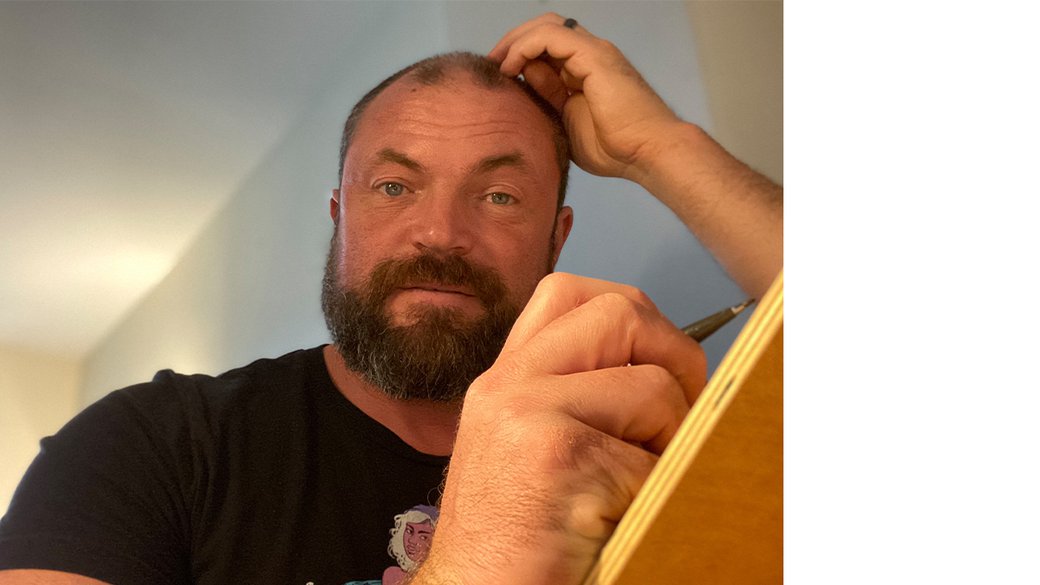 Chair Justin Hall's comics range from memoir to erotica to horror and are inspired by history, community, and personal storytelling. His comics have appeared in publications, museums, and galleries around the world, including the Houghton Mifflin Best American Comics anthology, the Cartoon Art Museum in San Francisco, and the Schwules Museum in Berlin. He created the Lambda Literary Award–winning and Eisner-nominated anthology No Straight Lines: Four Decades of Queer Comics, which he then produced as a film that won the Documentary Feature Grand Jury Prize at the Outfest Film Festival. Hall is the first Fulbright Scholar of Comics, curating international shows of comics art and teaching in several countries. He was co-organizer of the Queers & Comics Conference and has written scholarly works for the Cambridge History of the Graphic Novel and the Routledge Companion to Comics, among others.
A compulsive traveler, Hall has spent a good deal of time hauling his backpack around the globe, visiting over 75 countries and finding comics in all of them. He lives in San Francisco with his husband and their pet python. View more of his work at justinhallawesomecomics.com.
Students spend five weeks in San Francisco each summer for three consecutive years, collaborating with peers and taking advantage of our many spaces for artmaking on campus. In between these intensive summer sessions, students complete thesis projects and coursework either on campus or at a distance, working one-on-one with faculty and taking part in online group critiques with the entire cohort. View sample courses.
Our graduate cartoonists emerge from the program with a toolbox of practical techniques and a strong sense of artistic identity. Their exposure to interdisciplinary work and knowledge of grassroots self-publishing helps them hit the ground running. From graphic memoir to genre fiction and comics journalism, our alumni approach creative opportunities with a passion for powerful storytelling.
Potential careers in comic art
Cartoonist
Comics journalist
Storyboard artist
Concept artist for video games
Concept artist for animation
Writer
Editor
Publisher
Educator
Our two-year, low-residency program welcomes students of all ages and backgrounds. While some of our students have undergraduate degrees in fine arts, design, or writing, just as many have experience in completely different fields, from computer science to law. Overall, admission to our program is based on the strength of your portfolio and transcripts.
Start your application
You'll apply to CCA and submit all required application materials via SlideRoom. Afterward, you may be contacted for an interview with a faculty member as part of the application process. Being selected for an interview doesn't indicate applicant status or increase or decrease an applicant's chances of being admitted into their desired graduate program. Interviews are conducted at the program's discretion and are used to gain more insight into an application.
MFA Comics application requirements
Application and $70 nonrefundable application fee
To be completed and submitted on SlideRoom.


Resume/curriculum vitae
Please outline your educational and professional background and relevant experiences and activities, including community work. Resumes/CVs must be in PDF document format.


Two recommendation letters
You'll request two letters of recommendation from academic or professional sources in SlideRoom by entering the contact information for your recommenders/references. They will then receive an automated email from SlideRoom with instructions for uploading their letter of recommendation.


Unofficial college transcripts
You are required to provide your complete undergraduate academic history. Students who have already taken graduate courses are encouraged to submit those transcripts, too. For international applicants, all transcripts must be in English or accompanied by a certified English translation.

Please provide an unofficial transcript from the college where you will receive or have received your bachelor's degree, as well as unofficial transcripts for all other undergraduate coursework. Unofficial transcripts will be used for review purposes.

Once you have been admitted and enrolled, all students will need to submit official, sealed transcripts showing the completion of a bachelor's degree to our graduate admissions office by August 1 of the fall semester they begin enrollment at CCA.


Proof of English proficiency (international applicants only)
Review and plan to meet our English proficiency requirements for graduate students.


Personal essay
In a personal essay, submitted as a PDF, write 500 to 1,000 words about your desire to create work within the context of comics and study the form in CCA's graduate Comics program.


Portfolio
Overall, admission to our program is based on the strength of your visual art and writing portfolios.

The writing portfolio should consist of a single PDF document providing a selection of writing samples (not to exceed 15 double-spaced pages total) that reflects your main areas of interest. You may include an essay, short stories, a section of a novel, creative nonfiction, a portion of a screenplay, or comic book script.

The visual portfolio must include up to 15 still images (up to 5 MB each). You're encouraged to include examples of work in the comics medium or visual art with a narrative component. Other types of work may also be submitted (e.g., painting, photography, storyboards, and graphic design). These creative visual pieces may consist of academic and professional work, and we encourage you to include examples of personal work as well.
For prospective student inquiries, including questions about the program or how to apply, please contact us