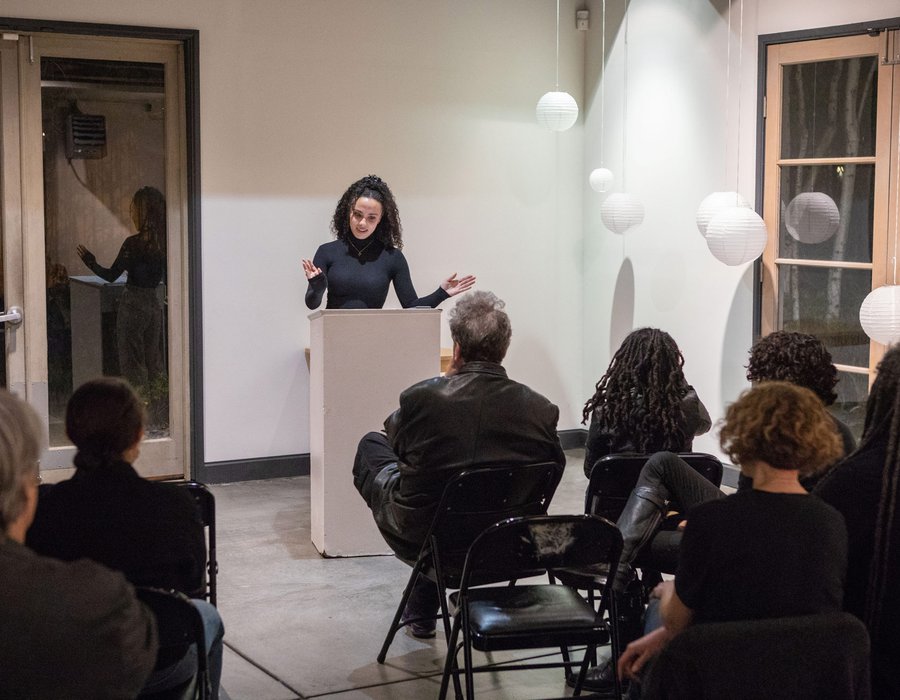 Define your voice and explore your practice—fiction, nonfiction, poetry, and screenwriting—alongside writers, designers, and visual artists.
Our two-year MFA Writing program provides a rigorous yet flexible curriculum that emphasizes individual exploration of writing as form and art. We encourage you to try many different genres and forms, including memoir, short story, creative nonfiction, travel writing, lyric essay, fiction, and poetry, rather than focus on just one. Our position within a top art and design college gives you the freedom to explore sculpture, film, printmaking, and other disciplines you might want to incorporate into your work.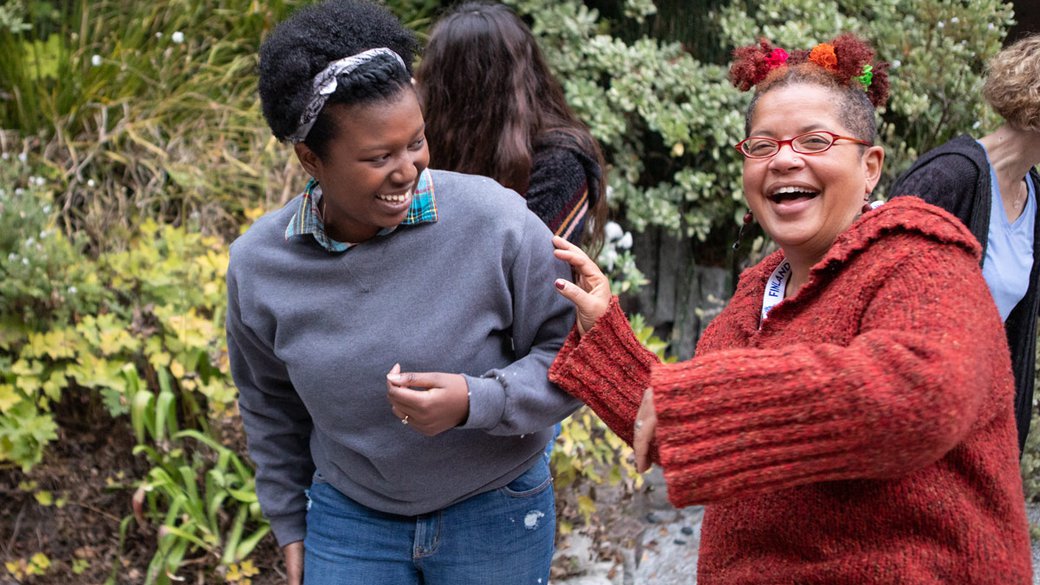 An exciting blend of the emergent and established
Our program draws inspiration from the Bay Area's rich literary history, including the San Francisco Renaissance, Beat poetry movement, New Narrative, and the art of Slam/Spoken Word. From Litquake to readings and performances in cafes, the Bay Area's literary experiences make it a center for writing. This tight-knit community supports and inspires many of our students to embark on wide-ranging careers with writing at the center, from publishing to teaching to performing stand-up comedy.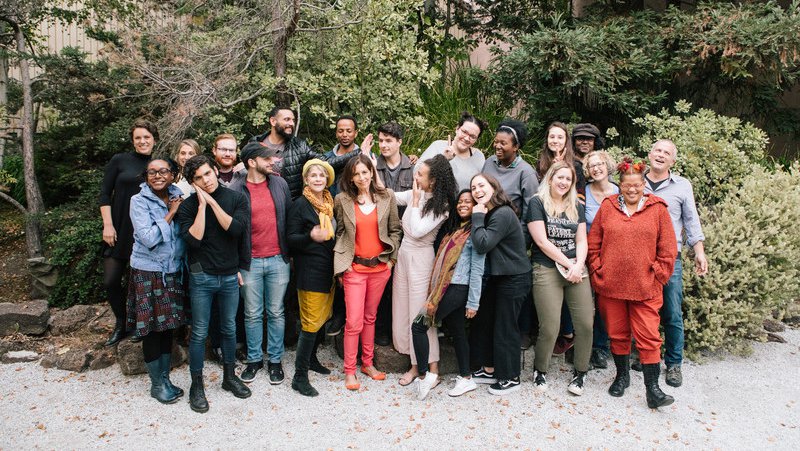 MFA students are at home in our Writers' Studio on CCA's main San Francisco campus. Outside the studio we have a beautiful garden. Inside, we hold our workshops, readings, and craft talks. We also host our famed Tuesday Talks series in the Writers' Studio. Today's most dynamic writers, including R.O. Kwon, Andrew Sean Greer, and Tracy K. Smith, read and discuss new work and lead craft talks during masterclasses. There are endless opportunities to share your writing with peers, get constructive feedback, and nurture your craft.
Support to tell your stories
We help our students locate and tell their stories; we write what we want, how we want. We embrace all forms of writing, from literary novels and poetry to science fiction and mysteries. Our MFA Writing program is designed to make sure each student finds their voice. You can explore nonfiction, fiction, and poetry during supportive workshops that celebrate voice and form. We believe in grounding our work in craft so we emphasize close reading and individualized instruction.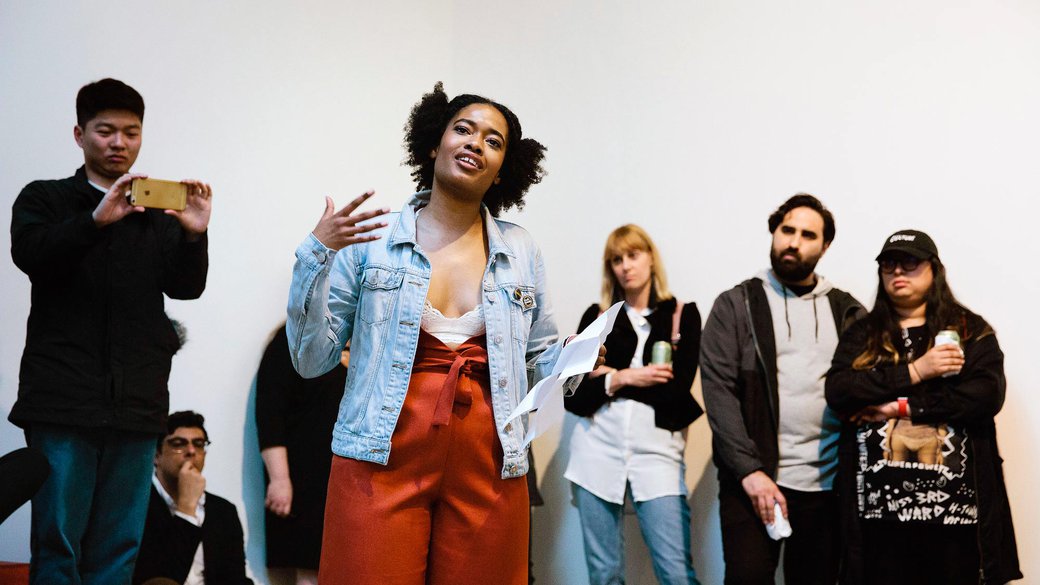 Expand your creative practice
In addition to our vibrant writing workshops and dynamic seminars, we encourage graduate students to immerse themselves in our diverse art and design culture. Want to learn how to design beautiful publications, paint, or make a children's book? Access CCA's phenomenal resources, including Risograph printers for making broadsides, audio suites for recording podcasts, and a letterpress studio for making books and zines. You'll work with top practitioners in their fields across the college's faculty, grow as a writer, and learn to turn your research passions and written works into literal art objects.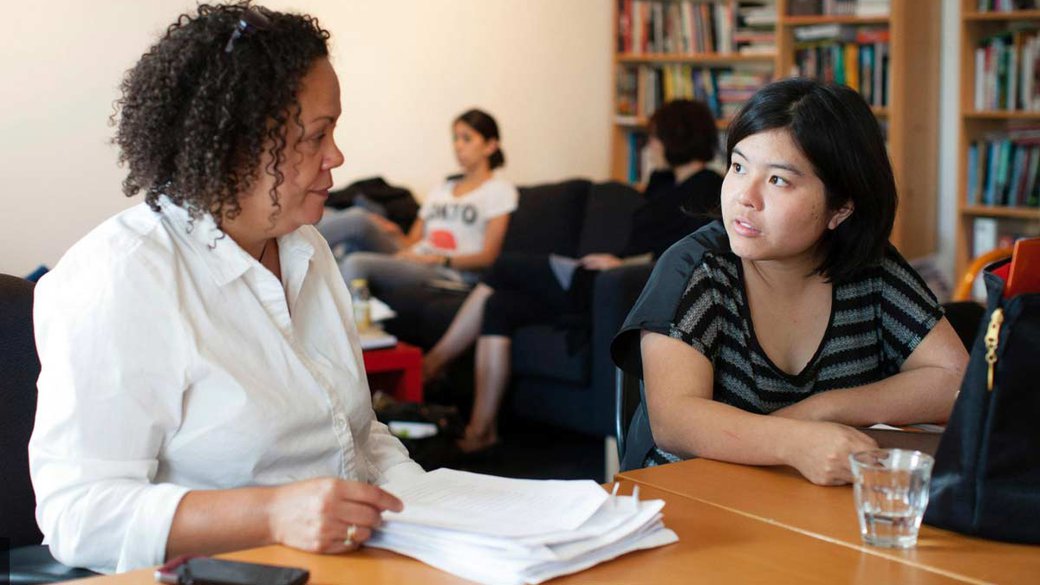 Frame and finish your book
You'll get regular feedback during writing workshops and meetings with full-time faculty who believe in meeting one on one—not as part of any requirement, but because personalized attention is how you grow as a writer. Close reading, editorial guidance, and individualized reading lists all push our writing students toward success. We teach you craft as well as how to establish and maintain a serious writing practice.
Your creative life at CCA and beyond
From studying one-on-one with faculty mentors to participating in craft workshops with visiting writers—among the best and brightest working today—you'll be exposed to myriad forms. You'll learn the elements of podcasting; how to make audio stories; how to craft a screenplay; how to prepare a full-length manuscript; and how to collaborate with painters, filmmakers, illustrators, photographers, and more.
Your community of mentors
Eco-memoirist Leslie Carol Roberts
Memoirist and travel writer Faith Adiele
Novelist Tom Barbash
Poet Joseph Lease
Novelist and memoirist Jasmin Darznik
Novelist Aimee Phan
Poet Tonya Foster
The faculty of the MFA Writing program are not only well-known figures in American letters, but also committed teachers who have spent their careers teaching and advising emerging writers. Each year, visiting writers teach nonfiction, poetry, and fiction, as well as sound and screenwriting. This brings fresh voices and diverse experience to our community.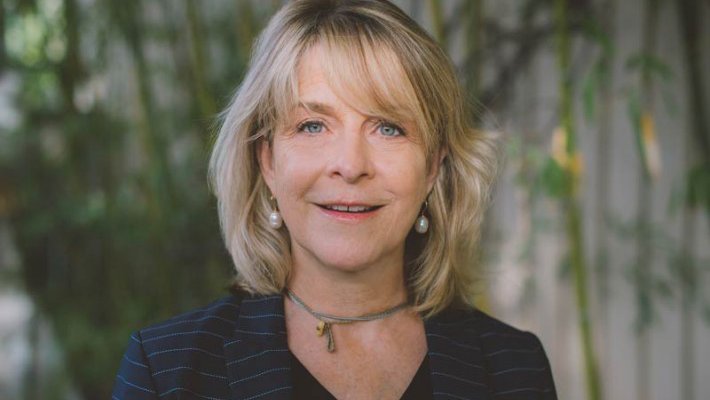 Chair Leslie Carol Roberts is an author, journalist, research scholar, writer, and historian. Here Is Where I Walk (Nevada, 2019) is a memoir of San Francisco's Presidio National Park. Her first book, The Entire Earth and Sky: Views on Antarctica, was funded by a Fulbright Fellowship to New Zealand. As chair of MFA Writing, Roberts evolves course offerings toward opportunities for 21st century writers—storytelling and poetry as books of all stripes, as well as the teleplay, the screenplay, and the audio story. An active scholar of ecologies and poetics of place and protest, Roberts speaks at conferences in the U.S. and abroad on her Antarctic humanities research.
Our two-year program follows the traditional MFA writing footprint, with workshops and craft seminars each semester. In addition, we engage in practica or labs in areas such as sound, printing, and screenplays. Electives across the arts and design, and one-on-one work with a faculty member, round out your schedule as you work toward a final written thesis manuscript. To get a feel for what awaits, view sample courses.
MFA in Writing program alumni have impressive success getting their work out in the world, publishing books across genres:
Alka Joshi, The Henna Artist, Mira Publishing, a division of Harper Collins, 2019
Rheea Mukherjee, The Body Myth, Unnamed Press, 2019
Adam Nemett, We Can Save Us All, Unnamed Press, 2018
Sonia Belasco, Speak of Me As I Am, Philomel Books, 2017
Andrew Nicholson, A Lamp Brighter Than Foxfire, Colorado State, 2015
Molly Prentiss, Tuesday Nights in 1980, Simon & Schuster, 2017
Catie Jarvis, The Peacock Room, Hyperborea, 2016
Julie Lythcott-Haims, Real American, St. Martin's Griffin, 2017
LaTasha Nevada Diggs, TWerk, Belladonna Press, 2013
In addition to becoming published authors, our students find traction at established and emergent platforms like Medium, and also work as educators; performance artists; editors; and writers for newspapers, magazines, and marketing agencies.
Potential career paths
Novelist
Poet
Memoirist
Freelance writer
Journalist
Editor
Playwright
Content strategist
Copywriter
Arts administrator
Social activist
Technical writer
Publication and production assistant
Small press publisher
Librarian
Our two-year program welcomes students of all ages, career profiles, and backgrounds, including law, advertising, tech, music, and academia. We focus on your writing sample and your letters of recommendation in making admissions decisions. After you submit all materials, you may be contacted for an online or on-campus interview with the chair or a faculty member.
Application fundamentals
You'll need to submit three components that are common to all CCA graduate applications:
Resume/curriculum vitae
Two recommendation letters
Unofficial college transcripts
Additionally, you'll submit a portfolio and personal essay that are tailored to your specific master's program.
Contact our program chair with questions