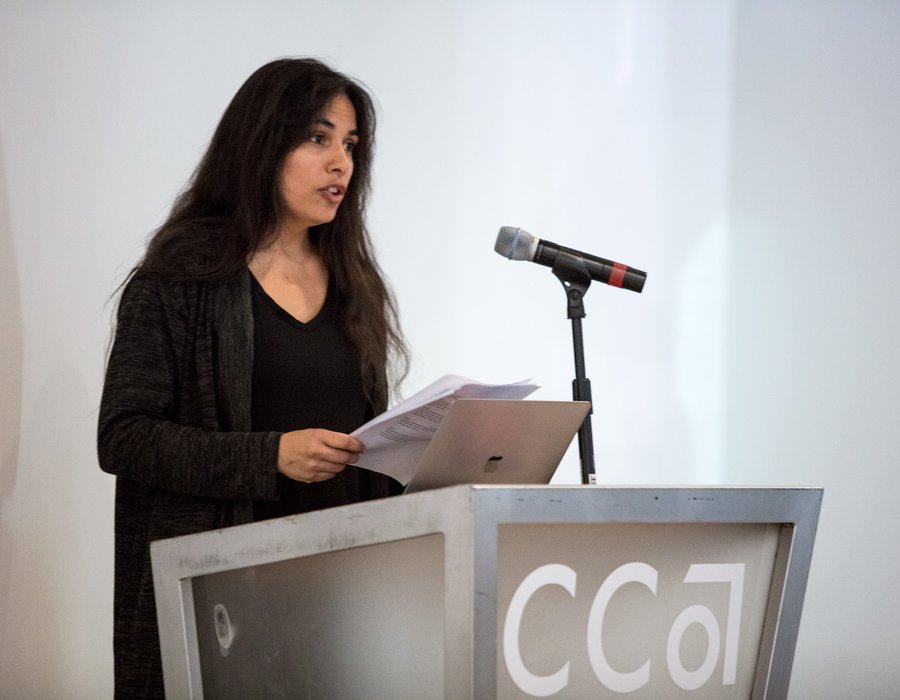 MA

Visual & Critical Studies
Think and write critically about the arts and other cultural forms, illuminating the interplay between social and expressive systems.
Investigate visual culture across a range of fields
Our two-year Visual & Critical Studies graduate program trains artists, critics, and scholars to write professionally about today's intricate visual landscape. Our rigorous curriculum emphasizes interdisciplinary and cross-cultural study, historical grounding, social and political analysis, and the craft of critical writing. You'll learn to investigate a broad range of media and present criticism in straightforward language, so art theory can be accessible to everyone.
Study in the creatively diverse Bay Area
The San Francisco Bay Area is a hub for emerging artists, entrepreneurs, innovators, and social activists. We draw inspiration from the area's intellectual and creative activity as we explore and develop crucial skills in visual analysis. You'll also benefit from studying in an art school environment, where you can easily exchange ideas with architects, curatorial practitioners, designers, fine artists, and writers.
In contrast to MA programs at other schools, Visual and Critical Studies at CCA offers a unique practice-driven curriculum that supports our commitment to social justice, interdisciplinary collaboration, and hands-on professional experience. Core courses, electives, and workshops help you build critical skills in four interrelated areas:
Close visual analysis
Critical thinking
Eloquent, persuasive writing
Visually enhanced public speaking
We're also one of the few programs to offer two distinct dual-degree options in fine arts and writing. The skills you'll build during a dual degree will give you a competitive edge, enabling you to discuss and write about creative work more powerfully.
Broaden your artistic and professional networks
Graduate students sharpen their critical thinking and presentation skills by learning from the brightest minds in the field. We have two unique programs that foster open dialogue:
The VCS Forum, which convenes throughout the semester, gives you the opportunity to engage with leaders across a range of creative and scholarly fields, including visual studies, literary criticism, cultural studies, film, curatorial practice, and design.
Queer Conversations in Culture and the Arts, an ongoing collaboration between VCS and the Queer Cultural Center of San Francisco, brings locally and nationally renowned figures to campus for talks, screenings, and roundtable discussions of LGBTQIA+ topics.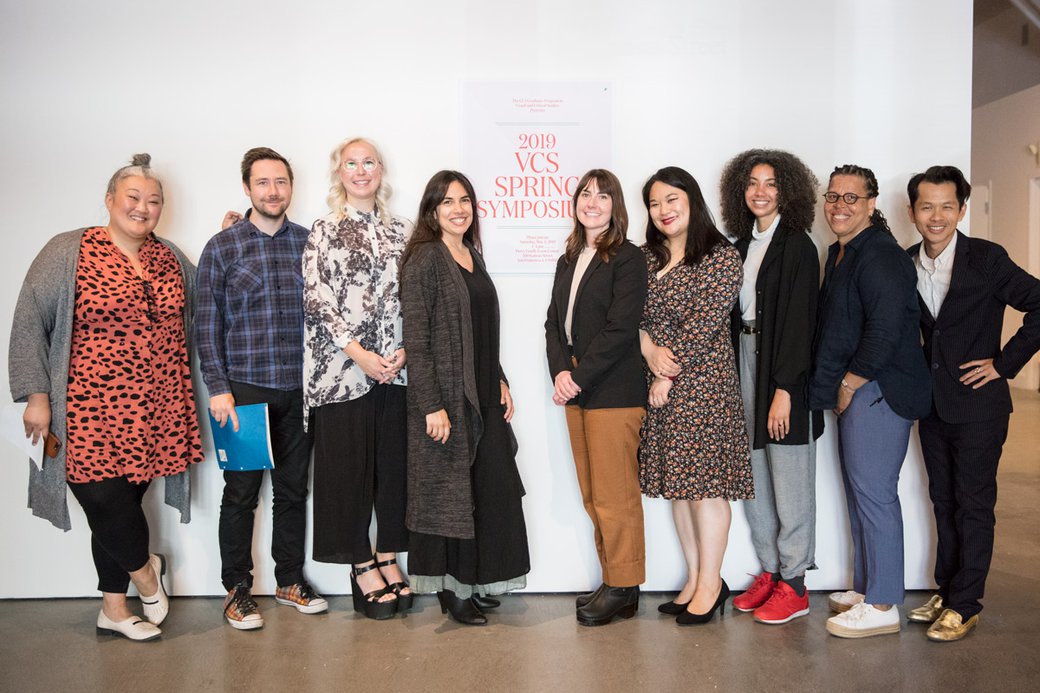 Write and present your thesis
In addition to taking part in public talks and symposia, you'll research a topic of your choosing for your final thesis and presentation. Work closely with faculty on an 8,000-word thesis, a 10-minute presentation for the program's annual Spring Symposium, and a short essay that can serve as a suitable writing sample when you're applying for artist residencies, PhD programs, jobs, and other professional opportunities.
Nearby museums, galleries, and alternative art spaces
Our distinguished faculty are scholars in the fields of anthropology, cultural studies, philosophy, gender studies, and literature, as well as the histories of art, popular media, and design. Like our students, our faculty are committed to exploring innovative forms and arenas of critical expressions. Our program's values—diversity, equity, inclusion—are articulated in our seminars, publications, exhibitions, artistic practices, and public programming.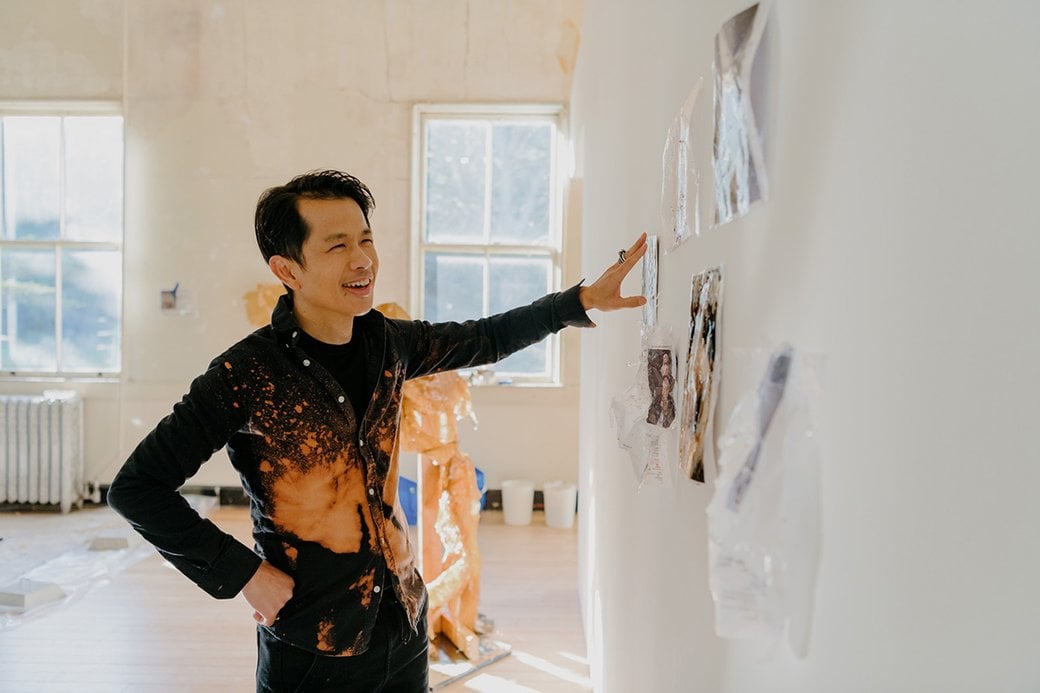 Chair Việt Lê is a queer, disabled academic, artist, writer, and curator whose work over the past two decades centers on sexualities and spiritualities with a focus on Southeast Asia and its diasporas, as well as intersectional, cross-ethnic coalitions. Dr. Lê is the author of Return Engagements (Duke University Press, 2021), which received the 2023 Association of Asian American Studies' Outstanding Achievement book award for Media, Performance, and Visual Studies. The art book White Gaze is a collaboration with artist | theorist Latipa (2nd edition, Candor Arts + Memory and Resistance Laboratory + Sming Sming Books). A 2022-24 Headlands Bay Area Arts Fellow and '22 Stanford CCSRE Mellon Arts Fellow, he has also received fellowships from the Teiger Foundation, Fulbright-Hays (Việt Nam), Civitella Ranieri Foundation (Italy), Camargo Foundation (Cassis, France).
Lê has presented their work at Bangkok Art & Cultural Center, Rio Gay Film Festival, Shanghai Biennale, the Barbican, among other venues. Lê curated Charlie Don't Surf!, Centre A, Vancouver, 2005; trấnsmutation, / (Slash), San Francisco, 2023; and cocurated transPOP: Korea Việt Nam Remix (with Yong Soon Min: ARKO, Seoul; Galerie Quynh, Sài Gòn; UC Irvine Gallery; YBCA, SF, 2008-09) and the 2012 Kuandu Biennale (Taipei). A board member of Art Matters, Lê has taught at UC Irvine, University of Southern California, Stanford, and Ca' Foscari University of Venice. vietle.net _vietle
The Visual and Critical Studies core seminars provide you with scholarly methodologies and critical theories while nurturing your research and writing skills. We also offer electives that let you tailor coursework to best reflect your areas of interest.
Visual and Critical Studies graduates excel in a wide range of professions in visual and cultural fields. They are arts and culture journalists, critics, editors, curators, community activists, and educators, and they hold various positions in higher education and at foundations, museums, galleries, and alternative art spaces. Many continue their studies at the PhD level in anthropology, art history, comparative literature, cultural studies, performance studies, and visual studies.
Potential career paths
Educator (university, college, or art school)
Arts administrator
Gallery director
Art writer/critic/journalist
Interdisciplinary artist
Publisher
Curator
Grant writer
Editor
Technical writer
Design executive
Marketing professional
Our two-year program is designated for those with a bachelor's degree in art history, fine art, or a related humanities and sciences field. Most of our applicants are ambitious writers who want to strengthen their research, writing, and presentation skills. Admission to our program is largely based on the strength of an applicants' critical writing, original research, and academic transcripts.
Start your application
You'll apply to CCA and submit all required application materials via SlideRoom. Afterward, you may be contacted for an interview with a faculty member as part of the application process. Being selected for an interview doesn't indicate applicant status or increase or decrease an applicant's chances of being admitted into their desired graduate program. Interviews are conducted at the program's discretion and are useful for faculty to learn more about an applicant.
MA VCS application requirements
Application and $70 nonrefundable application fee
To be completed and submitted on SlideRoom.


Resume/curriculum vitae
Please outline your educational and professional background and relevant experiences and activities, including community work. Resumes/CVs must be in PDF document format.


Two recommendation letters
You'll request two letters of recommendation from academic or professional sources in SlideRoom by entering the contact information for your recommenders/references. They will then receive an automated email from SlideRoom with instructions for uploading their letter of recommendation.


Unofficial college transcripts
You are required to provide your complete undergraduate academic history. Students who have already taken graduate courses are encouraged to submit those transcripts, too. For international applicants, all transcripts must be in English or accompanied by a certified English translation.

Please provide an unofficial transcript from the college where you will receive or have received your bachelor's degree, as well as unofficial transcripts for all other undergraduate coursework. Unofficial transcripts will be used for review purposes.

Once you have been admitted and enrolled, all students will need to submit official, sealed transcripts showing the completion of a bachelor's degree to our graduate admissions office by August 1 of the fall semester they begin enrollment at CCA.


Proof of English proficiency (international applicants only)
Review and plan to meet our English proficiency requirements for graduate students.


Personal essay
In a personal essay, submitted as a PDF, write 500 to 1,000 words about how the program fits into your writing and career goals and why you want to explore visual and critical studies at the master's level. While personal statements can vary, it's generally good to focus on what influences your writing about visual culture, including particular theories and texts. We encourage you to consider the VCS faculty's interests, as these are the educators who will be supporting you in the program.


Portfolio
Your portfolio should consist of two writing samples (5,000 words maximum per sample) demonstrating your interest in the field of visual and critical studies and your scholarly potential. Please upload separate PDF files for each writing sample.
For prospective student inquiries, including questions about the program or how to apply, please contact us