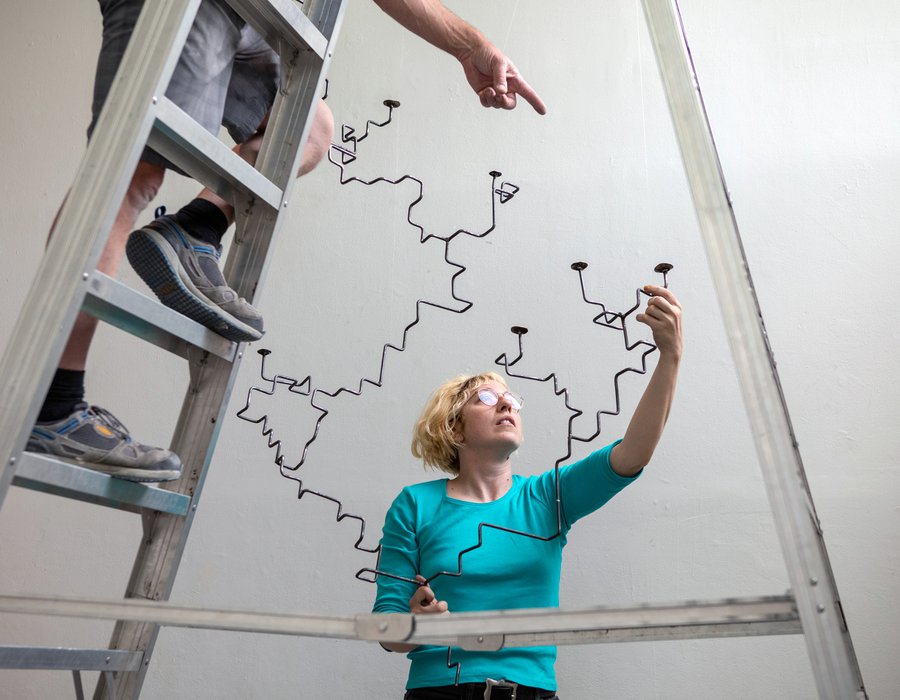 Refine and sustain a critical art practice that's interdisciplinary and socially engaged.
The graduate program in Fine Arts attracts an international cohort of emerging artists to work with renowned faculty and distinguished visitors in the culturally diverse San Francisco Bay Area. Positioned within one of the top art and design colleges in the country, the two-year MFA program is characterized by a culture of critique, studio making, and social engagement. The program supports interdisciplinary practices across a variety of artistic mediums and discourses. The degree is in Fine Art, rather than in a specific medium, and students work across a broad range of forms including painting, sculpture, photography, print media, moving image, social practice, and installation. The program provides its students with the community, intellectual tools, and hands-on experience to meaningfully participate in a wide range of contemporary art contexts, both during the course of study and after graduation.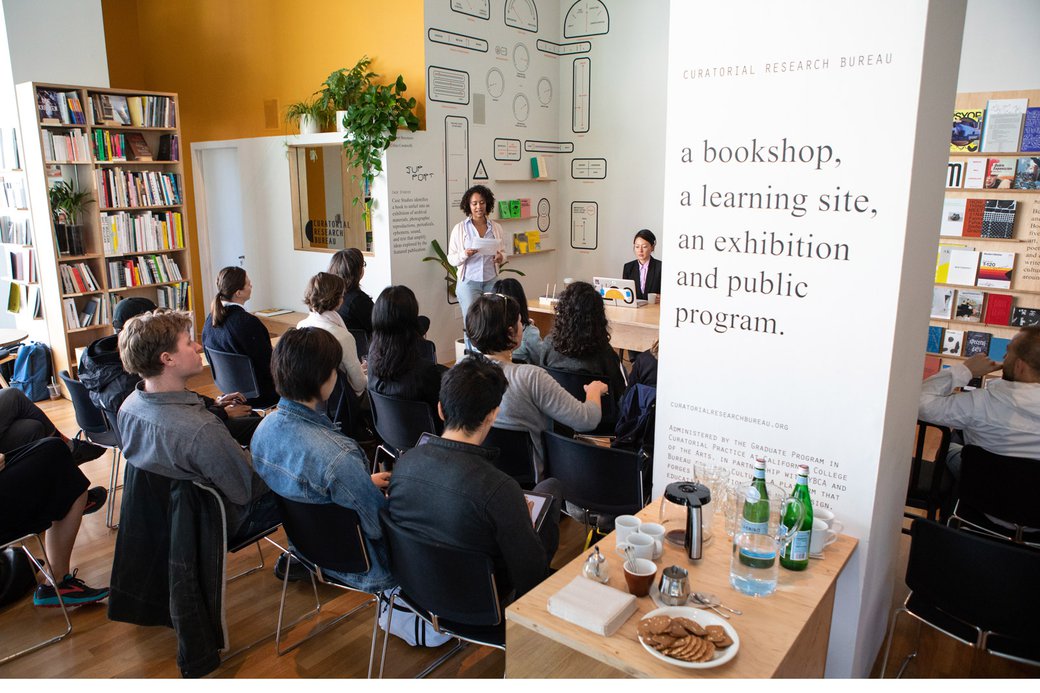 Study in the culturally diverse Bay Area
Known for its long history of political activism and radical thinking, the Bay Area remains an epicenter of diverse and socially progressive ways of making art and imagining creative participation. Located in the heart of San Francisco, the graduate program in Fine Arts is part of an extraordinary ecosystem of art institutions—from alternative artist-run venues, to nonprofit and commercial galleries and major museums, including the college's own premier exhibition space, the CCA Wattis Institute for Contemporary Arts. The curriculum is designed to encourage students to engage these resources and communities, exploring the opportunities afforded outside the studio and seminar room walls.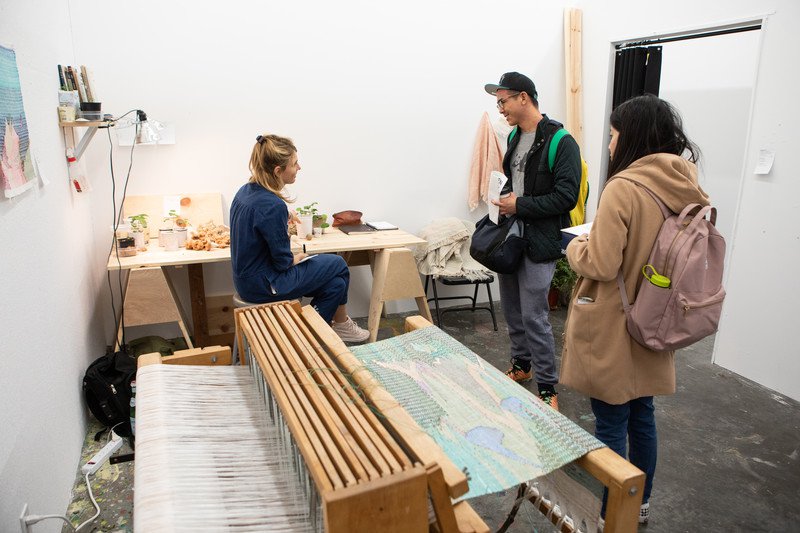 Every full-time, in-residence MFA student making satisfactory academic progress is provided a private studio in which to work. The program's graduate studios are located just south of CCA's San Francisco campus in the Dogpatch neighborhood, home to a vibrant network of artist spaces and cultural institutions. The Dogpatch graduate complex is home to the graduate program and features individual studios, installation and critique spaces, communal meeting areas, and a wide range of manual and digital tools to support work and creative growth in all artistic forms. All studio assignments require a signed studio contract and deposit.
Note: Studio space is provided to dual-degree students in MFA Fine Arts and MA Visual & Critical Studies for four continuous semesters and one summer session in the first two years of their studies. In their third and final year, dual-degree students are eligible for shared studio space (typically, two students per studio) for their two remaining consecutive semesters, if space is available.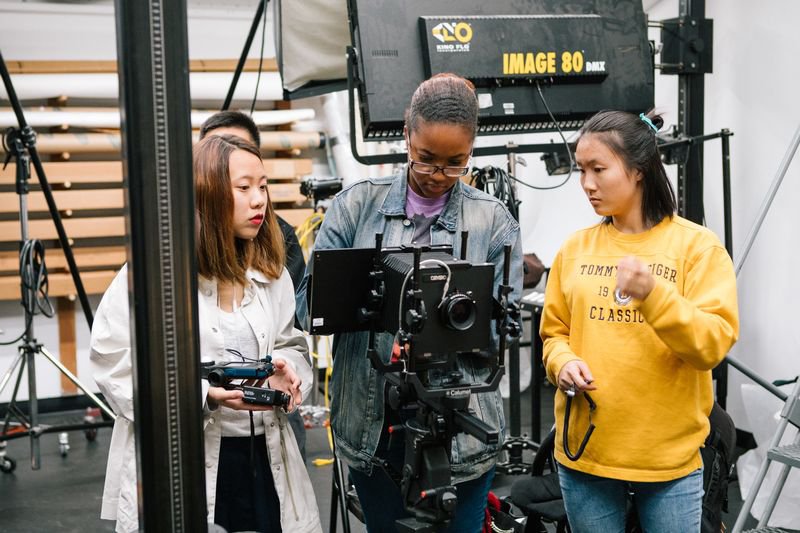 Tailor your course of study
The program supports a wide range of interdisciplinary practices, discourses, and histories. Individual studio critique, the core curriculum, and a wide range of open electives across fields encourage experimentation and individualized in-depth research.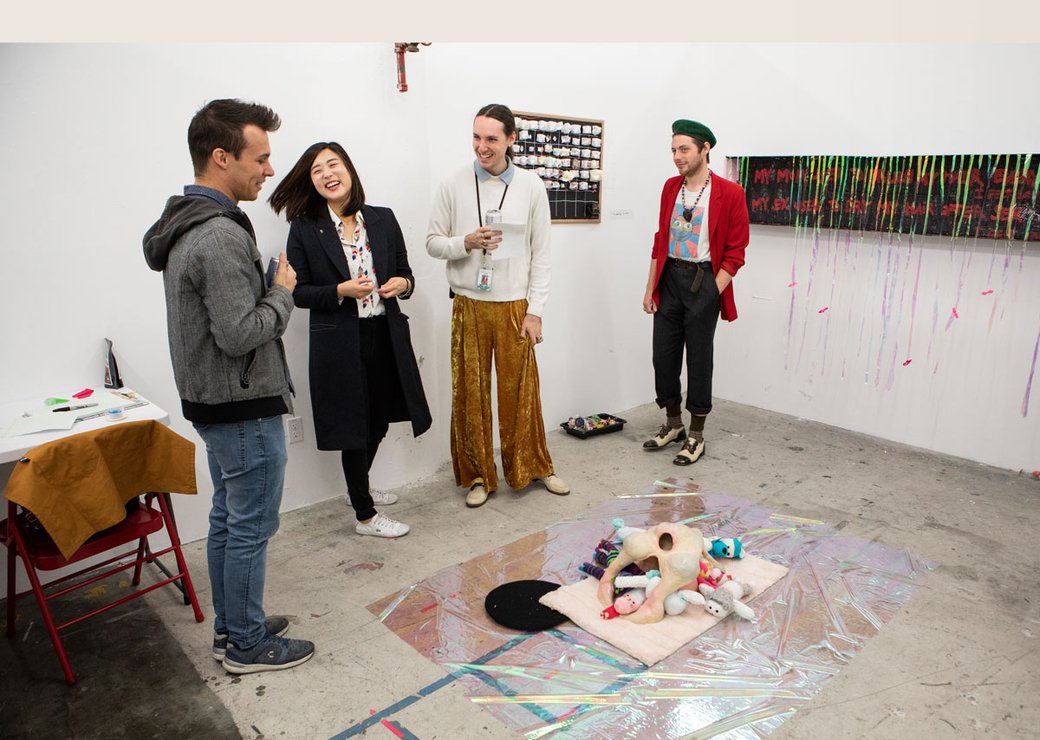 Collaborate with visiting artists
Close contact and collaboration with a wide range of visiting artists complements the curricular work done with program faculty. Each year, a distinguished artist teaches a month-long Residency Intensive, and the Larry Sultan Visiting Artist Program brings prominent photographers and media artists to give public presentations and engage with students annually. Recent visitors have included Judith Butler, Jibade-Khalil Huffman, Shannon Ebner, Lyle Ashton Harris, Mickalene Thomas, An-My Lê, Nairy Baghramian, Ralph Rugoff, Collier Schorr, Tania Bruguera, Deana Lawson, Walid Raad, Thomas Demand, and Kai Althoff.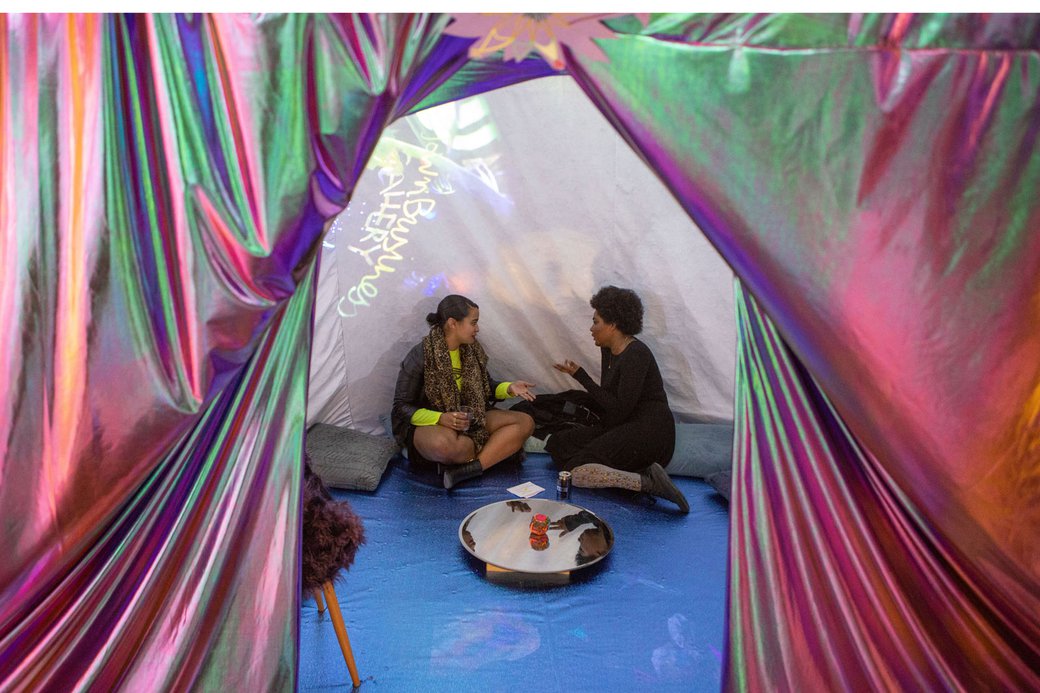 Make socially engaged art
The theory and practice of social engagement is a central, distinctive ethos of the MFA Fine Arts program. As home to the nation's first Social Practice program, CCA's graduate studies supports social engagement throughout the MFA curriculum as well as a specialized social practice workshop that focuses on urban environments, regional communities, research-based practice, or institutional structures.
CCA's resources at your fingertips
Model-making shop
Photography studios and darkrooms
Foam room
Alternative materials shop
Printmaking and bookbinding equipment
Metalworking shop
Letterpress studio
Woodworking shop
Digital fabrication tools
Foundry and forge
Materials reuse center
Cement and plaster studio
The program's distinguished faculty is composed of internationally active artists, critics, curators, and scholars. The faculty's vast experience working with institutions and communities in many diverse art worlds gives Fine Arts graduate students a wide collective pool of expertise from which to draw as they formulate and refine their own individuated artistic position.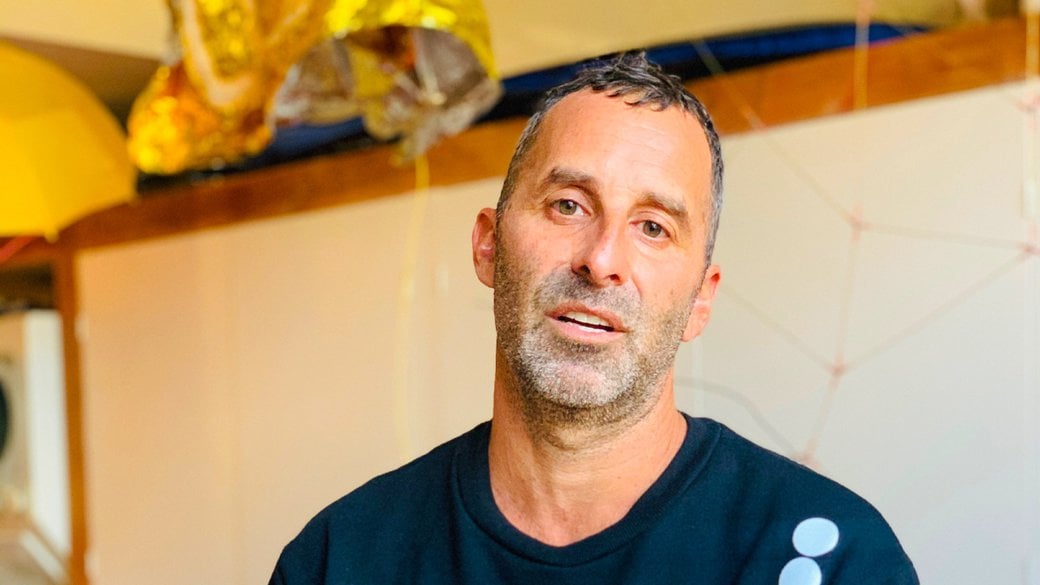 Chair Peter Simensky is an experienced educator and interdisciplinary artist. His work has been featured in solo exhibitions at Museum 52, New York; Museum of Contemporary Art San Diego; and Project Row Houses, Houston, to name a few. The recipient of numerous grants, residencies, and awards, Simensky has also been featured in group exhibitions in the U.S. and abroad. Recently, he produced work and research on the silver mining industry in Taxco, Mexico, as an artist-in-residence at La Tallera: Proyecto Siqueiros.
Over the course of four semesters, you'll be immersed in research, artmaking, and collaboration. Individualized critique of studio work forms the core of the program's curriculum. Students engage in one-on-one meetings with faculty and visitors each semester and participate in group and peer-to-peer critiques. In addition to this dialogue, students take fine art and theory seminars and open electives, offered by all 11 graduate programs. Interdisciplinary exchange characterizes the program and the discussions, and the program culminates with a written thesis and exhibition project.
To get a feel for what awaits, view sample courses.
MFA Fine Arts graduates participate in a wide variety of contemporary art contexts after they leave the program. They use their skills as socially engaged artists and thinkers to establish international careers as practicing professional artists, as well as to pursue an expansive array of other paths, including establishing their own collectives and exhibition spaces, teaching, critical writing, and arts administration. Notable recent alumni include Diedrick Brackens, Toyin Ojih Odutola, Sarah Hotchkiss, Carmen Winant, Zarouhie Abdalian, and Suné Woods.
Potential career paths
Visual artist
Writer and critic
Curator
Photographer
Filmmaker
Educator
Community activist
Researcher
Arts administrator
Our two-year program welcomes students of all ages and backgrounds. Most have a bachelor of fine arts degree, but their areas of interest vary widely. We get excited about artists who are open-minded and eager to work in previously unfamiliar contexts. Admission to our program is largely based on the strength of your portfolio and transcripts.
Start your application
You'll apply to CCA and submit all required application materials via SlideRoom. Afterward, you may be contacted for an interview with a faculty member as part of the application process. Being selected for an interview doesn't indicate applicant status or increase or decrease an applicant's chances of being admitted into their desired graduate program. Interviews are conducted at the program's discretion and are used to gain more insight into an application.
MFA Fine Arts application requirements
Application and $70 nonrefundable application fee
To be completed and submitted on SlideRoom.


Resume/curriculum vitae
Please outline your educational and professional background and relevant experiences and activities, including community work. Resumes/CVs must be in PDF document format.


Two recommendation letters
You'll request two letters of recommendation from academic or professional sources in SlideRoom by entering the contact information for your recommenders/references. They will then receive an automated email from SlideRoom with instructions for uploading their letter of recommendation.


Unofficial college transcripts
You are required to provide your complete undergraduate academic history. Students who have already taken graduate courses are encouraged to submit those transcripts, too. For international applicants, all transcripts must be in English or accompanied by a certified English translation.

Please provide an unofficial transcript from the college where you will receive or have received your bachelor's degree, as well as unofficial transcripts for all other undergraduate coursework. Unofficial transcripts will be used for review purposes.

Once you have been admitted and enrolled, all students will need to submit official, sealed transcripts showing the completion of a bachelor's degree to our graduate admissions office by August 1 of the fall semester they begin enrollment at CCA.


Proof of English proficiency (international applicants only)
Review and plan to meet our English proficiency requirements for graduate students.


Personal essay
In a personal essay, submitted as a PDF, write 500 to 1,000 words about how your work fits within the context of a contemporary art practice and why you want to study at the master's level.


Portfolio
Your portfolio can include up to 15 still images, video, time-based media, or interactive media. If you submit video or time-based media, submit a five-minute sample reel that the review committee will watch in its entirety. The five-minute sample reel should be labeled clearly with the title, date, running time, and description of the piece, or pieces, it contains.

Technical specs are as follows:



Images (up to 5 MB each)
Videos (up to 250 MB each)
Audio (up to 30 MB each)
PDFs (up to 10 MB each)
Links to media from YouTube, Vimeo, and SoundCloud are also acceptable
For prospective student inquiries, including questions about the program or how to apply, please contact us