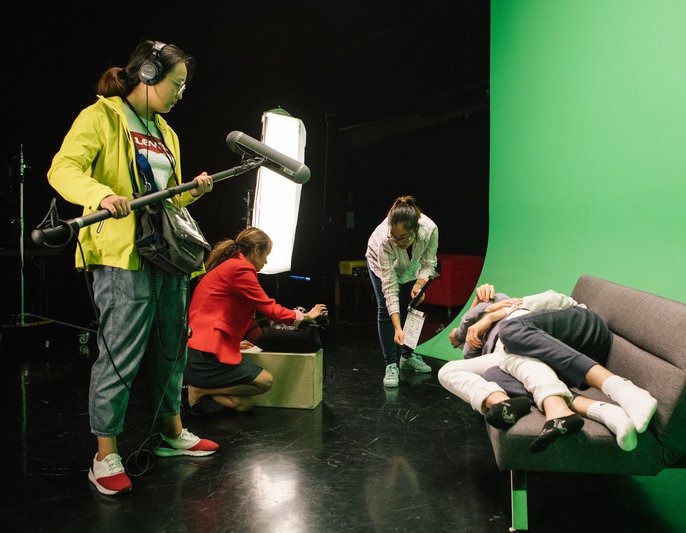 Develop your vision in a film program that goes beyond training and convention.
The MFA Film program prepares students to create and thrive in the rapidly changing landscape of contemporary film. Our unique multidisciplinary culture provides the ideal conditions for exploring the themes and topics they care about from many perspectives, including artist, craftsperson, and entrepreneur. With the mentorship of our award-winning faculty, students strengthen their conceptual capabilities, refine their working methods, and expand their understanding of the moving image.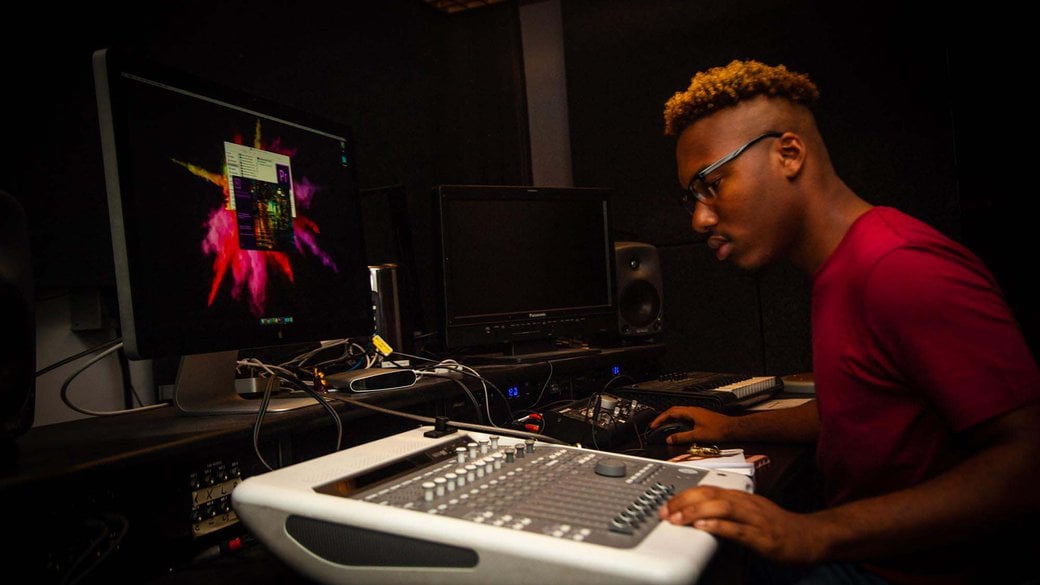 Our facilities support a wide range of filmmaking modes and production methods, from guerrilla-style, experimental, and improvisational techniques to more formal fiction and nonfiction models. Graduate students have 24-hour access to film studios, editing suites, and a sound mixing room.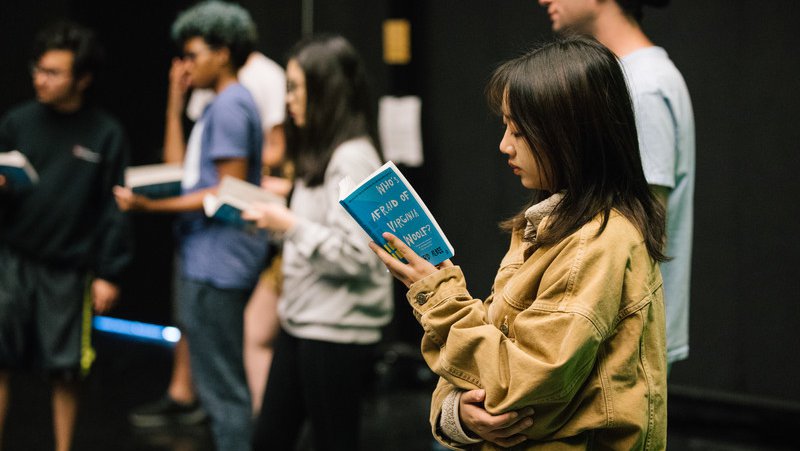 In addition to your work in the studio, history and theory courses, taught by experts in both filmmaking and critical studies, will push you to experiment with contemporary cinema and visual arts. Electives round out your experience by giving you the opportunity to try your hand at painting, photography, writing, and more. By the time you present your public thesis screening, you'll have compelling work that may be informed by multiple disciplines.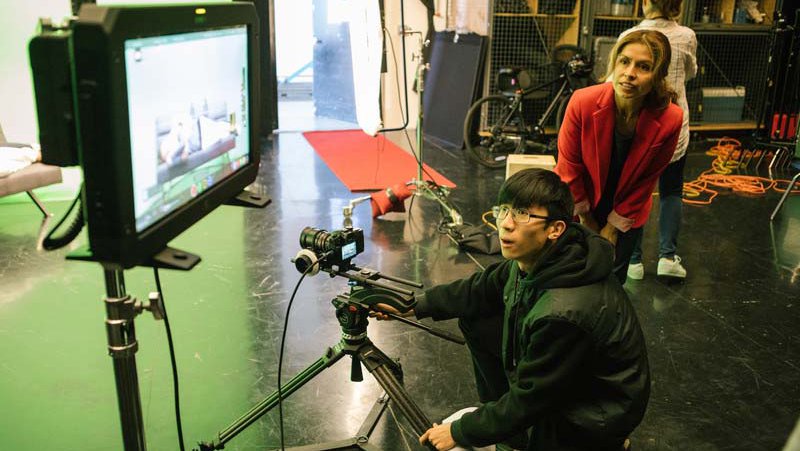 Internships and teaching assistantships
Graduate students may also gain practical experience as teaching assistants for undergraduate courses, including Narrative Strategies, Film 1, and Film 2. They receive teaching mentorship from faculty and have the chance to tailor their own pedagogical models. Students have also interned with Frameline, producers of the San Francisco International LGBTQ Film Festival; San Francisco Film Society, which organizes the San Francisco International Film Festival; and SoMArts, a cultural center for multidisciplinary events and exhibitions.
Film studios, equipment, and editing suites
Our faculty are working filmmakers and media artists with backgrounds in various practices, including directing, cinematography, sound design, and installation. Faculty work with graduate students one on one to expand their conceptual thinking and aesthetic approaches to film.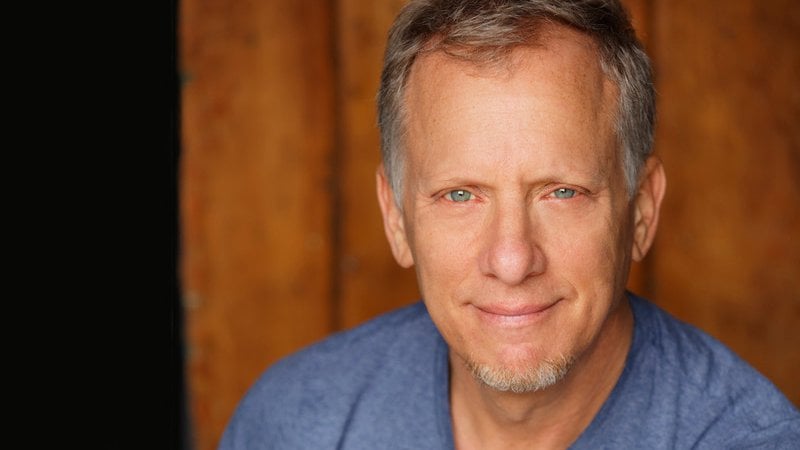 Co-chair Rob Epstein is a director, writer, and producer who has won two Academy Awards for the documentary films The Times of Harvey Milk and Common Threads: Stories from the Quilt. He also leads a film production company, Telling Pictures, which has won praise for the indie biopics Lovelace (Amanda Seyfried) and Howl (James Franco) at various film festivals.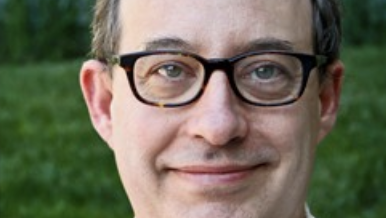 Co-chair Brook Hinton has worked extensively in the film industry as an editor, colorist, and sound designer. His projects range from narrative cinema to experimental multimedia performance including Trace Garden, a found-footage séance series made up of re-edited and re-processed 16mm and Super 8 home movies.
The MFA Film curriculum covers the full spectrum of filmmaking. Courses in history, theory, and the diversity of professional practices and alternative practices complement the work we do in studios and labs. You're encouraged to choose electives from other disciplines, such as writing and curatorial practice, to expand your skill sets and push the boundaries of your craft.
Our alumni have the networks, conceptual skills, and technical dexterity to pursue lifelong careers in filmmaking. They draw from interdisciplinary collaborations with curators and visual artists as well as their teaching experiences at CCA. From commercial projects to non-traditional media, they relentlessly challenge themselves to redefine 21st century cinema.
Potential career paths
Filmmaker/Director
Cinematographer
Screenwriter
Film editor
Writer/Critic
Educator
Curator
Visual artist
Our two-year program is designated for those with a bachelor's degree in film, visual studies, or a related fine arts field. Most of our applicants are self-driven filmmakers who are excited to join a collaborative community. Overall, placement is based on the strength of your portfolio and transcripts. After you submit all materials, you'll be contacted for an online or on-campus interview with the graduate program manager or a faculty member.
Application fundamentals
You'll need to submit three components that are common to all CCA graduate applications:
Resume/curriculum vitae
Two recommendation letters
Unofficial college transcripts
Additionally, you'll submit a portfolio and personal essay that are tailored to your specific master's program.
Contact our program manager with questions