Dorothy Santos (MA Visual + Critical Studies 2014) is currently a PhD candidate in Film and Digital Media at the University of California, Santa Cruz as a Eugene V. Cota-Robles fellow. She's co-founder of REFRESH, a politically engaged art and curatorial collective, and serves as the executive director for the Processing Foundation, a nonprofit organization that works to promote software literacy within the visual arts.
Yerba Buena Center for the Arts, recognizing her scholarship as well as her activism, recently named her part of the prestigious inaugural cohort of the YBCA 10, a program that awards $50,000 each to 10 creative leaders developing new systems for building regenerative communities.
Santos is also not afraid to tell you this: "I applied to CCA's VCS program a few years before I actually got in. I want people to know that."
Dusting off that initial rejection, Santos buckled down, balancing her full-time job in biotech and work in community organizing with freelance writing, which helped sharpen her critical and creative skills—not to mention her ability to take feedback.
"I applied again because I had developed a writing practice," she says. "Having the discipline to write and to read and to think critically is very important. Being able to take criticism is also important because you're not going to write the most perfect thing the first go-round."
She got in, and, after graduation, worked as an adjunct professor at UC Santa Cruz before pursuing her PhD. Santos's research focuses on feminist media histories, critical medical anthropology, computational media, technology, race, and ethics. Her creative practice blends game arts and interactive fiction media to investigate the systems and logics of care.
Take her recent work Domain Errors, created for Art Journal. Domain Errors is an interactive, speculative fiction presented as a text-based game that takes players through varying levels of cultural, social, and political visibility. Santos created it with the open source platform Twine and named the protagonist, Aseco, after the Greek goddess of healing. Domain Errors uses statistical data as a primary worlding device in order to ultimately investigate how race, gender, and class are inextricably linked to science and technology.
Her work in computational media also explores the subversive ways people are using programming and creative coding to empower groups who have historically not had access to the fields of technology and art. Processing Foundation, the nonprofit where she is executive director, for example, is committed to open source software for the arts and aims to broaden the audience for software projects.
"That's a great example of what computational media is all about," Santos says. "How can we use programming languages to make things that aren't necessarily for a capitalist end?"
We spoke to Santos in fall 2020 to learn more about her experience in CCA's VCS program and why she feels driven to make space for everyone to choose their own adventure.
"I've made lifelong friends from my CCA experience that I don't think I would have met those people if I hadn't done the program," she says. "I definitely have fondness for VCS and the ways it influenced me. The pillars of the program instilled in my mind how I could build out my own world from what I had learned there."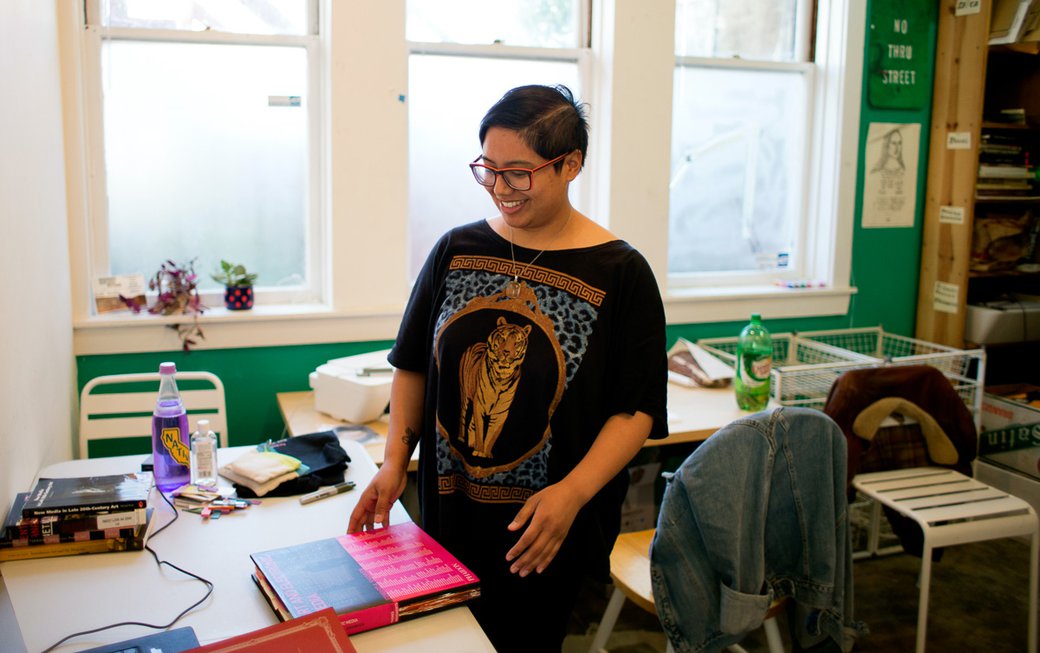 Q+A with Dorothy Santos
Why did you want to study at a graduate level?
I felt that I needed the structure. A master's degree seemed like the one path that would make me, for lack of a better word, a credentialed writer. I think being a queer person of color, I always felt like I had to work so much harder and that maybe obtaining a master's degree would give me that edge. I had met a lot of different people who had gone through the VCS program at CCA. It seemed like a place where I feel I could build out more community around writing, art and tech, and thinking about new media and digital art.
Did anything surprise you about your experience in graduate school?
What surprised me the most was the revelation that the difference between me and, say, someone who is out in the community doing this work is just that I get really well-curated book lists to read and research. I wouldn't want what I'm saying to be discouraging to people getting an arts education or getting advanced degrees, but my point is, what was unexpected was the thought that maybe the whole point of me being in this program at CCA, and then subsequently being a PhD student, is that I take the knowledge that I have and I start to world-build. If I get free, there's a way to free other people to pathways of empowerment.
I've always said that I have a contentious relationship with the art world, but I don't have a contentious relationship with art. I love art. I will always love art. I'll love looking at and experiencing it. I'll love making it. I'll love talking about it and writing about it for the rest of my life. But the contentious part of the art world is that art in and of itself is a colonial project. It's about collecting, archiving, documenting, learning about someone else's culture, but would you be friends and develop kinship with a person from this culture?
The art world needs to ask these tough questions. CCA laid the groundwork for me to develop a bit of a bravado around that. The way that I'm speaking to you right now, this is not how I sounded when I started as a student at CCA. I felt more reserved. I didn't feel as confident in the things I said. I didn't know that what is in me now is what would be unleashed later on in my life.
Does that continue to drive you?
When people ask why I do the things I do, I think to myself, "I want to be what I needed when I was growing up." I don't want a queer Filipinx person to say, or think to themselves, "I don't really see anyone that looks like me in academia, or I don't really see anyone that does what I want to do in the arts." I don't want these individuals to look too far for a Stephanie Syjuco, a Jenifer Wofford, a Kimberley Arteche, a Dara Del Rosario, a Rachelle Cruz, a Janice Lobo Sapigao, or a Patricia Cariño Valdez [(MA Curatorial Practice 2014)]. We're all doing that work.
When you're queer and you're Filipinx, you're not seen as the default in education, academia, or within professional settings. People don't look at me and think I'm going to be their professor. Or, I've shown up to events and people think I'm a guest or I'm an attendee. That's not new for me. I've had to develop a thick skin, and it's very challenging.
CCA and the professors that I had there equipped me to be relentless. I don't like the word resilient. I like the word relentless. Resilience can have a negative connotation because it can be tied to having suffered a lot and having to go through these obstacles. And while that is the case, being relentless is more like, "Oh, I'm going to get back up and keep doing the damn thing." As someone who has been told in the past that I'm not smart enough for grad school, I think of that—and look at where I am now.
"I don't like the word resilience. I like the word relentless."
(MA Visual + Critical Studies 2014)
Was there a grad experience that informed your future work?
At CCA I took studio courses as electives, which was influential on me thinking I could be a creator myself. I now see myself as someone with the capacity and the agency to make things. I created my first choose-your-own-adventure at CCA when I was taking an elective course, Phenomenology to Digital Perception.
The professor was very welcoming of me because I enjoyed the theoretical part of the course, but the practice part of it scared me, to be honest. You want me to make things? My classmates are making things that look amazing, and the MArch students already know how to render and have all of these digital technical skills that I don't. The professor suggested doing something based in architecture but then write about it and make it a choose-your-own-adventure. That's exactly what I did. I described my childhood home using Gaston Bachelard's The Poetics of Space and described things I wish I could have done out of the railroad apartment that we lived in when I was growing up in San Francisco's Mission District.
I've always loved choose-your-own-adventure, but to have made one at CCA for the first time was great. It fits well with the research I'm doing at Santa Cruz. For example, I'm building out an interactive experience based on biotechnology. There are interactive components similar to choose-your-own-adventure. You have to find your way to an alternative healthcare system. I'm using it as a point of departure to think about how the healthcare system is currently working. The players and listeners are asked to envision a system they want to see in the world.
What's something that excites you about your current practice?
I don't like the dichotomy that art and science can't intermingle. There's a way to understand the world and it doesn't have to lead with all the jargon. In a lot of ways, artists can help facilitate a different conversation.
The computational media side of my practice investigates the creative side of computing, coding, and programming. What if we started taking existing algorithms and platforms and then subverted them to show the whole other, invisible side of what mainstream tech is not showing us? Those are the types of projects that I'm really into and deeply admire. Computational media can be subversive, creating systems that are alternative to the ones that we usually see. An example is White Collar Crime Risk Zones, a sort of storytelling platform that uses predictive programming to show you the white collar crime zones in your area.
To me, world-building happens from micro-local to macro-global. What kind of alternative models can we build out to uplift at a local level? How do we change politics in such a way where people in our own municipality and own local districts and areas really care about what's happening on the ground? It's a speculative practice because everything that you think about that could be possible in the world may not be feasible. It may not be something that could be achieved within the next year or week or month, but it's something worth dreaming about.
World-building isn't just about imagining, it's about discerning what we can do now so that this can be possible later. My hope is just not to lose hope, even though the world is on fire. Let's roast marshmallows on top of what's burning and come up with a new way.
"World-building isn't just about imagining, it's about discerning what we can do now so that this can be possible later. My hope is just not to lose hope, even though the world is on fire. Let's roast marshmallows on top of what's burning and come up with a new way."
(MA Visual + Critical Studies 2014)
What advice would you give your younger self?
Here's what I'd say to the Dorothy who's starting off first semester at CCA: You know a lot more and can handle a lot more than you think, even through the challenging times. That's all the way around—intellectually, emotionally, and physically. Make certain you allow for failure, and if you feel like something doesn't work, table it. If you feel like you really can't let this thing go, it probably means you need to let it go. Stubbornness gets you nowhere. The things that feel like they hurt the most are where we find the biggest lessons. Be open to disagreement with people, just as long as it's respectful. And look for what's not being shown to you—that's equally as important as what is being shown to you. There's something kind of beautiful in the chaos, you just don't see it yet.
What advice would you give others?
Take advantage of talking to artists, artist collectives, and creators. There still exists this idea that art happens in a vacuum, that there's this sole genius making all these things. I don't think art has ever been that! There is a historical, cultural, and societal context to everything that is a part of a continuum.
To artists, writers, and all creatives, I'd say keep talking, keep making, keep failing, keep world-building. I also hope you're having some fun along the way. The world needs you. It needs artists. All kinds. Writers, poets, playwrights, screenwriters, filmmakers, painters, printmakers, movement practitioners. I'm here to tell you that you're needed. I was recently having this conversation with one of my friends in the humanities and they said, "Well, we're not curing cancer."
And I thought, fuck that. I might be inspiring the person who does.
— Jackie Mantey
June 8, 2021