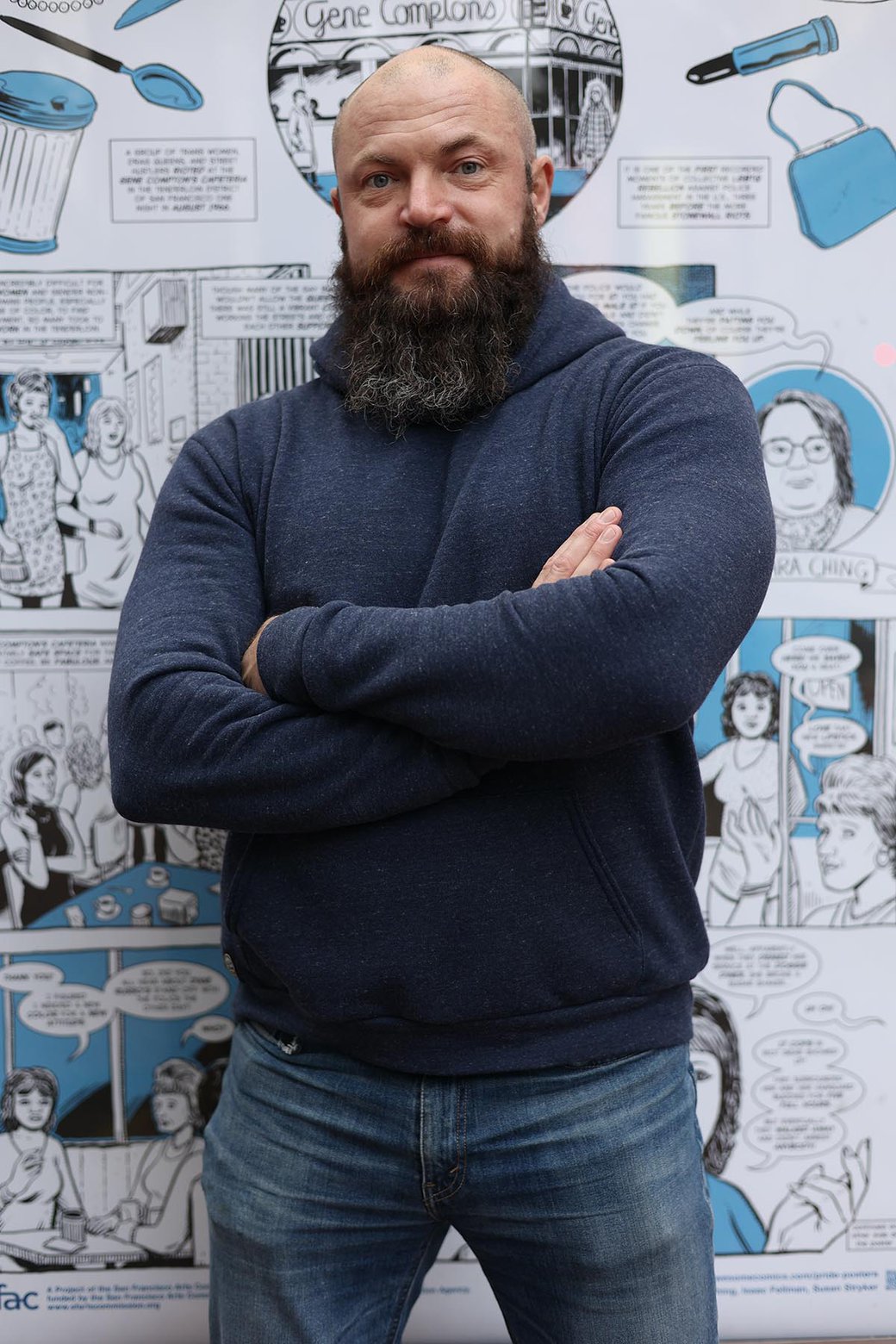 Comics professor Justin Hall has had a big year.
His feature-length documentary, No Straight Lines: The Rise of Queer Comics, premiered at the Tribeca Film Festival in July, was the closing night film for San Francisco's Frameline Film Festival, and won the Documentary Feature Grand Jury Prize at the Outfest Film Festival. Directed and produced by Peabody Award–winning documentarian Vivian Kleiman and produced by Hall, the film features five trailblazing queer comic artists—Alison Bechdel, Jen Camper, Howard Cruse, Rupert Kinnard, and Mary Wings.
In honor of the 50th anniversary of San Francisco Pride, his poster series Marching Toward Pride was installed at bus stops along San Francisco's Market Street. It illustrates six key moments in the city's LGBTQ history from 1955 to 1970 leading up to, and including, the first Pride Celebration and Parade.
And during the 2021–22 academic year, he's Interim Chair of CCA's MFA in Comics program while Matt Silady is on research leave. CCA recently launched a new BFA in Comics program, which accepts its first students for fall 2022, making this a significant moment for comics at CCA as a whole.
We caught up with Hall to talk about the success of No Straight Lines, how he found his niche creating and championing queer comics, and why community plays such a critical role in the very DIY medium.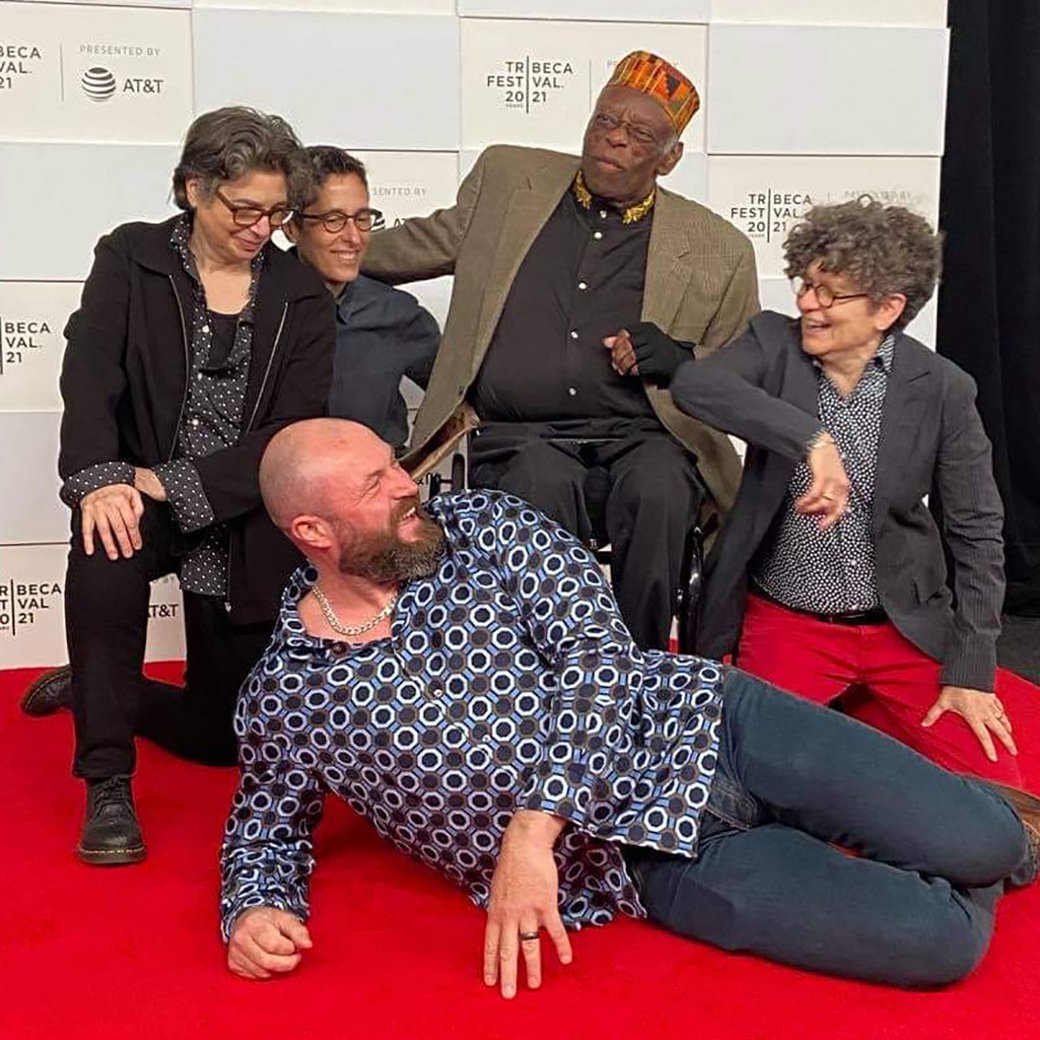 Q: Where did you get the idea for the documentary No Straight Lines?
A. I created an exhibition called No Straight Lines: Queer Culture and the Comics for the San Francisco Cartoon Art Museum in 2006 and then did a book, No Straight Lines: Four Decades of Queer Comics, for Fantagraphics Books that came out in 2012. While I was working on the book, I was approached by a friend who said, "You should make a documentary film about this." Not realizing what that actually entailed, I said, "Okay!"
It was a grueling process. We spent 10 years on it, and Vivian Kleiman, who came on as director-producer, worked with me for six of those. There were lots of long dark nights of the soul, wondering, "Is this ever going to get made?" We had problems getting funding, which is always the thing with film. But it finally came together and we pushed it over the finish line.
The reception of the documentary has been really validating. No Straight Lines premiered at the Tribeca Film Festival and it was the closing night film for the Frameline Film Festival. It was incredible to screen it at the Castro Theater with all our friends, who were laughing at all the right jokes and crying at all the right spots. Then, we won the Documentary Feature Grand Jury Prize at the Outfest Film Festival, which actually puts us in consideration for an Oscar! It's been just magical.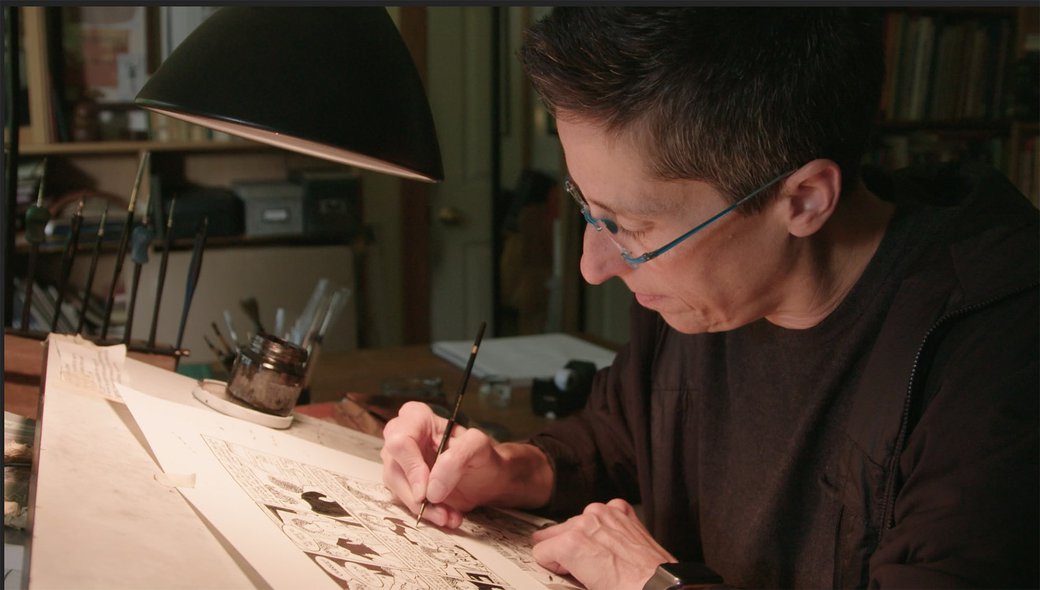 Q. From concept to creation, how did the film change?
A. It morphed quite a bit. Initially, it was sort of haphazard, like, "Let's just look at the world of queer comics." Then it evolved, especially as Vivian came on with her own vision and expertise, and became focused on five pioneers of queer comics.
With that approach, we were able to work with Allison Bechdel [Dykes to Watch Out For, Fun Home] and Jennifer Camper [Rude Girls and Dangerous Women, Juicy Mother], who have their own followings, but also with Rupert Kinnard [Catharic Comics], who was the creator of the first queer Black characters in comics. History hasn't paid enough attention to him, so to be able to shine a spotlight on him and his work was a wonderful thing.
And we also interviewed Howard Cruse [Wendel, Stuck Rubber Baby] who is really the godfather of queer comics. He died in 2019 when we were still filming and so he never got to see it, which is heartbreaking, but his husband Eddie did. I consider him a personal hero and a mentor, so it means everything to be able to help celebrate his influence on the world of queer comics. He was one of the greatest cartoonists of his generation, but he never got the acclaim that he should have because he was gay, and no attention was being paid to this work by the mainstream. I hope the film helps cement his legacy as one of the greatest cartoonists ever.
I teach the History and Cultural Context of Comics class for incoming graduate students, so I make sure that these artists are taught, that their work is shown to students and given the respect it deserves. In the film, we have this sort of "Greek chorus" of younger cartoonists, and a lot of them are CCA alumni who speak about what learning about these artists meant to them and how it inspired their work.
The film was always a labor of love, but even as things became more difficult, my passion for getting it done grew. It felt necessary. The danger with marginalized voices in these underground artistic communities is that history can forget them. The only way to stop that is to do something like a film or a book or a museum show to say, "We're not going to let that happen."
"The danger with marginalized voices in these underground artistic communities is that history can forget them. The only way to stop that is to do something like a film or a book or a museum show to say, 'We're not going to let that happen.'"
Associate Professor and Interim Chair, MFA Comics
Q: Your work places an emphasis on celebrating the individuality of each comic's voice, and making sure artists feel comfortable being themselves and creating stories that represent themselves and their communities.
A: Comics are very much a DIY art form. It's baked into the medium and, because of that, people have always been able to tell stories with very few resources and no gatekeepers. They've been able to tell stories about their own lives and have an uncensored dialogue with their own community.
So you have something like Hothead Paisan: Homicidal Lesbian Terrorists by Diane DiMassa [1991–1998], which is this amazing cathartic piece of work made for the queer community by queer people. It wasn't designed for a larger readership, it was designed as an internal conversation and had a lot of inside jokes and rants. It was really by queers, about queers, for queers.
That kind of work is inspiring for students who are trying to find their own voices, regardless of their own identity.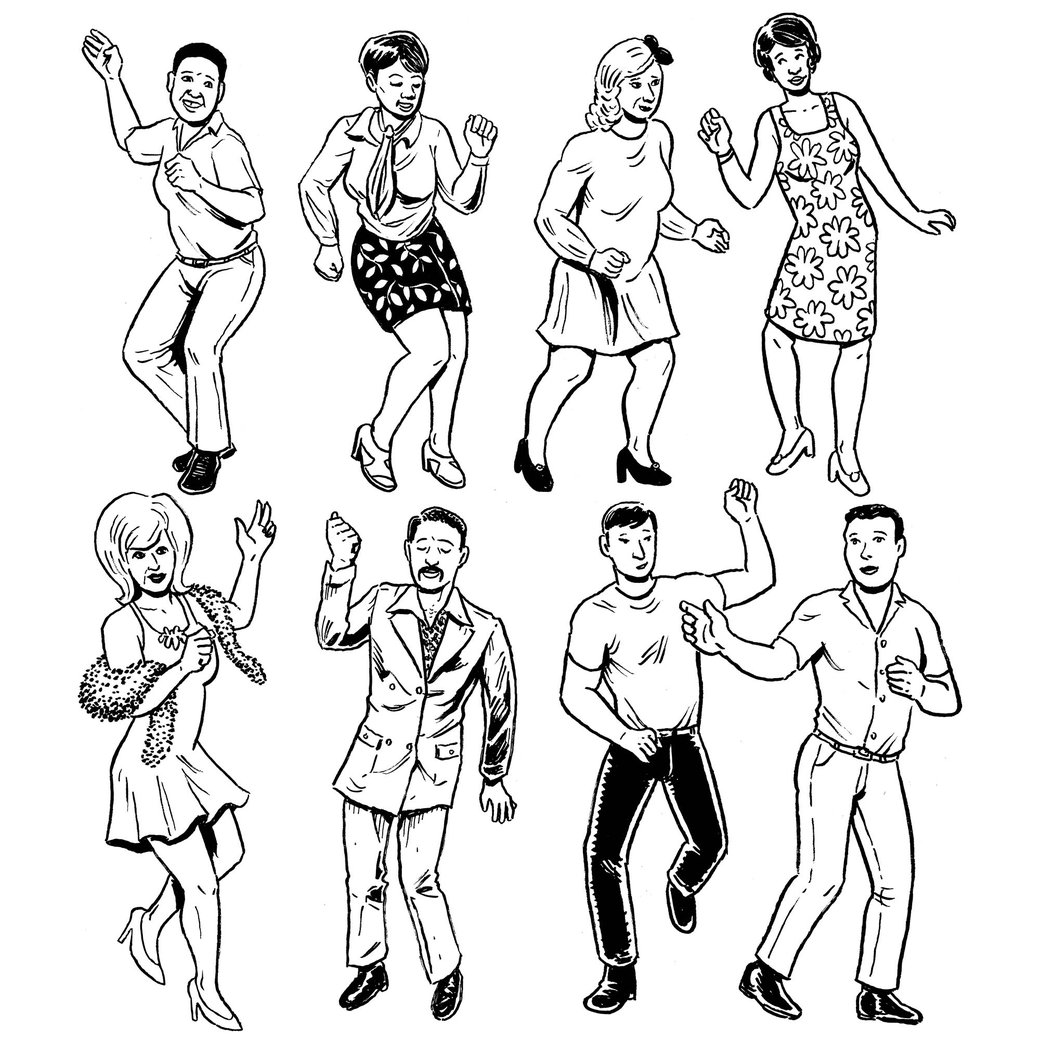 Q: What inspired you to start making comics?
A: I was always obsessed with the medium. It was how I learned to read. I was a visual kid, but I was also fiercely narrative. So to have a medium that is both visual and narrative was a powerful game-changer for me as a young child. A lot of people struggle to figure out their passion, but I got it easy—I always knew I wanted to make comics.
I read a lot of superhero comics as a kid and then a lot of French comics that my mom would show me, like Tintin and Asterix. Eventually, I found underground and alternative comics and they completely blew my mind and opened me up to the possibilities of more authentic storytelling.
Q: How has the city of San Francisco and its LGBTQ culture affected your practice?
A: I moved to San Francisco both for the comics history and for the queer community. It was about connecting with queer culture, but it was also about sort of becoming less gay.
I grew up in Providence, Rhode Island, where I was known as Justin "the gay guy" because I was hanging out with mostly straight people. But in San Francisco, where queerness is so diverse and omnipresent, you can't just be "the gay one." So I wanted to connect with the complexities of queer culture but also to have "gay" not be my defining adjective. I could also be "the comic guy" and "the bicyclist" and be identified with all of these other aspects of my personality.
San Francisco's queer history and culture, the more you dig into it, is incredibly inspiring. It's full of drama and all these remarkable characters who are just larger than life. I definitely want to pay homage to that and be part of this lineage of queer artists and freaks and rebels.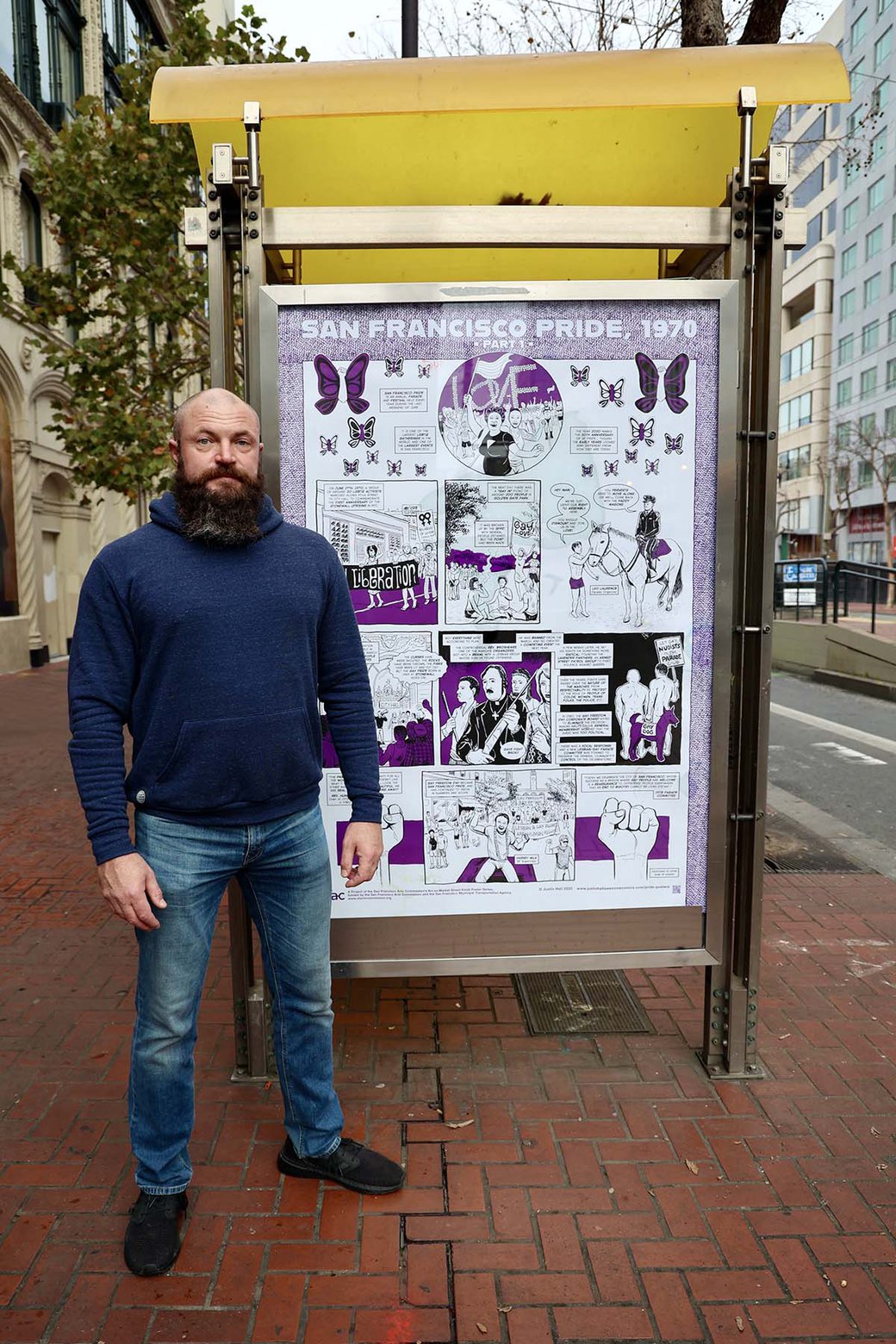 Q: Your Marching Toward Pride poster series, which appeared on Market Street in December 2020 in the lead-up to Pride, gave the general public a digestible way to learn about local queer history. How did you come up with the idea?
A: Comics are incredibly engaging, so you can put forward complex narratives and ideas in profound and accessible ways that really can't be done in other media.
Queer history is something that often gets shoved under the rug. It's not generally passed down in families so we, as queer people, have a hard time accessing our own history. To have the opportunity to create public art about those stories was incredibly inspiring. I remain indebted to the SF Arts Commission for funding this and I love that I live in a city in which that is possible.
And make no mistake, the queer history of San Francisco is an incredibly important foundation for the history of all of San Francisco. It's one of the things that makes San Francisco such a unique city, and I want to make sure people understand that this area was pivotal for civil rights and cultural innovation.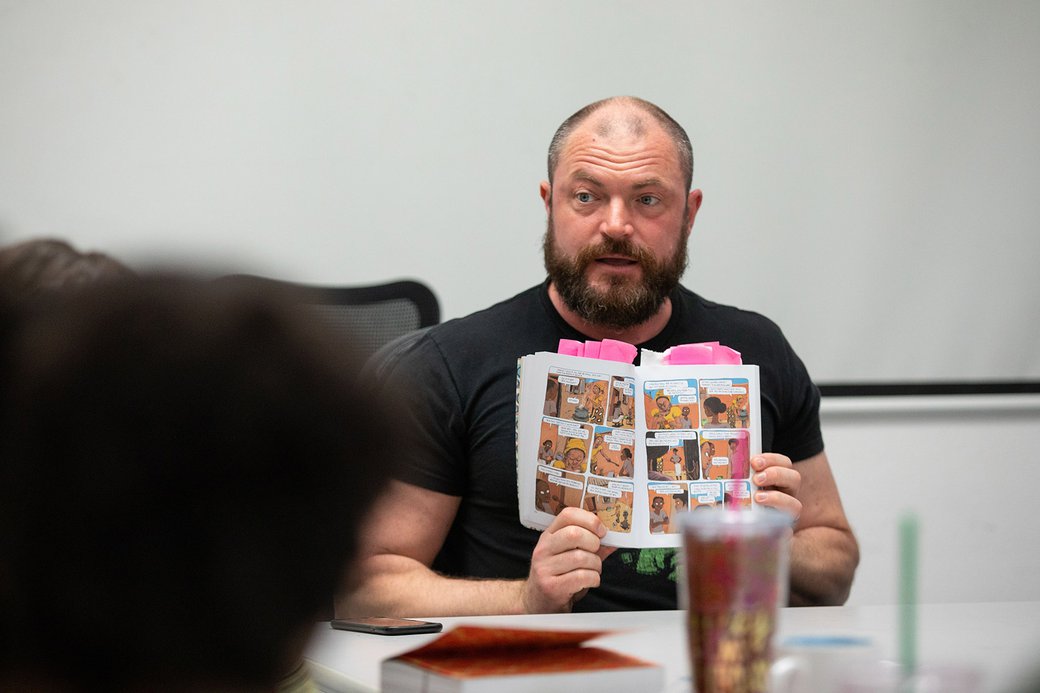 Q: What are you working on now?
A: The plan is to turn the Marching Toward Pride poster series into a full-length graphic novel. I'll expand the historical sections, working with illustrators whose identities more closely align with the subjects of these chapters, and then put in interstitial memoir sections that I'll illustrate myself. The memoir elements will show how my own life as a modern queer person has been impacted by these events from the fifties, sixties, and seventies. We are all creations of history in some way or another, after all!
I also have a long-standing graphic novel that I've been working on that's set in the National Guard Armory in San Francisco during the years when it was owned by Kink.com. It's called Castle and Creek because the building is a large, castle-like structure and Mission Creek, which goes from Bernal Heights all the way down to the Bay, runs through the basement of the Armory. There's a ghost in the story who's haunting the Armory and the porn creators working there, a closeted National Guardsman from the 1930s who died in the creek during the Bloody Thursday labor unrest in San Francisco. It's a queer ghost story that's also about San Francisco's history.
I also love doing academic work as well as artistic projects. Currently, I'm on a panel reviewing Fulbright applications. It's exciting to see comics projects finally being taken seriously by organizations as august as the Fulbright Program. It's an exciting moment, when comics are coming into the academic and cultural mainstream like never before, allowing for cartoonists to get grants, residencies, teaching positions, and other opportunities. And I think that's where CCA's program positions itself: we can show students not only how to become better artists and storytellers, but also how to make a living out of this.
I remain blown away by my good fortune, that I get to teach comics and geek out in this way. And we get to grow Comics at CCA with the new BFA in Comics program. We have an opportunity to become the central academic institution for comics in the country and to position the program internationally as well. It's a really thrilling time and CCA's been incredibly supportive of all of us comic geeks.
—Taryn Lott
October 13, 2021