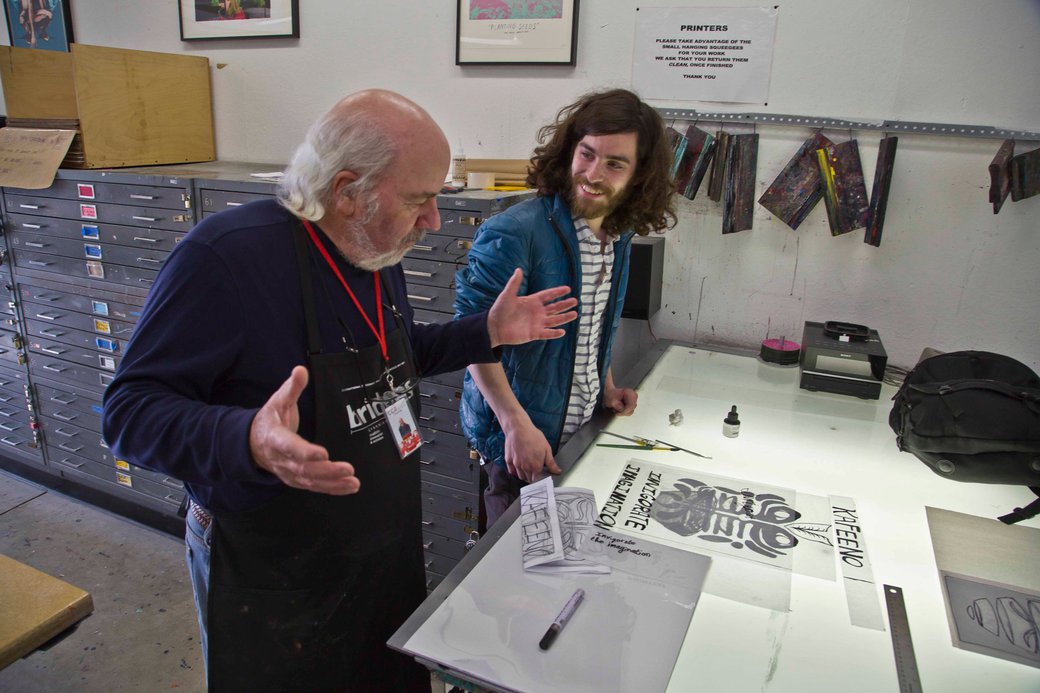 Michael Wertz and Thomas Wojak
Wertz recalls that he originated the class in 2013 "because I love screen printing and believe that it has great potential for both illustrators and printmakers, and I wanted to create an illustration class based on this highly versatile printmaking method."
Wertz discussed the idea with Alexis Mahrus, then interim chair of Illustration, and Nance O'Banion, his former teacher and then-chair of Printmaking, and O'Banion introduced Wertz to Wojak. Master printer Wojak readily agreed to collaborate in teaching the class; as he recalls, "I thought it was an exciting idea as well as a chance to expose more San Francisco campus students to our print program in Oakland."
To date, Wojak and Wertz have taught three semesters of the course. In addition to teaching together and separately, both have active professional careers. Wojak, who received an MFA in Printmaking with High Distinction at CCA in 1992, operates The W.O.R.K.S, a screenprinting editioning studio where he produces work for artists, exhibition fabricators, and technology firms. He maintains his own active studio practice and exhibits regularly.
Wertz received a BFA with Distinction in Illustration at CCA in 1998 and has a varied practice as an illustrator for clients that include SFMOMA, the Oakland Museum of California, Random House Publishing, and Nike. He is the author–illustrator of Dog Dreams, a kids' book published by Gingko Press. He's currently working on an ABC book about Oakland with Heyday Books.
Complex Yet Practical
Wertz and Wojak share many of their applied skills in the Illustrated Poster class, which meets weekly for six hours in the Printmaking Studio on CCA's Oakland campus; the class also uses campus computer labs and has support from Oakland's Digital Fine Arts Studio. The 12 undergraduates each produce four posters during the semester, which Wertz notes "is quite a bit of work since the posters have multiple colors, and most of the students have not yet taken a screenprinting class."
Screen printing involves several stages: creating a design for each color used in the print; making an emulsion stencil on a mesh screen (in several steps), with areas to transfer ink open and areas for no ink transfer covered by the stencil; and then inking the screen and using a squeegee to transfer the ink through the mesh onto paper, cloth, or another material. This process is repeated for each color in a print.
Wertz emphasizes the value of having the students complete all the steps in creating and printing the posters. "Screen printing has seen a resurgence in popularity with illustrators, not just for handmade posters, but for products of all kinds. Because students get hands-on experience from the conception of the poster to the creation of the poster to the production of the final (multiple) product, they come away with a deeper understanding of the whole process and a different way of thinking about their work."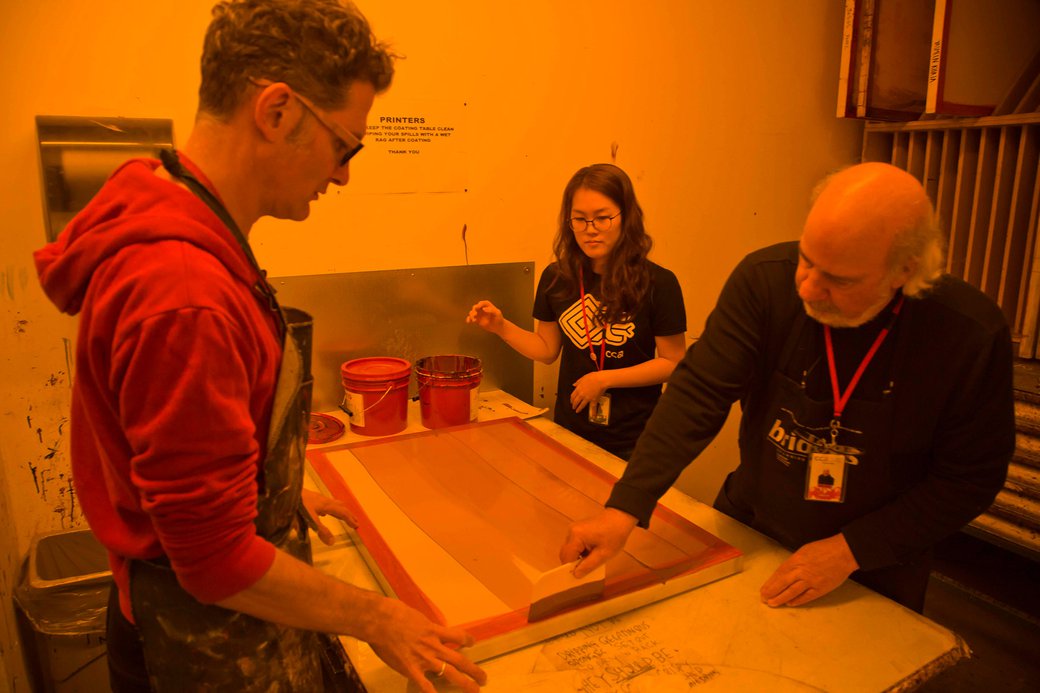 Working-World Benefits
The students likewise get a perspective on how screen printing fits into the commercial and fine arts worlds. The group visits The W.O.R.K.S to see a screen printing business in operation. As Wojak observes, "We do a field trip to my professional editioning studio in Vallejo to experience a studio firsthand and the types of work I do in the field. They also get to see my own artwork and talk about the field as it pertains to life after art school, an important theme in my teaching."
One student in the first year's class, Cody Blocker (BFA Illustration 2014), has made a direct link from the class projects to his career as a designer. With the cooperation of instructors Wojak and Wertz, he was able to create most of the 10 posters for his Illustration thesis during the class.
Blocker credits both teachers with preparing him for his profession. He says of Wojak, "Thomas has such a wealth of knowledge; it's fortunate that Illustration students have the opportunity to take classes with him, because while learning how to screen print, we were indirectly being taught the methodology and discipline of a true craftsman." And of Wertz: "He was instrumental in my personal development as an illustrator during thesis. He really knows how to make a poster jump off the wall and smack you in the face, and some of that flavor definitely shows through in a few of my works from that time period."
Blocker adds that "taking that class gave me the confidence to approach potential clients, and I've since done several posters for the Fox Theater in Oakland. So in a way, Illustrated Poster helped me get started in the 'real world.'"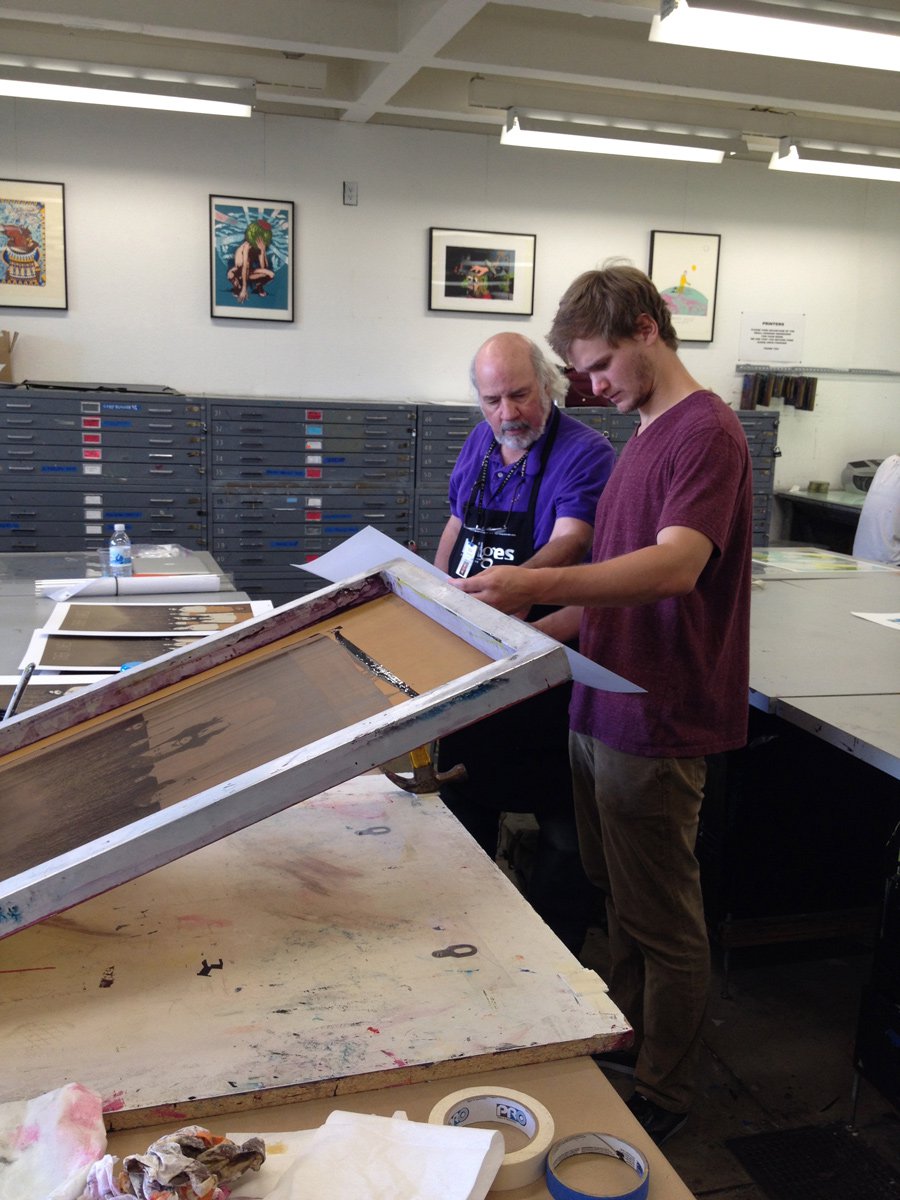 Team-Teaching Discoveries
Both Wertz and Wojak have made discoveries while jointly teaching the class. As Wojak observes, "The opportunity to team-teach this unique class with Michael Wertz, an accomplished illustrator and printmaker himself, has also broadened my view of the professional life of an illustrator. Michael and I have meshed well, I believe, and this can be seen in the prints and projects that have come out of our collaboration."
Wertz states, "I feel so lucky to teach alongside Thomas Wojak, who is a true master of his craft. Screen printing gave my career a much-needed surge of energy, and I wanted to give the students that experience as well." And he muses on another benefit of the joint effort: "Even though I teach the digital tools half of the class, thanks to the class I've been experimenting with non-digital methods for creating prints, and that has been really satisfying."