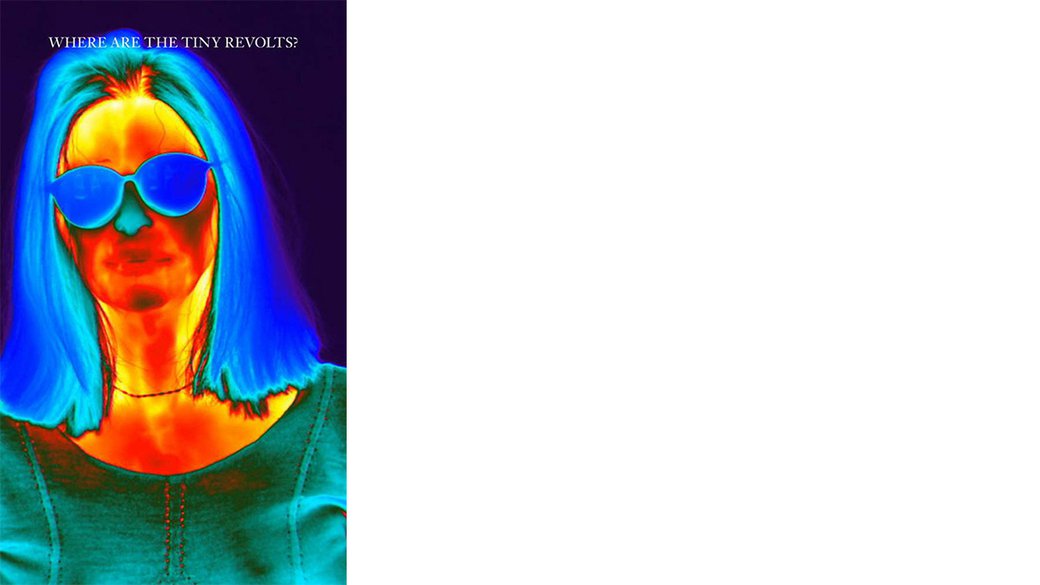 San Francisco, CA­—Monday, April 27, 2020—The CCA Wattis Institute for Contemporary Arts announces a new annual book series—A Series of Open Questions—with the release of its first volume, Where are the tiny revolts?, informed and inspired by the work of Bay Area poet and novelist Dodie Bellamy.
Published in partnership with Sternberg Press and distributed by the MIT Press, the Wattis Institute's new annual reader, A Series of Open Questions, provides an edited selection of perspectives, images, and references related to the Wattis's year-long "On our mind" research seasons. Separate from the Wattis Insitute's exhibition program, each research season is dedicated to reflecting on a single artist's work and the questions that emerge from it through small-scale reading groups and a series of public lectures and events that explore a diverse and varied ecosystem of other artists and related ideas.
Each volume of A Series of Open Questions will include newly commissioned writing by members of the research season's intimate reading group, as well as text and visual contributions by a diverse range of other artists and writers. The title of each reader takes the form of a question and becomes, as new books are published, a gradually evolving series of open questions. The second book in the series—Why are they afraid of the lotus?, which will be informed by the work of filmmaker Trinh T. Minh-ha—will be released in 2021.
Previous books from the Wattis publication program have included Dodie Bellamy is on our mind (2020, co-published with Semiotext(e)), David Hammons is on our mind (2018), and Andrea Fraser: 2016 in Museums, Money, and Politics (2018, co-published with the MIT Press and Westreich Wagner Publications).
More on Where are the tiny revolts?
Where are the tiny revolts? takes the work of Dodie Bellamy as its point of departure, exploring questions related to contemporary forms of feminism and sexualities, the rebirth of the author, and ways in which vulnerability, perversion, vulgarity, and self-exposure can be forms of empowerment.
Edited by Wattis Deputy Director and Head of Publications Jeanne Gerrity and Director and Chief Curator Anthony Huberman, Where are the tiny revolts? comprises a broad array of contributions, including memoir, theoretical essay, art historical analysis, poetry, and fiction, as well as diverse visual elements, such as photograph-based work by Anne McGuire and Mike Kuchar, collages by Mary Beth Edelson, and drawings by Rosemarie Trockel.
Where are the tiny revolts? is a result of a year of learning from the work of Dodie Bellamy in the company of reading group members Nicole Archer, Michele Carlson, Tonya Foster, Lisa Heinis, Glen Helfand, Trista Mallory, Anne McGuire, K.R.M. Mooney, and Marcela Pardo Ariza; and informed by a series of public events. The book will be available in mid-May at wattis.org.
Where are the tiny revolts? (A Series of Open Questions, vol. 1)
CCA Wattis Institute and Sternberg Press, 2020
Paperback, 320 pages
Edited by: Jeanne Gerrity and Anthony Huberman
Visual contributions by: Marcela Pardo Ariza, Justin G. Binek, Kaucyila Brooke, Tammy Rae Carland, Mary Beth Edelson, Mike Kuchar, Anne McGuire, Patrick Staff, Frances Stark, Rosemarie Trockel
Texts by: Sara Ahmed, Nicole Archer, Georges Bataille, Dodie Bellamy, Michele Carlson, Thomas Clerc, Combahee River Collective, Bob Flanagan, Johanna Hedva, Glen Helfand, Juliana Huxtable, Alex Kitnick, Julia Kristeva, Ursula K. Le Guin, Audre Lorde, Lisa Robertson
Design by: Scott Ponik
Price: $15.00
Media contact