As COVID-19 brought normal life to a screeching halt, many people had time to reconsider their work lives: according to the Washington Post, nearly one in three U.S. workers under 40—and one in five overall—have thought about switching careers since the start of the pandemic. For many, the global shutdown was the push they needed to make a change they had been quietly contemplating for years.
Maybe you are reassessing your career choices and reimagining your relationship to work and the world? Many career-switchers report that they decided on a career shift to align their work life with their values and goals. Other key reasons include a desire to increase their salary, dissatisfaction with opportunities for growth in their current job, and the hope of making a meaningful impact.
Pursuing a graduate degree is a perfect way to put yourself on a fast track to a meaningful, and often lucrative, new career. A graduate education provides you with the most up-to-date knowledge and skills while immediately connecting you to a community that shares your interests.
"Graduate school is not a time-out," says Sara Dean, interim chair of the MFA (Master of Fine Arts) in Design program at California College of the Arts (CCA). "Instead, it is the ideal time to fully engage in the community you want to be a part of. You have access to faculty mentors, leaders in the profession, a network of alumni, and peers who are also passionate about the subject."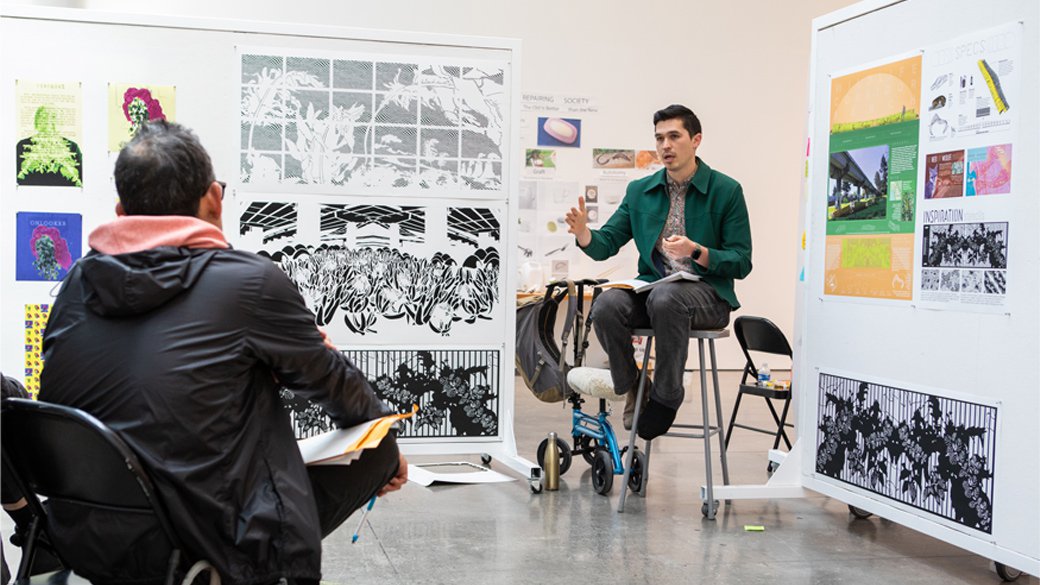 A master's in design is a degree for the 21st century
"This is a really important time to be in the field of design," says Helen Maria Nugent, dean of Design at CCA. "The world is in flux, and there are so many critical global challenges that are calling out for innovative solutions. All of the questions we are asking about how we live in the world and with one another are, at heart, design questions."
Design is everywhere you look. The cars, scooters, and bicycles on our streets are designed, as are the street systems themselves. Our kitchen faucets are the result of design processes, but so are our systems of water collection, treatment, and distribution. In one hand-held package, our phones combine graphic design, product design, and interaction design. And they connect us to the world through designed networks.
Because design impacts every part of our lives, a master's in design can lead to careers in many fields, not only design jobs in graphic design, interaction design, or industrial design. Recruiters understand the value of the skills taught in a graduate design program, including user research and testing, visualization, prototyping, and iterating.
Design thinking is valued across industries
"For those looking to shift into new careers, design thinking is an important tool to add to your toolkit," says Nugent, "and immersion in design thinking is unique to a design education."
In an MFA design program like CCA's, you learn to reframe questions to formulate innovative solutions. This design thinking approach is highly valued across sectors, in any field where creative problem-solving is key.
"Design thinking is human-centered and forward-thinking—it generates innovative ideas by identifying both existing constraints and new opportunities," explains Dean. "It encourages us to think widely and wildly."
Because of their training in design thinking—which encompasses questioning assumptions, deep research, prototyping, user testing, and iterating—many graduates of design programs wind up leading research and development teams: their ability to challenge the status quo and imagine new kinds of products and systems makes them desirable job candidates in this space.
A master's in design is a pathway to more meaningful work
With a career shift into a design field, you can make a meaningful impact. Designers find creative solutions for complex issues related to accessibility, climate change, human rights, pollution, medical care, and more. You can also develop aesthetic and functional improvements to existing products, processes, and systems that help make the world a better place.
A good example is the design of medical devices, which is an expanding field for product and interaction designers. Two recent graduates of CCA's master's in design program, for instance, were part of a team that developed and launched an at-home heart scanner for those who require daily health monitoring.
"We encourage students at CCA to follow their passions," says Dean. "Even before they graduate, they can find opportunities to engage with the issues they care about." For example, during the COVID-19 pandemic, a CCA student in industrial design was part of a team that developed stand-alone containment units for hospital rooms. These pop-up enclosures enable hospitals to adapt to surges of patients who need to be isolated. The project resulted in a fully functional prototype, the CareCube.
Another CCA student developed a Fast Company Award–winning thesis project that protects privacy and freedom of expression by foiling facial-recognition surveillance technologies. She developed a piece of wearable technology that blocks machines from identifying facial features while still allowing other people on the ground to read your face. "It combines wearable, graphic, and interaction design to manipulate how humans and machines interact," says Dean. "It's also beautiful."
Another passion project is The Design Futures Initiative. After earning his master's in design at CCA, Phil Balagtas led experience design teams in the aviation sector before launching this international network that produces events, workshops, and programs focused on speculative design. Its goal is to facilitate and advance responsible design practices.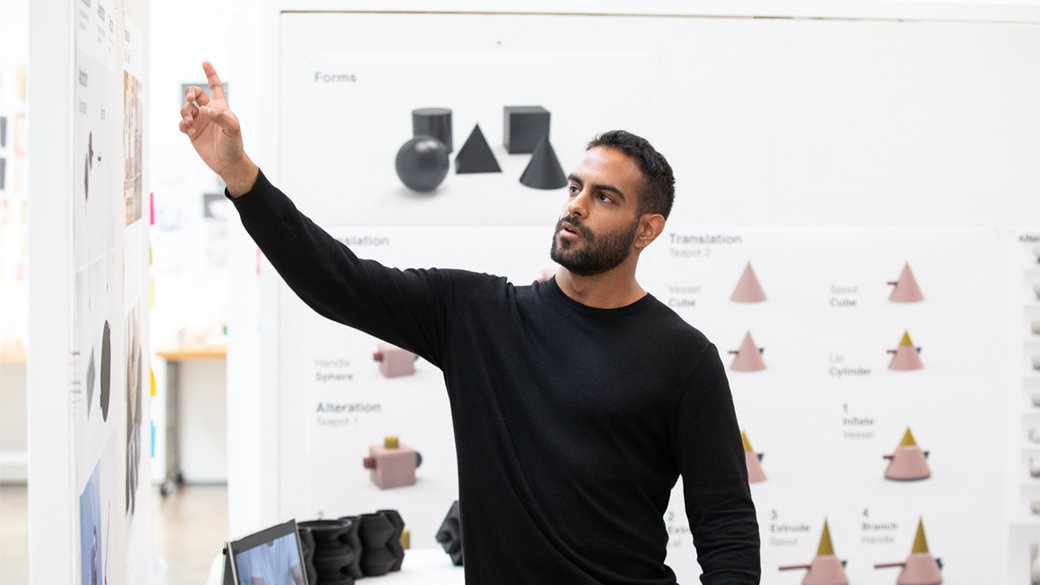 What if I don't have a background in design?
Some art and design colleges, like CCA, offer programs expressly for those coming to design from a non-design background. CCA's three-year MFA Design degree begins with a studio-based foundation year for those who haven't studied or practiced design.
Take Bonny (Qianying) Guo, for instance. After earning a PhD in chemical and biomolecular engineering, she entered CCA's three-year master's in design program to shift into a design career. She graduated in 2018 and is now principal of the San Francisco–based creative studio Intentional Craft.
With a B.A. in studio arts, Annika Bastacky also chose CCA's three-year degree track. She is an experience designer at a strategic technology design agency and moonlights as an artist, performer, and speculative designer. Another CCA three-year design student, who had a journalism background, was recruited into Apple News as an interaction designer even before graduating.
In a three-year program for those new to design, students spend the first year building foundational skills. At CCA, this intensive year offers a solid grounding in the tools, formats, and language of design. After the foundation year, students join a cohort of students starting the two-year program and select a concentration, either graphic design, industrial design, or interaction design.
"Design today demands an understanding of materials and a rigor in tools and form-making, as well as the ability to adapt to new technologies," says Dean. "This is what CCA's three-year program provides for those switching into design careers."
Pushan Panda entered CCA's three-year program with a background in physics. Since graduating with a concentration in industrial design, he has worked on projects like solar-powered scooters, sustainable furniture design, and water filtration technologies for rural communities in India.
After studying European history as an undergrad and working in IT, Rob Sieg came to CCA for its three-year MFA program. Summer internships at Autodesk and IDEO led to a post-graduation design job at Ford's Palo Alto lab, where he worked as part of a cross-functional team building prototypes for autonomous vehicles.
"Our three-year track students are incredibly successful. They bring unique perspectives and diverse experiences to the world of design," says Dean.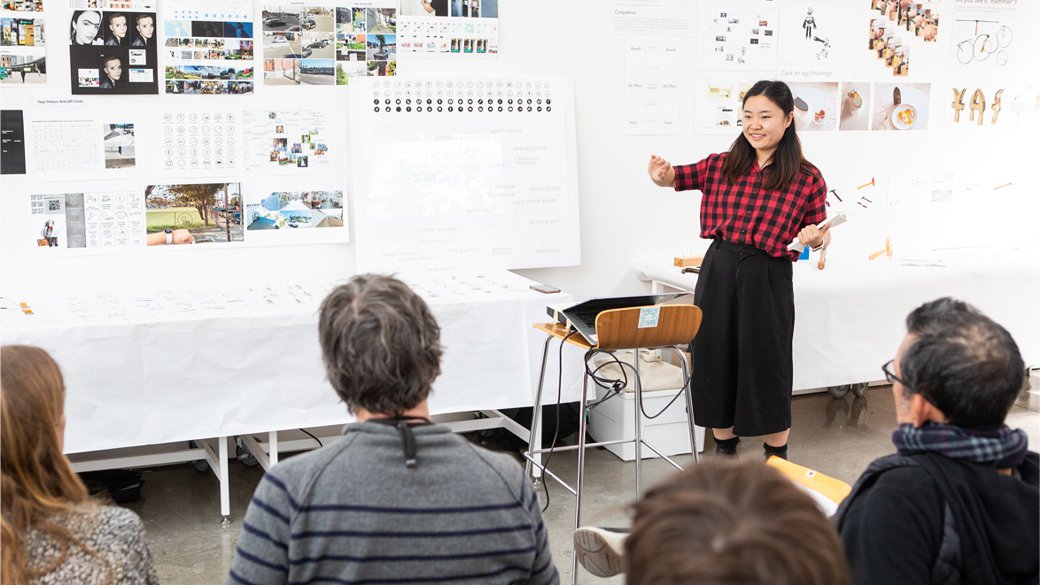 The master's in design curriculum
A graduate design curriculum is hands-on. It's built around a deep focus on the craft, methods, and theories of design, explored through research and practice. Students spend most of their time in the studio or lab rather than the classroom, iterating models and producing prototypes.
The curriculum provides a solid foundation in the craft of design and opportunities to master the latest cutting-edge tools. In a graduate design program, you'll study materials, techniques, and methodologies alongside design history and theory.
You'll also develop skills to think critically about the practice of design and effectively communicate your design ideas through documentation and presentation. You'll learn how to incorporate different kinds of research into your practice and how to do market research and pitch ideas to clients.
At CCA, students from each of the concentrations—graphic, interaction, and industrial design—bring this discipline-based knowledge and skillset to their multidisciplinary studio courses, which are organized around broad themes. Recent studio topics have included wearable technology, robots and humans, AR/VR (augmented reality/virtual reality), branding for social change, and biodesign.
The CCA master's in design curriculum culminates in a thesis year, when you'll work on an independent project that explores your own aesthetic concerns and personal interests. The project develops over the course of the year in response to rigorous critiques from faculty and guest critics from the design professions, as well as interaction with fellow graduate students. At the end of the thesis year, you'll have a project ready for publication or exhibition—you might even be ready to make it a reality.
What can you do with a master's in design?
With a graduate design degree in hand, you can find yourself as a graphic designer at a contemporary art museum, an industrial designer working on Apple's newest product, or an interaction designer revolutionizing the internet of things. You might lead teams as a creative director, brand strategist, or project manager. You could be designing indoor farming systems to address food deserts or sustainable packaging to mitigate pollution. Or you might be improving everyday life by designing the perfect coffee maker or a system to streamline paying bills or innovative wayfinding at an international airport.
"Our alumni go into all types of design jobs," says Dean. "You'll find them at big tech companies like Apple, Google, and Microsoft, and in design firms of all sizes, but they also pursue careers in the arts, entertainment, transportation, healthcare, and education. Our alumni have forged amazing careers at places like Adobe, the San Francisco Museum of Modern Art, Nike, the New York Times, Ikea, and more."
Career fairs, as well as ongoing opportunities to meet local designers through classes, lecture series, and intensive workshops, connect CCA students to job opportunities. Many pursue summer internships that they find through the CCA network, and these often turn into full-time positions after graduation.
Many graduates of CCA's MFA Design program start their own companies. Examples include wearable technology innovator Sensoree, which creates bioresponsive designs for externalized intimacy; glassware design firm Superduperstudio, which received plaudits for its spill-proof stemless Saturn Red Wine Glass; trending furniture and home goods studio The Long Confidence; and Backerkit, a start-up that helps innovators realize their crowd-funded projects.
"CCA degrees open doors," says Nugent. "Once you start as an MFA Design student here, you are already a part of that community, plugged into a network of designers, many of whom are CCA faculty or alumni. San Francisco is a design-oriented city and we are right in the middle of it."
"A CCA MFA in Design is a true launching pad into an amazing career," adds Dean. "By the time you graduate from the program, you are not just ready to begin your work as a designer, but you are ready to be a leader in the field."