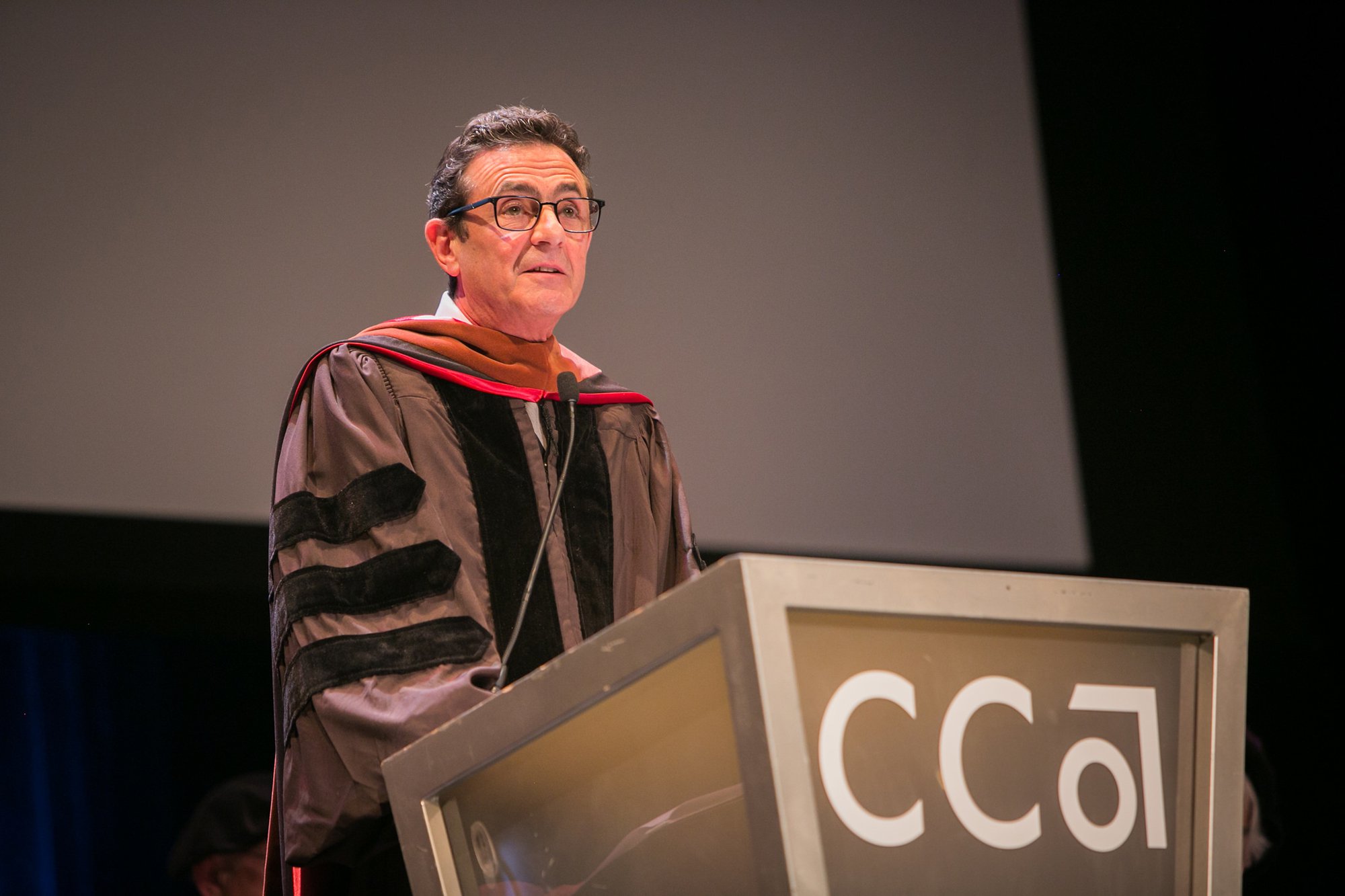 Neal Benezra receives an honorary doctorate
San Francisco, Calif., April 20, 2017 — Neal Benezra, the Helen and Charles Schwab Director of the San Francisco Museum of Modern Art (SFMOMA), will be recognized by California College of the Arts (CCA) with an honorary doctorate degree at its 110th commencement exercises at 2 p.m. on Saturday, May 13, at Nourse Theater in San Francisco.
Benezra will deliver the commencement address to more than 400 CCA undergraduates and their families. He will also be honored at a private reception the day before. Benezra has a personal connection to the college – his late father Morris Benezra received his degree from CCA (then California College of Arts and Crafts) in 1951 and taught art to many generations of students in the Richmond Unified School District.
About Neal Benezra
A Bay Area native, Neal Benezra became director of SFMOMA in 2002. Under his leadership, the museum has enjoyed a period of unprecedented growth in its collections. Benezra has initiated pioneering partnerships with artists, collectors, and cultural institutions on the local, national, and international levels, and he has significantly increased and strengthened the museum's staff.
Benezra spearheaded the project to transform SFMOMA through a physical expansion of the museum, designed by Snøhetta, and an extensive enhancement of SFMOMA's programs, collections, and education services.
Benezra oversaw an ambitious collections campaign that garnered nearly 3,000 works. He took an innovative approach to the museum's nearly three-year closure for construction by launching an extensive off-site programming initiative, SFMOMA on the Go, featuring exhibitions, public art installations, and educational programs developed with cultural partners -- including CCA Wattis Institute.
Benezra formerly served as deputy director and Frances and Thomas Dittmer Curator of Modern and Contemporary Art at the Art Institute of Chicago, a dual position he assumed in 2000. Previously, he spent eight years at the Hirshhorn Museum and Sculpture Garden of the Smithsonian Institution in Washington DC, where he was assistant director for art and public programs (1996–99) and chief curator (1991–96).
Previously he held curatorial positions at the Art Institute of Chicago and the Des Moines Art Center. He also served as one of the first coordinators of the Anderson Collection in the Bay Area. Benezra holds both an MA and a PhD in the history of art from Stanford University; an MA in the history of art from the University of California, Davis; and a BA with honors in the history of art and political science from the University of California, Berkeley.
Graduate Commencement Exercises on May 13
Prior to the undergraduate ceremony, commencement exercises for students in CCA's graduate programs will be held at 10 a.m. on May 13 at Nourse Theater in San Francisco. CCA alumna Miwa Ikemiya will be the distinguished speaker.
About Miwa Ikemiya
Miwa Ikemiya (MFA Design 2012) is the Chief Design Officer at Townsquared, a Series B funded company aimed at creating online communities to help local businesses. Founded in 2013, the network started out in San Francisco and has launched communities in Oakland, Berkeley, New York City, Seattle, and Portland. As the first employee, Ikemiya worked with cofounders Rohit Prakash and Nipul Patel on the original research that led to the creation of Townsquared.
Ikemiya graduated summa cum laude from Amherst College in 2006 with a BA in Fine Arts and Asian Studies. After receiving an artist fellowship from Asian Cultural Council, she moved to Cambodia to teach art to at-risk youth in both urban and rural communities. There she learned about design-driven social initiatives making an impact on members of these communities, which led her to apply for the Graduate Program in Design at CCA.
After graduating from CCA, Ikemiya worked at Microsoft Research. Since joining Townsquared she has maintained close connections with the CCA community and has consistently hired alumni to work with her on the design team.