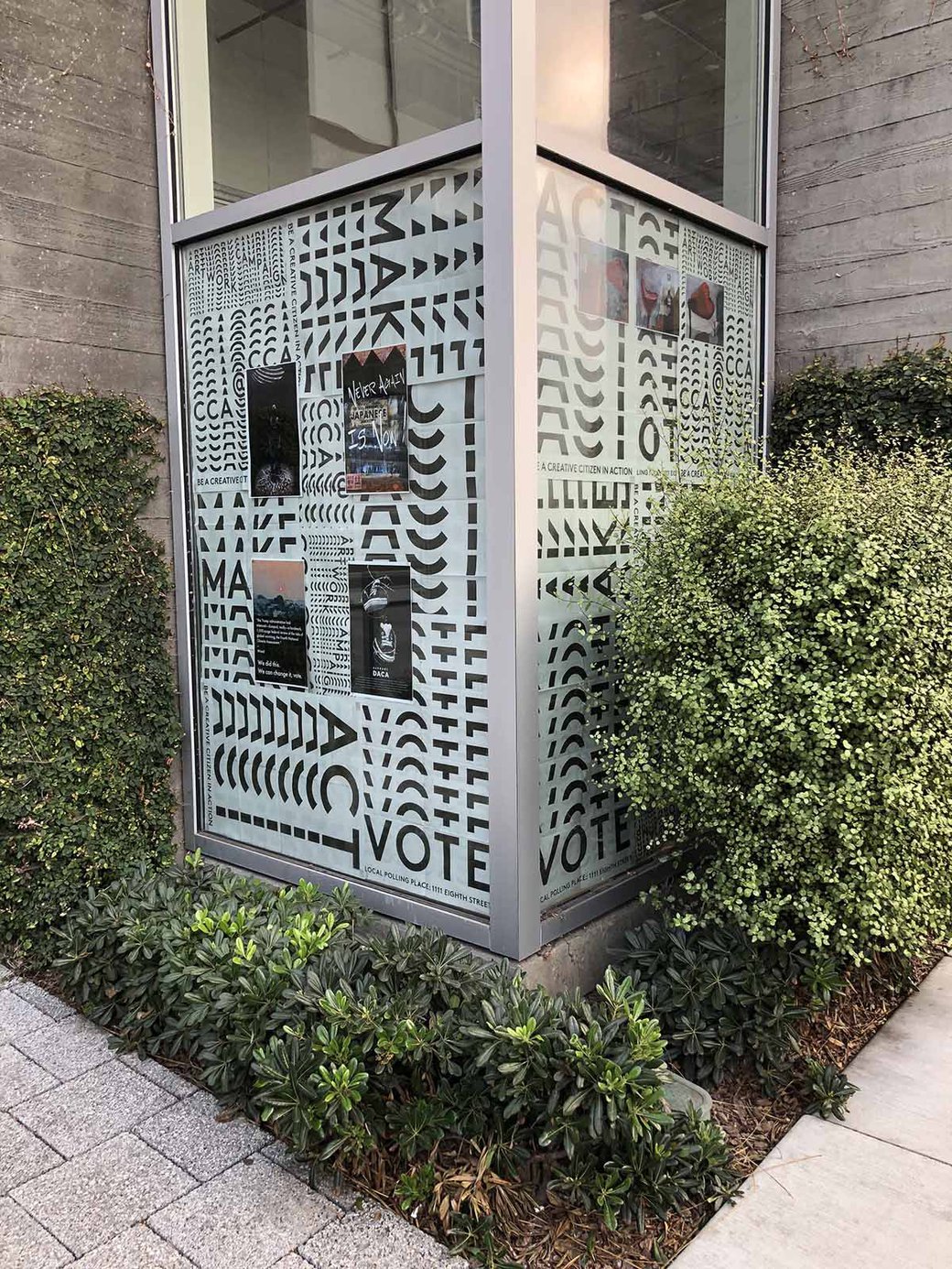 Creative Citizens in Action at California College of the Arts presents the [email protected] Artwork Campaign at the CCA Hubbell Street Galleries (161 Hubbell Street, San Francisco), featuring more than 80 artwork and poster designs by 66 CCA students, faculty, staff, and alumni that promote creative activism and democratic participation in the lead-up to Election Day on November 3, 2020.
The exhibition can be viewed in person in the windows of the CCA Hubbell Street Galleries from October 13–December 1 and online at creativecitizens.cca.edu through the end of the year. It includes artwork that addresses important contemporary themes like racial justice, Black Lives Matter, immigration rights, the right to vote, COVID–19, global warming, and the healing power of art. Many of the featured artwork and designs are available to the public for free download to print and display.
"At CCA, we are committed to working with faculty, staff, students, and election officials to reduce barriers to student voting," said Jaime Austin, CCA's director of Exhibitions and Public Programming and one of the founding members of Creative Citizens in Action. "In addition to CCA serving as a polling location and hosting a series of virtual 'get out the vote' events, we wanted to enable our community to share work with one another—both online and in our galleries—to activate CCA's campus with diverse visual messages that reflect the issues that matter the most to members of our community during this tumultuous time."
Creative Citizens in Action ([email protected]) is a collegewide initiative that promotes creative activism and democratic engagement through public programs, exhibitions, and curriculum connections. Founded in 2018, the initiative grew out of CCA's fall 2018 collaboration with alumni Hank Willis Thomas and For Freedoms and continues to expand based on a shared desire by CCA students, faculty, and staff for more connected programming related to art, activism, social justice, democratic engagement, and current events.
This fall, nearly 30% of all CCA students are eligible to vote for the first time in a U.S. presidential election. [email protected] leads the college's efforts to increase voter engagement through voter registration drives, "get out and vote" events and info sessions, and support for student groups focused on voter outreach. CCA's San Francisco campus has served as a polling location in Potrero Hill for primary and general elections since March 2018.
[email protected] hosts the Deborah and Kenneth Novack Creative Citizens Series, an events series featuring fall programs, town halls, and virtual brunches connected to democratic engagement, voting registration, and creative citizenship. Through faculty micro grants, [email protected] also supports faculty members whose coursework ties to democratic engagement and encourages civic engagement through public-facing programs.
[email protected] is funded by a new endowment gift to launch the Deborah and Kenneth Novack Creative Citizens Series, an annual series of public programs focused on creative activism that spans the disciplines of art, design, architecture, and writing.
Press materials
Media contact