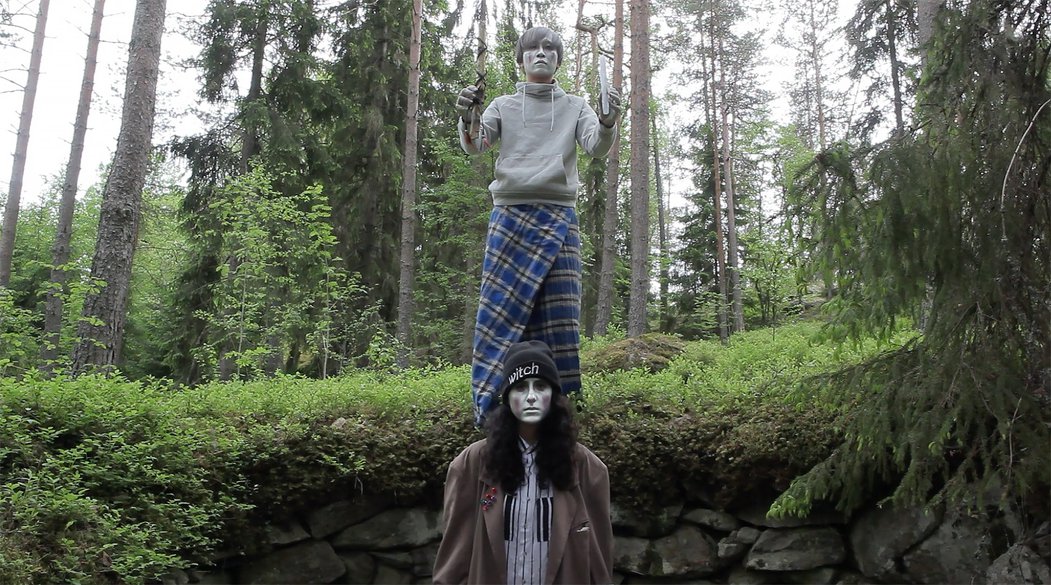 The Word for World is Forest, a project curated by CCA's Curatorial Practice graduate program Class of 2020, centers around world-building and takes alternative ways of being as its point of departure. The project, which features work by Sofía Córdova, Beatriz Cortez, Candice Lin, Allison Smith, and Patrick Staff, will be available for viewing online at wattis.org beginning May 14, along with an exhibition catalog that can be downloaded or ordered as a hard copy.
The Word for World is Forest can be explored on the Wattis website through a virtual rendering of the Wattis gallery—a working document for visitors to experience the intended spatial relationship of the artwork—as well as through images of the artwork, a curatorial essay, the downloadable exhibition catalog, video interviews with the artists, and more.
The Word for World is Forest was originally scheduled as a physical exhibition to take place April 16–May 16, 2020, but was indefinitely postponed as part of CCA's ongoing response to help limit the spread of COVID–19. Additional information about a possible physical exhibition will be available in the coming months at wattis.org.
About The Word for World is Forest
The Word for World is Forest invites the audience to imagine a future for San Francisco that allows for various ways of coexistence and values joy and care for the neighbor and for the other. It turns to artistic practices that demand their own agency through world-building and alternative ways of being. The work investigates how speculative thinking can challenge dominant narratives. By looking to ways of being that value living with allied species in a conscious symbiosis, the project imagines an alternative world of mutual respect, care, and survival. Sofía Córdova, Beatriz Cortez, Candice Lin, Allison Smith, and Patrick Staff provide lenses for viewing time as malleable and circular—constructing a world where the future is, in fact, possible and within reach.
This exhibition takes its name from Ursula K. Le Guin's book The Word for World is Forest. Beginning in the 1950s, Le Guin's science fiction insisted on the power of the imagination and regarded fantasy and speculation as a way to challenge the established order. Science fiction is sometimes abbreviated as SF, which Donna Haraway and other thinkers have also used to stand in for terms including speculative fiction, string figures, and speculative feminism. The universes Le Guin created featured protagonists concerned with creating an impact while causing the least harm to others—not only humans, but all beings that accompany us on this planet: the stones, streams, plants, birds, rivers, and the rest of our nonhuman kin.
Córdova, Cortez, Lin, Smith, and Staff investigate ways to build on top, to replant displaced knowledge and cultivate new ideas within the soil that has already been tilled. The world as we know it may not need to be thrown away, just need to see something new.
For this project, Córdova has developed a new video in her dawn chorus series, which imagines earth 500 years in the future after climate collapse, to be exhibited as an installation with new sculptures. A short clip of the new video will be available online; the full video and installation will premiere for The Word for World is Forest if the exhibition takes physical form at a later date.
Sculptures by Cortez, Lin, Staff, and Smith are also featured in the project. Cortez's Shields (2019) takes the shape of three geodesic domes that occupy the gallery. Made out of recycled materials, these sculptures both suggest nomadism as a choice for a future that echoes certain indigenous ways of living, while raising awareness around forced displacement and detention, precarity, and an unsustainable contemporary housing system.
Lin drapes the figurative sculptures Witness (Blue Version) and (Yellow Version) (2019) in cloaks woven with patterns derived from drawings made as she conjured hallucinations by dosing herself with herbal tinctures. Lin and Staff's Hormonal Fog (2016–2018) is a smoke machine that makes use of homemade herbal tinctures to produce a hormonal smoke that lowers testosterone levels in the body.
Smith's Ritual Instruments for Addressing 400 Years of Trouble (Harms Done, Harm None) (2020) are handmade objects that facilitate a confrontation with the pain and grief caused by the artist's ancestors.
An installation featuring a garden of plants indigenous to the Americas, cultivated by the curatorial cohort through the instruction and guidance of Cortez and her collaborator Elizabeth Pérez Márquez, was intended to grow in the Wattis gallery just inside the front windows for the exhibition. The cohort is now caring for these plants at home. Photo updates on the growing gardens will be available online and updated over the course of the summer; a plant list and growing instructions are also shared for visitors in the catalog.
The Word for World is Forest exhibition catalog
An exhibition catalog will be available on May 14 as a free PDF, with physical copies available to order. The catalog features an interview with Sofía Córdova, an essay and instructions for growing a garden of plants indigenous to the Americas by Beatriz Cortez and Elizabeth Pérez Márquez, a text by Allison Smith about her ritual instruments featured in the project, field notes from Northern California burn zones by Gavin Kroeber, and essays by the curatorial cohort.
About CCA's Graduate Program in Curatorial Practice
In CCA's two-year MA in Curatorial Practice program, students work closely with faculty alongside visiting curators, designers, and artists to develop the intellectual and analytical skills needed to pursue a range of professional paths in curating and contemporary art. The program has a broad perspective of the curatorial, positioning the curator as a productive agent and researcher who embraces context as a valuable asset for articulating connections among artists, ideas, objects, archives, institutions, digital technologies, and audiences. The program equips students with knowledge and tools, inspires curiosity, and builds self-confidence for working creatively across disciplines and thinking imaginatively about mediation today, incorporating activity beyond art into the field of curating.