Each year, Eduardo Pineda's Mural Project course is a rite of passage for some soon-to-be graduating CCA students. Most years, the magic of the course happens when students from different disciplines—glassblowers, fashion designers, illustrators—translate everything from hot-shop know-how to mood-board-making chops into a final, 2D-synthesized mash-up. Animators and sculptors use motion and materials that don't necessarily translate readily to the flatness of mural making or the stillness of the final artwork. And that's the point.
"This class was challenging in a way because not all the students in our class are painters or illustrators," says Joyce Da Bean Yu, an Illustration major. "We have people who major in glassblowing or jewelry and metal, who use different mediums for their art. … This class opens up the possibilities of creating a mural in several ways instead of having to just paint it on a wall."
This alchemic practice is a key piece of the course experience. Students learn how to reach beyond their own fields, how to let go of what they already know, in order to gain confidence in other areas. Individual students may create a beautiful expression of their own idea, but the mural is a collaborative endeavor. When students bring their ideas to the group, they must either be picked up and polished or woven together with someone else's idea—not an easy feat.
So what does that multifaceted process look like in a remote learning environment? The word "mural" echoes the French word mur, for wall. But without a physical surface to create on (thanks, pandemic), does a mural need a wall?
Maybe not. The college's public-facing website, cca.edu, is "our metaphorical exterior wall," says Pineda, senior adjunct professor of Critical Ethnic Studies. CCA's intranet, called Portal, is "our metaphorical interior wall," he says. This year, those are the walls supporting the students' work, a mural made of points and pixels instead of brush marks and bricks.
Social practice that spans time zones
The contemporary U.S. mural movement formed in the late 1960s, a new public art movement built on the foundation of a national struggle for equality and peace. With that legacy in mind, Pineda and his students turned for inspiration to the CCA Creative Accord, a collegewide agreement that provides a personal and collective roadmap to advancing the belief "that artists, designers, architects, and writers have the power and responsibility to change the world as good neighbors and global creative-citizens."
"The Creative Accord is intended to help us, as a community, discover common goals, especially during hard moments," says Director of Student Life Noki Seekao, who helped write the accord. "More importantly, it helps us find ways that we can be inclusive. As artists we've always been at the forefront of that."
The Creative Accord has four principles: Radical Responsibility, Think Beyond, Cultivate Creative Action, and Become chimeraMADE (the chimera is the CCA mascot). Students in the Mural Project course split into four teams, each tasked with creating a section of the new virtual mural to represent one of these core principles. The four designs would then come together to complete the final mural and live on CCA.edu and Portal, the college's external and internal websites.
"Because of this process we were each able to be alone with the piece and surprise the others with what we had contributed."
(BFA Illustration)
A mural is often a celebration of joy and freedom. It's public. It's free. And you don't have to enter a museum to see it. It's a social practice that can visualize a moment in time. A mural becomes part of a community's story by engaging and inspiring the people who see or interact with it. In this way, a mural may give birth to an action. In the Mural Project course, an action gave birth to a mural.
Students began their work by interviewing CCA community members, from staff to leadership, about what the principles of the Creative Accord mean to them. The teams then set to work, with each student drawing their own interpretations of their assigned principle. Throughout the semester, their designs changed and took shape in a unique way. "We had only brief communication throughout the process," says Lauren Brown, an Illustration major, "so when we opened the shared Google Drive it was like a little present waiting for us. Because of this process we were each able to be alone with the piece and surprise the others with what we had contributed."
Bringing the Creative Accord to life
As part of this co-creation process, students used their interviews with CCA community members and conversations with each other to brainstorm visual elements for the mural, and they researched CCA's history for other cues on the theme. Initial drafts for the principle Become chimeraMADE, for example, looked to reinterpret the CCA seal, which shows tools folding into the college's motto, "Theory and Practice." The tiny oak acorn in the college seal, Seekao says, "speaks to the deep roots that the college has to the Bay Area and to the land itself." Today it relates to CCA's situation atop unceded Chochenyo and Ramaytush Ohlone land in Huichin (Oakland) and Yelamu (San Francisco).
The teams further considered the symbolism of elements beyond the college's walls. "The sunflower was chosen because a sunflower cannot grow without the sun hovering over the plant," says Mitchell Shim, a Jewelry and Metal Arts major who worked on the design for the Cultivate Creative Action principle. "Sunlight is crucial or it won't be able to grow to its normal size or shape. It's similar to the concept of the flower and loud speaker [another symbol that appears in the mural], if we don't have the confidence to say something nothing will eventually happen."
"You're representing more than just yourself, you're actually representing all of your other classmates."
Senior Adjunct Professor, Critical Ethnic Studies Program
Students refined their collaborative work in response to feedback garnered from community critiques, working in online breakout rooms to discuss their group's critique and assign tasks for the next revision. "You're representing more than just yourself," Pineda reminded them during one class. "You're actually representing all of your other classmates."
"It was unfortunate, at the start of the semester, to hear that we weren't going to be actually installing a physical mural and that, instead, it was going to be a digital piece, because I'm trying to pursue a career as a muralist," says Brown, an Illustration major. "However, through the process of digital communication we were still able to create a powerful piece."
Through mural making, which the course describes as a "collaborative process rooted in community dynamics," the students tell their stories and ensure that more stories will be told. This fall, those stories included a unique exploration of 2020, as well as fresh interpretations of the principles of the Creative Accord. "The Creative Accord is not something new. It's actually been baked into the college's DNA for over a century," Seekao says. "What does it mean to be radically responsible? What does it mean to cultivate creative action? These are things that we intrinsically do because we are part of CCA. We're kind of peeling back the layers, bringing it to life, really getting to the core."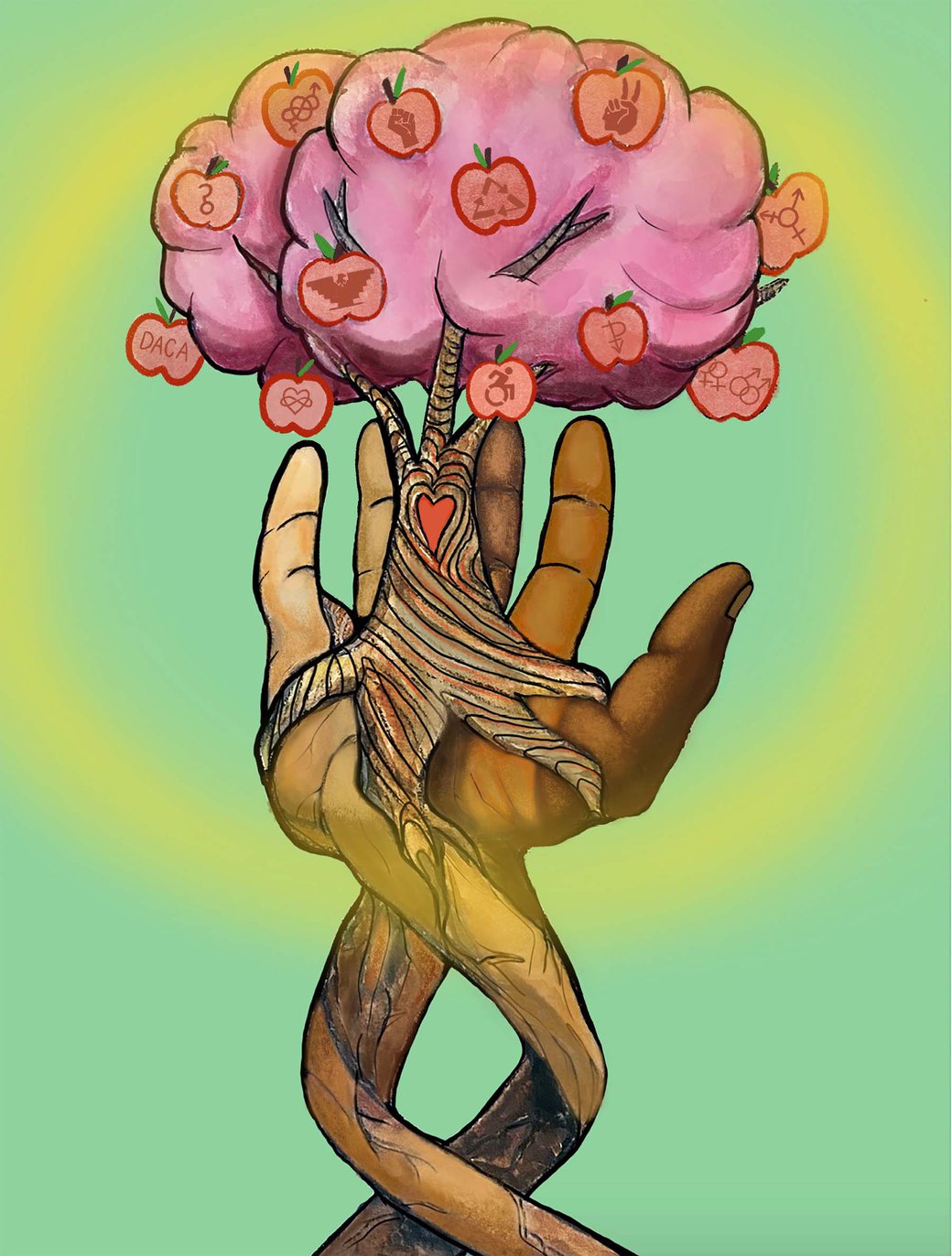 Radical Responsibility
We approach our craft with the understanding that we are interconnected and responsible creative-citizens.
By Joyce Da Bean Yu, Hailey So Jung Kim, Zephyr Alicia Villegas, and Jason McDonald: "The idea is based on DOING SOMETHING after you LEARN SOMETHING. It is about taking action instead of being passive. This is shown by having knowledge being the root of our action. We wanted to also put in being inclusive and how it is everyone's job and responsibility to take on this role."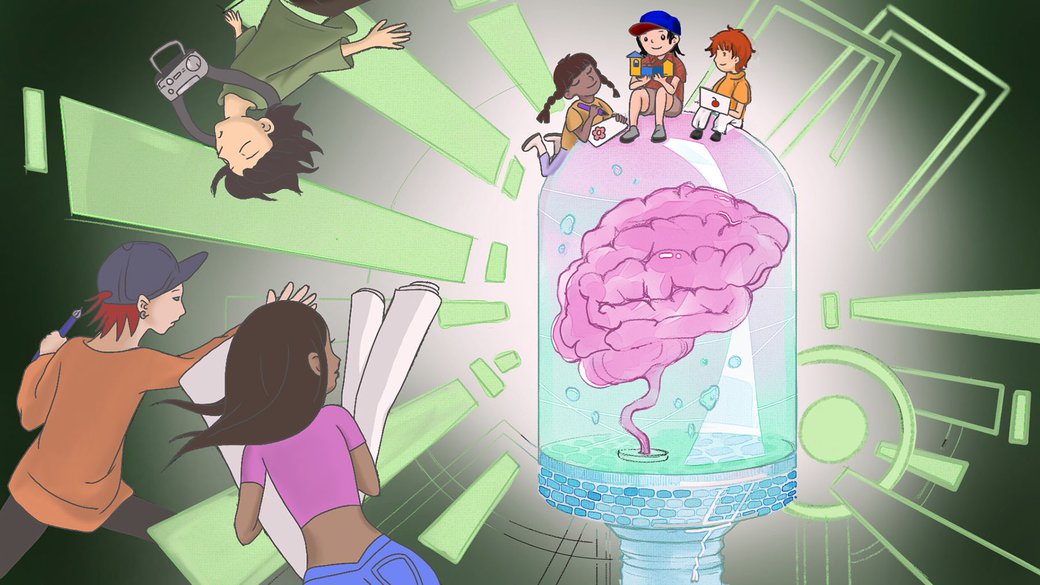 Think Beyond
We examine and apply critical curiosity to ourselves, others, and our craft.
By Velvet Qiongwen Cao, Keyan Liao, Meiru Wang, and Jordyn Mengqi Ju: "The flash of light and the brain in the container represents the energy of independent creativity that all students bring to CCA, and that impacts their fellow students. Students are represented as youthful and naive artists when they first arrive at CCA and, together with their teachers, they push their artmaking further."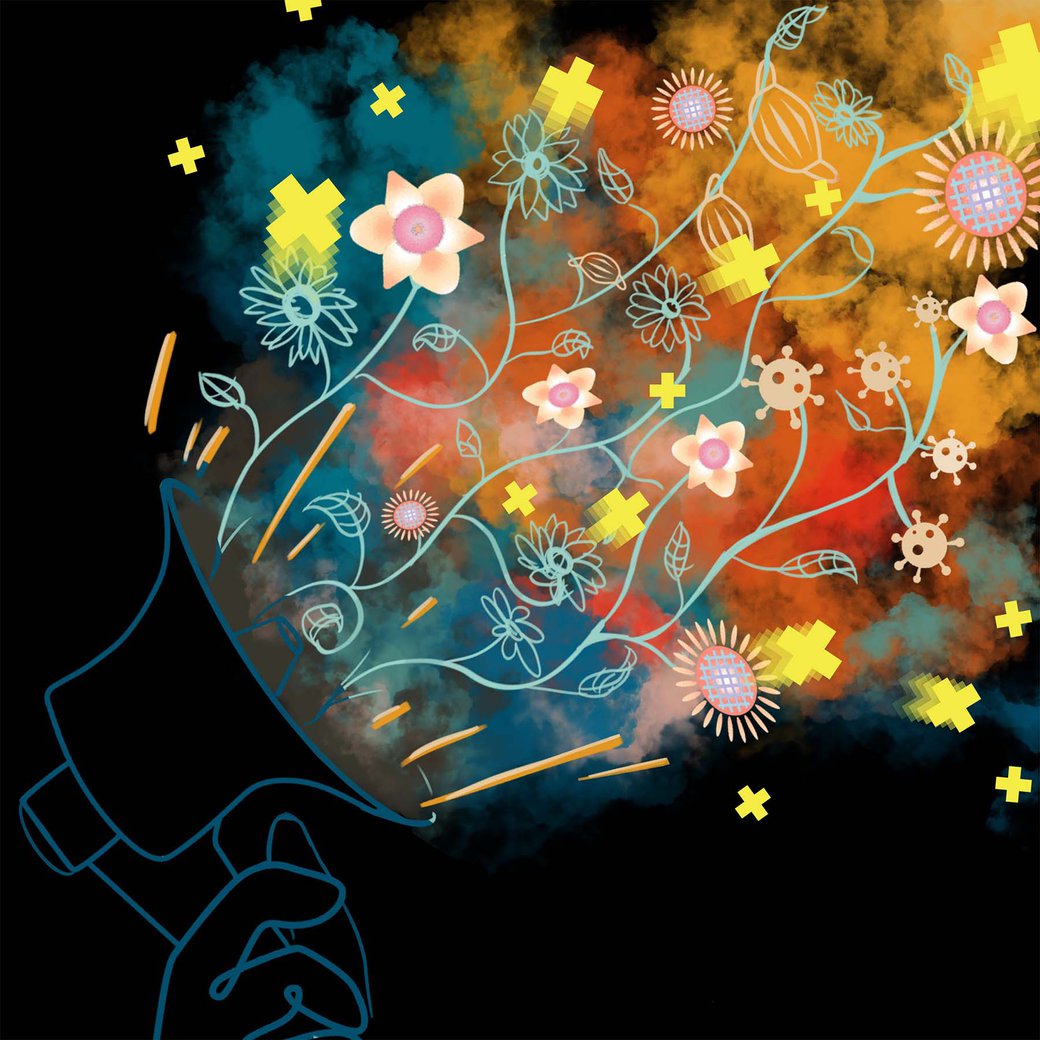 Cultivate Creative Action
We utilize different tools to advocate for informed social change that impacts us, our making, and our community.
By JE Jie-I Chen, Jung Yong Kim, Luna Jing, and Mitchell Shim: "The idea of this is that we, as art students, use art, creativity, and craft as nutrients and power to encourage civic engagement and call-to-action the community. We focused on spreading a message of caring for each other during the pandemic."

Become chimeraMADE
We actively contribute to being part of a creative community.
By Xinyan Kong, Jason Saurez, Lauren Brown, and Fatima Mendez: "Students come to CCA where their own knowledge is saturated with that of others. Students grow and break out as learned artists to take on the world as 'creative beasts'—the Chimera."
Typically, the sky and the sidewalk frame a mural, providing horizons above and below. What frames a digital mural? The question of dimensions is interesting in light of the transition from a physical mural to a virtual one. How does a community project its voice visually? How does a group of artists occupy a 2D plane? How will the mural take up space within a smaller digital window pane on the CCA web pages?
"Things that we thought were ephemeral in community murals become quite timeless and last decades," Pineda says. Community mural projects "start out as single murals on a wall, but then different components of them are used for community events or to represent a community belief."
A focus on one's own unique moment doesn't mean the mural won't have relevance years from now, he adds. A present moment in art can transcend time by being specific, instead of attempting bland universality. In the Cultivate Creative Action team's initial drafts, for example, the bold outline of a bullhorn illustration spit out COVID-19 droplets, masks, and other symbols of our pandemic year.
Martinez Hall murals from the archives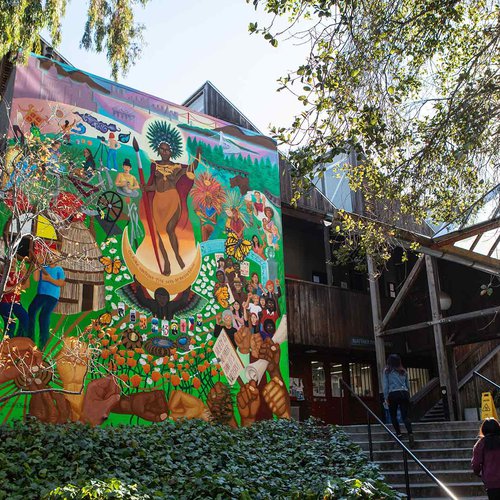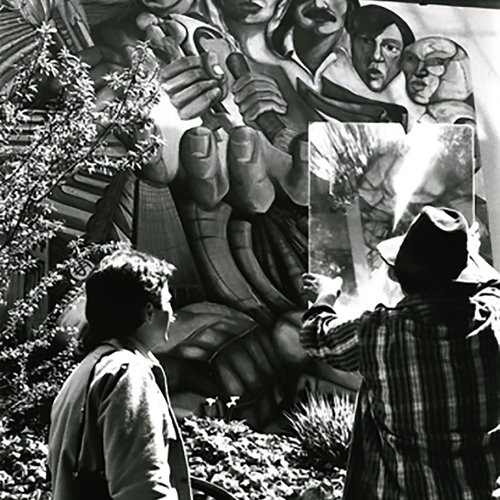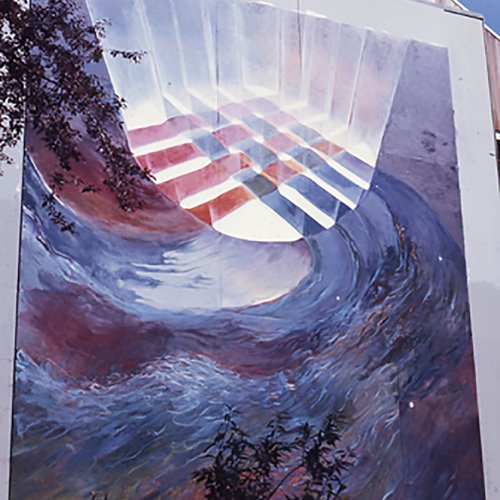 When looking at murals from CCA's past, we see larger-than-life hands. We find acorns containing multitudes and Patwin basketry. We meet Black and Indigenous leaders and people in community framed by a big sky. In our archive of CCA murals, we watch migrations. We gaze at butterflies. We discover roots reaching and enfolding. We see a twilight celebration, an unveiling. We join in a party where intergenerational comforts are drawn. We discover through illustration a magical-realist storm drain. We lift up workers' tools. We appreciate people with disabilities having a seat at the table. All of this happens through community-driven art.
"I think for me, in light of the pandemic, in some of the inequities and injustices that have been happening over the summer," Seekao says, "the creative community is at the core of what keeps us together, what binds us together."
In this way, murals endure, even if they were painted onto the plywood perimeter of a construction site. Or sometimes they get knocked down and painted over. The virtual mural represents a rare opportunity to visualize the shared values of the entire CCA community—an artwork that could live in perpetuity. In a recent virtual class meeting, as the students prepared their final mural designs, Pineda told his students, "We're in a different time, and we have to recognize that. You know, maybe your images will become a hundred years old at one point."
Like the Creative Accord says, let's Think Beyond.