Authored by Juan Carlos Rodríguez Rivera, with an introduction by Shalini Agrawal and Katherine Lam
As we create space for community and collaboration, we invite you to join us in acknowledging the land where we stand. This text was written while living and creating on the unceded traditional homeland of the Ohlone Ramaytush people who have stewarded this land throughout generations and still do. We pay tribute to Indigenous elders' past, present, and future.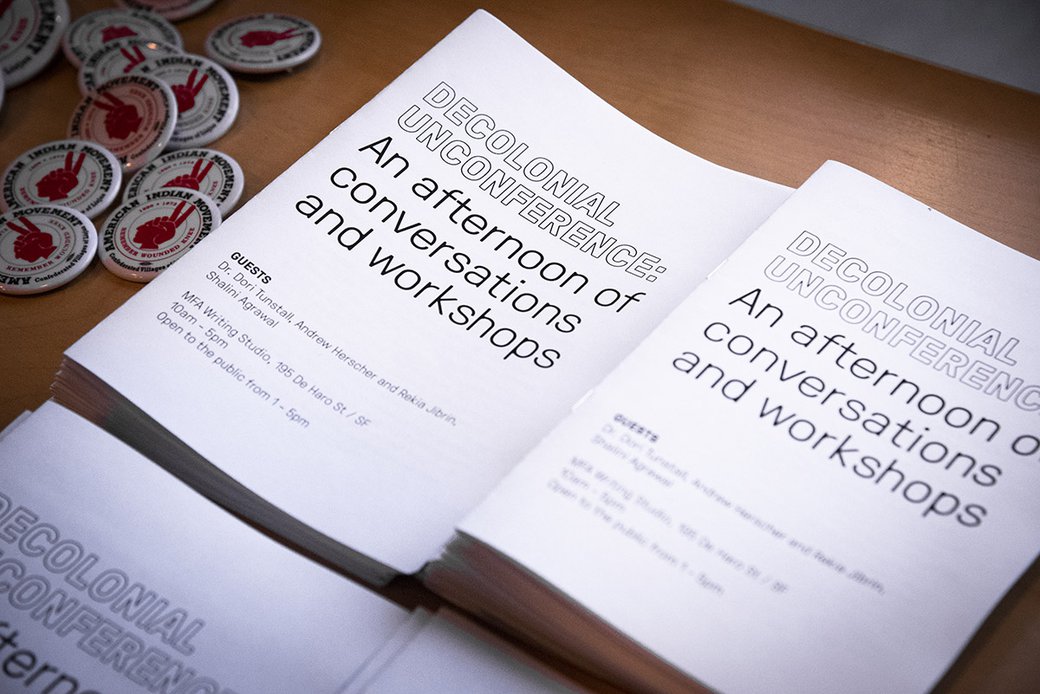 As we recognize the enormous absence of Indigenous knowledge and practices in our society, CCA is taking the initiative to lead conversations about decolonizing practices in academia and beyond. CCA hosted the Decolonial Unconference* on February 20 and 21, 2020, as the first in a series of programs inviting the public and guest speakers to come together with CCA students and faculty for a global discussion of decolonizing practices in design education. As educators, we are in a unique position to integrate this learning on a deep level—and it begins in our classrooms.
—Shalini Agrawal, associate professor, Diversity Studies and Katherine Lam, assistant professor, Furniture
"A world where many worlds fit."
The concept of a decolonized designer is an oxymoron. A decolonized designer is in itself a colonial thought, one that emphasizes results instead of processes and learnings. A couple of years ago, someone asked me, "What does a decolonized designer look like?" and I blanked; the question caught me off guard and I certainly didn't have an answer. As of today, I still don't think there's a definite answer, but there are many evolving guiding concepts of what a designer is and should be. As Mona Sloane states in Design Issues Volume 35, design has become subject, concern, and verb for many disciplines. With design moving forward to embrace and be more intertwined with socially interconnected practices, it's imperative that designers engage seriously, responsibly, and respectfully with issues affecting people and nature. Furthermore, the designer's role is to work toward decolonization by honoring Indigenous knowledges and practices, decentering eurocentric perspectives, and thinking about new possible futures that are non-oppressive and non-hierarchical.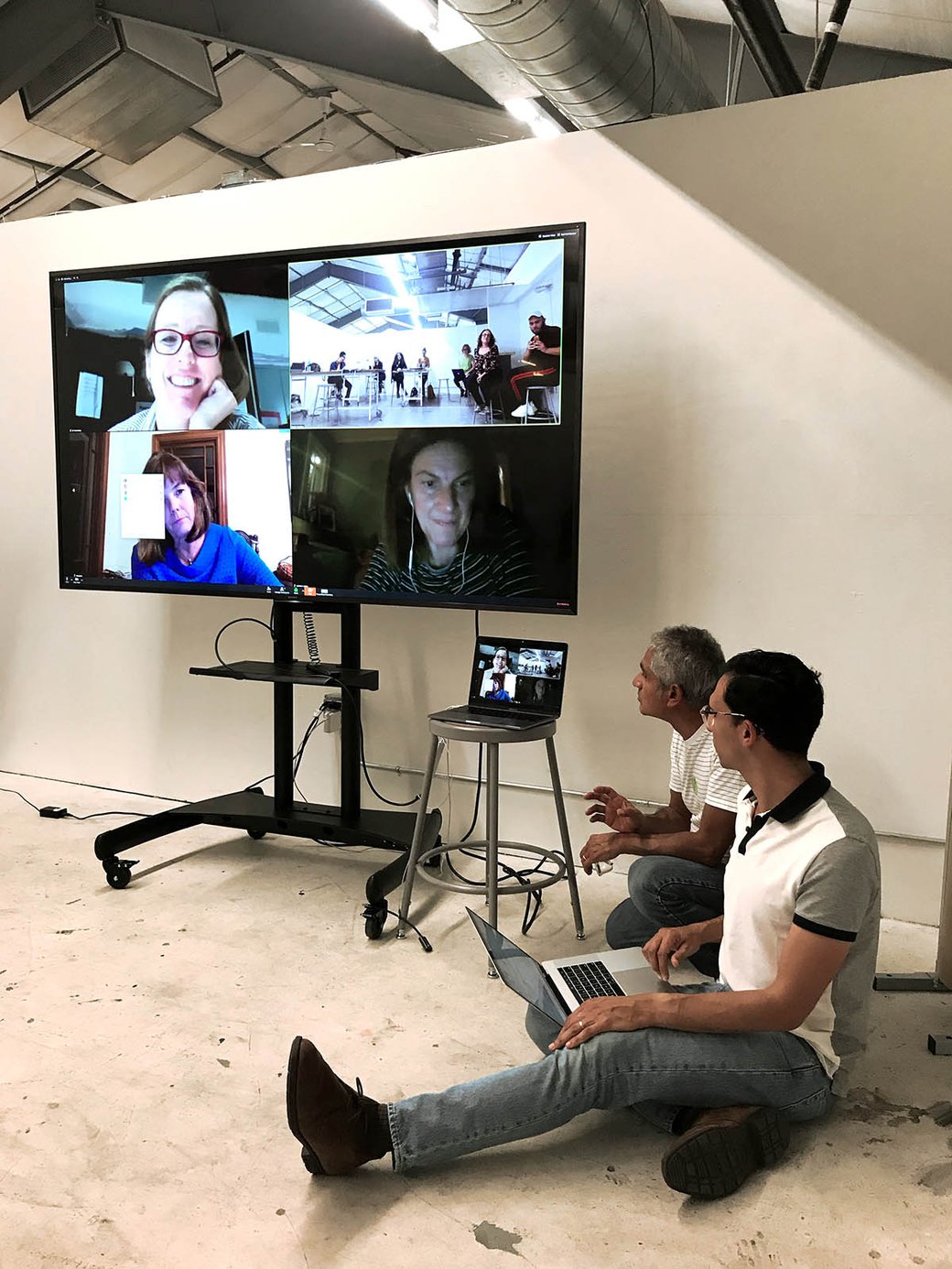 Decolonial School is a collaboration between CCA's divisions of Design, Fine Arts, and Humanities & Sciences. The project was initiated by Rachel Berger, chair and associate professor of the Graphic Design program; Shylah Pacheco Hamilton, chair and assistant professor of the Diversity Studies program; Susanne Cockrell, associate professor of the Community Arts and Graduate Fine Art programs; Rebekah L Edwards, interim chair and associate professor of the Critical Studies program; and myself, Juan Carlos Rodríguez Rivera, assistant professor of the First Year Core Studio, Graphic Design, and Diversity Studies programs. It was created to address CCA's need to facilitate dialog within our diverse educational community as we become increasingly international and unified on one campus. When looking through a decolonial frame, diversity and inclusion, English learning success, a unified campus, and sustainability are deeply intertwined categories, rooted in our colonial legacy, present, and future.
Decolonial School is a three-year project with four key components:
Decolonial Curricular Development Pilot, 2019–2020
Decolonization Symposium, January 2021
Decolonization Free School, 2021–2022 (one day of free classes where students, alumni, faculty, and the Bay Area creative community learn theoretical, practical, and interdisciplinary skills related to their role in decolonization processes)
Decolonial Resource Publication, 2022 (a compendium of all the resources developed through this initiative)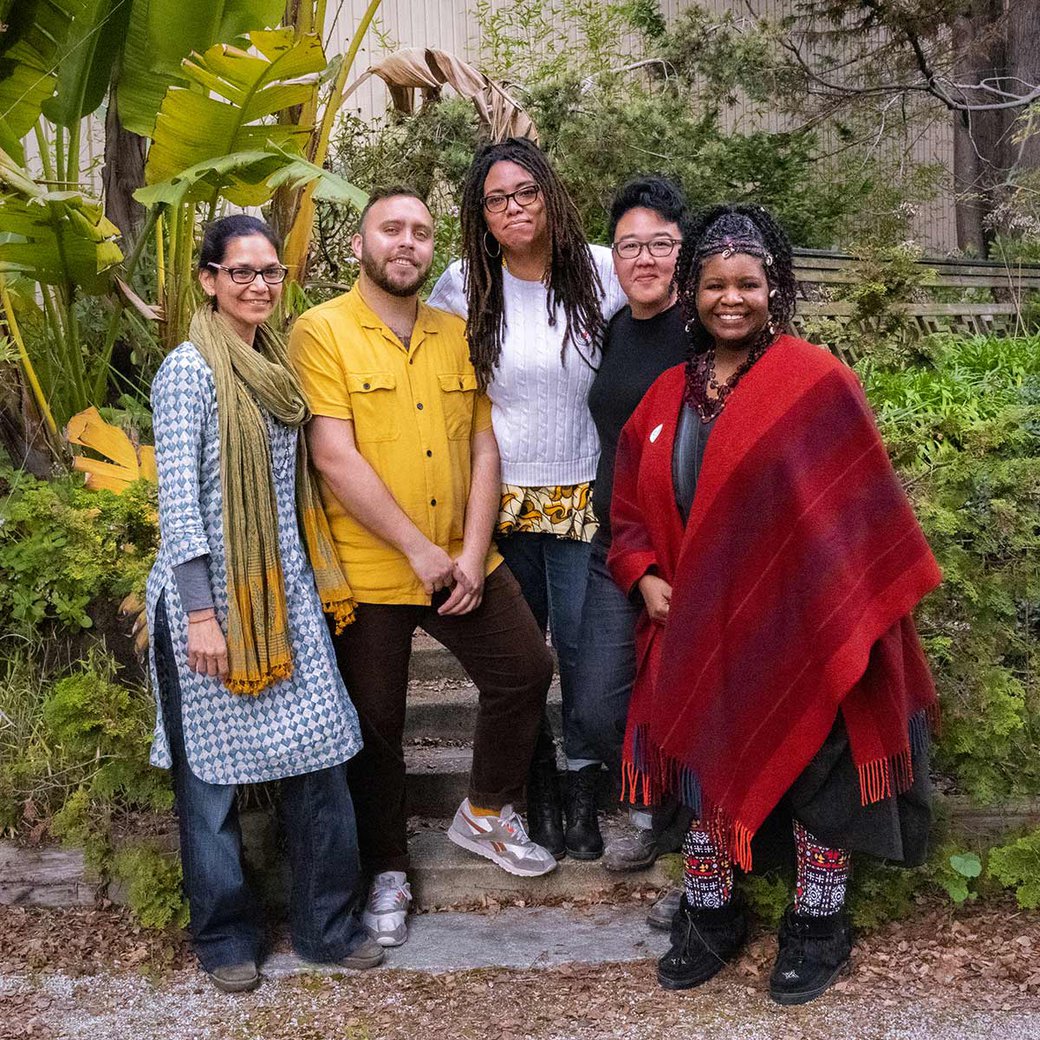 The Decolonial Curricular Development Pilot launched in fall 2019 gathering 15 to 20 faculty members from different disciplines for monthly meetings (physically and virtually). We discussed, brainstormed, shared knowledge, and challenged our own practices and curriculums, reading and learning from a diverse range of decolonial frameworks, including Ruth Wilson Gilmore, Arturo Escobar, Dori Tunstall, and Sadie Red-Wing. These meetings were adapted from my Decolonization + Design: Methodologies + Practices course and experiences as a Boricua diaspora—from an ancestry in Puerto Rico continuously resisting erasure as a colony of the United States. In these meetings, we were attentive to creating a space that follows a non-hierarchical format where power dynamics are minimized and refocusing on collaboration while building lateral power structures. Part of this practice included using food as a way to share and build community, sharing personal knowledge and experiences, being vulnerable, and holding each other accountable. We incorporated our conversations into strategies that address decolonial thought, land relationships, coloniality, whiteness, diversity, inclusion, equity, and decolonizing design on our respective syllabi this past spring.
It's worth saying that we are not reinventing the wheel, and the work being done at the Decolonial School acknowledges the work done by those before us and the work being done currently by Indigenous and historically marginalized scholars in the Global North and the Global South.
Honoring Indigenous knowledges and practices
"Decolonization brings about the repatriation of Indigenous land and life; it is not a metaphor for other things we want to do to improve our societies and schools."
Decolonization is not a metaphor. Decolonization is a process that starts with self-reflection, structural evaluation, and institutional restructuring, and it requires time, vulnerability, and accountability. The term's trendiness has derailed the conversation and continues to be used as a synonym for design projects that deal with social changes regardless of their connection to Indigenous land and life. One of the main goals in my practice, and for the Decolonial School, is to make sure decolonization becomes an action and does not continue being used as a metaphor for anything related to progressive social practices. The Decolonial School's first session circled around land relationships and understanding coloniality, capitalism, and whiteness as a result of modernity—the first global design project—that centers westernized ideals of beauty, progress, and politics. Design is deeply embedded in capitalism, as Colombian American anthropologist Arturo Escobar has noted. Design's long and complex relationship with power and capitalism continues to produce work that fuels power structures and oppressive violent systems. Hence, Escobar proposes design as both cause and potential cure for the current ecological and social crisis. I've come to understand design as a colonial agent, therefore a decolonial agent.
"Design produces culture and culture produces design."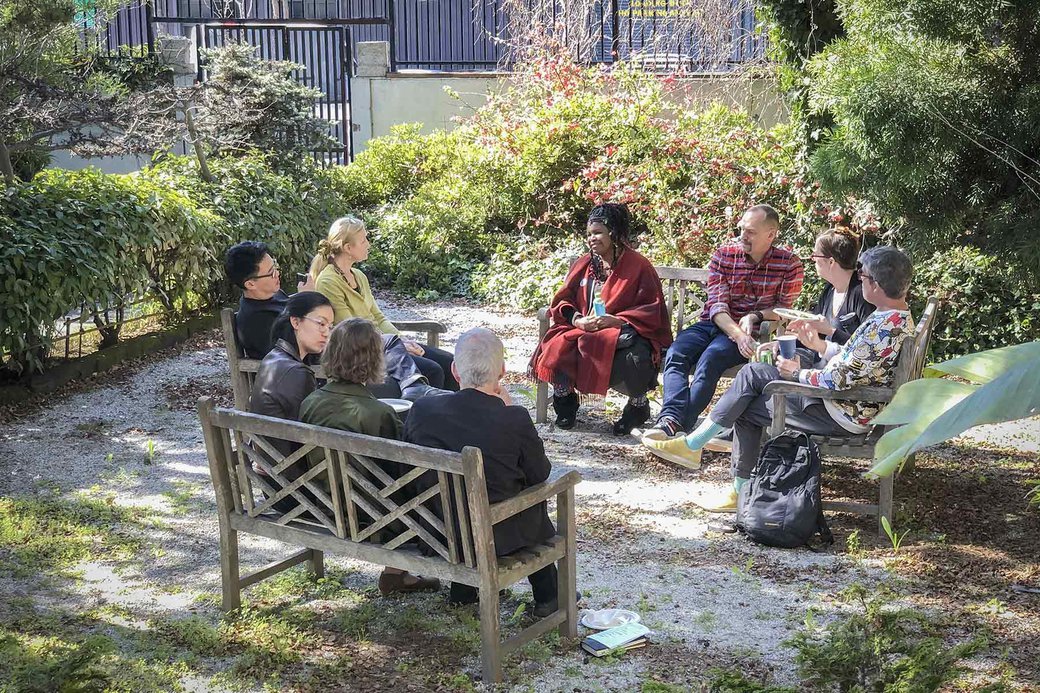 Design produces culture and culture produces design. Designers' creations are not limited to tangible items; ways of thinking and creating also have a direct impact on the planet. One of the principles guiding the work at the Decolonial School is to work together in transitioning design into a non-anthropocentric discipline: How can design encourage students, faculty, staff, and community to understand the human as part of a vital system and not as the absolute top of the world's ecosystems? How do we expand sustainable design's definition as more than production and tangible results, when sustainable design still operates under neoliberal structures and capitalist interests, toward acknowledging how Indigenous communities had been, and continue to be, stewards of this earth? We need to localize ourselves by understanding whose land we are standing on, what are their practices, what are their stories, what are their aesthetics, and honor those by not co-opting their languages, practices, and stories but by creating the space to center and honor them. It's imperative to understand our complex relationship with modernity, whiteness, capitalism, and colonization as part of our individual decolonial process.
Decentering eurocentric perspectives
Westernized design has intricate roots in modernism and the Bauhaus, moments in history led mainly by white european men, while design historians continue to leave out knowledges, histories, and methodologies that challenge eurocentrism. Countering this, last year CCA presented the exhibition As, Not For: Dethroning Our Absolutes, curated by Jerome Harris and showcasing an incomplete historical survey of works created by African American graphic designers over the last century.
From the Decolonial School's focus on how to relate diversity, inclusion, and equity to artistic and design practice, the cohort is creating a running database including names, fields, contact information, and details about Indigenous and historically marginalized designers. This database will be open for everyone and will function as a resource for folks interested in decentering eurocentric narratives and creating an inclusive design field by making sure the voices of historically marginalized communities are restored in the dominant narrative.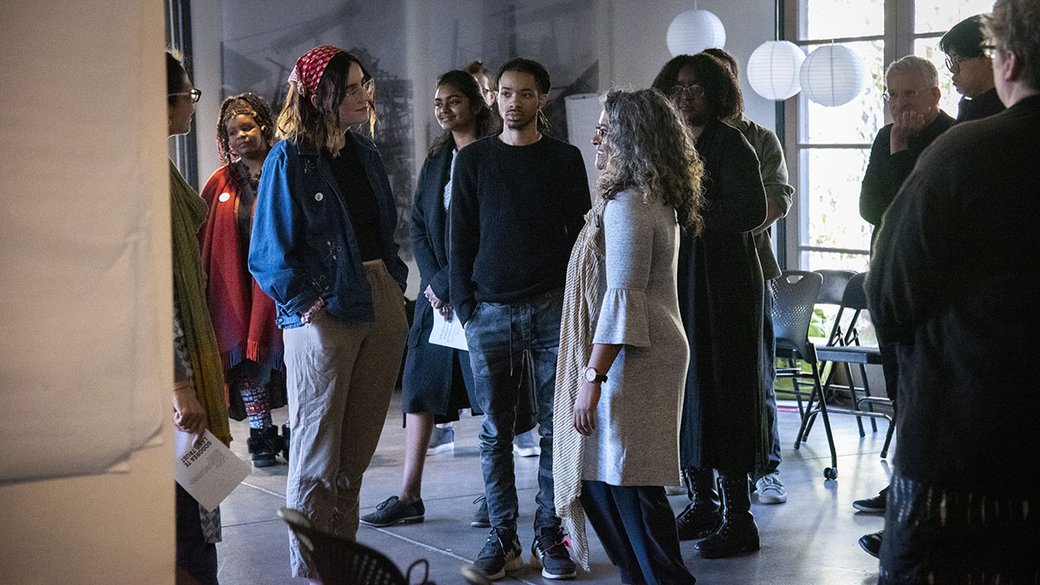 New anti-oppressive futures
As designers, when we create thinking about the future, we are thinking about possibilities, we are designing possible futures (plural). Decolonizing design means creating a world where many worlds fit, as the Zapatistas put it. That doesn't mean any kind of future. We should be working on designing futures that are non-oppressive, non anti-black, and trans-inclusive; futures where the human is not the center of the narratives but a part of many narratives. As Arturo Escobar mentions in his book Designs for the Pluriverse, we design the world, and the world designs us back.
The Decolonial School continues to gather monthly to learn from each other and our elders. We will employ non-hierarchical ways to include students, staff, and community through decolonial frameworks.
*The Decolonial Unconference was initiated and organized by Decolonial School faculty, Shalini Agrawal and Katherine Lam, with organizing support from Juan Carlos Rodríguez Rivera and Shylah Pacheco Hamilton. The Decolonial Unconference was initiated to support the current work of the CCA Decolonial School, which aims to reimagine curricula to support our diverse and international educational community. Beginning with a powerful keynote talk by Dori Tunstall, dean of the faculty of Design at OCAD University, the Unconference continued into a second day with workshops and discussions specifically designed to move away from passive lecture-style engagement and, instead, toward meaningful discourse and direct engagement. Guest facilitators included architect Andrew Herscher, professor at the University of Michigan, and CCA Diversity Studies Adjunct Professor Rekia Jibrin.