Upper Division Interdisciplinary Studio (UDIST) courses taught by faculty from the Design Division create engagement with ideas, practices, and community members across the college's disciplines. All undergraduate students enroll in a UDIST course during their third or fourth year. Taught by faculty from all over CCA, there are usually about 10 UDIST courses offered at a time. Each course runs three times, creating opportunities for innovation, inspiring experimentation, and sometimes serving as an incubator that carries new approaches or learnings back to a respective discipline's curriculum. Two UDIST courses taught by Design faculty in spring 2023—Design as a Worlding Practice and Virtual Reality/Actual Impact—reveal the depth to which students can imagine new worlds, build conceptual skills, and experiment across disciplines.
Design as a Worlding Practice with Ana Llorente and Michael Washington
Ana Llorente and Michael Washington's course Design as a Worlding Practice builds on the growing understanding that design is world building, an understanding heralded by design anthropologist Arturo Escobar and others. Because it affects how we interact with everything from food and education, to technology, identity, and politics, design is ontological, or shapes our ways of being. Escobar, and the course, both argue that design may be a neutral tool, but its effects are not neutral and we should work to have outcomes that are more just, and more place specific. Washington explains that students grapple with this theory from a position of agency, starting with the question, "How might you participate, through your practice, in the shaping of reality? They are thinking about world building in terms of responsibility," he says.
UDIST courses are studio based, with students learning through the act of making. In this course they design their own country: history, cultural identities, and an economic system fleshed out by graphic design artifacts such as currency, maps, flags, religion, and ephemera. While the speculative nations are fictional, the conditions are based on concrete observations, and invite critical reflection on contemporary life. "We continually emphasize the importance of students grounding their countries in a current world condition that is real, relatable, or ideally, urgent. This gives a graspable point of entry into what essentially is an imagined fiction. For example, some past projects have dealt with the world's plastic crisis, or political unrest in a specific region of the world, or the danger of harboring nuclear weapons," says Llorente. Teaching assistant Maria Cardenas (MFA Design 2023), adds that, "It was inspiring how students found a way of world-building through magical realism; looking at the tension between good and evil, the chaos between power and deceit. They approached it through a social framework, processing ideas within their own frame of reference such as illustration, animation, or writing." The class alternates expansive, nonlinear writing and material exercises like object collections and bubble diagrams; with honing exercises that funnel down to essential ideas. Intricate scaffolding and regular mode shifting help students evolve beyond what they first imagined.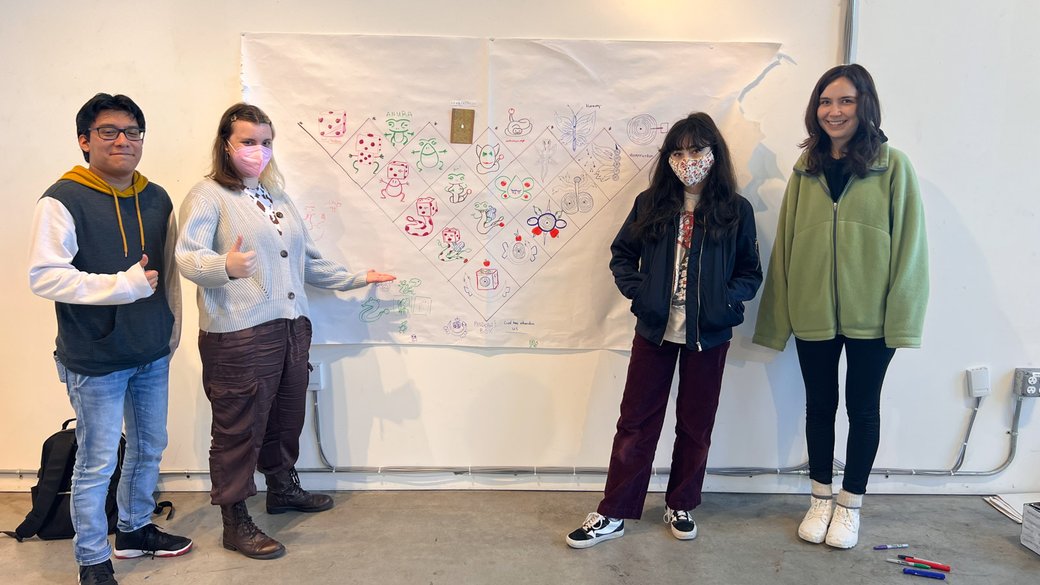 Llorente originally developed an earlier version of the course while teaching at Otis College of Art and Design, collaborating at times with faculty there including CCA alumni Davey Whitcraft (BFA Graphic Design 2003). When Llorente came to CCA she proposed the course as a team taught UDIST course with Washington. The partnership between Llorente, who is a graphic designer with a focus on experiential and collaborative systems, and Washington, whose studies have centered around Black feminist criticism, allows each of them to hone materials in their area while synergizing with the other's discipline. "Michael's lens," says Llorente, "brings it to a place that is politically and socially engaging, critical of today's world. By imagining new conditions and situations, we reflect on where we are and where we could be." Students think about design as a cultural practice that shapes spaces, ecologies, and interspecies entanglements through both theory and praxis.

In Kiersten Yorks's (BFA in Illustration 2023) Sensicast, citizens are fully or partially blind from a tecno-industrial exposure. The artifacts produced invite the viewer to imagine a national identity in a country that values senses beyond sight.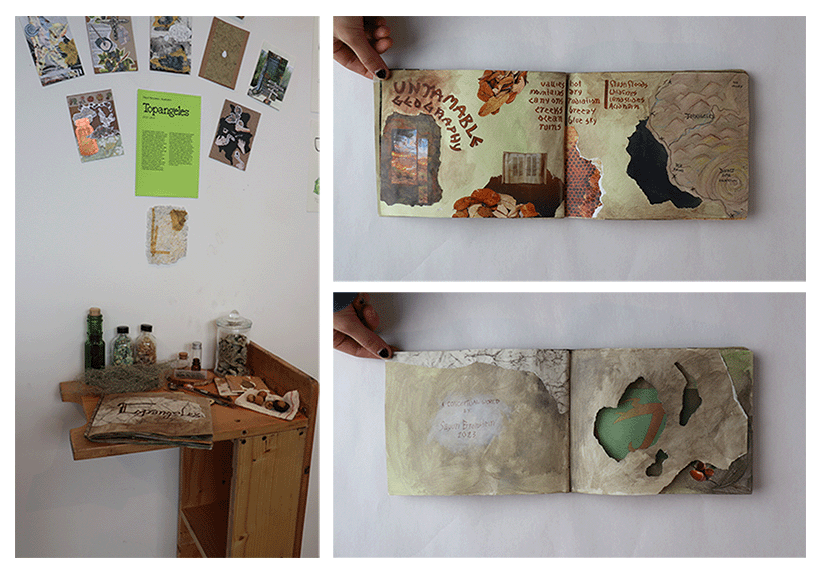 In Sayuri Bronstein's (BFA in Illustration 2024) Topangeles, the citizens of Los Angeles on an alternate version of Earth navigate a post-war space by forming small, cooperative, nature-focused, agrarian societies in the mountains and canyons around the valley.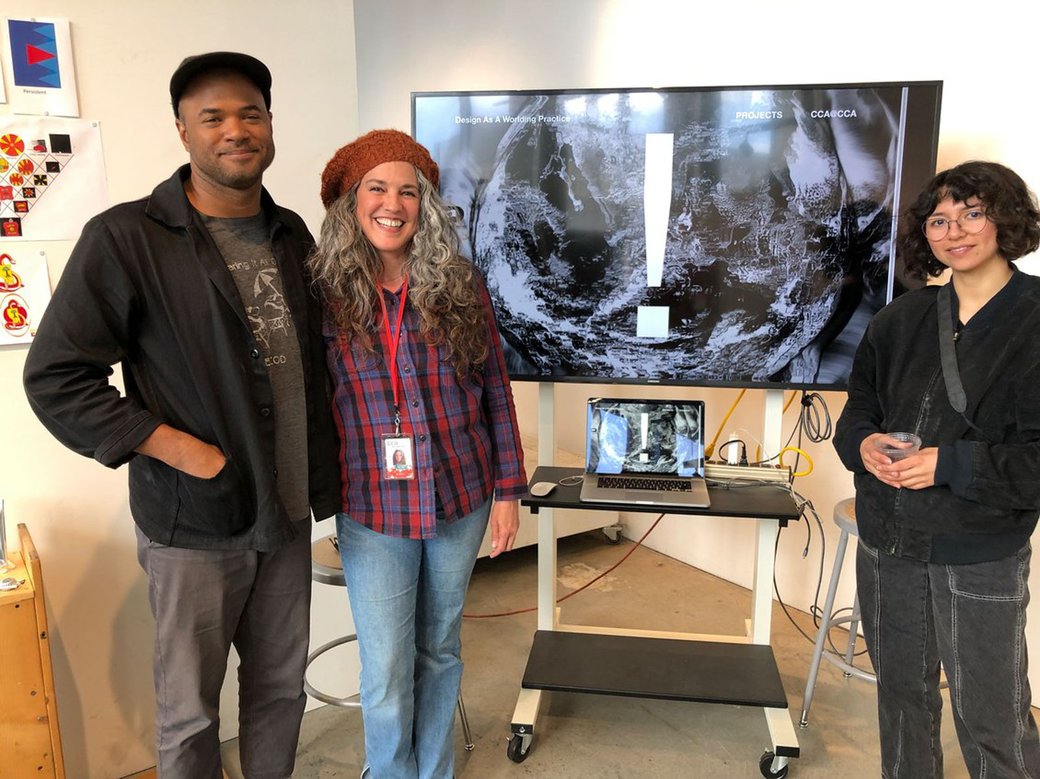 All students produce numerous collages, organizing grids, experiments with typography and typefaces, and ultimately a curated zine of their work. "What I love is that each student finds a point of entry that they feel connected to, that keeps them closely engaged with their project," says Llorente. "The outcomes blow my mind. Regardless of discipline and experience every student develops ideas and content that slowly, throughout 15 weeks, transforms into sophisticated, critical, and thoughtful outcomes." Llorente explains that the course is designed to have many ways of working so that if one part of the process doesn't work for a particular student's skill set, another part will, making it accessible to the range of majors who enroll. Washington marvels at how students rise to the high bar of both studio and theory, and to the richness of having students from multiple disciplines work together on a semester-long creative research project. It's a creative challenge for the faculty and eye-opening. "I mold myself to the cohort and look for the point where I can meet them," says Llorente. "When we're all in the same discipline, the discourse is funneled through one canon," but the chance to collaborate outside of it is refreshing for them too, Llorente reflects.
Llorente and Washington are conscious of building bonds across the cohorts and of developing interdisciplinary knowledge and critique. In week six of the class students read up on and bring materials for a classmate's project. "It's so collective," says Washington, "lots of studio time and space to make, there's music on, they're always looking at each other's work. The final show is amazing, but so much of what happens is in the actual class." Spring 2024 will be the final run of this UDIST course, but its decade of development will continue in other college curriculum.
The course website was created in spring 23 using Cargo and was made possible by a grant through CCA@CCA, with website design by Ana Llorente and Nielsen Arenas and production by Nielsen Arenas (BFA Graphic Design 2022). Nielsen was enrolled in the course in spring 2022.
Virtual Reality/Actual Impact with Jeremy Mende
Jeremy Mende's course Virtual Reality/Actual Impact brings together the technical and creative skills of building immersive VR experiences and the conceptual skills of building a cohesive narrative. Students use interaction and graphic design, illustration, animation, architecture, and engineering to build interactive experiences with an immersive environment and a compelling story arc. Mende's own work plays out in a similarly vast range, from culture-jamming through hijacking communication systems, and the design of experience in digital spaces, to large-scale interactive sculpture. Course building in UDIST, he explains, frees you to teach what you're interested in, and makes more room than a typical studio class for exploring the application of theory.
Mende asks his students to think about the human values embedded in stories, and how the 'reader,' within VR or the participant, can be sensitized to those values. Students learn about a range of storytelling structures, including the monomyth or hero's journey, as described by Joseph Campbell. In Campbell's description many stories share a pattern that includes the call to action, mentors, a major conflict and transformation, and the return (think The Odyssey, the myths of Quetzalcoatl, Buddha's journey to Nirvana, Harry Potter…). The monomyth structure appeals to us in part because it frames challenge as purposeful and transformative. As story builders, the framework can be incredibly helpful.
Students come from every discipline and bring a range of skill sets, so the course does not require previous VR building exposure. Instead it is about what the medium can offer conceptually, like immersion and agency. In their final project students adapt a story from a selection of global mythologies curated by Mende. Christopher Cruz (BFA Illustration 2023), took the class in spring 2023 and says, "Condensing beloved stories into something accessible in VR was a lot of work, both technically and creatively. Ultimately, we were given a unique skill set that helped us explore the kind of stories and perspectives we wanted to share with the world in our respective fields."
Students focus on a particular theme and the moments of choice where a player can explore the values inside the narrative by identifying with one character versus another, or accepting a call to action (from Campbell's description), versus questioning it. "It becomes about embodiment," Mende explains, "you go through these different tasks or tests in the hero's journey that reinforce your values, depending on the way you went through. A basic tree structure of 'do you choose this or that' without consequence gets boring quickly. There have to be puzzles to solve; every decision has to have some kind of outcome that pushes back." Mengshi (Beth) Li (BFA in Fashion Design 2024) took the class in spring 2023, and acknowledges that while in a simulation, "there are plenty of chances for the user to choose again," but also hopes the user will make connections back to the real world, "where there are no second chances."

Based on George Orwell's Animal Farm, Mengshi (Beth) Li's VR experience invites viewers to choose characters they want to play and how they want to interact, focusing on tensions between self preservation and social motivations, with subtleties around who is sacrificed and the pleasure of seeing others succeed. Li mixes film and animation footage, and cute and dark elements, giving a fractured and uncomfortable tone to the environment.

In Latifa Alghanim's (BFA in Interior Design 2023) A Tale of Regret based on Shakespeare's Hamlet, the player, acting as Hamlet, questions who to believe, including himself, and whether to act on impulse or investigate further. VR experiences, like graphic novels, are an emerging format for classics, with the addition of engagement through roleplay.

Christopher Cruz's (BFA in Illustration 2023) A Moment's Impact is an adaptation of Ray Bradbury's A Sound of Thunder. The experience posits the user as a wealthy time traveler who indulges in a dinosaur hunting safari. His "reckless ambition" as one character names it, has drastic consequences. Cruz artfully weaves in social commentary about class struggle and the crassness of opulence with a convincing newscast playing in the background while the player waits to enter the training ground. Once inside, an obsequious employee offers numerous attempts at humanizing conversation while we, as the protagonist, can choose to engage in video game style violence.
Even if two students used the same story, what they choose to focus on changes the outcome entirely. Mende enjoys the flexibility and "testing ground" nature of UDIST, and keeps returning to the format. His other UDIST courses have included Thinking & Making and Space, Message, Experience. Having completed the third (final) offering in spring 2023 of Virtual Reality/Actual impact, he is working on a seminar focused on story structure for the MFA Design program scheduled for spring 2024. In fall 2023, Anne Wolf, who teaches in the Textiles program, will also try this model with her course Darn It, which explores material, social, and ecological forms of repair. Darn It began as a Textiles course, but expanded its interdisciplinary context when Wolf moved it to UDIST, and after three semesters of development there, she is creating its next iteration as an MFA Design seminar.
UDIST is a particular space, with students who enroll from every discipline and encouragement for faculty to experiment with what and how they teach. As a design community we hold on to the importance of mastery and focus while learning from other disciplines to foster approaches for the questions in front of us. We also recognize that a thriving design practice can be many things at once and we want both our students and our faculty to be prepared and to benefit from this fluidity. As we talk with students and faculty about their UDIST course experiences, and migrate courses in and out of the program, there is inspiring evidence of its value as an incubator space and a zone of discovery and inspiration for faculty, students, and the community at large.
— Sarealeah Fordyce, faculty, Critical Studies program
August 29, 2023