Over the summer we dreamed of our return to campus: "Please not another zoom," we begged! Let our charrettes get big, our models get messy, with bits of thread and fiber piling on the floor around our fast moving scissors. Let us set up on a big table and keep our work there until we are done! But in reality, transitions are hard. Studios came to an abrupt halt in the spring of 2020, and they did not just relaunch overnight. It took courage and ingenuity to find a way to keep our imaginations large and roaming in the confined spaces of quarantine, and it is now taking courage and ingenuity to return to the bustle and synergy of working together on campus. The faculty and chairs are keenly aware of this, and we are throwing everything we have at kick-starting this energy as we support students in reigniting their in-studio practice. Every program is focusing on this. Here are three examples of Design programs and how they are helping the community step back over the threshold to reenter the joy of making things together.
"We are remembering how to be around each other. There is a hesitancy, we've forgotten how to take risks in some ways."
Furniture Chair
Furniture: You can't do it alone
Furniture Chair Katherine Lam could tell right away that "being visible and engaged is going to make this work. Having a physical space to ground ourselves in felt like a really important thing for students, and we need it as faculty too." Lam reflects that the challenges of last year are in the air, that maybe feelings of caution around health have leaked over into a caution in making as well. "We are remembering how to be around each other. There is a hesitancy, we've forgotten how to take risks in some ways." We know this is simply a matter of time and practice, but we want to shrink that runway as much as we can.
To that end the Furniture program started the year by offering four workshops: whittling, steam bending, bandsaw box building, and using the CNC router. These were open to everyone in the college, and as Furniture Professor Russell Baldon says, "they were a great way to get people over the threshold of the shop's door. It was just us together, making things. Lots of people came, it was super fun!"
Baldon is relishing small classes and the time where he and shop manager Brian Harte can really engage with every student. Baldon says, "We start the day by going through our list of students and what they need, making a plan for how we can support each of them. The magic of the shop is the camaraderie. Entering the shops, it's scary sometimes, there's fear of failure, there's risk on all these levels. People live through that storm together. In our medium, you can't do it alone. Getting in the shop and working together is healing. It's helping students and us. It's really life affirming."
Student Ina Trayanouskaya (BFA Furniture 2022) says that while there have been challenges returning to campus, to "walk into the Nave and hear the buzz of creation processes from all the corners and the nooks, and then to see what students present is a source of inspiration and joy for me." Furniture Chair Katherine Lam adds, "The collaborative and community exchange is really at the heart of the education experience. We're not here to just train people with skills, we're here to educate." Students leaning into the shops are really benefiting. Furniture student and Teaching Assistant Nicole Wong (BFA Furniture 2022) is diving deep and it shows in her work. She shares, "It feels tremendous to be back in the shop and getting my hands dirty again. I missed woodworking so much. Time passes by so quickly in there, you just get lost working."
Furniture students have also been able to roll up their sleeves with Wornick Visiting Professor Ido Yoshimoto, who has led, among other things, the processing of wood reclaimed from drought damaged trees from our Oakland campus. Lam sees this as a way to "maintain a connection to the craft that happened for 100 years on that campus." Lam is "hoping to memorialize and bring that forward," as the program plans to build furniture for CCA's Double Ground campus expansion.
Benchroom moments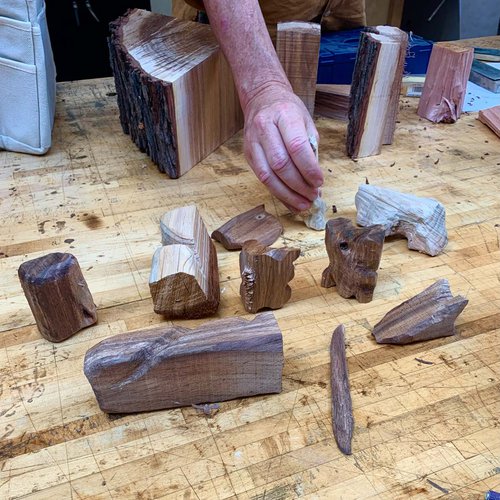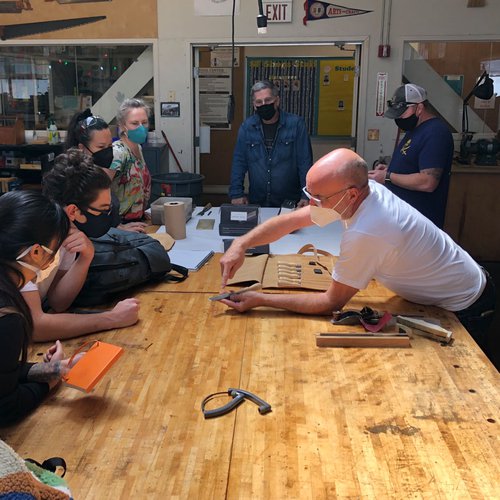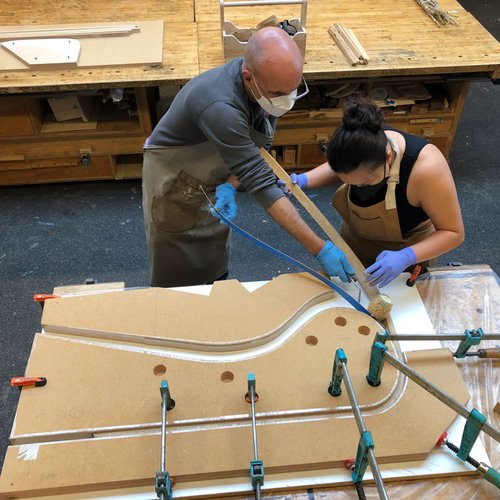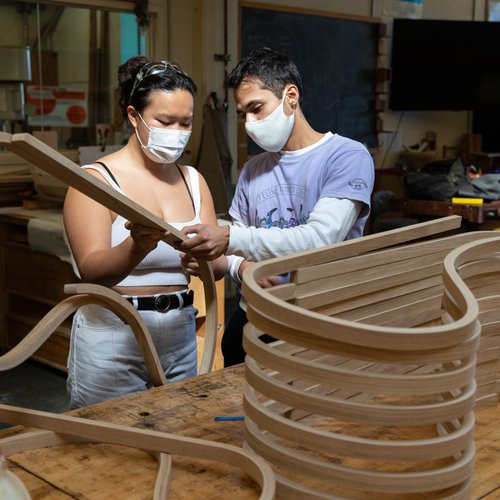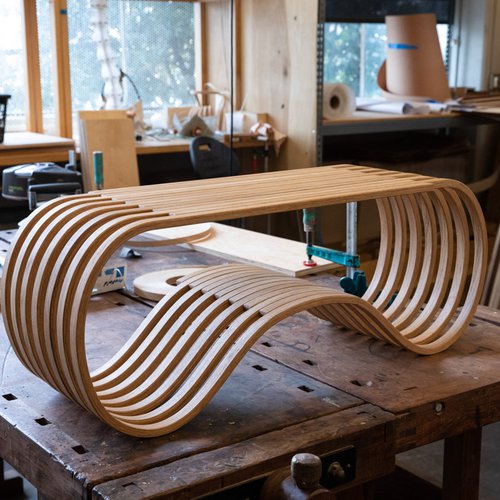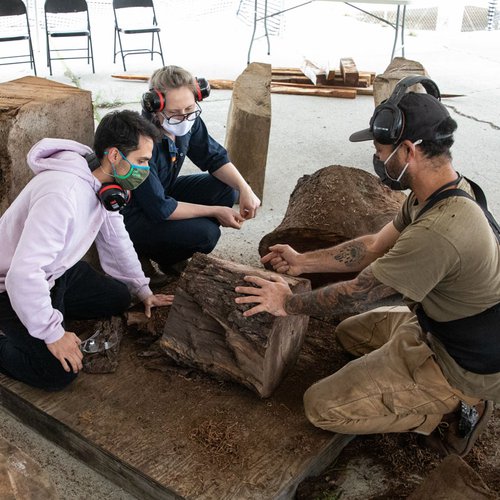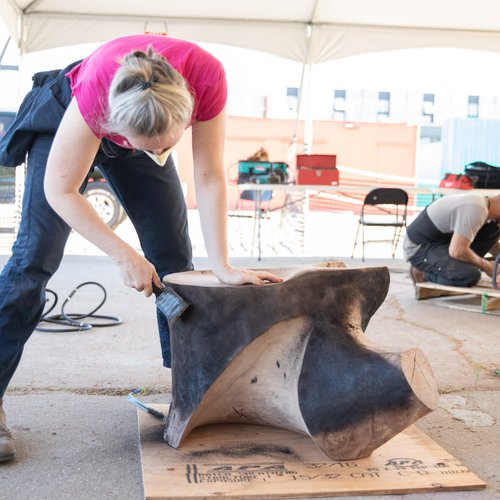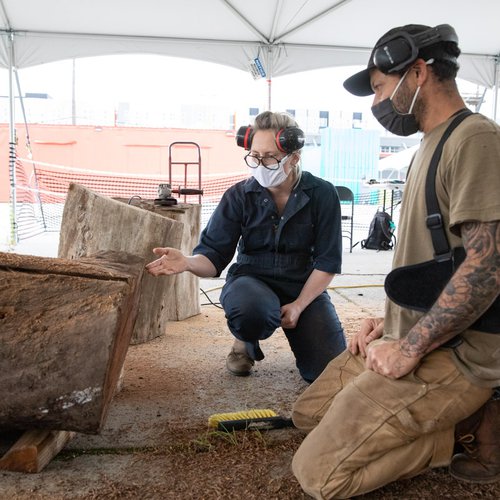 Fashion: research, experimentation, and helping each other
Fashion Design Chair Greg Climer describes that fashion students are also back in the studio with passion and experimental energy. "The seniors are sculpting clothes using a variety of methods, bio plastics, free-form sewing, dipping fabrics in gelatin. All just experimenting like mad scientists, really letting studio experimentation drive their approach," he says. Being back in-person means campus access and field research can ramp back up. Claire Mermelstein (BFA Fashion Design 2022) recently went to the California Academy of Sciences to meet with an entomology curator. She and Climer spent a few hours exploring their storage facilities and documenting. "The concept of my collection," says Mermelstein, "is inspired by the metamorphosis of beetles. I'm using the research to study the shape of certain beetles and the lines they have that form their bodies and trying to imitate them on garments inspired by their forms and colors!"
Student Krystle Reynolds (BFA Fashion Design 2022) says, "One of the great things being back in the studio is seeing and talking to my classmates and professors in person again. There are a lot of benefits like being able to physically see each other's work, being inspired by others' techniques, helping and giving each other feedback when we question our progress. Plus, it's much easier to show specifically the area of the garment when giving or receiving feedback than over a Zoom meeting."
In the studio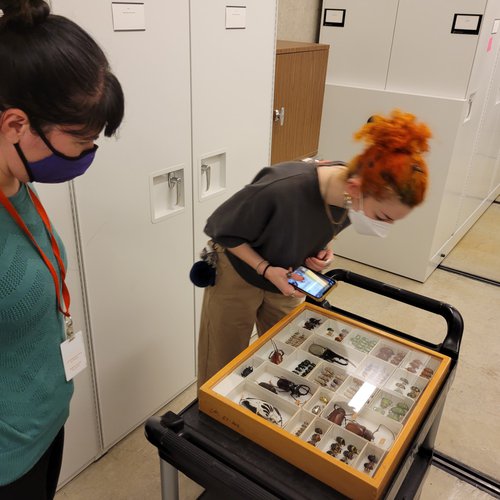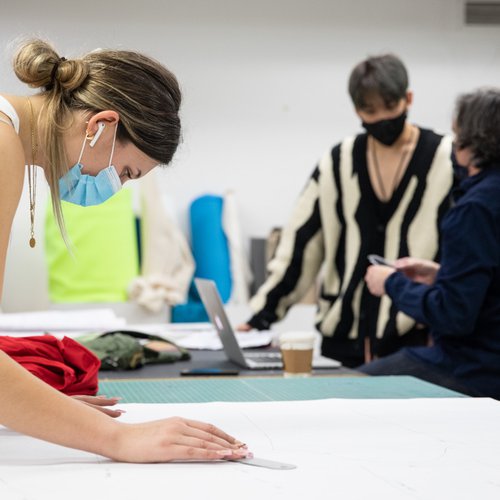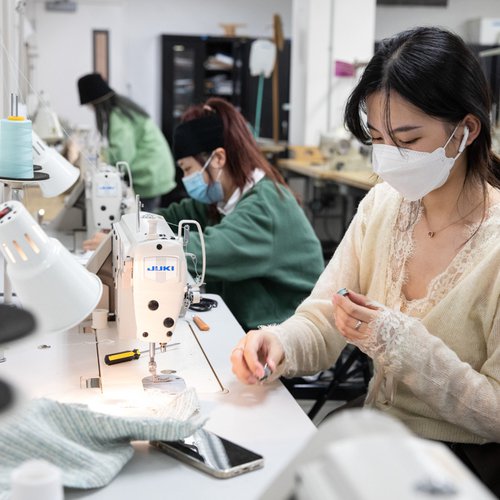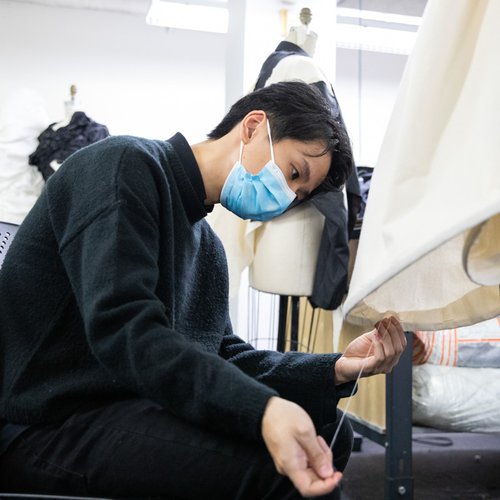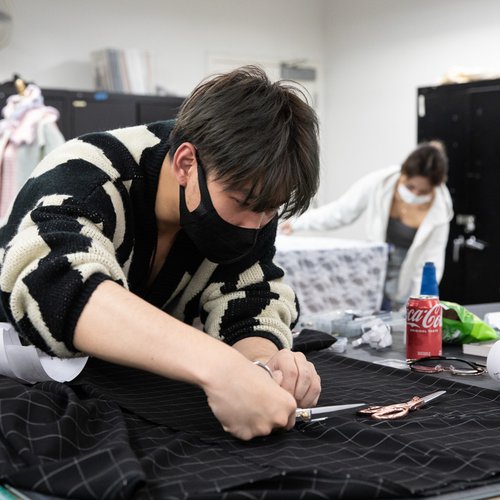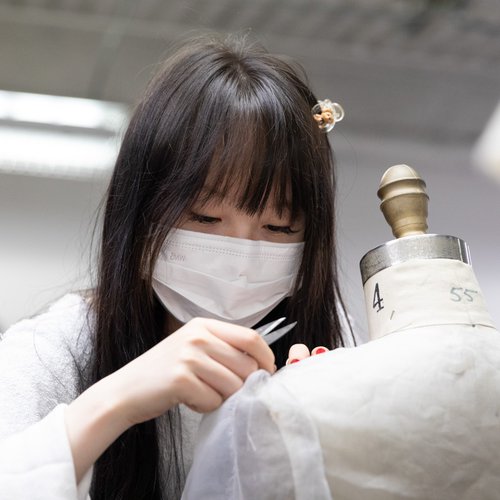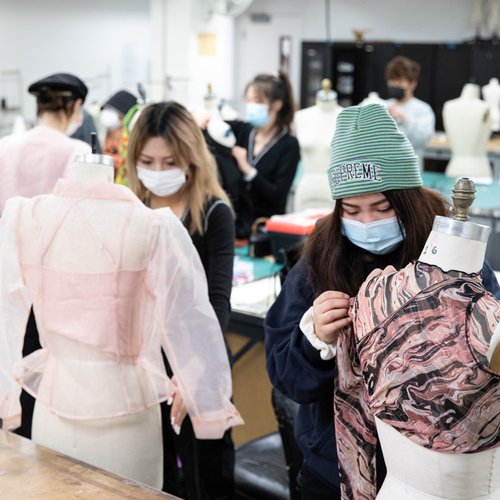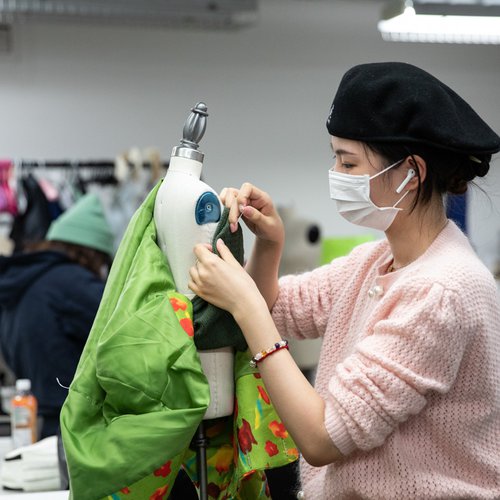 Graphic Design: the joyful and unpredictable outcomes of working together
Rachel Berger, chair of Graphic Design, also reports, "We have found we have a lot of work to do to restore our sense of studio culture. Our students have gotten comfortable working alone on their computers, but they've grown unaccustomed to spending their days and nights sharing spaces and tools with other people." Assistant Professor of Graphic Design Juan Carlos Rodriguez Rivera has been experimenting with object based exercises as a way to get students talking with each other again. In his Graphic Design 1 class, he gave all of the students a Tamagotchi pet "as a way of bringing students back to touching and playing with objects. Getting them to talk with each other in-person again, and then the conversation comes back to design." Berger adds that, "They've forgotten the joyful and unpredictable outcomes that come from working with new materials and methods."
It is this synergy of exchange and experience that we love and aim for. "My hopes for members of the Graphic Design community as we return to campus are simple: making and connecting. For designers and artists, making is the crucial activity of school. And making while connecting with other members of our shared creative community is vital to the social experience of school." To this end Graphic Design hosted a tie-dye workshop in October. Berger says, "I wanted to host a workshop that would feel generative, messy, fun, and safe. Tie-dying is simple, colorful, unpredictable, and a little silly. Everyone can make something that is uniquely their own."
Student Tony Fung (BFA Graphic Design 2022) was among the attendees. Fung gushes, "It was amazing! It was my first time doing this kind of activity. It was so much fun because I had the entire freedom." When asked how it feels to be back on campus, he says, "Amazing! I am really thankful to have the studio back."
Over the course of the day, more than 50 students, faculty, and staff stopped by to tie dye a shirt. Several faculty and students who had only ever met online met in person for the first time—sometimes shocking and delighting each other with their unexpected height differences! Many of the students tie dyed for the first time. "At first they were tentative, trying to control the dye like they might a pen or a pixel, but they soon abandoned all pretenses, squirting dye all over and rolling their shirts around on the messy tables. The workshop gave students a small taste of the serendipity of the studio, and helped us start to restore our culture and community," says Berger.
Working together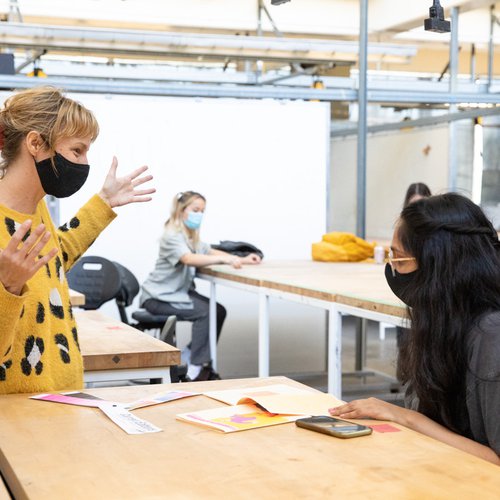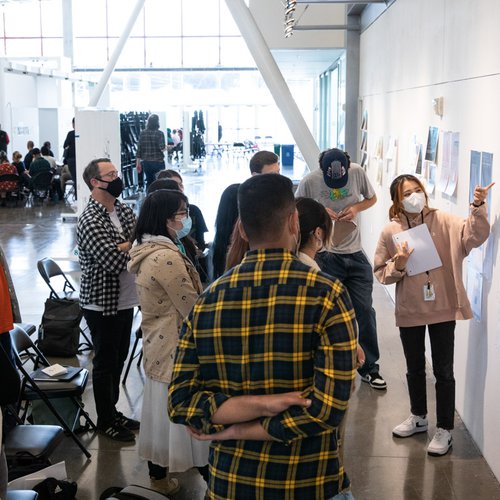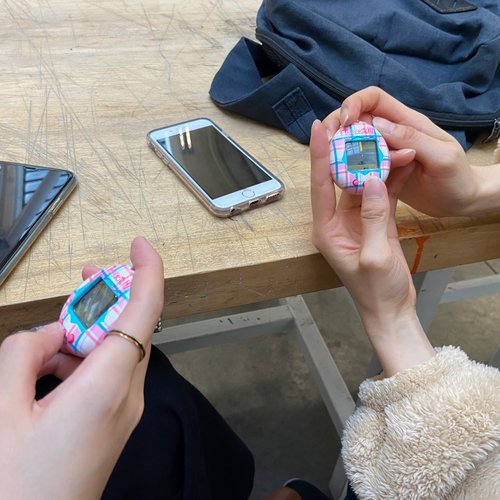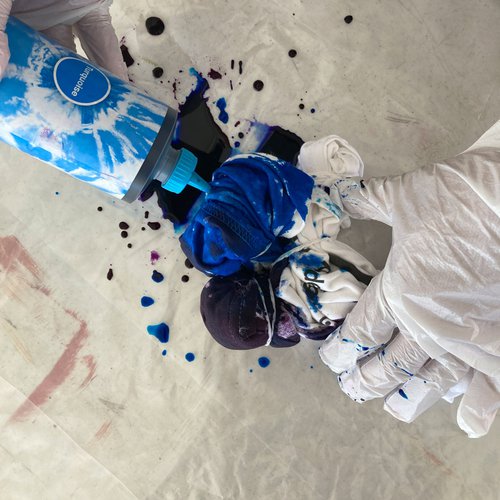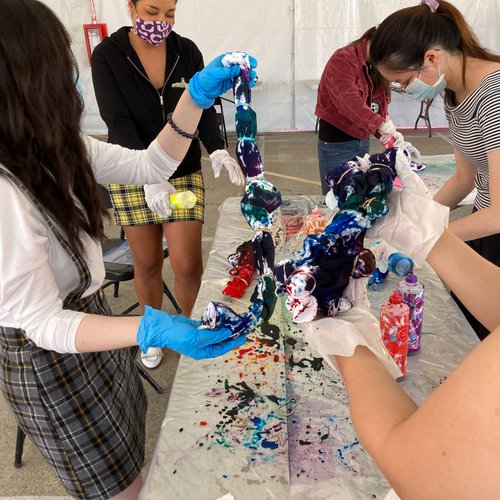 We know that everyone has been through a lot, and that for each of us the past two years has been different. As we reunite and gain the collective energy of making together we want our students to know that we are rooting for them and for all of us, and that we are rising up together with the many new experiences and understandings that we can manifest in our work. Welcome back to campus CCA.
—Saraleah Fordyce
January 18, 2022