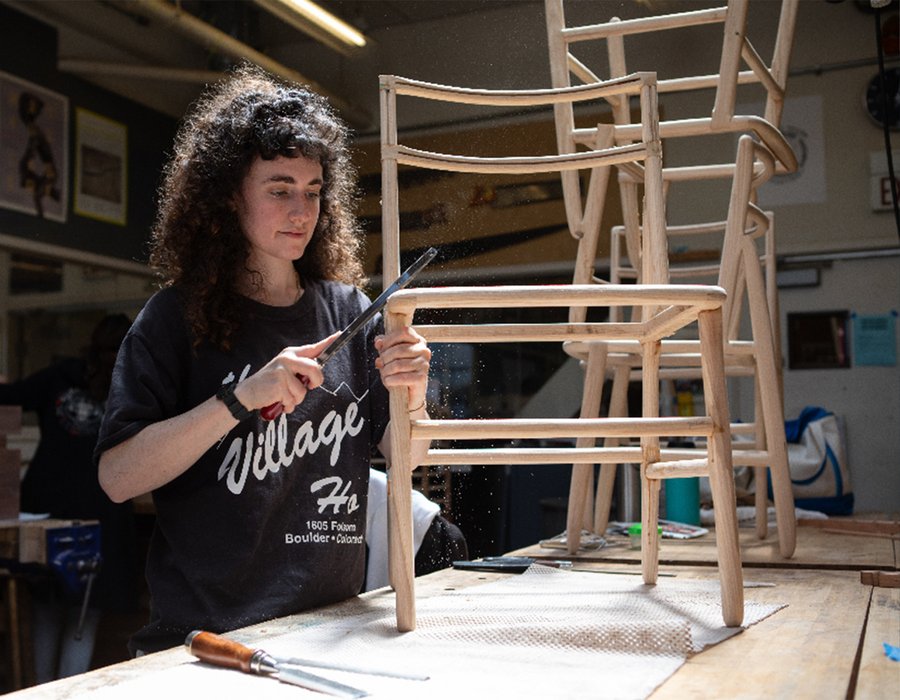 Learn the art of furniture design and shape your creative practice where design and craft meet.
With deep roots in the Arts and Crafts movement, the Furniture program prepares students for versatile careers in a rapidly changing landscape. We teach craft-based methods alongside digital fabrication methods, emphasizing innovation, sustainability, and collaboration. Students work closely with celebrated faculty to make full-scale sculpture and furniture in our wide range of studios and shops. And if your interests go beyond hands-on making and into fabrication and material innovation, you can add a minor in Industrial Design to your Furniture major.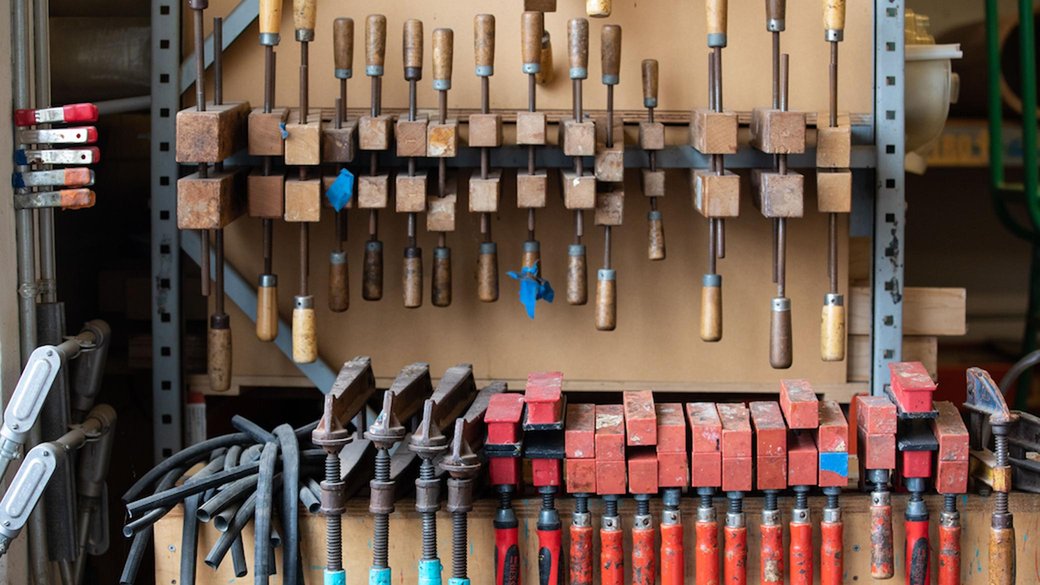 In studios and courses focused on special techniques, you'll learn to conceptualize, prototype, and produce finished pieces of furniture. You'll focus on both analog and digital skills, including sketching and drawing, computer drafting, woodworking, metalworking, upholstery, and manufacturing processes. Faculty work with you individually to prepare you for local and national exhibition opportunities, competitions, and a culminating thesis project. By the time you graduate, you'll know how to set up and run your own workshops or studios.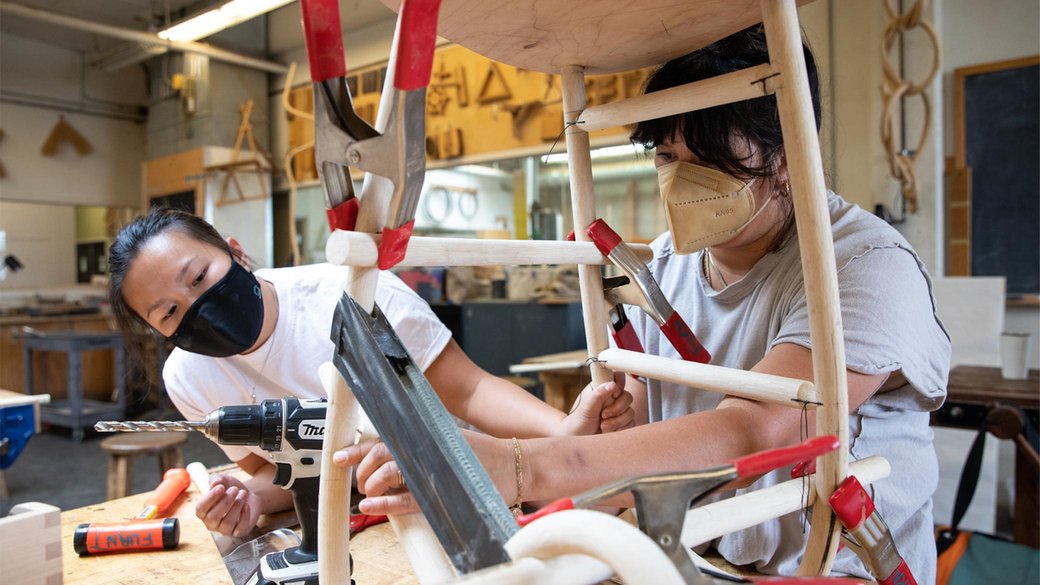 Create transformative designs
Experimentation is at the heart of furniture design at CCA. In addition to traditional manufacturing, you'll study exciting processes at the intersection of craft-based design and cutting-edge technology. Digital fabrication tools, such as CNC routers and millers, laser cutters, 3D printers, and plasma cutters, empower you to investigate different materials and create inventive design solutions.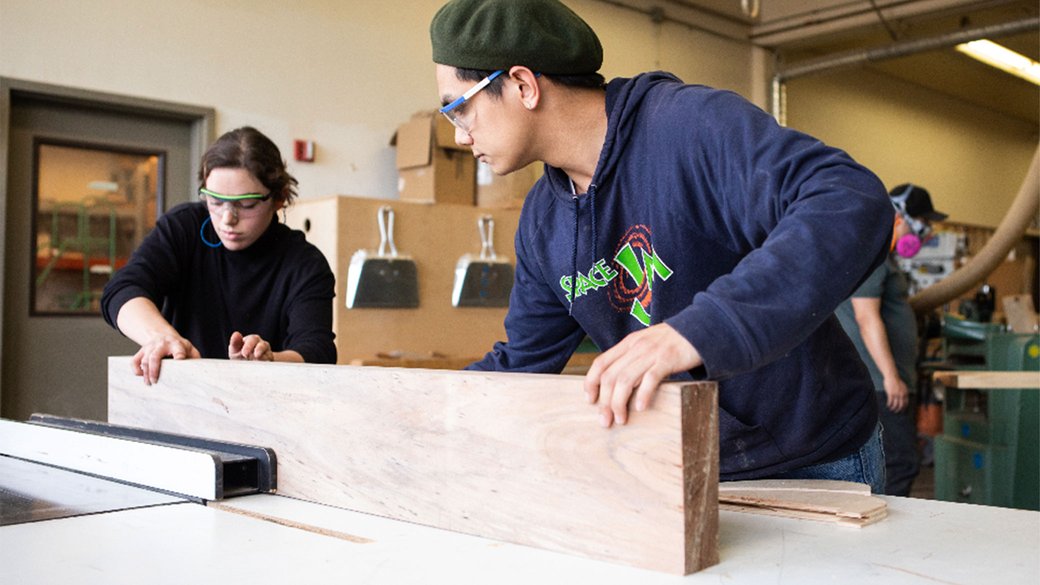 Collaborations across disciplines
We'll teach you about current and emerging business strategies in furniture design through collaborative studios with local museums, nonprofits, and design firms. Recent partners include Autodesk, California Academy of Sciences, Concreteworks, Exploratorium, Headlands Center for the Arts, Oakland Museum of California, SFMOMA, and Workshop Residence. Working alongside professionals in architecture, interior design, and industrial design, you'll build the critique and teamwork skills they'll need in your professional life.
Your maker's life at CCA
Network with local companies and studios
Collaborate with local museums and design firms
Attend the International Contemporary Furniture Fair
Study with renowned visiting professors each fall
Take intensive workshops with leading artists
Collaborate with architecture and design students
Exhibit in retail and public spaces
Build a full-scale portfolio of work
Design, build, and mount a senior show
Our faculty are scholars, researchers, small studio owners, creative reclaimers of discarded material, mixed media sculptors, and so much more. They share their body of knowledge with design students, encouraging them to take risks in the studio as they build upon their individual strengths.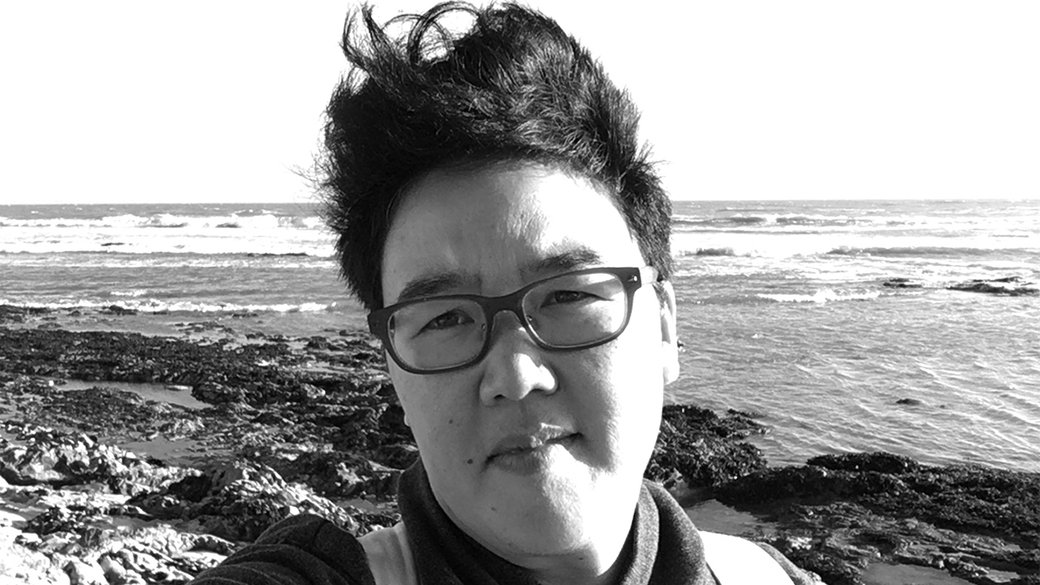 Chair Katherine Lam is an independent designer/builder whose practice spans over 20 years engaging with furniture and the handmade object, with a focus on design and production. After graduating from CCA's Wood/Furniture program in 1998, Lam began their career as a furniture maker, moved into the design world as a creative and administrator, and recently expanded into creative practice with land-based works in the high desert of New Mexico. As a second-generation American of Chinese and Japanese descent, Lam explores the connection between identity, craft, and the handmade object and describes their engagement with furniture and objects as a lifelong reconstruction of familial histories lost in diasporic journeys.

Develop and hone your design instincts
Furniture at CCA is a combination of studio art, craft, and design. Learn—among many other things—woodworking, sketching and perspective techniques, small-scale production strategies, and the historical and theoretical roots of contemporary furniture forms. Courses are designed to immerse you in interdisciplinary making and dynamic conversations around innovation and sustainability. View sample courses.
Minor in Industrial Design
Take your passion for craft and expand it with the skills needed to thrive in industry by minoring in Industrial Design. You'll take courses that will teach you the fundamentals of product design so that you can hone your creativity with an eye toward making as an individual practitioner, entrepreneur, or professional designer. Learn more.
Investigate ideas through every dimension
Before diving into their chosen major, every undergraduate participates in the First Year Experience. Students explore a wide range of materials and tools over the course of two semesters. Faculty from different disciplines guide studio projects, group critiques, and theoretical discussions, setting students up for success throughout their major coursework.
Our students emerge from the program with versatile, adaptable skills in furniture design. Our alumni make conceptual sculpture, teach woodworking, design custom furniture for retail spaces, create small-run production pieces, and exhibit widely. Whether they become independent shop owners or work for major architectural firms, they are thoughtful collaborators with fine-tuned design instinct.
Potential career paths
Independent furniture designer
Independent product designer
Architectural consultant
Independent artist
Entrepreneur
Educator
Our students are often interested in using real materials to find new opportunities in physical design. They want to learn carpentry within a creative studio space. Under the guidance of world-renowned faculty, they also want to try their hand at merging traditional building methods with cutting-edge digital technology.