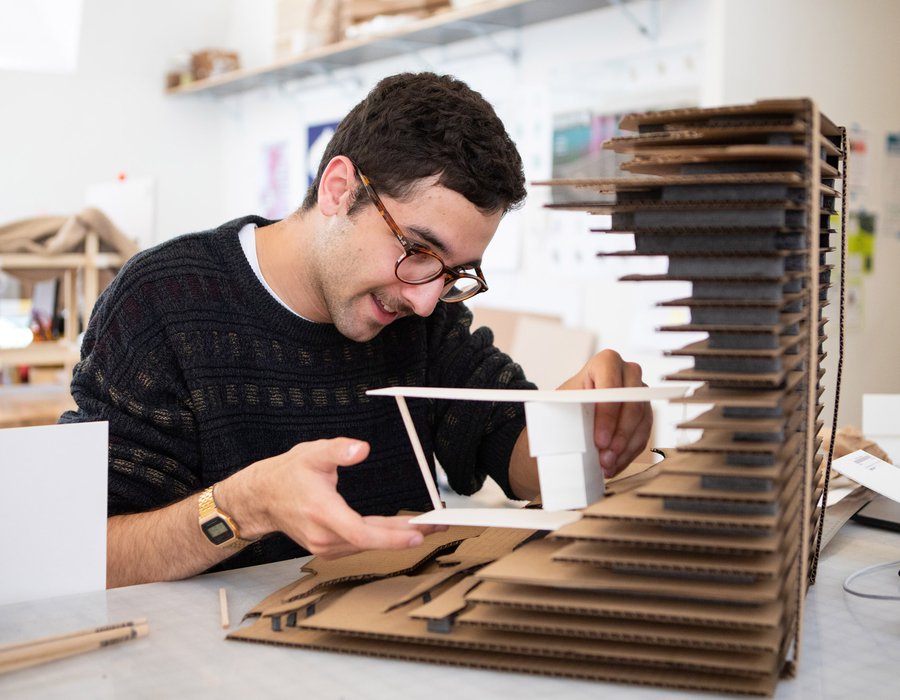 Study architecture with a focus on material experimentation, research, and alternative forms of creative practice in a professional degree program.
The Bachelor of Architecture program empowers students to be resourceful makers, thinkers, collaborators, researchers, and agents for change. We're a five-year, STEM-designated, NAAB-accredited (National Architectural Accrediting Board) professional degree. We're also housed within one of the best art and design colleges in the country. Our students work across a range of media and collaborate with makers in other creative disciplines—such as interaction design and ceramics—to develop cutting-edge solutions and spark debate.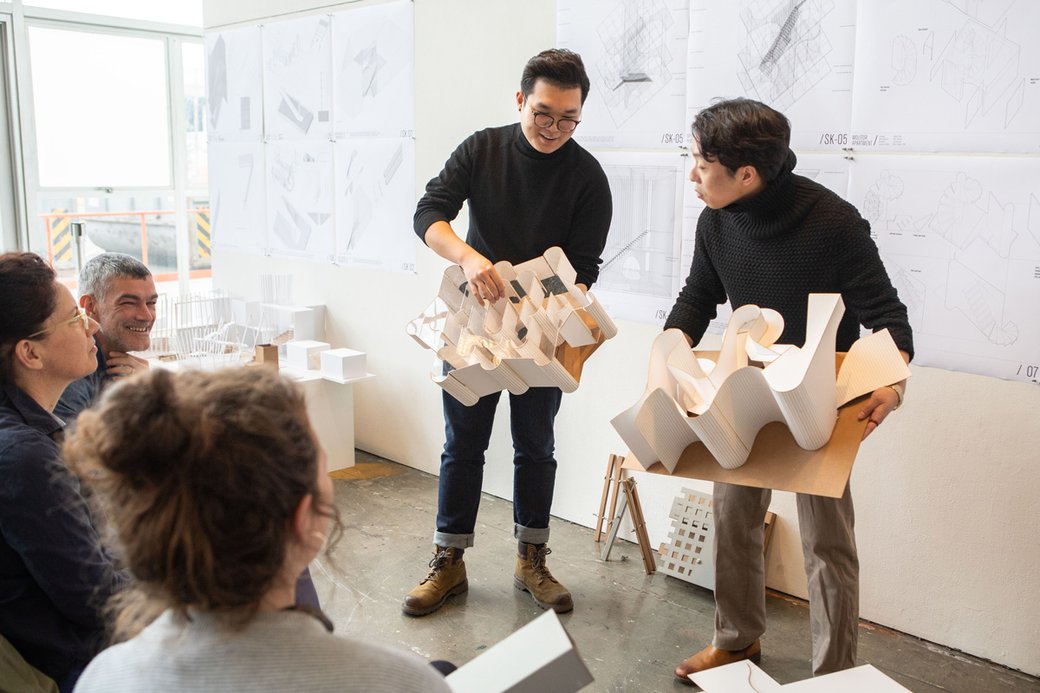 Reimagine the city
The BArch program is deeply connected to the San Francisco Bay Area, a global center of progressive ideals and technological innovation. You'll learn to challenge conventions and push disciplinary boundaries as you actively engage with some of the most pressing issues of our time. From ecologically resilient structures to experiments in collective living, you'll experience the important work of architects, designers, and interdisciplinary artists first-hand.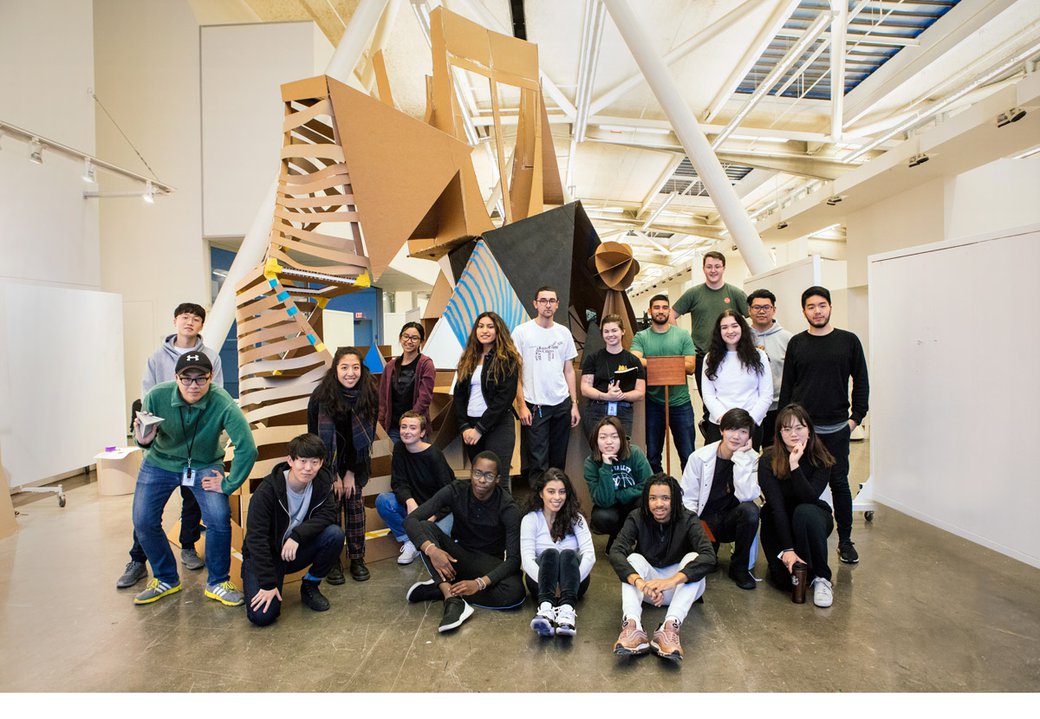 Choose from three optional concentrations
In addition to our main bachelor of architecture degree, you can choose from three optional concentrations: Digital Craft, Urbanism, and History/Theory/Experiments. In these tracks, the last two years of program coursework are specialized, setting you up for post-graduation success with focused skill sets.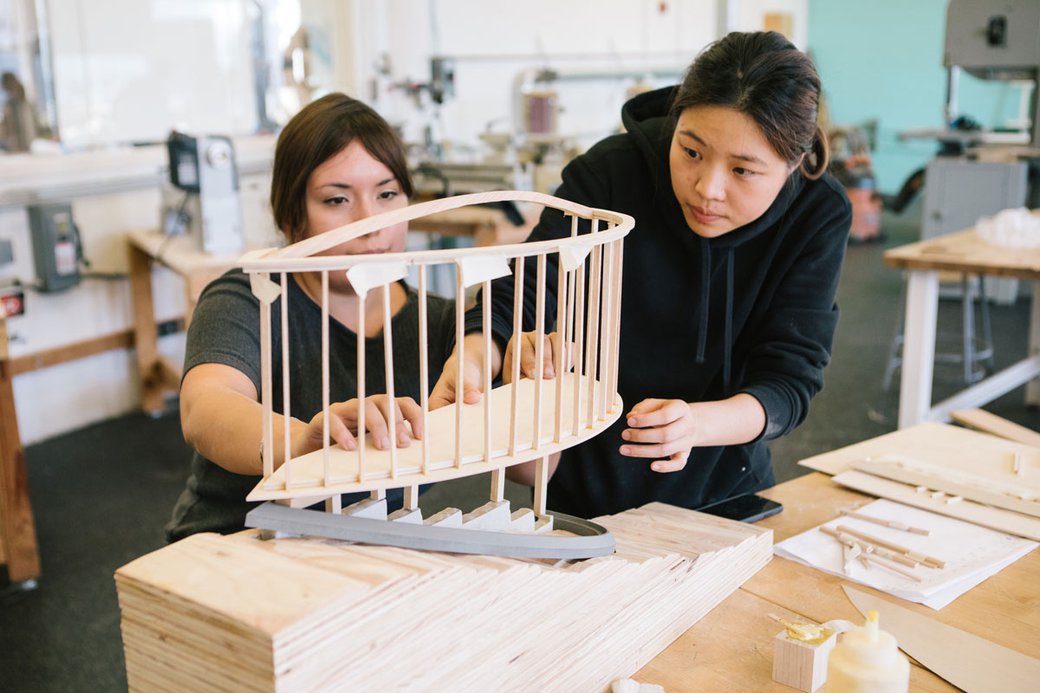 Diverse design studios
By nature, architecture entails a high level of interdisciplinary work. Our curriculum combines hands-on studios with coursework in design media, history and theory, and building technology to prepare you for rigorous design work. You'll learn to apply advanced fabrication and design research skills to experiments at a range of scales, from material and form to complex urban projects.
Research labs and external partners
During your final two years in the BArch program, you'll have the freedom to explore your specific interests in advanced studios and seminars that are closely tied to our research labs:
Digital Craft Lab: Features experimental making through emerging technologies. Advanced computation, robotics, responsive environments, and rapid prototyping are motivations to reconsider how architecture is produced.
Urban Works Agency: Responds to the politics of the contemporary city. Equity, ecological vitality, and economic resilience are reimagined through urban and territory scaled analysis, narratives, and arguments.
Architectural Ecologies Lab: Serves as a platform for collaborative research between designers, scientists, and manufacturers. This interdisciplinary setting provides the tools to address ecological challenges like sea level rise, habitat restoration, and climate change.
History Theory Experiments (HTX): A platform for advanced interdisciplinary research and critical engagement in architecture that explores alternative modes of historical practice, discourse, and spatial activism.
You'll build upon your knowledge of design discourse, media, and technology as you explore digital fabrication, sustainable building practices, and more. Studio and seminar work is also framed around collaborations with external partners, such as Autodesk, Kreysler & Associates, the San Francisco Planning Department, and the Golden Gate National Parks Conservancy, to champion real-world experiences with cross-disciplinary teams.
Professional internships and study-abroad courses
Our program's internship requirement connects you with renowned Bay Area architecture firms. This not only helps you secure employment after graduation, but also gives you a first-hand look at the daily processes you'll encounter throughout your career.
We also encourage students to study abroad during the summer semester. Recent courses have explored innovative public spaces in Berlin and formal experimentation in new domestic architecture in Tokyo.
Your tools for material exploration
KUKA robotic arm in the Digital Craft Lab
3D printers
Lathes, grinders, and sanders
Milling machines
CNC routers and laser cutters
Potterbots
Our faculty are practicing architects and full-time academics whose expertise forms the backbone of our four specialized research labs. They're deeply connected to research, practices, and processes, as well as a wide network of leaders who shape international discourse on architecture and interior design. Faculty provide students with the one-on-one guidance they need to formulate critical questions and imagine innovative proposals in their studio work.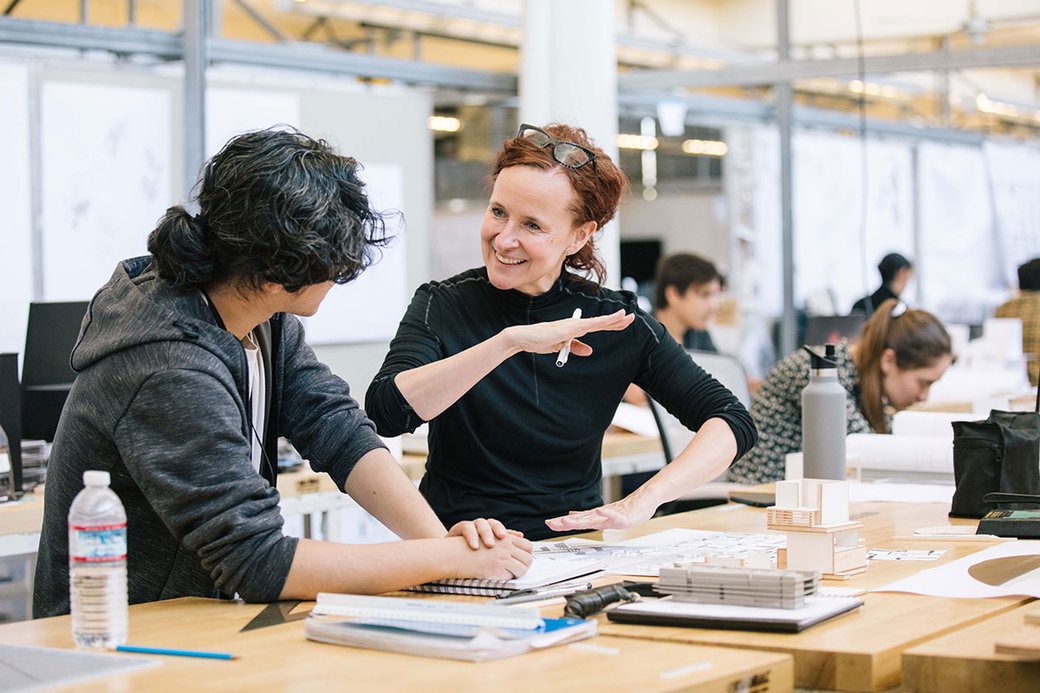 Chair Antje Steinmuller is interested in the agency of architecture at the intersection of citizen-led and city-regulated processes. Her current research focuses on new typologies of urban commons, new forms of collective living, and alternative methods for the production of urban public space. She's co-director of the Urban Works Agency, CCA's urban research lab, and a founding partner of Ideal x Design, a consultancy that focuses on public-space activation, urban research, and public art design.
Connect full-scale making to pressing challenges
CCA's Bachelor of Architecture begins with a four-semester core studio sequence that integrates foundational design education with skill building in design media and representation, building technology, and history and theory. The curriculum's final four semesters challenge students to reimagine and expand what architecture is capable of achieving in advanced studios and seminars. View sample courses.
Investigate ideas through every dimension
Before diving into their chosen major, every undergraduate participates in the First Year Experience. Students explore a wide range of materials and tools over the course of two semesters. Faculty from different disciplines guide studio projects, group critiques, and theoretical discussions, setting students up for success throughout their major coursework.
Our alumni work for national and international architecture firms or work as designers at global companies like IDEO, Apple, Airbnb, and WeWork. Alumni also establish their own practices in architecture, design/build, or fabrication. Many continue their studies at leading graduate programs to deepen their knowledge in specific areas. Wherever they are in the world, they strive to make a positive impact on the built environment.
Potential career paths
Licensed architect
Digital fabricator
Data visualizer
Interior designer
Architectural product designer
Design strategist
Construction project manager
Educator
Our students are ready to make a difference in the world. You see architecture as a way to positively shape the relationships between structures, people, and the environment. You're often just as interested in cutting-edge digital technology as you are in the slow, methodical process of working by hand. Above all else, you're driven to find innovative solutions to the environmental, political, and social challenges we face today.