CCA's research labs require students the opportunity to take coursework outside the traditional classroom and examine critical issues. For students in the CCA Architectural Ecologies Lab, this means using the natural world to explore innovative designs, materials, and manufacturing processes. Through interdisciplinary strategies and meaningful collaborations with colleagues in science and industry, students receive hands-on experience in creating designs that address some of our most pressing issues, such as sea-level rise, habitat restoration, and climate change.
One specific project, Waterline by CCA Architectural Ecologies Lab students, is making headlines and garnering multiple architecture student awards. Last year it was a finalist in the Kiribati Floating Houses Competition and recently won an ASCA Cote Sustainability Award. Conceived by Cera Yeo (BArch 2019) and Jingyi "Emma" Luo (BArch 2019), Waterline merges sustainable design, ecology, architecture, and planning to preserve local culture and the environment in the Maldives. Their forward-thinking approach is being recognized for finding new solutions to preserve this territory and potentially other island communities.
Designing solutions for climate change in the Maldives
The Maldives was selected as a focus case study for the CCA Architectural Ecologies Lab because of the territory's unique characteristic of being mostly water (1% land and 99% ocean). The Maldives has many high-end resorts that offer a remote island experience, and tourism has become a main source of income. Tourism activities—combined with the reliance on seawalls, bottled water for fresh drinking water, diesel, trash burning, and food importing—creates extra pressure on an environment in the midst of climate change.
To find potential solutions for these challenges, CCA Architectural Ecologies Lab's Buoyant Blueprint studio worked with local Maldivians to explore possible infrastructures as the community adapts to the impacts of climate change. These conversations led to a project for the local island Dhangethi; it offers an alternative approach to land reclamation, where new land is created by pumping sand from deep in the ocean to the edges of the island to create more land. With additional insights from architecture students at Maldives National University (MNU) and Maldivian policy makers, architects, and engineers, Buoyant Blueprint studio projects integrated renewable energy, fresh water collection, anaerobic wastewater treatment, food production, and recycling in response to effects of climate change on island culture.
Yeo and Luo's Waterline project specifically envisions a self-sustaining floating community with a mangrove nursery and advanced water recycling systems, all while keeping the local Muslim culture top of mind. Waterline establishes an anaerobic wastewater treatment and other renewable energy infrastructures, as well as a new model for economic development that includes tourism, food security, and coastal protection.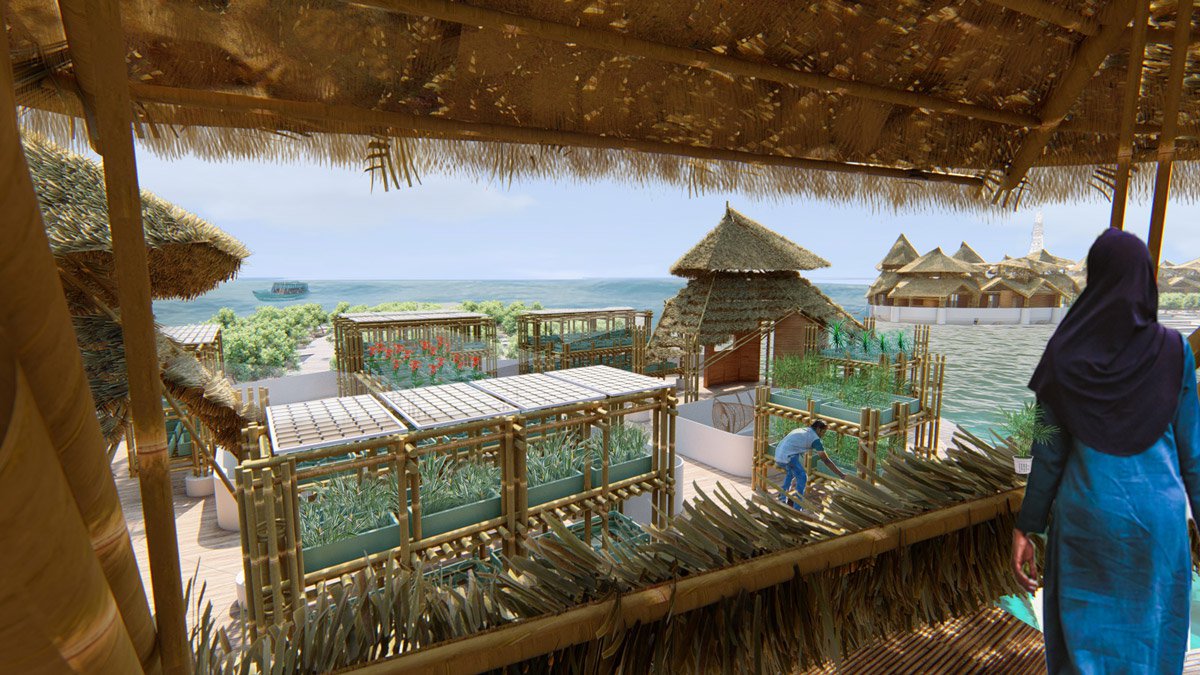 Inspiration from hand-woven crafts
When developing Waterline, Yeo and Luo were inspired by an important element of local culture, a practice they first saw while watching video research gathered by professors Margaret Ikeda and Evan Jones on a previous trip to Dhangethi island. One specific moment stood out to Yeo and Luo from the footage: a Maldivian woman in the process of weaving palm fronds for a roof. These locally woven palm fronds are sent out to the resorts to become thatched roofs.
"This provides an interesting dynamic between the Maldivians and the tourism industry, as the palm fronds have to be replaced due to their lifespan," says Yeo and Luo. "Sadly, resorts began to replace thatched roofs with synthetic thatched roofs. By using the thatched roofs in our project, we hope to retain the cultural knowledge of weaving and the understanding of a constant cycle."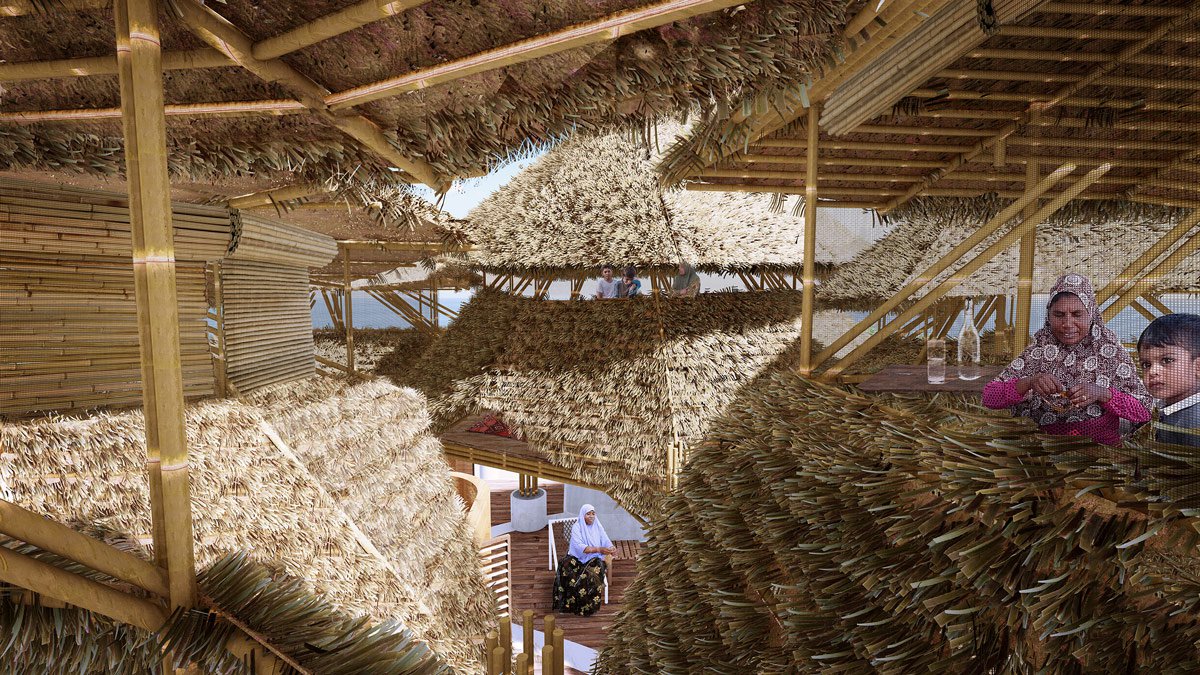 This hand-woven craft can be found throughout Waterline's combination of sustainable design, ecology, architecture, and planning. Yeo and Luo's desire to focus on preserving a local craft and its cyclical nature eventually expanded to their overall plans, which included the mangrove nursery and anaerobic wastewater cycle.
A blueprint for the future
Although designed specifically for the Maldives, Buoyant Blueprint studio projects like Waterline could also be adapted by other coastal communities. Yeo and Luo hope people recognize Waterline's potential beyond the stack of architecture student awards it has earned and see the role architecture and design can play in addressing the effects of sea-level rise and climate change.
"Projects like these help us understand how we can implement our interests in community and sustainability through provocative thinking," the pair says. "It showed us that we do not have to stick to the bread and butter, but we should constantly explore ideas, especially as young professionals."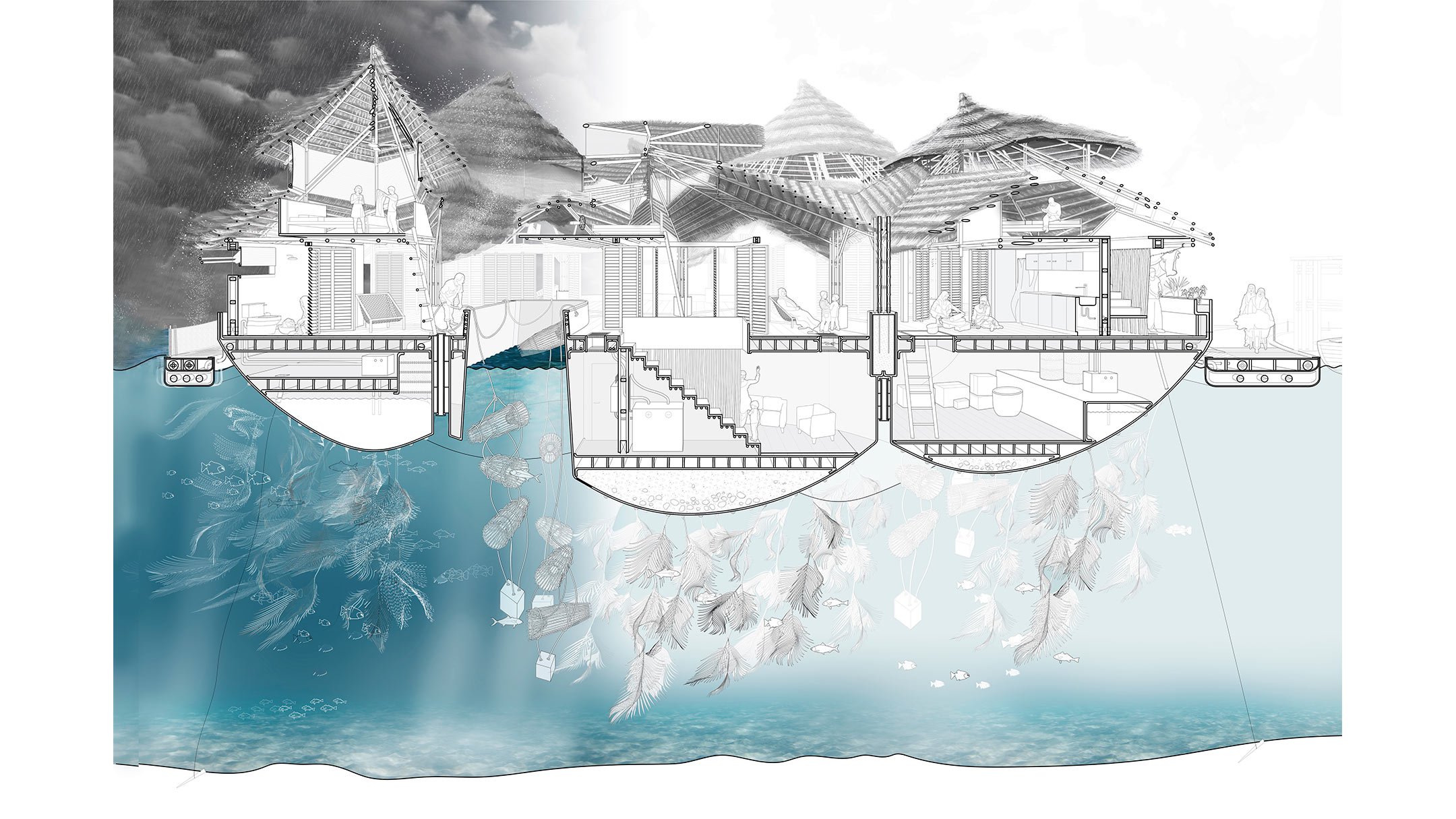 Students like Yeo and Luo remind us to think and create with local cultures in mind. CCA Architectural Ecologies Lab directors are currently meeting with Maldivians to build a pilot floating anaerobic waste treatment module, as speculated in their design. As Waterline continues to gain attention, it's clear their designs are more than a theory—they're also a pathway for a global future.
—Brooke Vlasich
September 15, 2020