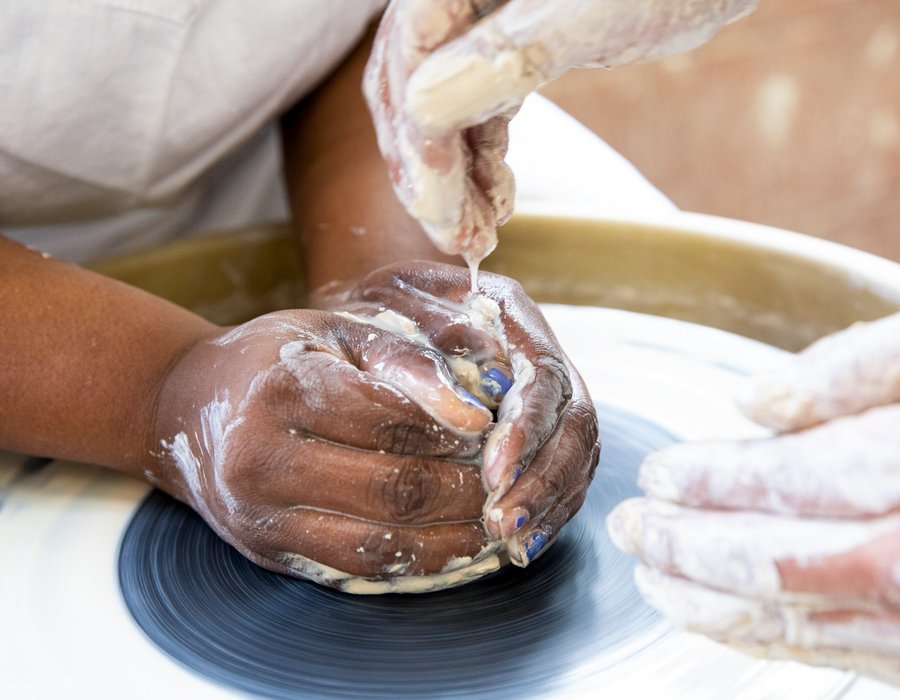 Explore the dynamic field of ceramics, from figurative sculpture and objects to industrial applications and functional ware.
Ceramic art at CCA incorporates a wide range of disciplines, including printmaking, sculpture, and glass. Students learn to develop an intensive studio practice that incorporates many different perspectives, materials, and techniques.
Under the mentorship of our award-winning faculty, including Nathan Lynch, Arthur Gonzalez, and Nancy Selvin, students embrace risk-taking and master fundamental skills—drawing, sculpture, design, and research—that will prepare them for lifelong careers as ceramists.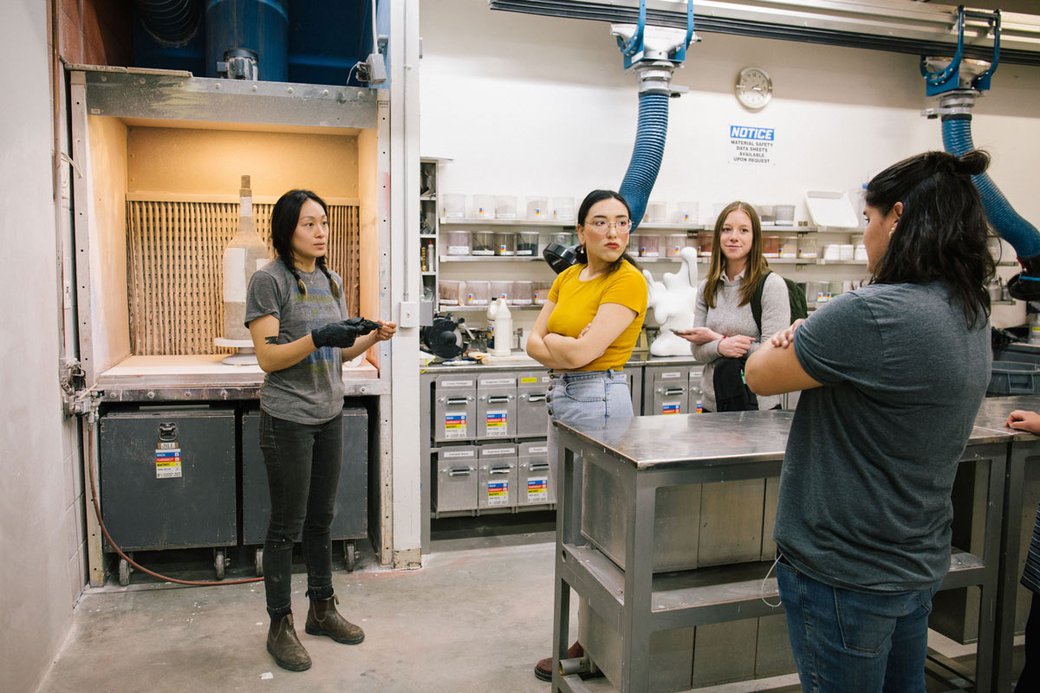 Our BFA in Ceramics program is nationally recognized. We train students to become interdisciplinary artists and nimble collaborators. Students investigate the history of ceramic arts, contemporary theory, and material possibilities within the context of an art and design school. The college's ties to the Arts and Crafts movement and the Bay Area's thriving contemporary art scene attracts many renowned visitors for our yearly lecture series. Students also benefit from project-based work that introduces them to architects, geologists, painters, writers, and more.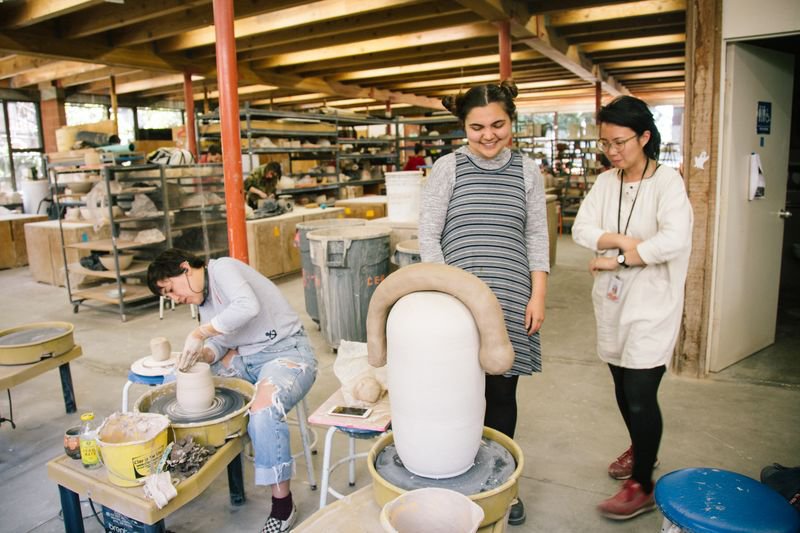 Students learn to develop work for different environments, like outdoor installations, restaurants, galleries, and architectural builds. They have access to all the tools they need in the Ceramics Studios, which has dedicated areas for hand building, wheel throwing, and slip casting. The studio's kiln room, glaze room, and personal student studios are open 24 hours a day. A light-filled lounge with a small kitchen offers space to eat and socialize while artworks fire in the kiln.
Ceramics Studios
3D clay printer
BLAAUW computerized gas kiln
Glaze room with raw materials
Outdoor areas with specialized equipment
Spray booth
Decal-printing station
Dedicated slip casting area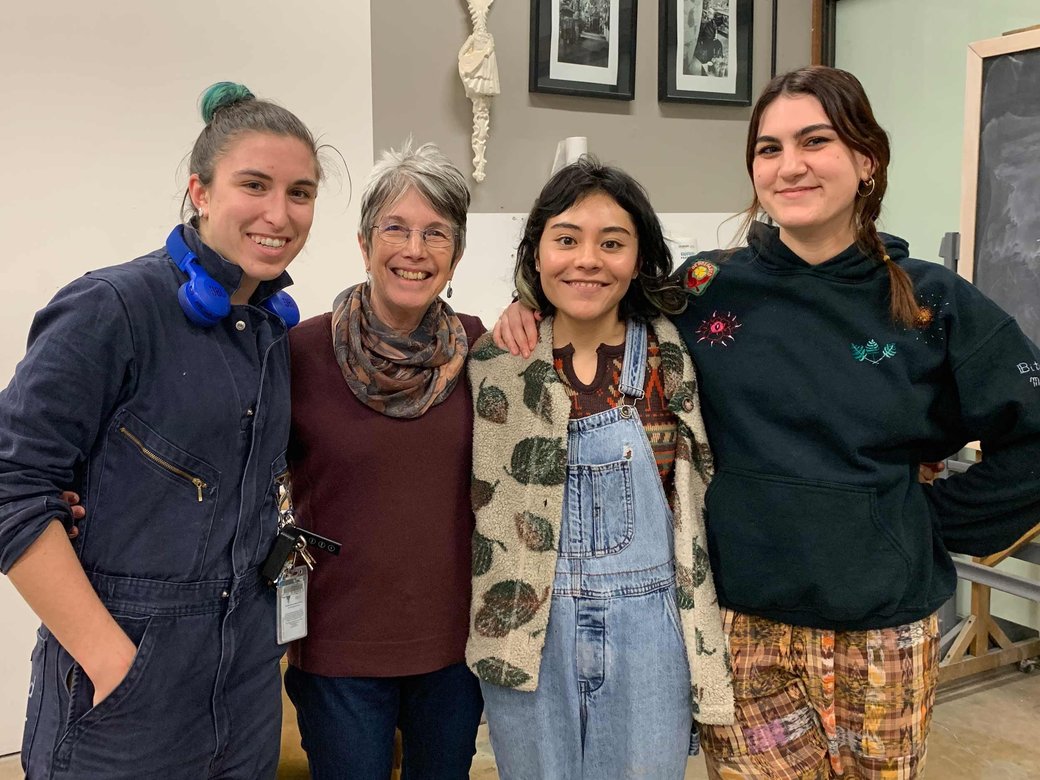 Connect beyond campus
The Nancy Selvin Award provides undergraduate students whose work is engaged in the practice of ceramics the opportunity to travel to a residency or conference. Artist and CCA faculty member Nancy Selvin, the award's namesake, has had a huge impact on the field of ceramics and art education across the country. This travel award allows recipients to step away from their daily routines, immerse themselves in their work, and make new connections within the clay community.
Our faculty—such as Erik Scollon, and Maria Porges—are practicing artists whose works include figurative sculpture, painting, site-specific installation, ceramics fabrication, and more. They help students understand and challenge the role of ceramics in history, culture, and contemporary society.
"We take the West Coast tradition of rule breaking seriously, crafting a distinctive ceramics program that is often more experimental, interdisciplinary, and performative than others."
Chair of Ceramics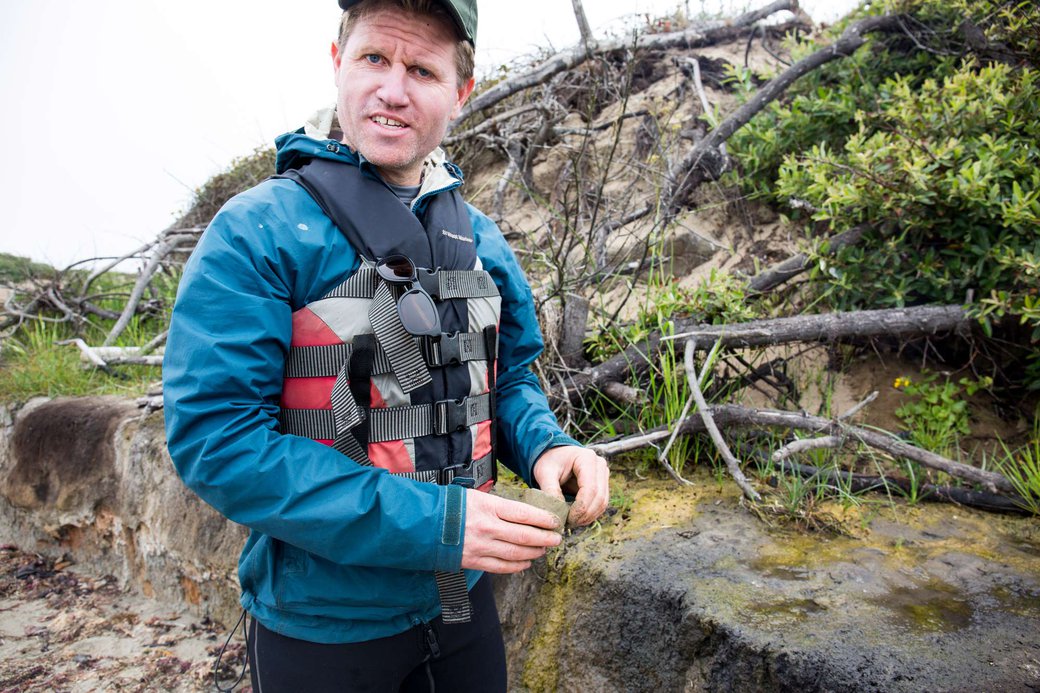 Chair Nathan Lynch is a ceramicist, sculptor, and performance artist. While his work operates at the intersection of several disciplines, clay has been his primary material for a number of years. The Seabird Nest Program, which Lynch leads in collaboration with Oikonos Ecosystem Knowledge, is focused on designing and fabricating ceramic nesting modules for bird species on California's Año Nuevo Island.
Develop personal concepts and ideas
Ceramics at CCA introduces students to the nature and possibilities of clay, then guides them in exploring and developing their personal concepts and ideas. As students move beyond the fundamentals and into advanced-level workshops, which focus on specific themes, such as objecthood, they learn to merge their critical thinking, presentation, and collaboration skills. View sample courses.
Investigate ideas through every dimension
Before diving into their chosen major, every undergraduate participates in the First Year Experience. Students explore a wide range of materials and tools over the course of two semesters. Faculty from different disciplines guide studio projects, group critiques, and theoretical discussions, setting students up for success throughout their major coursework.
After graduation, alumni are ready to work as interdisciplinary artists and challenge the limits of ceramic art. They establish studio practices, oversee galleries, design products, venture into teaching, and pursue interesting projects that engage with pressing social and environmental causes.
Potential career paths
Pottery and ceramic studio owner
Art school educator
Self-employed artist
Gallery owner
Designer and fabricator
Clothing/jewelry small business owner
Our applicants are often just as excited about research and writing as they are about building sculptures. Some already have experience making figurative pottery, but just as many are completely new to ceramics. We look for promising artists who are interested in collaboration and pushing boundaries.