Four years ago, Diedrick Brackens got a phone call. What happened next, he describes as "CCA energy."
It was Lauren O'Connell, a fellow CCA graduate school alum. "I was prompted to look into artists whose backgrounds were based in craft, and one of the artists that obviously came to mind for me was Diedrick," O'Connell says. "I was working independently and I didn't necessarily have a venue, but I was really interested to work with Deidrick and help promote his work. I was like, 'Hey, what do you want to do? What are you thinking of?'"
A lot, as it turned out.
"It was great to be in conversation with a curator who was like, 'Cool, let's talk about what you're up to,'" Brackens says. "I also, honestly, didn't know where the work was going, but I could tell her the ways it was changing. At that point we were kind of just dreaming."
The pair's conversations became more fluid, and a few years later, when an opportunity arose at the Scottsdale Museum of Contemporary Art, where O'Connell is the curator of Contemporary Art, Brackens didn't hesitate.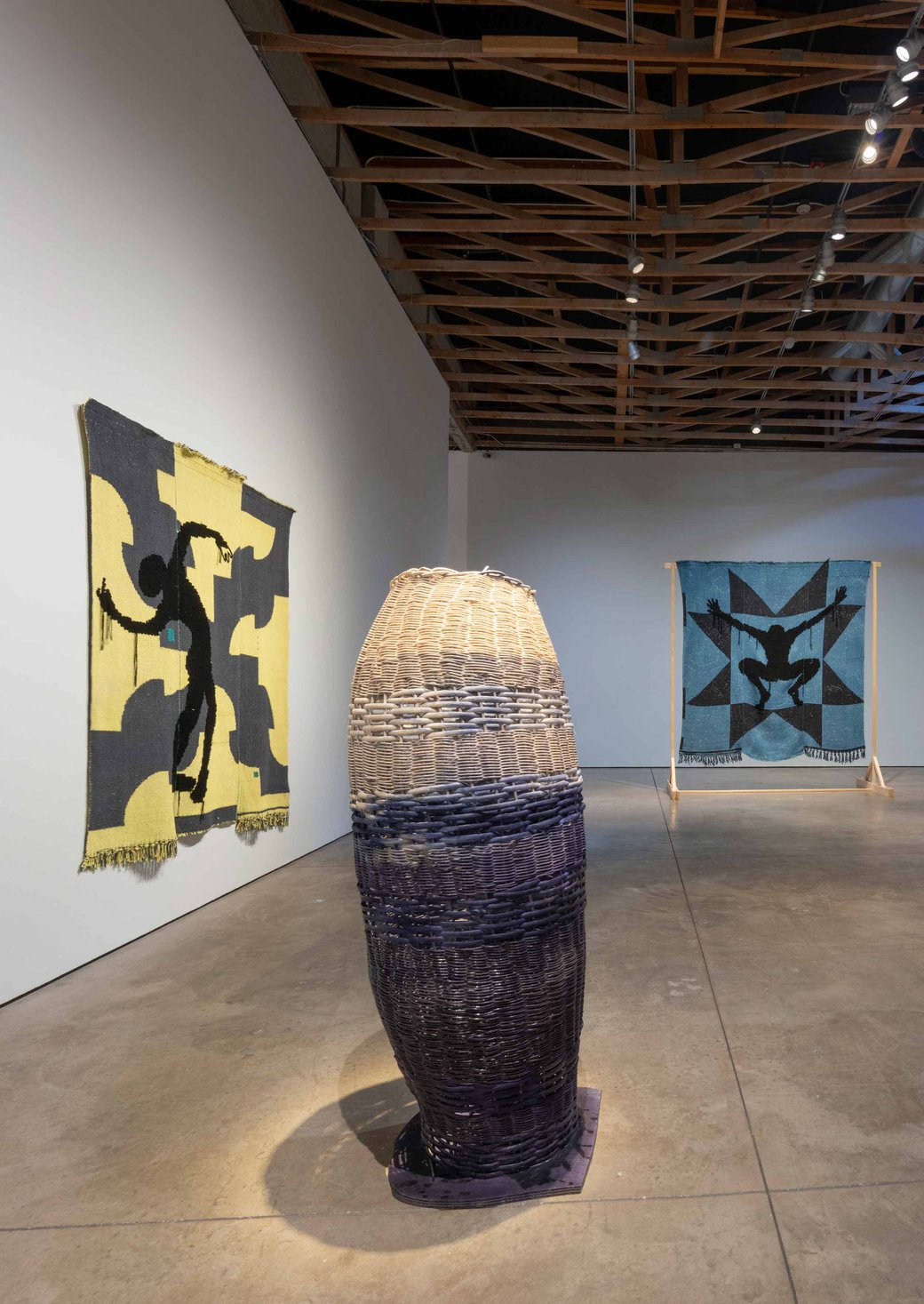 "We share so many connections and relationships that it was like, of course this will go well," Brackens says. "We have this shared community to dialogue with. The constellation is so bright and CCA-specific."
The result? Brackens' first exhibition in the Southwest U.S.
Diedrick Brackens: ark of the bulrushes opened at the Scottsdale Museum of Contemporary Art in February 2021. Curated by O'Connell, the exhibition includes large-scale weavings by Brackens—well-known for his colorful textiles about African American and queer histories—and premieres all-new work by the artist, including his first-ever woven sculptures and related photography. The sculptural basket boats, or arks, are prototypes for a future vessel with enough room for two passengers to travel the Mississippi River. The exhibition takes its name from the biblical story of the exodus of the Israelites, where an "ark of bulrushes" carried an infant Moses up the Nile River.
The exhibition also showcases Brackens' push from abstract to figurative weavings, which reference imagery from 19th century Freedom Quilts, used to communicate with enslaved people traveling along the Underground Railroad. The Black body, represented in form or implied in absence, is the focus, and the dynamic figures—mimicking poses and animals associated with constellations—are intertwined with patterns pulled from the stars. The work aligns the bodies "within the cosmic proportions of the universe," according to the museum, "inferring empowerment of the individual and of a people."
"Coming together on this, we were able to accomplish a lot and are still accomplishing a lot. But all the brilliance is Diedrick," O'Connell says, describing the process for working together as curator and artist. "I was there to listen and talk it through. I'd absorb what he was saying, to try to understand the vocabulary and the intention so that when we talk again, we can build upon that—so I could ask the right questions to help expand it further."
Following the exhibition opening, we called Brackens and O'Connell and joined a conversation between the pair to ask a few questions of our own.
Installation views at SMoCA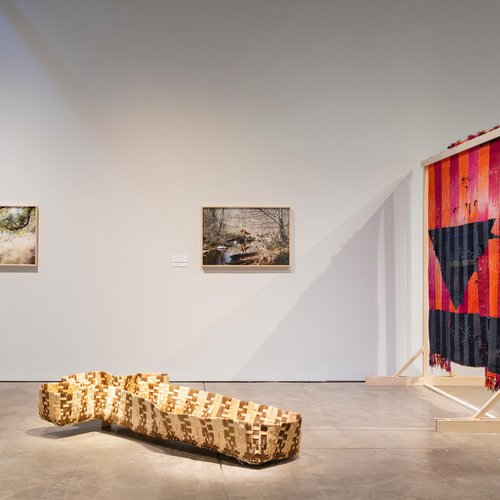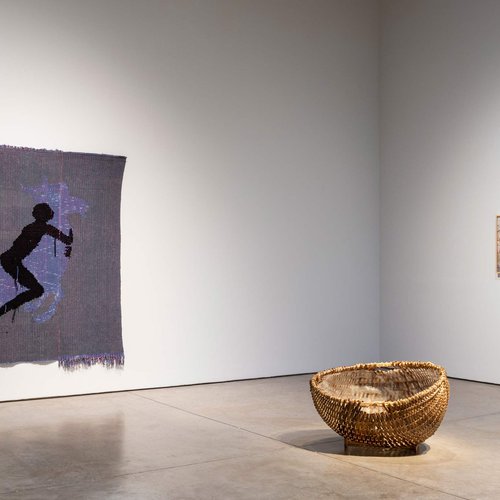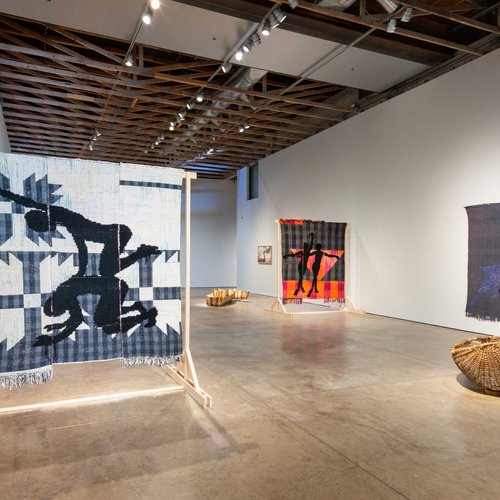 In conversation: Diedrick Brackens + Lauren O'Connell
Were you two close in graduate school?
Lauren O'Connell (MA Curatorial Practice 2014): We were just talking about this! No, not really.
Diedrick Brackens (MFA Fine Arts 2014): I remember your Curatorial Practice cohort being super involved and coming into studios a lot. Your cohort was always kind of traveling as a pack. It was like an amorphous blob of curatorial studies.
LO: One of the things that I was looking for in a grad school was a place where the curatorial practice program was really close to the actual working studios of artists. CCA was a great place to have informal exhibitions and studio visits. I definitely remember, it was probably an open studio, wandering into Diedrick's studio and poking around. I was always very interested in Diedrick's work and impressed by it.
"We share so many connections and relationships that it was like, of course this will go well. We have this shared community to dialogue with. The constellation is so bright and CCA-specific."
(MFA Fine Arts 2014)
Did anything about graduate school at CCA surprise you?
DB: The city itself was surprising to me. I moved around a lot growing up, but I'd always lived in suburbs or smaller cities. Being in San Francisco itself was surprising—moving around from neighborhood to neighborhood, the sites, the people, and all the things sort of right on top of each other. It really was shocking to me. Not in a debilitating way, by any means, but there was so much to take in, and that was inspiring in and of itself.
LO: I started grad school when I was 30, and I was already working as a curatorial assistant, so I thought I knew what it was about. Then I went to grad school, and I felt so nascent in understanding what curatorial practice is. You can know the ins-and-outs of the logistics and that kind of stuff, but there's a way to define your own practice. Our professors pushed us to find our position. We all learned to find our voices, and I felt like I was in a very safe space to do that and make mistakes.
Grad school also created a sense of criticality that I didn't have before, and a sense of collaboration and community. I always understood curators as being these lone sharks who would do their thing. Grad school taught me—from working with visual artists at CCA, curatorial students, vis crit students—that more minds are better than one.
Looking back: Life as CCA students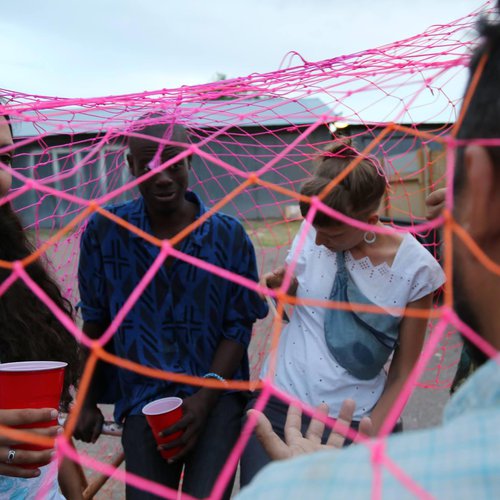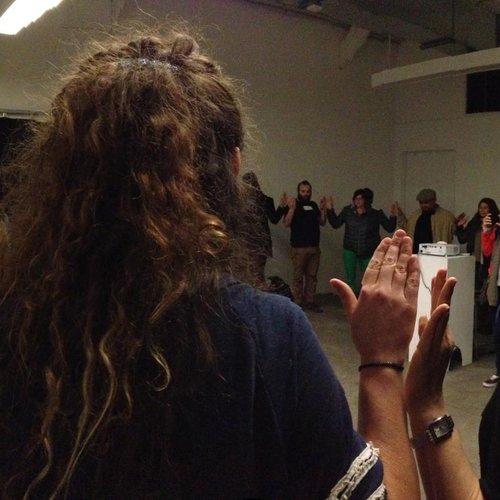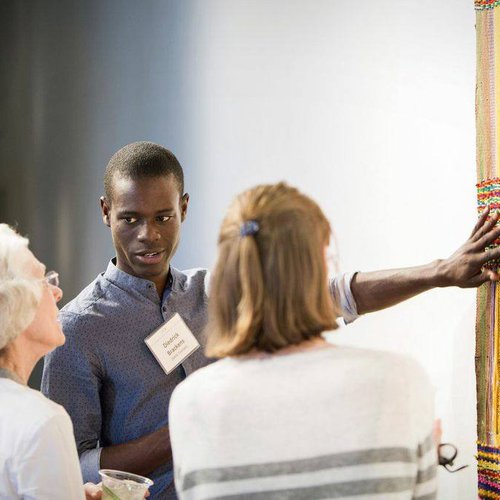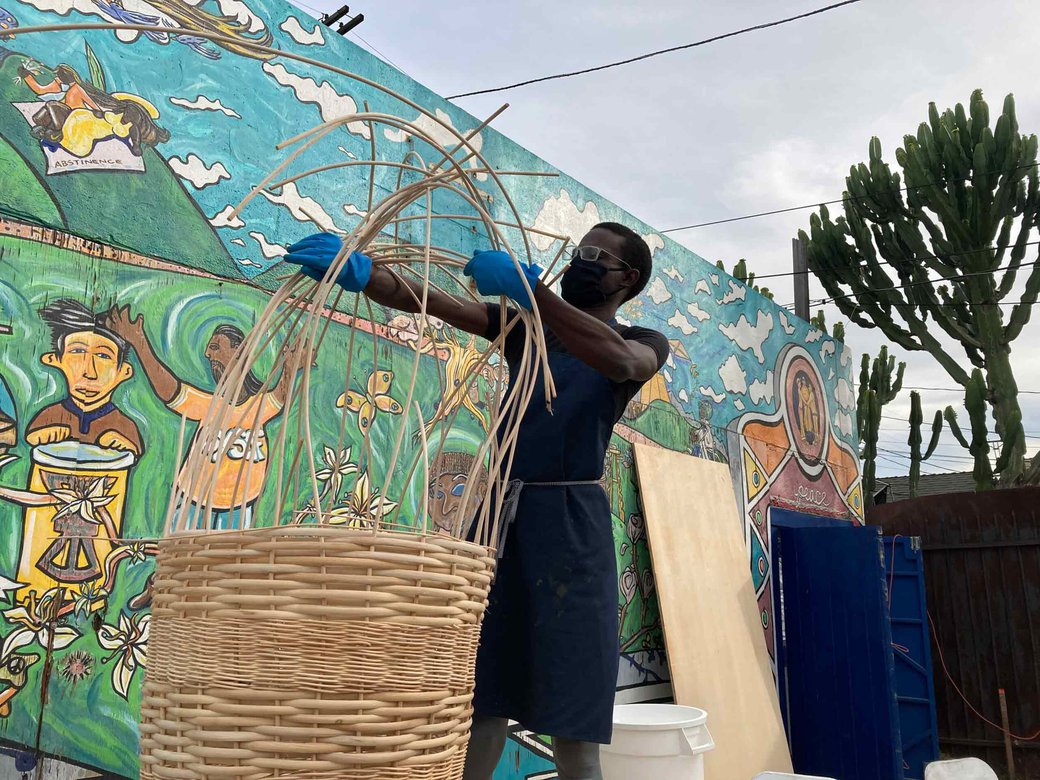 What did you learn about each other in the process of working on ark of the bulrushes?
DB: Lauren is super organized and driven. You've thought about the many ways that the show could go beyond the walls of your institution. We've had a lot of conversations about whether the show can go to other institutions, or become something else, and what kind of programming would complement it. Your vision is so much beyond the date that the show opens and closes.
LO: That's a nice compliment because I think it's sad when exhibitions are just about what happens in the gallery. There's just so much more to share. Especially when working with an individual artist. Diedrick put so much into the show—so much heart and soul, so much work. We learned a lot about each other. We learned all about each other's astrology...
DB: I'm a Capricorn.
LO: I'm a Leo. And when Diedrick came for installation we were able to have these downtimes that in a grad school environment you're not usually getting. We were able to get into the nitty gritty of who we were as individuals. We learned all about each other's families. He met my son, my husband, my sister. It's a really intimate process, putting together an exhibition, and it's nice to connect who you are as a person with who you are in terms of what you do professionally.
Did you learn anything about your own practice from this experience?
DB: I think the biggest thing I'm walking away with from working with Lauren is how much more multifaceted my practice can be. It's not just textiles. For so long I've been flirting with these ideas, and thinking about how these other kinds of modes might manifest. Lauren was like, "OK, do it." She gave me that platform and trusted me to go for it. It's really cracked open my approach to how I can make art. Even now, I'm sweating in the woods scouting spots for photography. I'm so hungry to explore this so much more.
LO: Working with Deidrick has taught me a lot about how to speak about the use of craft in contemporary art and how the histories are so rich and can feed into the context of the artwork, beyond just the concept behind it. Diedrick is also a very determined and driven person. Every exhibition and every time I work with an artist reveals something new, but I really love working with people who I have a genuine connection with. I consider myself an artist-focused curator. I think about the institution, but I also think about the ways in which the institution can work for the artist and connect the artists to a new community and expand conversations. In the artist-curator relationship, trust and dialogue are really important. This experience reinforced that.
What advice do you have for current MFA Fine Arts and MA Curatorial Practice students at CCA?
LO: I teach a course on curating at Arizona State University, and one of the things I tell my students over and over again is, "You have access to artists who are your age, or at least are in school the same time as you. You need to talk to them, create relationships, see who you want to start a conversation with."
So much of curatorial practice is about trust. You do have to build a relationship with an artist you want to work with, or have a common thread or connection. You should be dedicating time in the artist studios at CCA. If you want to know how to talk to artists, there's no better way to do it than in grad school. Nobody knows how until you just do it. I think about how wonderful it is that my cohort and Diedrick's cohort are all now coming into positions to do these types of shows and have these types of conversations. Building that connection at CCA was so important.
"I think about how wonderful it is that my cohort and Diedrick's cohort are all now coming into positions to do these types of shows and have these types of conversations. Building that connection at CCA was so important."
(MA Curatorial Practice 2014)
DB: My biggest piece of advice, and what still helps me in the work, is to take advantage of seeing the city and the surroundings. As a student, I would go at least once a month to Point Lobos. The Sutro Baths, I would go and walk that whole thing. The Bay Area is so unique—to be immersed in the natural environment and the urban environment, to be able to toggle between the two so easily.
LO: Right! Take advantage of all the opportunities you have, whether it's to be in the city and explore the surroundings, or there are so many interesting organizations working in the Bay Area. And not just arts organizations, but other types of community-focused organizations. Attend programs to see what's out there and find your people, even if it is outside of your cohort at school.
DB: So many of my first opportunities came from the Bay Area and from CCA. People were so open to show the work or have conversations or invite you to speak or do a workshop or anything. In those two years, I was always a part of someone's show or doing something in an art context.
I was very head-down in school, but I also made time to go out and do things that were not art related and weren't with art people. Sometimes people get so careerist in the artistic sense; they think it is all being in the studio. But some of my best work and connections were more organic. It's not something you can game. You have to figure out where the heat is and invest your time and energy—and make the work. So many people get caught up in what the secret is that they don't have any work when they crack it.
Oh, and apply to everything! How could you not? There were awards or shows that were juried and students were encouraged to apply. It's so easy just to put your foot out there.
LO: Yeah, take chances, take risks. Grad school is the time to do that because there is no such thing as failure in grad school. Probably in life, too...
DB: If you quote Lauren on that, I want to follow up with, "eeeeh?"
LO: I stand by it! Failure always leads to new ideas. But like Diedrick said, find time to get away from school and to think. Find time to let everything that you're taking in absorb so you can figure out what you want to hold onto and what you want to let go of.
DB: CCA is very collegial. You find your tribe and your people. But it's still a pressure cooker. It's still grad school. There's still competition. It's good to have a space outside of it to vent, to relax, to get away.
But because of CCA, if I can make this leap, Lauren and I already had some of the same common ground and shared experiences. We took the same kind of foundational coursework and had a shorthand about some things and a point of view about things that I knew would be shared or overlapped, which is really nice. When you reached out, I was sort of like, "Oh, it's Lauren. I trust Lauren."
LO: I've never worked with someone who trusted me as much as you did. And that was amazing. Thank you, Diedrick.