 CCA congratulates Katayoun Bahrami, Ester Karnoski, and Bryce LeFort, recipients of 2021 Edwin Anthony and Adalaine Boudreaux Cadogan Scholarships from the San Francisco Foundation and SOMArts. The awards honor promising young visual artists from Master of Fine Arts programs throughout the Bay Area whose work intersects with emerging trends. Honorees receive financial support for their MFA studies and the opportunity to show their work in The Annual Murphy & Cadogan Art Awards Exhibition at SOMArts Cultural Center. It is the first gallery exhibition for all three artists.
Katayoun Bahrami
Working across photography, painting, mixed media, and installation, Bahrami (MFA Fine Arts 2022) aims to give voice to women who have been silenced. Shaped by growing up in Iran, she questions taboos about women's bodies in her work. Before coming to CCA, Bahrami first studied fine arts in Tehran and then cultural management and museum studies at Michigan State University, and her work frequently explores the experience of living between two distinct places.
Bahrami's three works in The Annual Murphy & Cadogan Art Awards Exhibition, two sculptural installations and one video piece, are unified by the theme of women navigating societal limitations. Drawing on her skills as a textile artist, Bahrami crocheted copper wire and knitted hemp yarn into a face covering and crocheted cotton into a cover for rocks, an indirect allusion to misogynist laws aimed at women's bodies in some societies.
The video work, Quest, features a woman shrouded entirely in an ethereal white cloth, set against a bright green landscape. A strong wind, heard blowing on the soundtrack, causes the fabric to wrap around the figure, both revealing and concealing her form. Bahrami turned to video for the first time during the pandemic; access to CCA studios was limited but she was able to borrow equipment from the school to explore this medium.
"This exhibition is a wonderful way to start my last year at CCA," Bahrami says. "Receiving this award gave me a confidence boost. It is a good reminder to never give up."
Katayoun Bahrami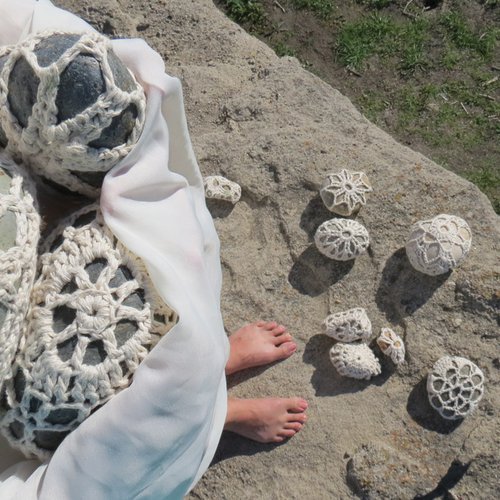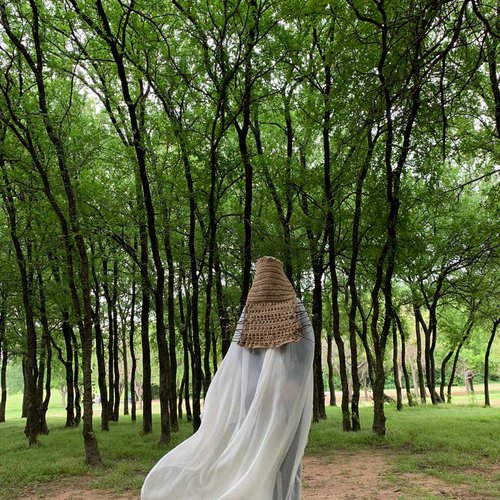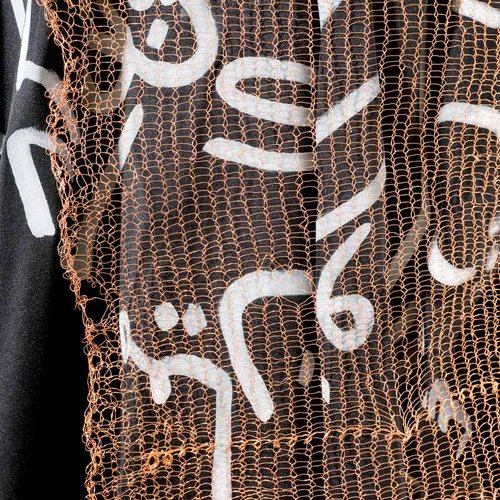 Ester Karnoski
"Fun" is a word Karnoski (MFA Fine Arts 2022) mentions often in relation to her work. Inspired by the celebration of her marriage in 2019, she began making paintings and drawings of her friends having a good time. But at the same time, perhaps because of her background studying psychology and gender, women, and sexuality studies at the University of Washington, her paintings raise questions about identity, representation, and agency. Her work explores the implications of placing the queer, feminine subject in the position of voyeur: what does it mean to control the power to portray others?
At SOMArts, Karnoski is exhibiting nine oil paintings on paper from the series Screen Time. During the pandemic, she struggled with how to make work in the absence of social events, which had been her sources of inspiration. "How do you make work that is fun during lockdown?" she asks.
Like many of us, Karnoski was consuming more media while sheltering in place. She began painting mashups of screenshots from the shows she was watching, mostly in the gay media, and pairing them with text. Like her paintings of friends, they communicate the pleasure, desire, and vulnerability inherent in seeing and being seen.
Joining CCA's creative community has been essential to Karnoski's development as an artist and meeting with her peers via Zoom during the pandemic was another impetus for Screen Time. "I am interested in bringing things from our screen life into the analog world," she observes. "I want to capture that spark of connection."
Ester Karnoski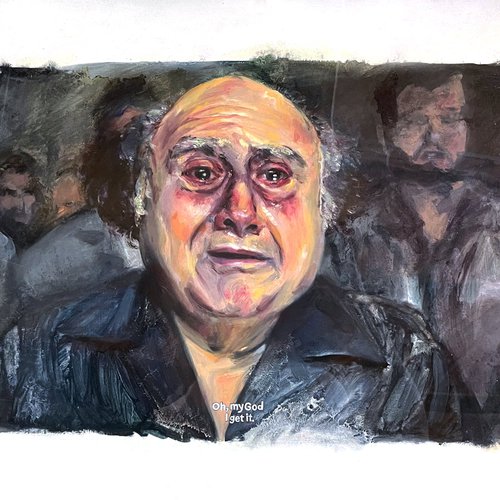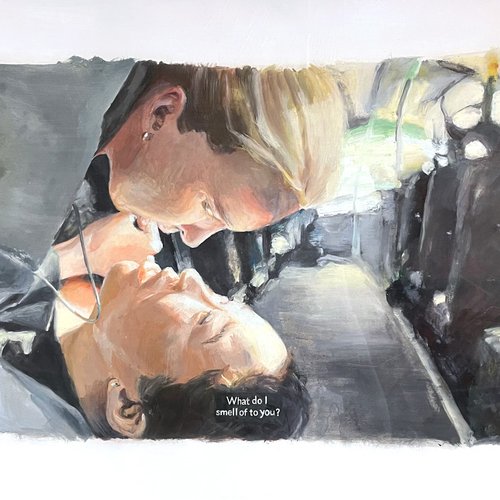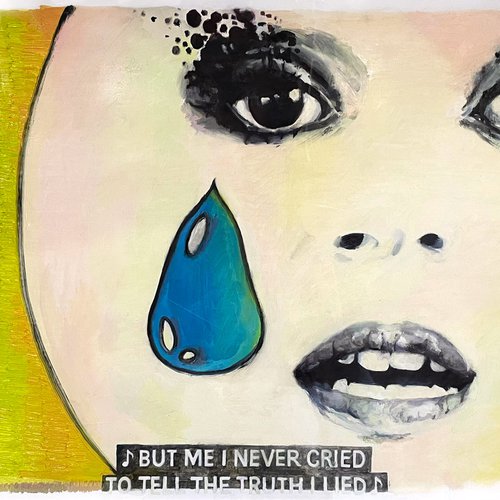 Bryce LeFort
With a background as a boatbuilder, LeFort (MFA Fine Arts 2022) believes that great power comes from working with your hands. His artistic practice focuses on the possibilities of materials and embraces the structure of drawing, the freedom of painting, and the craft of working in three dimensions.
LeFort studied fine arts and communications at the University of Pennsylvania and then spent more than a decade building boats using traditional methods and materials. His artwork retains the high level of craftsmanship and deep knowledge of wood construction he honed as a boatbuilder, but it expresses a joy in being freed from the constraints of functionality.
For The Annual Murphy & Cadogan Art Awards Exhibition, he has chosen to exhibit one of his bent wood sculptures that alternately calls attention to and elides the process of its creation. Meticulously crafted of very thinly sliced and laminated Douglas fir, then shaped into curving lines, the suspended abstract form seems to float in the gallery space. "Through technique and process, the material is both forgotten and highlighted," LeFort says.
The 15-foot-tall sculpture reads simultaneously as a two-dimensional sketched line—the primeval artist's mark—and the three-dimensional manifestation of that line, swooping through space. As the sculpture gently rotates in the gallery (thanks to the breeze from a nearby open door), you become acutely aware of its mass, weight, and materiality, but at the same time the shadows it casts on the surrounding walls return it to two dimensions, the painter's line.
"My intention is to give the audience the choice of how to perceive the work," LeFort explains. "It's in their hands."
Bryce LeFort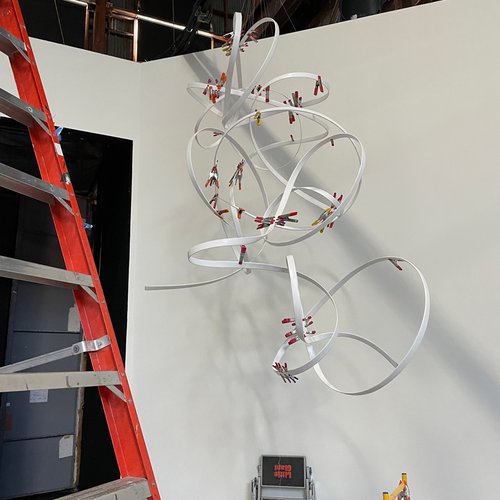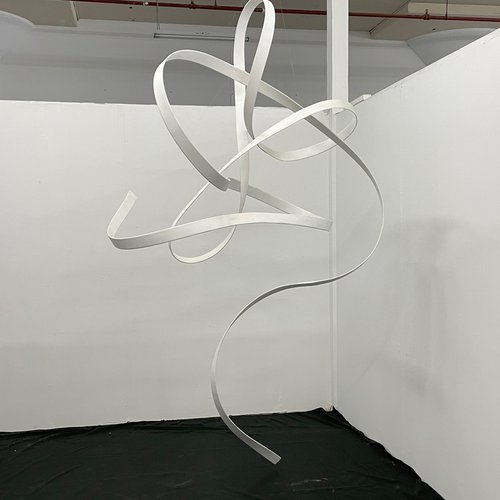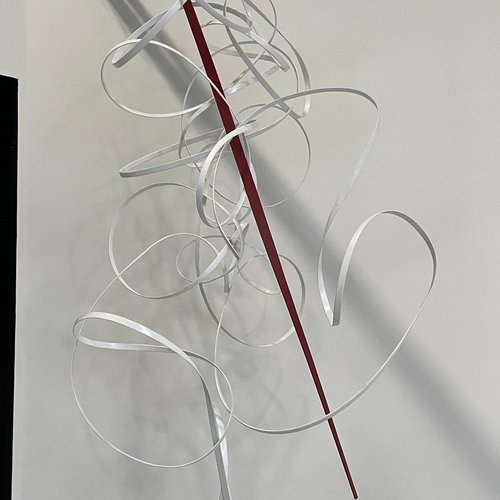 All three artists were recognized for fueling the forward-thinking visual arts movement in the Bay Area. Awards will be presented at a ceremony at SOMArts on September 10.
This year's exhibition is on view at SOMArts from September 11 through October 3. Plan your visit.