Imagine spending two years making and thinking about art, surrounded by a passionate community of other artists who are similarly driven to expand the boundaries of contemporary art-making. An MFA (Master of Fine Arts) program gives you the time and space to focus on your work, the tools to understand it within the context of contemporary art production, and the courage to experiment. "When you are in an MFA program, you are able to go through a development in two years that would take you five years otherwise," says Kota Ezawa, associate professor at California College of the Arts (CCA).
An MFA degree not only helps you grow as an artist, it can also assure your financial future—as the terminal professional fine arts degree, the MFA certifies you to teach at both the undergraduate and graduate levels.
But there's a lot to consider when selecting where to get your MFA degree. You'll want to research the best MFA programs and then learn more about each program to find the right fit for you and your goals as an artist.
We asked Jordan Kantor, chair of the MFA program at CCA—one of the top art and design colleges in the country—what he advises artists who are looking to get a master of fine arts degree. He suggests focusing on five main areas: faculty, type of school, location, critique culture, and alumni success.
1. Faculty: Find a mentor
"My first recommendation is to research the faculty," says Kantor. "The relationships you'll develop with faculty advisors, during and after your time in the program, are critical." He advises researching the work of the faculty at your top schools. Hone in on the MFA programs where there are two or three faculty members who you would want to have deep conversations with.
"I recommend choosing a master of fine arts program where the faculty are practicing artists engaged with local and broader art worlds," adds Kantor. He points out that at CCA the faculty have thriving artistic practices and international careers. Teachers like these not only help you take your own artistic practice to the next level, but they can guide you as you enter the art world based on their own experiences and contacts.
You might also want to look at the diversity of the faculty: is there a rich mix of different lived experiences, artistic approaches, and conceptual perspectives that will help you advance as an artist? "At CCA, we are proud that diversity is a pillar of our collective decision making," says Kantor. "This is reflected in who teaches in the program. We have faculty from many different international art communities and backgrounds who have chosen CCA as the place they want to teach."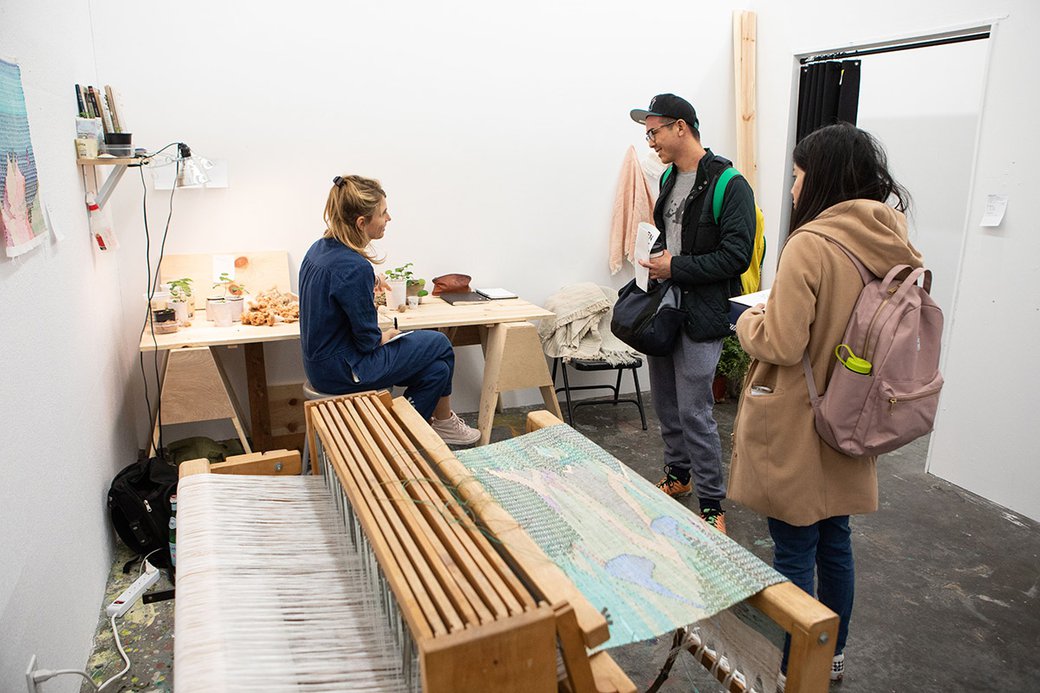 2. Type of school: Select the learning environment that's right for you
You can get a fine arts degree from a public or private university or from an art school; each one can provide a very different kind of experience. So, think about what kind of educational setting is right for you.
Kantor points out the advantages of attending a college for fine arts. "At an art and design school, you'll be immersed in an atmosphere of making—you'll find artists and designers creating all around you. CCA is unique in that it is largely run by artists, all the way from the top: both the college president and provost have MFA degrees and are practicing artists."
At an art school, you may also have access to more art-making facilities than a university can provide. "At CCA, students in the MFA program have access to dedicated studios, and they can also take advantage of photography studios and darkrooms, a letterpress studio, woodworking and metalworking shops, and printmaking and bookbinding equipment, as well as vast digital resources," says Kantor.
3. Location: Choose a community that will nurture your talent
Engaging with the surrounding community is a crucial part of your master of fine arts education, so it's essential to consider what kind of cultural and social context will help you thrive as an artist. "The location is a key component when choosing a school," says Kantor.
Kantor points out that the San Francisco Bay Area has a deserved reputation for valuing and nurturing diverse artistic practices and perspectives. "There's something about being in the Bay Area that tilts artistic exploration toward the future rather than the past. Being on the edge of the continent has long given artists here permission to break the rules."
As CCA alum Zarouhie Abdalian (MFA Fine Arts 2010) recently told Sculpture magazine, "The experimental art and music scene in the San Francisco Bay Area offered both historical precedent and contemporary context for a broader range of art-making."
The Bay Area values difference and is also keen to make a difference. It has a long history of social and political engagement and has been at the forefront of often radical social liberation movements, like the Free Speech Movement, the Black Panther Party, the Chicano Movement, and the fight for LGBTQIA+ rights.
"This culture of activism continues to this day, and it creates the context for what we do at CCA," Kantor says. "We have a thriving culture of social critique and political engagement that aligns with the predominant ethos of the Bay Area. The school's motto is even a call to action: Make Art That Matters."
4. Critique culture: Consider what kind of feedback you need to deepen your practice
Studio critiques are at the center of a graduate art education. It's the rigorous feedback that you will receive on your work during critiques—from faculty, guest artists, and your student cohort—that will advance your artistic practice. But each school has its own way of delivering this feedback. "Learn about the critique culture of the MFA program," says Kantor. "Ask yourself, 'How will this program help me become a critical thinker through my work? Will it support me in amplifying my own voice?'"
In a CCA critique, the focus is on the idea and whether or not the form is successful at expressing that idea. "The critique culture at CCA highlights interdisciplinarity," says Kantor. "Students aren't divided into painters, or ceramicists, or digital artists, so critiques are more conceptual than in an MFA program that is rigidly divided by artistic medium."
Through its critique culture, CCA aims to equip its graduates with the critical thinking and looking skills, theoretical tools, language, and confidence to evaluate and advance their own practices. CCA assistant professor Christina Wang likens CCA critiques to holding up a mirror: "Look, this is what you did. It's up to you to decide whether or not you think it's successful."
5. Alumni success: Think about where you want your art career to be in 10 years
Another key criterion in selecting an MFA program is alumni success. "I would look at where recent graduates of the program are in their careers," says Kantor. "Most schools have produced important artists over their long histories, but looking at the work and careers of younger artists can tell you a lot about the MFA program they attended. It can be a good way to find out if the program is a good fit for you."
"It's exciting to see the success of CCA alumni from the past 10 years or so," he adds, citing three recent graduates as examples.
Over the past few years, Carmen Winant (MFA 2011), who's now the Roy Lichtenstein Chair of Studio Art at The Ohio State University, exhibited her monumental collage installation My Birth at the Museum of Modern Art in New York and was honored with a Guggenheim Fellowship in photography.
Diedrick Brackens (MFA 2014), who uses weaving and textiles to explore African American and queer identity, had a solo exhibition at the New Museum in New York just five years after graduating from CCA.
Woody de Othello (MFA 2017) had his first solo museum show in 2019, at the San Jose Museum of Art in California, and exhibits his engaging, surreal ceramic sculptures around the world.
"These alumni embody an important legacy of CCA's interdisciplinary MFA degree, where students work across a broad range of forms, including painting, sculpture, photography, print media, moving image, social practice, and installation. After graduation, they are prepared to participate meaningfully in a wide range of contemporary art contexts," says Kantor.