CCA selected Scott as the college's singular 2019 honorary doctorate degree recipient
Recognized for outstanding achievements and eminence in her field
Best known for her figurative sculpture and free-form bead weaving techniques, Scott masterfully deploys fine art as a channel for social activism.
"I'd like my art to induce people to stop raping, torturing, and shooting each other," Scott says. "I don't have the ability to end violence, racism, and sexism. But my art can help them look and think."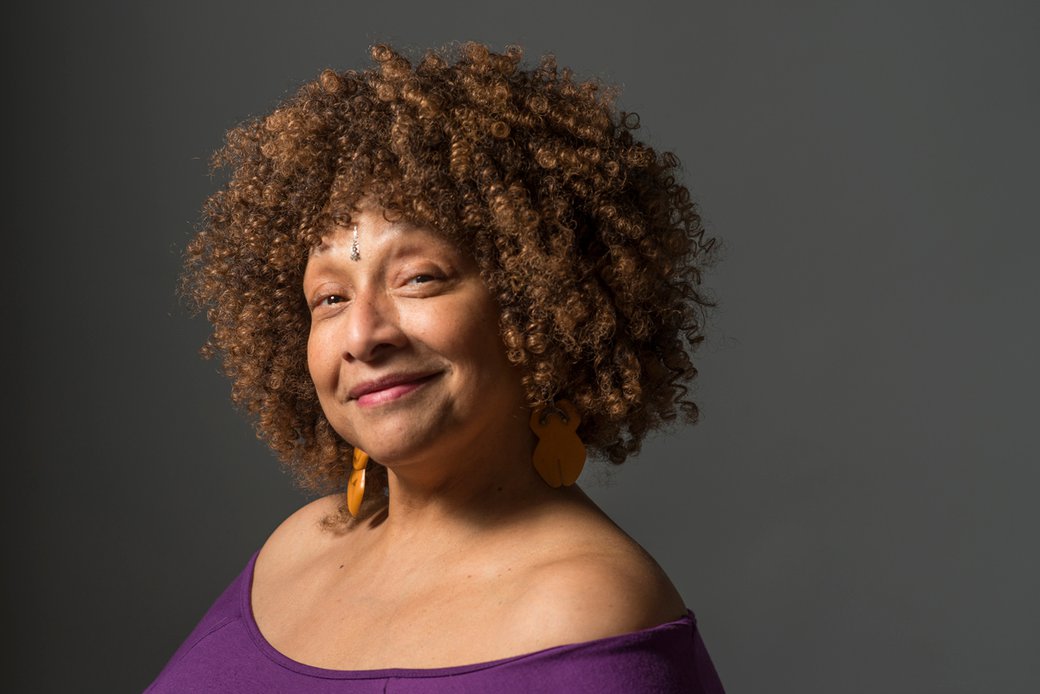 From intricate beadwork to large-scale outdoor installations
Scott's body of work takes on a variety of forms and has been featured in museums across the country, including the Smithsonian American Art Museum in Washington, D.C., and the Metropolitan Museum of Art in New York. Remarkably versatile and adept at using a wide range of media, Scott is also a fiber artist, printmaker, singer, and performance artist. She's been selected for residencies and exhibited, performed, and taught internationally.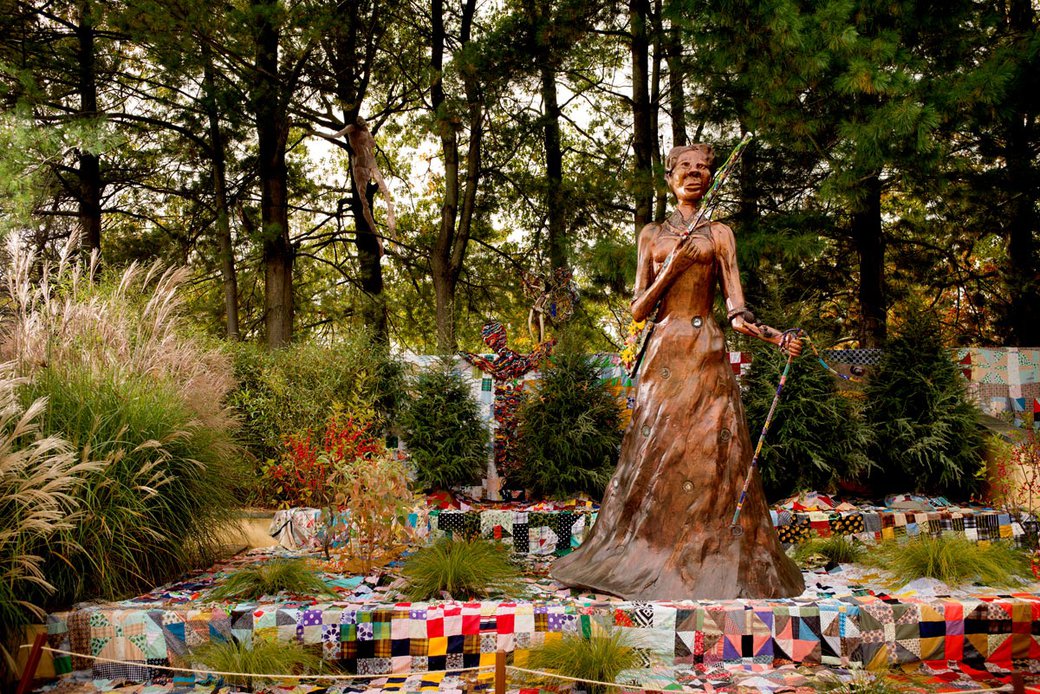 Her largest show to date, Joyce J. Scott: Harriet Tubman and Other Truths, opened at Grounds For Sculpture in 2017. The exhibition included two larger-than-life outdoor sculptures of Tubman, the abolitionist who led slaves to freedom along the Underground Railroad. In a review of the exhibition for the New York Times, critic Nancy Princenthal wrote, "Joyce J. Scott's art—angry, raucous and shamelessly gorgeous—proves just how sharp glass can get."
Art as a platform for social commentary
Provocative themes defy ignorance and ignite conversation
Scott's beaded jewelry and sculptures shine and sparkle in the light, then surprise as their charged themes come into focus. Racism and its critique emerge as a common thread across many of her works. Scott says she faces this challenge every day of her life, whether through overt discrimination or subtle taps on the shoulder.
"The ignorance about how we treat each other because of our ethnicity is so profound in this country," she says. "If you don't know other people are being harmed in this world, then you are not living a full life yourself."
"If you don't know other people are being harmed in this world, then you are not living a full life yourself."
Scott's ability to use craft to cultivate social change has won the admiration of many leading foundations and institutions. She received a prized MacArthur Fellowship in 2016 and was named a Smithsonian Visionary Artist in 2019—two of many prestigious honors she's earned throughout her career.
A career embodying CCA's mission and values
Scott joins a diverse and highly regarded selection of artists as one of CCA's honorary doctorate degree recipients. The nomination process is a community-wide endeavor and represents the collective ideals of students, faculty, staff, trustees, and alumni.
"We are thrilled to present Joyce Scott with an honorary Doctor of Fine Arts. Her art represents what's possible when we use craftsmanship to communicate what matters to us," says Tammy Rae Carland, CCA provost and senior staff member working with the Board of Trustees Academic Committee, which oversees the selection process. "Ms. Scott is a thinker, a creator, and a changemaker—a true pioneer in her field. The beauty and intricacy of her art immediately draw you in. She uses narrative objects to investigate the past and shape the future."
"The beauty and intricacy of her art immediately draw you in. She uses narrative objects to investigate the past and shape the future."
Byron Kuth, managing principal at Kuth Ranieri Architects, chairs the Board of Trustees Academic Committee and says, "Joyce's esteemed artistic career and dedication to social activism embody CCA's core values. CCA teaches students that art is an industry that opens up a world of infinite possibilities, powered by innovation and inspiration. Joyce's 50-year career is a testament to that truth."
A legacy of craftsmanship
Born and raised in Baltimore, where she still lives to this day, Scott comes from a long line of makers skilled at working with a variety of media. Both of her parents were born to North Carolina sharecroppers, who were descendants of slaves. They later moved to Baltimore. Scott's mother, Elizabeth Caldwell Talford Scott, made elaborate, intricate quilts and taught her daughter how to use art to tell stories.
"I always talk about my mother giving me the ability to use the needle and thread. That's always been my language," she says.
Scott earned her Bachelor of Fine Arts from the Maryland Institute College of Art and a Master of Fine Arts from the Instituto Allende in Mexico. Scott says if she had the chance to speak with her young self, about to graduate art school, she would encourage her to stay inquisitive and keep learning.
"I'm always being a mad scientist, trying to figure out how to make things and understand things," Scott says. "I keep using my art as my ticket for one more voyage to find out what the hell is going on—to find meaning in life."
As she continues that quest, Scott looks forward to upcoming exhibitions and new projects. She's devoting more time to singing and is in talks to record her music. Scott says she isn't sure exactly what the future will bring, but if the past 50 years are any indication, it's sure to be exciting.
"If I keep going, I don't know what I can make," she says. "I'll go meet Elon Musk, and I'll go design a spaceship or the next Tesla."
Artworks by Joyce J. Scott