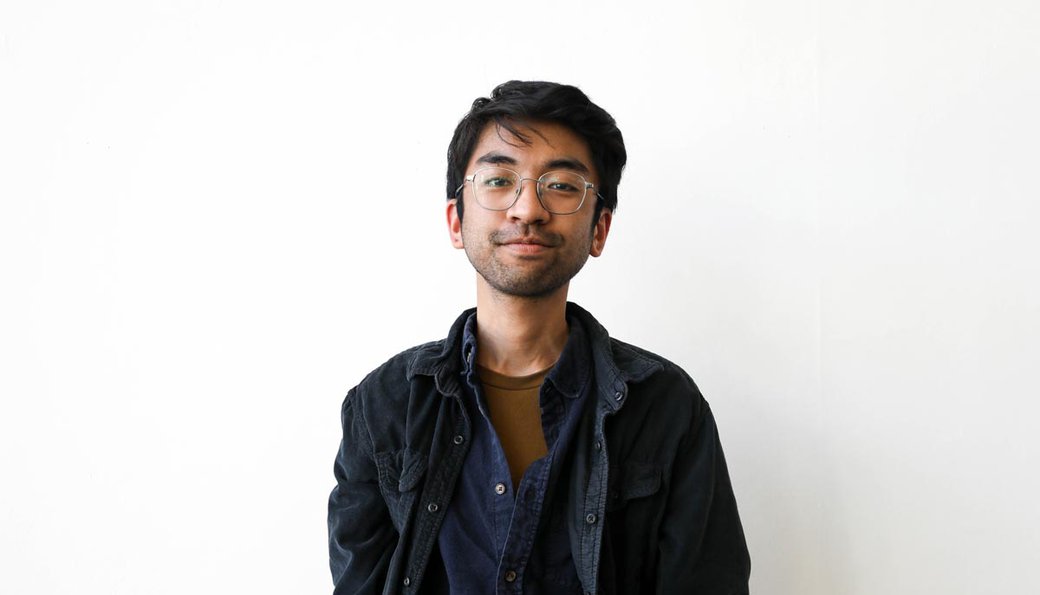 Mark Andrew Buenafe, a senior in CCA's Graphic Design program, has been selected to receive the 2018 Bill Moggridge Award for next-generation designers. Winning for "The Naturalization Process," a critical yet empathic reaction to the U.S. citizenship journey, Mark will receive $10,000 to explore his ideas through design forms of his choosing.
"I'm still wrapping my head around the fact that I won this award," said Mark. "I see it as both a motivator and an opportunity to keep designing and making things that interest me. I'm truly honored to have been given the award and can't express enough gratitude."
Born in Muscat, Oman, and raised between the Philippines and Honolulu, Mark discovered his love for graphic design when his sister gave him a spare copy of Adobe CS4. His parents worked overseas at separate university hospitals, split across continents for decades, until his grandfather, a World War II veteran, successfully petitioned to reunite the family in Hawaii. Once on American soil, it took six years of continued residence to finally qualify to apply for U.S. citizenship. Mark took the oath in 2017. The relief that followed this arduous process has unfolded in his studio.
Mark cites Keetra Dean Dixon's "Objects of Codependency" as an inspiration for his project's identity and visual language, which impart the complexity immigrants face in achieving the same rights and responsibilities as natural born U.S. citizens to those who interact with its pieces.
Grounded in the idea of interdependence, the project requires two participants to work together to understand each step of "The Naturalization Process." Composed of six nested envelopes, alluding to U.S. Citizenship & Immigration Services documents, the project's interdependent pieces represent the years Mark endured while going through the immigration process himself:
The Civics Test booklet, designed for the participation of two people, opens in different directions. One person reads the questions and the other responds.
The N-400 form is encrypted with two layers of ink, one red and one blue, and requires a separate piece of red acetate film to decrypt.
The invitation has two pieces that slide into one another in order for participants to understand the oath-taking ceremony.
"I see the action/performance of taking the envelopes out from each other as tedious and a little unnecessary," Mark said. "But that's the whole point of it—to evoke a small fraction of frustration to whoever is going through the envelopes."
"The only requirement was to create a system or kit of parts," said CCA faculty Mary Banas of her studio's open prompt for the project. "Designers are empathetic and critical—and Mark is both—so he knew how to translate the emotions and nuances of [his] experience into this beautiful piece that speaks volumes about a difficult process. The most important thing we can arm design students with is the power and place to exercise that criticality."
"I'm still trying to figure out how to do this," said Mark. He has two potential plans for maximizing his award. The first is to create a platform, including a publication, exhibition space, or both, that celebrates migrant writers, artists, designers, and creators in general. The second plan is to travel and gain firsthand experience with the histories of visual language across geographies. By deliberately not restricting how recipients can use the award, the late Bill Moggridge, who was the co-founder of IDEO, and Award sponsor Techmer PM give next-generation designers free range for their creativity.
Graphic Design Professor Bob Aufuldish will serve as faculty mentor through the Award year. Although the final design format is yet to be determined, Mark is considering shifting his focus from small, intimate interactions to scalable, immersive experiences "to effectively amplify not only my own voice, but also those who are never heard... I want to use the award to continue to grow as an artist and designer and use what I discover to find better ways to tell stories that empower and cultivate an empathetic culture."